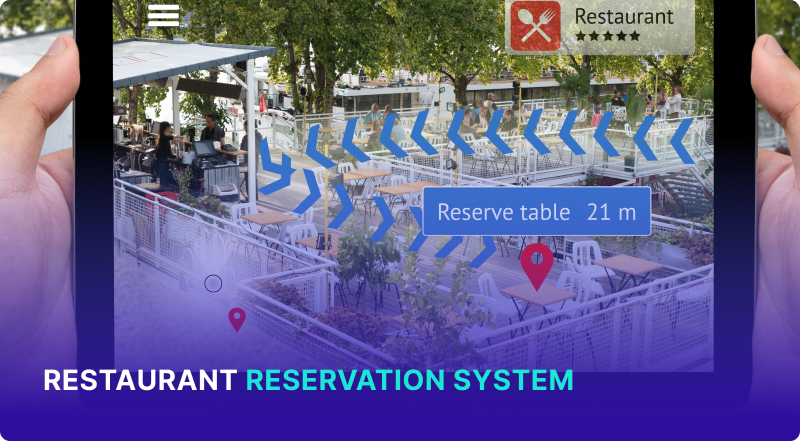 All content presented here and elsewhere is solely intended for informational purposes only. The reader is required to seek professional counsel before beginning any legal or financial endeavor.
Making a reservation is often the first impression customers have of experiencing a specific restaurant. Customers want a smooth experience from the beginning of their reservation to its conclusion, as well as the ability to express their preferences and real-time waitlists. By having an online restaurant reservation system, you help guests easily reserve a table while gauging occupancy levels at your restaurant.
Key Points:

Think of your guests: The reservation system you choose should be based on your customers' needs. Whether they want more customization or need restaurant scheduling software that is easy to use, do your best to understand your guests' wants.
Research: Do your homework. What works for one restaurant might not be what you need. Read reviews about the software you have on your shortlist before purchasing any restaurant reservation system.
Cost-benefit: Think of your budgetary needs and whether the reservation software you're looking at fits into it, especially if you're a

new restaurant

.
Restaurant Reservation System Specifics
What Features Do Restaurant Reservation Systems Offer?
A restaurant reservation system's features are what is going to make your and your employees' lives easier. Here are a few key features you should have on your list when looking for your ideal restaurant reservation system:
The system has an intuitive interface
It's easy to use
Offers booking widgets to boost online reservations
The system offers a user database and partner network that restaurants can tap into to get new customers
Helps reduce no-shows by sending customers text messages, emails or other forms of notifications
What Types of Events Can Reservation Systems Handle?
Manually making reservations for a busy restaurant can easily get out of hand when you don't have the right tools. Having an effective restaurant reservation system makes it easier and reduces the time it takes to manage your restaurant's bookings.
With a digital system, assigning tables and booking the restaurant for private events is as simple as clicking a button. The reservation program gives you a personalized perspective of your restaurant's space, allowing you to distribute tables, combine numerous seats for large gatherings, and make the most of your space.
How Much Does Restaurant Reservation Software Cost?
Restaurant reservation systems are a key part of running your business seamlessly. Even though some restaurant reservation systems charge a percentage of your reservations, most charge a fixed rate between $29 to $899 each month. However, the amount you pay will depend on how many locations you're managing as well as the amount of reservations that come through.
Why Does a Restaurant Need a Reservation System?
Having a reservation system comes with a lot of benefits, chiefly among them reducing administrative tasks like following up on reservations and improving time management. Here are 5 benefits of using a restaurant reservation system:
Improve time management: You and your restaurant staff will spend less time taking calls, responding to emails, and assisting guests who are waiting in line if you have a restaurant reservation system. With a restaurant reservation system, you'll enable guests to independently and flexibly make bookings online at any time, whether your restaurant is open or not.
Make booking and managing tables easier: A system for online restaurant reservations enters it into the database as soon as a consumer makes a reservation. The reservations are then available to be seen by everyone on your team, making seating arrangement and managing wait times easier.
Save on overhead costs: You'll have a detailed understanding of how booked you are thanks to your restaurant reservation system. Every minute counts, since most people only make reservations at the last minute. Data analysis may also be used to aid with inventory and stock management. This way you'll be able to be better prepared for the amount of ingredients you'll need to have ready for the day and avoid wasting food.
Attract new guests: The only way for a restaurant to expand is to draw in more customers. You may go one step closer to that goal by using an online restaurant reservation system. Restaurant reservation systems offer you safe, direct ways to book tables and increased web presence. Additionally, some restaurant reservation systems have a user base and partner network, which opens up a world of possible new customers to your business.
Reduce no-shows: A vacant table is a missed opportunity in the hospitality industry. This is made much more problematic when visitors who reserve a table decide not to show up. Reminders are automatically sent to guests through text message or email using a restaurant reservation system. That way, customers avoid forgetting their reservation. Additionally, if customers decide to cancel, it's a straightforward procedure because they can do it online with a click rather than by calling your restaurant.
The 15 Best Restaurant Reservation Systems
With the help of a restaurant reservation system, you can manage the flow of customers, save time, and streamline operations while allowing your guests to book a table online. Here's a look at the 15 most effective restaurant reservation systems:
Eat App: Offers comprehensive capabilities to manage table reservations, prepare for capacity restrictions, and evaluate statistics. Eat App takes the top spot for usability thanks to its user-friendly administration applications, attractive layouts, and editing features. Additionally, it's great for getting new customers to find your restaurant as it connects with Google, Meta, Instagram, and Tripadvisor. While its monthly plans range from $119 to $209, its custom add-ons can quickly add up.
e-Reservation: Secured in the cloud, E-reservation makes it easy for customers to contact you directly via email or text message. The downside is it doesn't integrate with POS systems. All e-Reservations price packages are determined by the size of your business. For restaurants with up to 50 seats, e-Restaurant costs $60 per month; for establishments with up to 100 seats, it costs $85 per month; and for establishments with more than 100 seats, it costs $122 per month.
Eveve: By combining real-time availability with live online booking sites, Eveve supports real-time bookings. Since reservations are accepted around the clock, this maximizes table management and floor efficiency. When a guest's preferred dates are fully booked, you may still provide them with alternate dates using a feature called "full availability". Additionally, the customer database is automatically filled depending on daily events, giving you information about the demographics of your visitors. This system normally has a monthly price range between $150–$300, with no additional charges for each diner.
GloriaFood: This system is ideal for restaurants that make most of their sales through deliveries. Order management, table bookings, promotional efforts, and other tasks may be managed through streamlining point-of-sale processes. Users may determine minimum order quantities, set zone-based delivery costs, and pick numerous delivery locations using the administration panel. By adding widgets to websites and official Facebook pages, users may increase brand visibility across various platforms. GloriaFood enables integration with a number of other programs, including QuestTag, Orderlord, Tookan, GetSwift, ItsaCheckmate, Ordermark, and others.
Hostme: Make it simple to make reservations by leveraging Google, your social media platforms, your website, or TripAdvisor to control the flow of your restaurant and enhance your online profile. This restaurant reservation system has several helpful features, including the ability to make reservations, purchase meals online, manage tables and waitlists, integrate with POS systems, and more.
OpenTable: Your restaurant will be more visible to potential guests thanks to OpenTable. The majority of reservation software either doesn't offer restaurant POS connections or charges exorbitant monthly fees to do so. The ideal option for restaurants looking to connect their reservation system to an existing POS software, is OpenTable because it links to popular systems quickly and efficiently. Its monthly plans range from $39 to $449.
Resy: With mobile booking, POS connection, and table management tools, Resy provides a waitlist and restaurant reservation system. It allows you to construct a personalized floor plan with features like bar chairs, dining rooms, and patios, among other full-featured options. Guests may contact you to cancel, confirm, or even let you know they're running late. When you buy the program, you may share customer feedback and preferences across all of your restaurants on as many devices as you choose. Pricing ranges between $189-$899 per month.
Table Agent: By providing a reasonably priced and simple reservation system, Table Agent helps restaurants save as much money as possible. Table Agent provides a basic online reservation system with few features because its primary goal is to cut expenses. The system manages reservations using a list-based strategy, which differs somewhat from the strategies used by the other participants in the reservation management market. Think of a digital version of a classic reservation record book. Table Agent has a free version for basic features and offers a monthly subscription for unlimited SMS packages for $29.
Tablein: With a focus on small restaurants, Tablein gives your business cutting-edge tools to draw in customers, maximize guest capacity, manage the workload of the kitchen crew, and more. This restaurant reservation system automatically distributes tables and helps remind visitors of their next appointments, which instantly lowers the number of no-shows. Additionally, you have access to marketing tools that can be used to fill vacant hours, list events, and boost restaurant sales. The monthly charge for the Standard plan is $75 and includes up to 150 bookings.
Tock: A restaurant reservation system that helps increase restaurant income by decreasing no shows using a ticketing system that enables establishments to accept prepayments and reservation deposits. Last-minute cancellations are covered with the help of automated alerts and waitlists, and pre-visit questionnaires make sure you are aware of your visitors' preferences even before they enter your establishment. Plans start at $199 per month and go up to $699 depending on the features your restaurant needs.
TouchBistro: A comprehensive reservation and guest management software that enables restaurateurs to easily manage operations while customizing every visitor's experience. Operational efficiency is improved by direct integration with the TouchBistro POS. You can access the whole feature set offered by TouchBistro, including waitlist management, POS connectivity, automatic feedback surveys, and more, for $229 per month.
SevenRooms: SevenRooms' goal is to assist restaurants in analyzing data to optimize each stage of the customer journey. Their products enable businesses to increase profits and loyalty by using data to create personal connections, provide top-notch experiences, and encourage repeat customers to place orders. Pricing starts at $40 per month.
simpleERB: This simple-to-use waitlist and reservation software boosts your restaurant's ranking on online directories like TripAdvisor. It creates a database of devoted customers and adapts adaptable software to the daily changes in your business. When compared to other restaurant reservation systems, simpleERB is more affordable, beginning at $24 per month per restaurant with a monthly cap of 200 covers.
Wisely: This restaurant reservation system leverages data to improve the reservation experience, ultimately helping your business build a stronger connection with your customers. In its monthly plan you have access to customers making online reservations, a waitlist, marketing tools, table management, and other capabilities. You receive a floor plan that may be customized; all it takes is a quick check for your wait staff to see who is sitting where, when they arrived, and what they usually order. When it comes to anticipating your customers' demands, Wisely automatically incorporates information from your point of sale, online evaluations, and more, much like other cutting-edge systems. This enables you to determine whether they have a particular preference for the setting, menu, serving method, etc. Additionally, you may make personalized arrangements for one-time events, recurring sampling occasions, or special occasions using smart seating and booking algorithms. Pricing is based on usage, starting at $150 per month for 800 tables.
Yelp Reservations: To make a reservation, Yelp enables potential consumers to do so from your Yelp page in just a few taps by checking availability and making the necessary selections. You may also put up a booking widget on your restaurant website to take reservations. You can monitor your floor and service activities from any device, anywhere in the world, thanks to special setups. This reservation system can be exactly what you need if you already have a presence on Yelp to make your activity and presence profitable. Yelp has a set monthly fee of $249.
How to Choose the Best Restaurant Reservation System
One of the most important secrets to a successful restaurant is choosing the proper table reservation system. Apps for restaurant reservations take the guesswork out of rotating and filling your tables. By using digital reservation services, you can maximize the profitability of your restaurant. The requirements of each restaurant vary. In general, you want to make it as easy for customers to find you and take out the hassle from the reservation process as much as possible. Once the restaurant reservation system checks that box, think of your budget. However, before you commit to any annual subscription, make sure to try the restaurant reservation system to see if it's the right fit for you.
The Main Factors That Restaurant Owners Found to Be Most Beneficial
According to Restaurant Reservations Market Statistics, 40% of respondents who occasionally eat at full-service restaurants admitted that they rarely make reservations. This means that waitlists can easily get out of hand, and no-shows can greatly impact the seating of your restaurant on a busy day. Restaurant reservation systems help optimize the way you manage your business. Here are the main factors restaurant owners find most helpful when using a restaurant reservation system:
Streamline seating
Estimated wait times
Improve inventory control and management of overhead costs
Final Word
Choosing the right software for your restaurant can be challenging with all the available options on the market. The easiest way to get started with this process is by deciding on your budget and essential features first, such as customer-facing applications, waitlist management, or visual floor design tools. Think about the restaurant reservation software that will work best for your organization and your customers' needs.
If you need additional funds to cover the costs of daily operations of your restaurant, including purchase of a new software, you might like to learn more about restaurant business loan options we recommend.