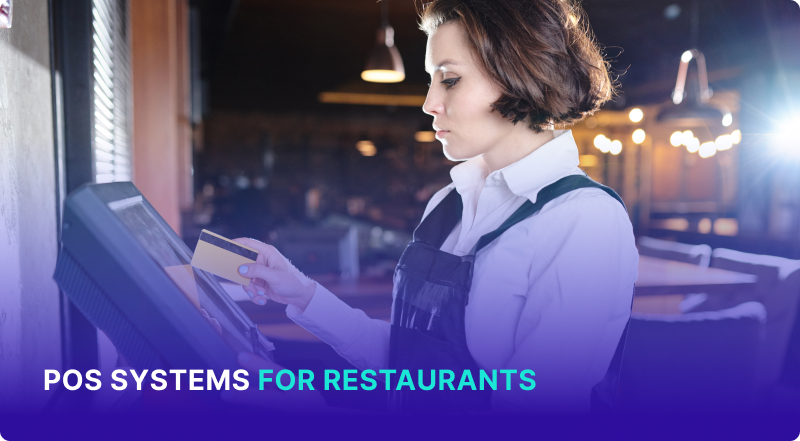 All content presented here and elsewhere is solely intended for informational purposes only. The reader is required to seek professional counsel before beginning any legal or financial endeavor.
Today's customers expect quick service, convenience, and accuracy. Point-of-Sale (POS) systems provide exactly that. A POS system is a payment system often used by retailers that can manage transactions, track sales, and give customer demographics.
Today we'll discuss the various features of POS systems for restaurants, the types of systems available, and the benefits of using them.
Key Points:

POS systems provide entire restaurant management all in one platform.

There are a variety of different levels of POS system plans. Some are free while others come with more advanced features, making them a pricier option.

Toast, Square, and SpotOn are all very popular POS systems many restaurants work with.
About Restaurant POS Systems
POS systems are used by a plethora of restaurants. These companies use them to make payments easy for customers and to make managing those payments easy on their end.
What Is a Restaurant POS System?
A restaurant POS system is a digital system that has a variety of functions. It processes customers' payments, helps businesses start rewards programs, and captures customer demographics. Typically, when a business orders a POS system, it consists of:
A computer and/or tablet.
A cash drawer.
A receipt printer.
A payment terminal for accepting credit, debit, and mobile card transactions.
Some systems even include time tracking, inventory management, and other additional features.
What Are the Different Types of POS Systems?
Having the right POS system is essential for efficient and accurate service, which are the two most vital aspects of running a restaurant. A POS system is basically a combination of hardware and software that allows restaurant operators to track sales, manage inventory, and accept payments. There are various types of POS systems available for restaurants, each with its own unique features and capabilities.
Basic Systems. Basic POS systems are ideal for small restaurants that don't need a lot of features. These systems are usually the most affordable and come with standard features such as payment processing, inventory tracking, customer loyalty programs, and basic reports.
Mobile Systems. Mobile POS systems are great for restaurants that need to be able to accept payments and manage orders on the go, such as food trucks. These systems are usually cloud-based, meaning that data can be accessed from any device with an internet connection.
Integrated Systems. Integrated POS systems are the most comprehensive option available. These systems are usually cloud-based and come with features such as order entry, payment processing, customer loyalty programs, detailed reporting, inventory tracking, customer databases, and more.
Why Do You Need a Restaurant POS System?
Many restaurant owners need (or want) a POS system because it can help make managing certain tasks a whole lot easier. Manual payment systems are slow and outdated, especially for busy restaurants with hundreds of customers a day. A POS system provides a solution to a couple of problems, including:
Automation of tasks like doing inventory.
Time and record keeping for employees.
Quick-and-easy payments for customers.
Provide helpful reports on your success as a business.
How Do Restaurant POS Systems Work?
At its core, the POS system is a computerized register with a receipt printer, cash drawer, and barcode scanner. The POS system connects to the restaurant's network, allowing employees to access the data from any terminal in the restaurant. The POS system also connects to the restaurant's payment processor so that customers can pay with credit or debit cards.
POS systems also enable customers to place orders using online ordering services. These orders are sent directly to the restaurant's kitchen staff, who can then begin preparing the orders.
In addition to tracking sales and inventory, the POS system can help restaurants manage customer loyalty by tracking data about customer orders and preferences. Restaurants can use this data to create personalized loyalty programs and offers, providing customers with a more personalized experience.
What Are the Benefits of a Restaurant POS System?
A Restaurant POS System offers numerous benefits to restaurant owners and staff, including:
Streamlining the payment process. This can save time and improve customer service.
Providing invaluable data to restaurant owners. This can be data such as sales and customer data, to help them make better business decisions.
Inventory control. This allows restaurant owners to track food orders, automate orders, and quickly manage inventory stock levels. This helps to reduce food waste and create a more efficient and cost-effective kitchen.
Integrating with loyalty programs. This is especially beneficial for multi-location restaurant owners, as it allows them to manage multiple loyalty programs from one easy-to-use platform.
Security systems. Restaurant POS Systems provide better security for customers and owners alike. As transactions are processed through a secure system, customers can be confident that their personal information is safe.
How Much Do Restaurant POS Systems Cost?
The exact cost of the POS system you pick is going to depend on the company you choose. Some companies have free options while others charge to purchase or lease. Generally, the costs you'll find are:
Hardware and software. You may have to buy a tablet, a printer, and a cash drawer, all of which add up. The costs vary widely depending on the features. Additionally, you may have to pay a monthly fee for the actual software within the hardware.
Payment processing fees. You'll likely need to pay a fee for each transaction your customers make. These fees will be different depending on if you accept debit, credit, or mobile payments.
Integration fees. If you want to integrate your POS system with accounting software or an online ordering platform, you may have to pay extra.
If you're just starting out, and need help affording the many upfront costs that come with owning a restaurant, consider restaurant loans, business credit cards, or hardware financing.

Why Is It Important to Choose the Right Restaurant POS System?
Choosing the right POS system for a restaurant is an important decision that should not be taken lightly. A restaurant's POS system is the backbone of the operation, providing some of the most vital services needed by the business.
The right POS system should offer a variety of features to support the restaurant's needs. It should be simple to use while providing the ability to track sales, store customer information, and manage inventory and orders.
In addition to these features, the cost of the system is also an important consideration. While it is tempting to opt for a cheap solution, if the POS system lacks the ability to provide the necessary functionality, the overall cost of the system could be higher in the long run.
Top 10 Picks for the Best Restaurant POS Systems
There are dozens of POS systems to choose from. Here are just 10 options to consider in no specific order.
Clover POS
Clover is perfect for mobile restaurants since the system includes a portable card reader. Even for stationery businesses, Clover offers hardware like kitchen printers and cash registers. Restaurant owners will appreciate the inventory management and employee tracking Clover offers. While you'll have to pay a hefty subscription fee starting at $120/month, you'll have access to features that could make it worth it.
Lightspeed POS
Lightspeed is already a trusted restaurant POS system. Companies like Five Guys and NOBU use lightspeed to run their businesses. Lightspeed doesn't just offer a payment system, but it's an all-in-one business management tool. You'll be able to see customer profiles, employee performances, and sales reports all in one place.
PayPal Zettle
PayPal Zettle provides a simple solution for businesses to accept payments anywhere and anytime with a secure mobile card reader. The system is integrated with PayPal, allowing customers to pay with their PayPal accounts, as well as allowing businesses to accept payments from any other major credit or debit cards. It also provides valuable insights into customer behavior and payment trends.
Revel
Revel is a worldwide POS platform used by over 20,000 businesses. Their hardware system works through the iPad, making it an easy platform to use and train employees on. Revel offers inventory management that also connects to your online menu, keeping your customers updated in real time. The tech is also customizable, adding another layer of ease to the already simple platform.
Rezku POS
Rezku has rave reviews and testimonials that prove their system is worth considering. Like Revel, Rezku also works with various iPad models like the iPad mini (generation 4 and 5). You'll have to purchase your own iPad, but the system comes with everything else you may need. Additionally, Rezku allows you to create a loyalty program for your customers, without charging any extra.
Shopify POS
Shopify POS is a fully integrated system with a wide range of features and capabilities that make it a great option for many restaurants. It is designed to provide a seamless user experience, allowing businesses to easily manage their inventory and accept multiple payments, including credit cards, debit cards, and digital wallets. The mobile app allows businesses to access their POS system from any mobile device, making it incredibly convenient and easy to use.
SpotOn Restaurants
SpotOn has multiple systems of varying complexity. If you're just looking for a simple payment terminal with a few add-ons, SpotOn has an option for you. Plus, you can integrate other systems you use like QuickBooks and DoorDash Drive. SpotOn offers 24/7 customer support among other features such as employee scheduling, email campaigns, and inventory management.
Square
Square is a popular POS system that comes with no contract commitments or installation fees. For small-time restaurants, the free plan Square offers is a perfect starting point. There's also a more advanced plan that comes with additional features for just $60/month. The biggest catch here is that you'll pay a processing fee of 2.6% + 10¢ for in-person payments.
Toast POS
Toast is also a hugely popular POS system that is specifically designed with restaurants in mind. The system allows you to accept payments, create and update your menu whenever you need to and modify prices. Plus, you'll get access to sales data, customer information, and transaction details. While their UI is a little cluttered, they're still a beloved POS system by many restaurants.
TouchBistro
TouchBistro offers a huge list of features including inventory management, menu management, marketing options, gift card sales, online ordering, and the ability to create a loyalty program. Additionally, you can manage your schedule and payroll through the system. And to top it all off, you'll get 50+ reports on items such as sales and staffing.
What Features to Look for When Choosing a Restaurant POS System
When trying to decide among the many different POS options, you'll want to keep a few key features in mind.
Mobile and Contactless Ordering and Payment
Mobile ordering is becoming increasingly important for restaurants as more customers order online instead of in-person, likely thanks to the years-long pandemic that trapped us all in our homes. So make sure to look for a POS system that can integrate mobile orders and contactless payments. This will ensure that your restaurant is well-equipped to handle the changing needs of your customers.
Inventory and Product Management
Managing your inventory is essential to ensure that your restaurant has what it needs to run smoothly. Look for a POS system that can track your inventory and help you manage your products. This will make it easier for you to stay on top of what you have and what you need.
Flexible Reporting Capabilities
Having reports that explain how your restaurant is performing based on your sales can go a long way in helping you make necessary adjustments so your customers stay happy. Some, but not all POS systems have this function, so make sure to check if this is a feature you're especially excited to have.
Multiple Functions
Your POS system should be able to handle multiple functions. This includes things like customer loyalty programs, reservations, payment processing, tipping, menu design, and much more. Look for a POS system that can do it all so that you don't have to use multiple systems.
Integrations
Integrations make it easier to get the most out of your POS system. Look for a POS system that can integrate with other systems, such as accounting or HR software. Or, if you really like your current reporting system, find a POS system that integrates with it.
How to Choose the Best POS System for Your Restaurant
When choosing a POS system for your restaurant, it's important to consider a variety of factors in order to select the right system that meets your individual needs. Here are some tips to consider when selecting a POS system for your restaurant.
Determine your restaurant's needs. Consider the size of your restaurant, the service style you offer, the number of features and functionalities you need, the number of terminals you will require, and your budget.
Research. Compare different POS systems for restaurants and look for customer reviews to get an idea of the customer experience and the effectiveness of the system. We have a few suggestions above.
Talk to vendors. Speak directly to vendors of the POS systems you're interested in and ask questions to ensure the system will meet all your needs.
What's the Most Popular POS System for Restaurants?
The most popular POS system for restaurants is Toast POS, with over 7,000 companies using the platform. It's a cloud-based system designed specifically for the restaurant industry. Toast's features include order and menu management, customer management, loyalty programs, online ordering, inventory management, kitchen display systems, and more. Toast is also integrated with popular third-party delivery services, like DoorDash and Grubhub, as well as accounting services, such as QuickBooks and Xero.
Which Restaurant POS System is Easiest to Use?
Many POS systems will be easy to use, that's the main draw. Which one is easiest depends on your personal preferences. The best restaurant POS system for you should be user-friendly, and reliable. Look for streamlined menus and inventory, real-time reporting and analytics, employee management, and easy payment processing. Many systems now also offer mobile capabilities and touchscreen technology, which can make the checkout process smoother and more efficient.
What's the Best Restaurant POS for Delivery?
If your restaurant specializes in take-out and delivery orders, you need a POS system that can handle these orders with ease. Delivery-focused POS systems offer features like online ordering, automated delivery tracking, and loyalty programs. They can help streamline the ordering process, so customers can order quickly and accurately, even from a mobile device. SpotOn is just one example of a great POS system for delivery, especially since it integrates with DoorDash.
Final Word
It's clear that POS systems can provide significant benefits to restaurants. From increased efficiency to better customer engagement and improved employee morale, POS systems can help restaurant owners truly improve their businesses. Additionally, POS systems can provide valuable insights into customer spending habits, enabling restaurants to better target their marketing efforts. All of these factors combine to make POS systems an invaluable tool for restaurants of all sizes.