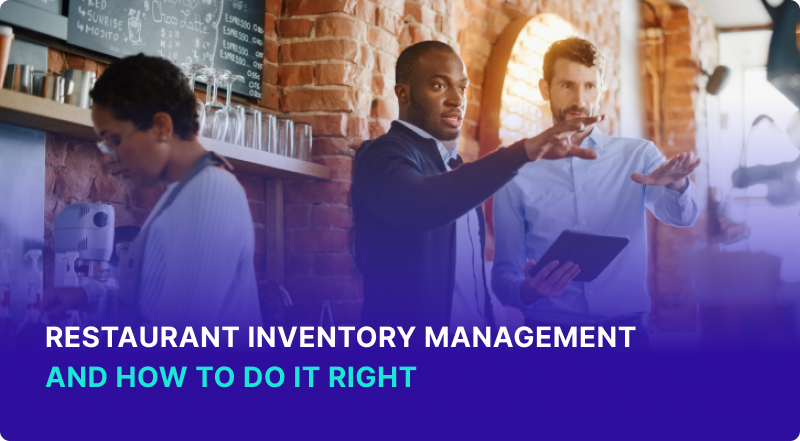 All content presented here and elsewhere is solely intended for informational purposes only. The reader is required to seek professional counsel before beginning any legal or financial endeavor.
Inventory management involves making sure you have enough food on hand to meet customer demand, without carrying too much or allowing any to spoil and go to waste.
Key Points:

T

oo little inventory means turning people away.
Too much means food spoiling and going to waste. Keep your inventory levels just right.

Use technology – there are tools to track historical use and forecast how much inventory you'll need to buy. Think about more than food. Inventory also includes things like plates, pots, pans, and even uniforms
What Is Inventory Management?
Inventory management is all about making sure that a business keeps necessary products on hand to meet customer needs without having more than is required.
Buying and storing things, whether it's food, plates, or any other product costs money. The more money you have tied up in inventory, the less cash you have to use for other things like staff or marketing. However, running out of product and missing out on sales is also a cost.
In a perfect world, a restaurant could know it will sell 100 meals and can buy exactly enough food to make those 100 meals. That means no waste and no missing out on potential sales. In the real world, you have to make your best estimate about how much to buy.
Inventory management is the practice of managing the stock and determining how much, and how frequently to place orders for more.
What Is Considered Inventory in a Food and Beverage Service?
In the food and beverage industry, inventory includes everything that your business needs to make sales to customers. Obviously, this includes the food required to make meals, but it also includes things like employee uniforms and plates. It is important to consider how you will manage your inventory when deciding how to open a restaurant.
Why Restaurants Should Care About Inventory Management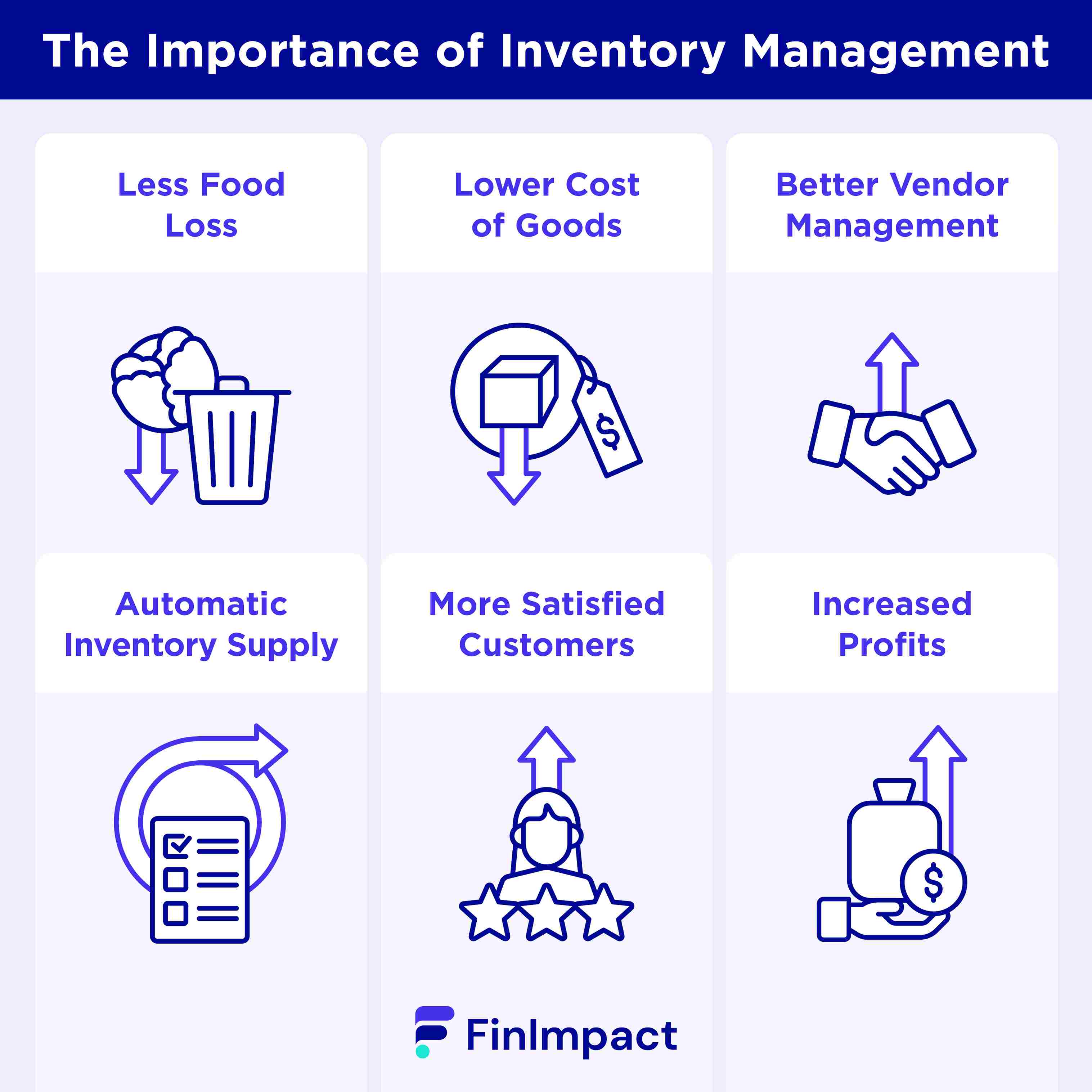 Restaurants, and all businesses, should care about inventory management a lot. Effective management can increase business profits by eliminating waste and overspending on inventory storage. IT is often the difference between failure and survival and success.
Some of the benefits include:
Less food loss. Over time, food will go bad if it isn't sold. If you sell 100 meals a day but buy supplies for 110, some of your inventory will go to waste, increasing costs for no reason. The closer you get your stock to the amount of inventory you actually use, the less waste there will be.

Lower cost of goods. Reducing waste means that you can reduce costs for your company. Waste is a product

you spent money on that did not bring you a profit. The less you

spend

money

on products

that do not bring a profit the more

money your business will have

.

Better vendor management. Effective inventory management makes it easier to

work with vendors

. Your orders will be more consistent, which means vendors can better predict your needs.
Automatic inventory supply. With effective inventory management and tracking of stock, you can automate parts of the process, such as automatically ordering when stock reaches a certain level.

This saves time, which is valuable.
More satisfied customers. If you under order and don't have the inventory to make everything your customers desire, that can lead to unhappy patrons. Effective inventory management means fewer stockouts and happier customers.
Increased profits. Ultimately effective inventory management keeps customers happy (thus returning) and costs lower, boosting your profits.
Manual restaurant inventory management
Manual restaurant inventory management is a paper-and-pen approach to tracking your company's stock and what it needs to buy.
This involves walking around your business with a checklist and noting down exactly how much of each product you have, by hand. For example, at a burger restaurant, you might go around and count how many patties, buns, slices of cheese, and cups you have.
This requires a lot of manual effort, and you need to do a full count every time you want to get an updated inventory. You can easily miscount and make mistakes, however, you don't need any specialized tools or software to do inventory this way.
This is very time intensive, and successful business owners know the value of time.
Inventory Management Software
Many restaurants use inventory management software to make it easier to track their stock. These programs automatically keep an eye on your stock using information from vendors and from your restaurant's sales.
Say you start with 100 burger patties. You sell 75 burgers, so the program uses that information to automatically update the inventory to show you have only 25 patties left. It can place an order for you to buy another 200 patties.
When you get the delivery and enter the receipt and invoice, it will again update the inventory to show a stock of 225 burger patties.
These programs can be expensive but eliminate a lot of error and paper-pushing that can happen when doing inventory manually. They can also help limit fraud from employees.
8 Restaurant Inventory Management Best Practices
If you're running a restaurant, looking into how to increase restaurant sales, consider these inventory management best practices.
Organize inventory. A good inventory is an organized one. Try to keep the same items in the same places so it's easy to count and so that everyone knows where things are located.
Keep stock levels as low as possible. The less inventory you have on hand, the lower your inventory carrying costs will be. However, try to avoid stockouts that can lead to unhappy customers, especially with high demand items..
Monitor the sell-through rate. Sell-through rate compares the amount of inventory sold in a period compared to the amount received in that period. Try to keep the rate as high as possible as higher rates indicate less waste and lower inventory holding costs.
Track all inventory. Keep an eye on inventory levels for everything essential to your business. That means everything from paper napkins and cups to ingredients, cutlery, and more.
Safeguard against mistakes. Design your inventory processes with checks and safeguard to avoid mistakes, such as someone double entering a receipt and making the inventory system believe the restaurant has more or less in stock than it truly does.
Employee accountability. Make sure that your employees understand the importance of inventory management and are accountable for the accuracy of counts.
Automate reordering. Set thresholds at which your inventory management software automatically orders additional stock. This can help you avoid running out of inventory.
Use technology to forecast demand. You can use technology to track sales and predict how much stock you'll need based on trends and seasonality. This can help reduce waste.
8 Restaurant Inventory Management Tips
When managing your restaurant's inventory, consider these tips.
Recipe costing. Think about the cost to make different recipes in terms of raw ingredients. If you can adjust recipes to use fewer ingredients, you can reduce inventory requirements.
Menu engineering. Engineer your menu to have significant crossover in your required inventory. For example, if you have a restaurant focused on burgers, basic burger patties will likely feature in every dish, which means you carry fewer unique items in your inventory, simplifying management.
Use surplus food and ingredients to avoid waste. If you have extra food or ingredients, consider offering a special that uses them to get them out of stock before they go bad and become waste food.
Provide bonuses for reduced waste. Your employees may have good ideas for how to reduce waste, so offer incentives if they help reduce waste and lower costs.
Adjust your product mix. If you find that some products don't sell well and contribute to higher inventory costs, adjust your menu and product mix to eliminate the need for that inventory.
Do some daily tracking of inventory. Keep an eye on daily stock levels to identify trends as soon as possible.
Do some basic daily sales tracking. Tracking sales along with inventory is another important way to identify changing trends or customer desires.
Use strategies that reduce employee theft. Employee theft can increase inventory costs, so take steps to monitor and reduce theft.
Important restaurant inventory terminology
It's important to make sure you know common restaurant inventory terminology.
Sitting inventory. This is stock that you have but are not currently using. It's just sitting around, waiting to sell. High sitting inventory means higher inventory costs because cash is tied up in something waiting to sell.
Depletion. Depletion is the rate at which inventory decreases. If you have 100 units and sell 10 per day, you have 10 days until your inventory is depleted.
Usage. Usage is how much of a particular item you use over a given period.
Variance. There can be a difference between the average amount of product sold in a period versus the actual amount sold. This difference is the variance.
Frequently Asked Questions (FAQs)
Every restaurant owner should take steps to make sure they have a good inventory management system.