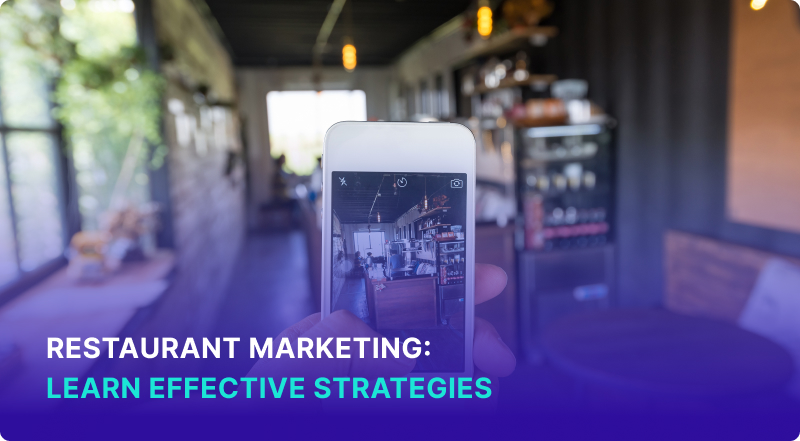 All content presented here and elsewhere is solely intended for informational purposes only. The reader is required to seek professional counsel before beginning any legal or financial endeavor.
Getting people to come into your restaurant isn't solely about the menu. Food establishments that consistently turn a profit and have a loyal customer base and leverage restaurant marketing strategies to draw in new and regular customers.
Key Points:

Find your niche: Think about what's unique about your dining experience. Is it the exotic fusion you provide? Is it the ambiance? Find what it is and show it to your audience in the most appealing way possible.
Be reliable: This applies to both the food you offer and opening hours. Humans are creatures of habit, and being able to organize their schedules and appetites around specific hours makes it easier for us to return to certain experiences.
Be willing to work overtime: Especially in the beginning, it's likely that you'll be working day and night. Make sure you have a mindset of resilience to get through this stage.
Understanding Restaurant Marketing
Great! So you already have an idea of what you want your establishment to have on the menu, but you're unsure of how to bring people in. Here's what you need to know about restaurant advertising to get your business going:
What Is Restaurant Marketing?
Promoting a restaurant involves presenting your restaurant's dishes, ambiance, and services to the general public in an effort to gain their attention. It contributes significantly to a restaurant brand's development, as well as getting people through the door and buying your food.
Why Should I Market My Restaurant?
Restaurant marketing strategies give you a competitive edge by establishing and nurturing relationships with potential customers, and ultimately can increase customer loyalty. The gap between a short-lived restaurant idea and a profitable long-term restaurant brand can be a solid marketing plan.
How Much Should I Spend on Restaurant Marketing?
Successful marketing strategies usually can invest 3% to 6% into advertising. Additionally, it makes sense to distribute this money in accordance with your sales volume. In other words, if Christmas is your biggest time of the year, your restaurant's marketing expenditure might reflect this.
How Do I Calculate the Best Restaurant Marketing Budget for My Business?
You have to start off with your goal. Think of how many new people you want to get to buy from your restaurant. Let's say you want 100 new customers within that year. To find the marketing budget that best suits your restaurant's needs, you multiply your goal amount by your client acquisition cost (CAC.. So for instance, your estimated expenditure for your goal is $100 if your average CAC is $10. Therefore, the marketing budget for a team with a $10,000 annual operational budget would be $11,000.
What Is a Restaurant Marketing Strategy?
A restaurant marketing plan aims to draw customers to eat at your establishment. The marketing strategy should showcase the company's value proposition as well as leverage key brand messaging, data on target and customer demographics.
What's Included in a Restaurant Marketing Plan?
An effective restaurant marketing strategy should include key essentials that will help you reach your advertising goals. Here are a few factors you should keep in mind when you're coming up with your ideas for restaurant marketing:
Campaign goals: A marketing goal is a precise, quantifiable target that aids in achieving your larger objectives. It might be anything, such as enhancing customer value, creating brand awareness, or producing high-quality leads. A campaign without a specific goal is ultimately a financial waste.
Campaign duration: Advertising campaign duration is how long you're going to be putting out ads and other marketing media to the public. Most successful campaigns last around three to six months.
Marketing channel: A marketing channel is made up of the individuals, businesses, and tasks required to move products from production to being consumed. Basically, it's how items reach the customer.
Target audience: This is your ideal customer. It's the people who will want to consume your menu items. It's the type of person you want to create dishes for because they're the ones who will appreciate it the most and potentially bring in new guests with similar taste.
Marketing budget: Every dollar a company plans to spend on marketing-related initiatives over the course of the quarter or year. Budgets for marketing can cover costs for marketing automation tools, new marketing hires, sponsored online content, paid advertising, and additional marketing employees.
KPIs: Key performance indicators (KPIs) are a form of performance measurement. KPIs measure the effectiveness of a specific activity, such as a marketing strategy.
How to Market a Restaurant
Now that you know the different key parts of a successful restaurant marketing strategy, it's time to take action. Here are 4 steps to get you going:
Define your goals: Assessing where you are and determining where you want to go is the first stage in restaurant marketing. Every goal you set should be precise, quantifiable, realistic, pertinent, and timely. Your goals could look something like this:

a) During the first quarter, get 120 new customers.
b) Start a loyalty rewards plan for repeat customers
c) Get 400 committed customers by the end of the year.
Create a budget: Several restaurant owners believe that the budget should be established once there's a marketing strategy in place. However, it might become problematic if you develop an elaborate marketing strategy only to discover that you lack the funding to implement it. For this reason, you should establish your budget before drafting your marketing strategy. The budget is created prior to the plan so that you are aware of your financial constraints. The typical amount that restaurants spend on marketing is between 3-6% of revenue. If you believe your budget can support the increase, feel free to set the bar higher. You might like to consider taking out a restaurant business loan or other business financing options to make sure you can cover the costs of marketing activities.
Determine what your target audience is: Research is the foundation of any effective restaurant marketing. You are in the dark without it. Decide what demographic you're trying to reach and understand who your ideal client is. Who are you attempting to reach, and will they be open to what you have to offer? Think about what makes you unique. For instance, if you own a luxury dining experience, families aren't your target market. To make sure you are what your customers want in a restaurant, know what they want. Think about your distinctive qualities as well. For instance, if you own a sushi restaurant, the design can be inspired by the anime. To entice buyers, market this. Establishing your "buyer persona" is another approach. These are clichés of your ideal clients. Once you have a few, you may base your marketing strategy on each group. To achieve this, consider your target client's age, gender, profession, location, and hobbies. You can work out what you need to do to draw them in based in this.
Establish your online presence: Now that you know what your target audience is, think about where they hang out online. Even though websites are great to give your business a much more professional touch, when you're first starting out having a social media presence will be much more helpful to bring in customers. Share both visually appealing as well as educational posts to get your audience excited.

The Best Restaurant Promotion Ideas
When you're first getting started, marketing your restaurant can be daunting. Here are various ideas to get you going:
Offer Delivery: Joining online food delivery platforms is a great way to tap into customers who may otherwise never find out about your brand. You'll gain extra profits by serving significantly more customers than you have tables. Additionally, delivery is often more profitable than regular restaurant sales. Offering delivery not only makes your product more convenient for customers to purchase, but it also allows you a chance to promote your menu. What better approach is there to showcase your brand than through online food delivery platforms? Take into account the delivery logistics for your restaurant; it has the ability to increase brand recognition.
Don't limit yourself to one marketing channel: Especially in the beginning, you want to cast a wider net to see what works best. Make sure you make an informed decision as to where you're allocating your marketing budget, though. If your audience is on the younger side, you will probably want to spend 80% of your budget on digital marketing and 20% on traditional advertising, such as newspaper, directory, radio, television, and billboard ads. However, if your audience is boomers and older, you'll want to do it the other way around.
Set up your website: First impressions matter. Your website should have a homepage, about us, menu, and contact page at the very least. However, in an ideal world, you'll want a FAQ page, photo gallery, blog, and reviews page. The most crucial thing to remember right now is that your website is the first place that existing and future diners turn to for information.
Offer loyalty rewards: You want to keep consumers coming back once you've done your bit to draw them to your business. A loyalty rewards program is an excellent tool for achieving this. This is how you connect with repeat clients, and who will be the lifeblood of your company when they start coming back regularly.
Content marketing: Deciding where to eat often begins with a quick online search. Consequently, content marketing and SEO (search engine optimization) may be successful restaurant marketing strategies. Due to the fierce competition in SEO, restaurants must be smart in their approach, leveraging blog posts, posting consistently using keywords, and creating relevant content are key to a successful marketing campaign.
Low-Budget Restaurant Marketing Ideas
Create an email list: In general, adding an email list to your marketing toolkit is one of the most economical moves you can make. Email marketing for restaurants must, like other marketing channels in the industry, concentrate on the particular challenges faced by restaurant marketers. Make sure you adapt email marketing best practices to be more local and focused.
Create a profile on Google My Business: Running a restaurant company involves relying heavily on online reviews. You may claim your business for free on Google My Business. Be sure to do that to improve and take control of your profile.
Set up a Yelp Profile: The growth trajectory of your restaurant might be significantly impacted by the ratings you get on sites like Yelp. Here's where most customers will flock to before they head over to your restaurant. The comments and ratings they see will help them make a decision on whether or not to visit your establishment.
Tips for Improving Your Restaurant Marketing
Reply to unfavorable comments on Yelp: It's not the most fun part of the job, but it's almost certain that some reviews will be unfavorable. Be respectful and professional in your response. By making things right, you can occasionally be able to win back a client. Even if you don't, showing other potential consumers that you're eager to address problems head-on will encourage them to visit your restaurant.
Leverage social media: A Facebook page may be a great resource for information, and your stunning restaurant images on Instagram can draw consumers to your account. You can offer gift cards, discounts, and vouchers for customers who post content on their platform or for tagging their friends.
Buy-one-get-one-free deals: This strategy is sometimes overlooked by restaurants despite being an effective way to entice consumers, particularly those who dine alone most often.
Final Word
It takes time and work to draw in new consumers and keep hold of existing ones, but with a little forethought, you'll be well on your way to success. After you've written your strategy down, call a meeting and share it with your team. Measure your marketing efforts, so you can see what works and what doesn't. Any course adjustment is not only acceptable, but to be expected. Find out what works and what doesn't. Your marketing strategy is an investment in the long-term success of your restaurant. If you do it well, you'll succeed.