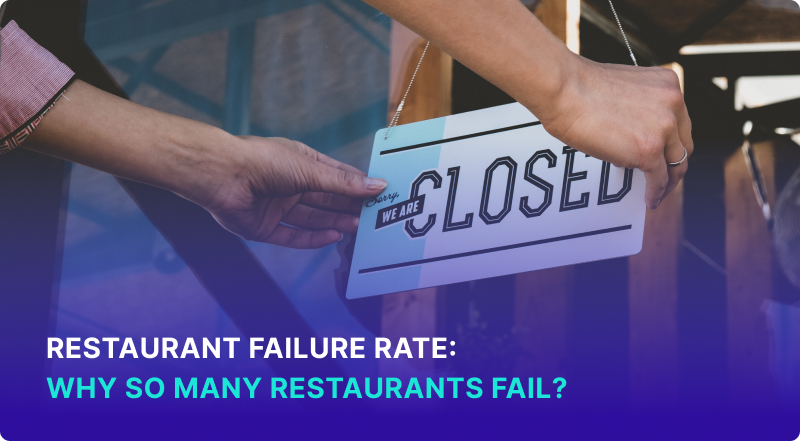 All content presented here and elsewhere is solely intended for informational purposes only. The reader is required to seek professional counsel before beginning any legal or financial endeavor.
According to the Bureau of Labor Statistics, many small businesses do fail. Between 1994 and 2015, about 20% - 25% closed in the first year. By year six, about half had closed. However, even after 10 years, roughly a third of businesses were still running.
The 90% statistic likely comes from the fact that different industries have different survival rates. For example, while 20%-25% of all small businesses close in the first year, roughly 30% of restaurants don't make it through a full year. That means they fail at a much higher clip.
Why Do So Many Restaurants Fail?
Given that restaurant failure statistics paint a bleak picture for restaurant owners, it's important to understand not just the percentage of restaurants that fail, but why those restaurants close.
If you know why they failed, you can avoid those problems and give yourself the best chance of success. Some common reasons restaurants fail include:
Economic conditions. Some things you simply cannot control. Restaurants can take a big hit during recessions and poor economic times. Other major societal changes, like a pandemic, can also cause problems. More than 110,000 restaurants closed (temporarily or permanently) when the pandemic hit.
Lack of a defined concept. Many restaurants that fail have little concept or theme beyond serving food or copying a theme concept from a competitor. You need to innovate and come up with a unique restaurant plan to help stand out.
Poor management. Restaurant turnover rates are incredibly high. This is in no small part due to the fact that unhappy cooks, waitstaff, and other employees have many other options for finding an employer. Turnover also gets expensive. You need to have good staff management to keep workers happy and avoid turnover.
Limited capital. The restaurant business can be expensive. You need to keep the fridges stocked, which can mean placing large orders with suppliers. Without enough cash on hand, you might need to turn to a restaurant loan. While these loans are useful, they can also get costly very quickly.

Heavy competition. This is related to not having a defined concept. If there's too much competition in your area, you'll struggle to build a customer base.
Limited experience. Running a restaurant involves more than cooking a good meal and having good ingredients. They are highly complicated operations and you'll need to have experience to run one effectively.
Poor marketing. When you start any kind of business, you need to get your name out there so customers are aware of your existence. Invest in marketing and make sure you get the best bang for your buck. Consider avenues like social media advertising and other digital tools.
Failure to adapt. Trends are constantly changing and what was popular once may not be popular forever. Just think about the rise in popularity of different foods over the past few years. Bubble tea first reached the US in the 1990s but you can now find it in almost any major city. Previously tried and true concepts can become outdated and fail.
Examples of Failed Restaurant Chains
Even large restaurants can fail, especially if they fail to adapt their food, concepts, or themes to changing consumer desires.
Some well-known restaurant chains that have failed include:
Planet Hollywood. This chain opened in the 1990s and grew to have nearly 90 locations worldwide. However, it experienced a major contraction and now has just six locations. Many attribute its failure to high prices, poor food quality, and bad service as the company thinned its resources.
Roy Rogers. This business became a fast food industry statistic when it went from 650 locations to the 40 that are still open today. The company changed hands multiple times and its concept was close enough to Hardee's, one of its acquirers, that many locations were changed into Hardee's.
The ESPN Zone. Despite the backing of one of the best-known sports entertainment brands, which is owned by the powerhouse that is Disney, ESPN Zone aimed to be a sports bar for the whole family, combining arcade games with sports and food. However, the chain ultimately failed as arcades became less popular and the otherwise relatively common nature of its theme.
Rainforest Café. This unique concept restaurant was massively popular in the 1990s and 2000s. Since then, it's closed about half of its locations. Operating costs for restaurants were high due to the animatronics and technology involved.
Signs of a Failing Restaurant
Restaurants and other businesses don't fail out of the blue. There are warning signs. If you can see the signs, you may have time to act and save the business.
Some common signs of a failing restaurant are:
Issues with paying bills. This is an obvious sign of trouble. If your company is struggling to pay its vendors and turning to loans, you're likely facing potential failure.
Staff exodus. Your employees can often see the writing on the wall before management and ownership. They're the ones on the floor so they can see dwindling customer numbers and hear customer complaints. If your best workers are leaving, your restaurant is probably in danger.
Negative feedback. If your reviews and social media interactions grow negative, that is a sign that your company is on a downward trend.
How to Avoid Failure?
As a restaurant owner, you obviously want to make sure your company succeeds. Keep in mind all of the common reasons restaurants fail and try to avoid those pitfalls.
That means coming up with a good concept, advertising it, making sure you have sufficient capital, and managing your staff effectively.
However, despite your best efforts, you might find your restaurant on a downswing. Beyond rectifying issues like poor food quality or service through effective management and good ingredient sourcing, you can do a few things to help your company recover.
Overhaul or update your menu. You should track the items your customers order to find out what is popular and what isn't. Use that information to adjust your menu. You can save on costs by cutting unpopular dishes and trying new dishes related to your popular ones. You can use daily specials to test potential new menu items.
Change your hours. Do you stay open late and only see a customer or two? Does no one drop by during lunch on Monday? Are people banging on the locked doors on certain days? Adjust your hours to limit the times when you're open and see few customers to keep costs low.
Build relationships. If customers are becoming unsatisfied with your restaurant for some reason, whether it's quality, service or something else, you need to build relationships with them. That relationship can help you learn about what they dislike and help you convince them that you'll make the necessary changes.
What Makes a Restaurant Successful
A successful restaurant has a few key elements:
A strong concept. Know your target market, where you'll locate the restaurant, the type of food you're serving, and the service you'll provide.
Clear marketing. Make sure your customers know about your company and know what you're selling.
Good staff. Employ high-quality staff that can provide great service to keep customers coming back. That means offering competitive pay and good management practices.
Tips to Improve Your Restaurant Success Rate
To improve your chances of succeeding in the restaurant business follow these tips.
Have a focused menu. Customers should know what you're selling and be able to understand your menu. Having a focus on a specific type of food can also help you keep costs down.
Listen to feedback. If customers offer feedback, don't ignore it. Adapt your service and menu items to keep the people who pay the bills happy.
Consider ways to boost revenue. Doing takeout or delivery sales can expand your customer base and help you earn more money, giving you a better chance of succeeding.
Build a strong brand. If you can build a fun, unique brand or one that resonates with people, that can boost customer loyalty. You can even sell branded merch to boost your revenues and get some free advertising.
Final Word
Restaurant failure rate statistics can seem daunting but with some effort, you can avoid becoming part of those statistics. Use these tips when you start your restaurant to give yourself the best chance of succeeding.