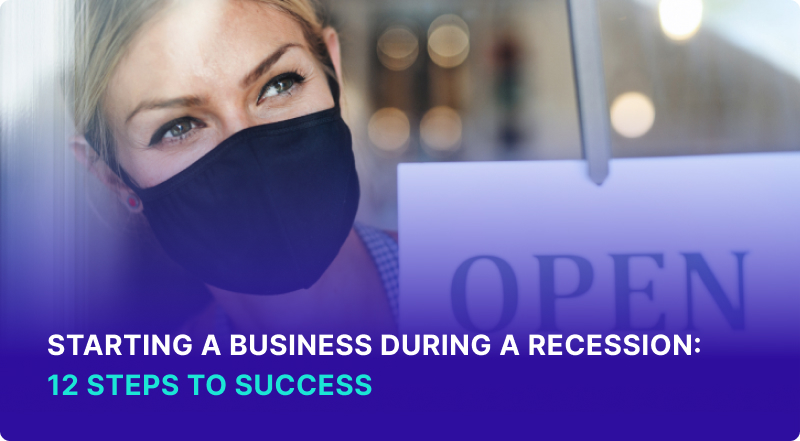 All content presented here and elsewhere is solely intended for informational purposes only. The reader is required to seek professional counsel before beginning any legal or financial endeavor.
An economic recession occurs when a country's economy slows down and its output decreases. This is usually accompanied by a drop in the stock market, rising unemployment, and falling income for people in that country.
Recessions are painful to deal with. You might feel uncertain about your job or experience a sudden loss of income. However, they can also be an opportunity. Many businesses struggle during recessions and might have to
Before You Dive In:
Modern economies tend to be cyclical, with economic boom periods followed by recessions.

Recessions can lead many people to lose their jobs and many businesses to close.

If you're fortunate enough to have the resources to do so, a recession can be a good opportunity to

start a company

.

Don't be hasty, do your due diligence to make sure your company can succeed.
Should I Start a Business During a Recession?
Many economists are worried about the prospect of recession given high levels of inflation, the war in Ukraine, and general economic uncertainty. While uncertain economic times can be scary, they can also be a good time to start a company.
Reasons To Start a Business During a Recession
There are a few reasons to start a new business during a recession.
Need for innovation. The most successful companies are those that innovate and solve a problem in a new way. During a recession, many people are facing problems like trying to stretch their money further. There are many opportunities to innovate and help people.
Less competition. Recessions often lead small businesses to close, giving

new entrepreneurs

less competition to deal with.

Easier credit. The government often responds to recessions by lowering interest rates and making borrowing easier. However, this may not be true during a recession where the government is also fighting inflation.
More available workers. During recessions, the unemployment rate tends to rise, giving you a larger pool of talent to hire from.
More investors. The stock market tends to drop during a recession, so investors might be looking for other places to put their money.
Who Shouldn't Start a Business During Recession?
Starting a business during a recession can be scary and it certainly isn't for everyone.
If you're struggling to make ends meet and can't afford to invest money into a new business, then you shouldn't try to start one during a recession. You also should think hard before dedicating time to a new business if you're in a precarious position at work and splitting your efforts could lead to losing your job.
How To Start a Successful Business During a Recession
If you've decided that starting a business is the right path for you, consider these tips.
1. Try to find a solution to a common problem
The most successful companies, especially during recessionary periods, are those that solve a common household problem. Luxury items and entertainment are some of the first things cut from the budget when times get tough.
Think about common issues you face in your life and try to come up with a marketable solution for them. If you can, you might have a good business idea.
2. Perform thorough market research
Even if you think your product is a great idea, if no one else wants that product, your business won't succeed. Research your market thoroughly to make sure you can sell your item and find out the best way to market your products.
3. Market effectively
When you first start selling your product, use your research to market your product as effectively as possible. Focus advertising on the specific group you hope purchases your product.
4. Start small, with minimum investment
Money is tight during a recession, and you don't want to waste a single penny. When you start your company, you might be tempted to go all-in and spend lots of money on non-essentials. Resist that temptation and only invest the minimum that you need to get your company up and running and products out the door.
5. Find a niche to grow your business
Try to find a specific niche for your company and focus on that niche instead of branching out too quickly. For example, if you start a cleaning service, you might be tempted to offer handyman services as well. However, that means investing in additional tools and diluting your brand, which can confuse customers about what services you really offer.
Focusing on one thing is cheaper and easier to do.
6. Define a unique brand identity
Good branding is important for selling your products. Make sure you have a brand identity that is appealing and memorable.
7. Create an evolving business model
While branching out too early is dangerous, don't let yourself get pigeonholed into only selling a single product. Make sure there's an opportunity to evolve and expand over time.
8. Reach out for governmental assistance programs
During recessions, the government often offers assistance programs to individuals and business owners. Take advantage of any of these programs that you can find. Check with the Small Business Administration to see what programs you qualify for.
9. Pursue networking
Networking with other business owners can help you get free advertising or find a mentor who can help you when you run into problems. Look for local networking opportunities whenever you can.
10. Come up with cheaper prices than your competitors
If you're entering a line of business where there's a lot of competition, one thing you can do to get an edge is to offer a cheaper product or service.
11. Don't give up easily
Starting a new business is hard. You might face weeks or months of losses before you sell your first product or land your first client. Stick to it and don't give up.
12. Have a plan B
Even the best business plans could result in failure if you get unlucky. Make sure you have a plan B to keep food on the table and a roof over your head.
Best Businesses to Start During a Recession
Here are some of the best businesses to start during a recession.
Cleaning services
Cleaning companies require relatively little in terms of equipment and supplies – just some soap, mops, sponges, and the like. You can get started with a minimal investment and recoup your money in just one or two jobs.
Freelance services
Freelancing encompasses everything from writing, to art, to video editing, to any other service people might need. During a recession, freelance budgets could drop, or companies could look to replace expensive full-time employees with cheaper freelancers.
If you have a marketable skill, try offering your services as a freelancer.
Accounting
Even during a recession, people and businesses need to pay their taxes. If you're good with numbers or already work as an accountant, you could consider opening your own accounting or tax preparation firm.
Fast food franchise
Fast food offers filling meals at a relatively low price. During recessions, fast food sales tend to hold steady or even rise. If you open a franchise during a recession, you might find that you have many interested customers looking for cheap food.
Retail consignment
Consignment stores take items from people looking to sell those things and pay the owners a percentage of the sale proceeds.
For example, someone wanting to sell a jacket might give it to a consignment shop. The shop then sells it for $100 and gives the original owner $70, pocketing $30 for the service. These businesses have relatively low startup costs because you only pay when you sell something.
Refurbishment of electronic devices
Money is tight during a recession, so people are more likely to repair broken or damaged electronics than replace them. If you're good at fixing phones, computers, and tablets, this can be a profitable niche.
Repairs and maintenance
Like electronics, people during a recession might prefer to fix or repair appliances and other things in their homes rather than replace them. Handy people can make good money by offering repair and maintenance services.
Childcare
If you like children, you can think about opening a daycare or providing in-home childcare services. Getting started at providing in-home childcare is relatively inexpensive and many people might find themselves working unusual or difficult schedules and in need of babysitting.
Where To Find Business Funding During a Recession?
No matter the type of business you're starting you'll need some cash to get the ball rolling. There are a few places you can find funding, even during a recession.
Savings. If you have money saved up, you can try funding the business yourself, especially if it has low startup costs.
Friends and family. While mixing money and personal relationships is risky, you can ask your friends and family to lend you money or invest in your company.
Investors. More traditional investors are also a source of funding. Networking in your local area can be a good way to find these people.
Banks or online lenders. Many companies offer startup business loans you can use to try to start a new company. However, you might have to offer a personal guarantee to repay the loan if your company fails.
The Small Business Administration. The SBA may offer programs to help new companies get off the ground, including SBA loans and grants that you can qualify for.

Businesses That Started During a Crisis: Success Stories
There are many well-known businesses that started during a recession. While you may not aspire to grow your company to these massive heights, it's good to see how founding a successful business during a crisis is possible.
Microsoft. Microsoft was founded in 1975 during a recession caused by an oil embargo. The company is now worth more than $1.6 trillion.
Burger King. The first Burger King opened in the 1950s during a recession that followed the Korean War. By offering inexpensive food, it succeeded in gaining a loyal customer base.
Hyatt. Hyatt got its start in 1957 during the post-Korean War recession. It offered low-cost rooms near LAX airport. It later expanded into an international hotel business.