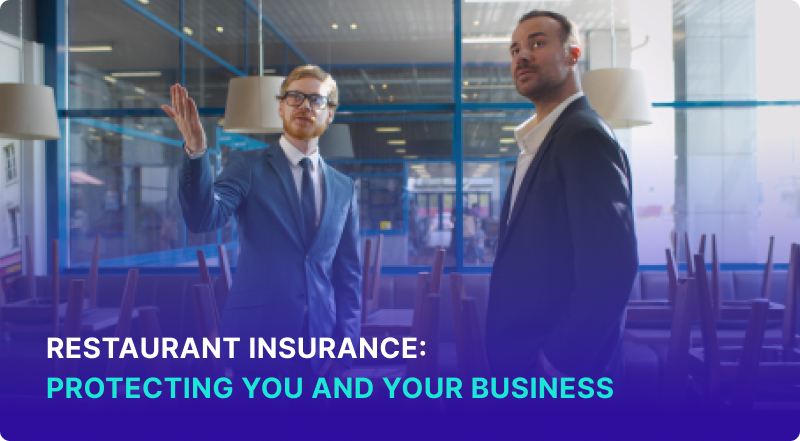 All content presented here and elsewhere is solely intended for informational purposes only. The reader is required to seek professional counsel before beginning any legal or financial endeavor.
If you're in the restaurant business, or thinking about opening a restaurant, you know there are a lot of aspects to consider; from your menu to your suppliers and equipment, the list continues. But protecting what you built has never been more important in the age of litigation. Restaurant insurance protects aspects of your restaurant and its assets to mitigate the risks associated with running a dining establishment.
What Is Restaurant Insurance?
Restaurant insurance protects from various risks associated with running a restaurant; from equipment failure to patrons injuring themselves. Shifting risks of running a restaurant to an insurer can always be considered crucial to running a successful restaurant.
Who Needs Restaurant Insurance?
If you are selling food and beverage to customers you could consider your business a restaurant. There are many types of restaurants, all of which should get insurance.
Full service restaurants
Pizza shops
Sandwich shops
Cafeterias
Diners
Delis
Caterers
Food delivery services
Ice cream shops
Cafes and coffee shops
Bakeries
Bars and taverns
Lounges
What Does Restaurant Insurance Cover?
Restaurant insurance is a type of business owner insurance. According to GEICO, restaurant insurance typically can cover:
Bodily injury
Legal costs associated with customer legal issues
Equipment and furniture
These are typical issues that could be associated with running a restaurant and may serve as a great baseline for any restaurant business owner.
Why Is Restaurant Insurance Important?
While running your business you may be focused on the quality of foods, staffing, and maintaining your taxes, but in the off chance something goes wrong, insurance is there to ensure your business is not exposed to a scenario that may shut it down.
A customer choking, a chair falling on a small child in your dining area, or a worker slipping in the kitchen; these are all possibilities which may require insurance to fight legal expenses, and pay settlements, without exposing the business to the liability associated.
Types of Insurance Restaurants May Need
While this is typical it's always possible to get further insurance, such as a business umbrella policy, which will add to the amount of coverage associated with an existing policy, among others. Let's explore different policy types.
General Liability Insurance: covers your business from general financial loss due from damages caused by your business
Commercial Property Insurance: covers your physical location and assets from loss such as a fire
Business Interruption Insurance: covers peril suffered from interruptions to your business such as tornadoes or possibly pandemics
Workers' Compensation: covers short and long term leave necessary for employees who may have suffered physical injury
Commercial Crime Insurance: covers financial losses suffered as a result of crime like theft
Extra Expense Insurance: covers extra expenses incurred while your business reestablishes itself from an interruption, like repairing a roof after a tornado
Food Spoilage Coverage: covers food spoilage in the event of a power outage
Liquor Liability Coverage: covers establishments who serve liquor and protects owners from patrons harming others after consuming
Mechanical Breakdown Insurance: covers the asset repair and replacement costs associated with a breakdown
Commercial Auto Insurance: similar to personal auto insurance, covers employee drivers and company vehicles
Cyber Liability Insurance: protects against cyber crimes such as a data breach
Employment Practices Liability Insurance: protects owners from any wrongdoing in the employment process, such as discrimination
What Insurance Does a Restaurant Need?
While there are a lot of policies available to restaurant owners, it's important to do your research and understand what a policy covers, and what the risk of non covered items may be; for example if you live in an area that does not get flooding you may not need to protect against floods.
Business Owners Policy (BOP): As a baseline a BOP covers liability generally associated with running a restaurant such as harm to patrons and general liability. These policies vary in price but owners can expect starting prices to begin at $175 per month.
Workers' Compensation: If you employ persons to run your restaurant and these employees hurt themselves on the job, workers compensation insurance would be a great idea as it will pay the employees as they take their mandatory time off. The cost can typically be $1.06 per $100.00 of payroll paid.
General Liability Insurance: Can be thought of as BOP but without property and equipment insurance. This could be considered a bare bones option and protects owners from potential litigations associated with running a business. The cost can typically be seen around $175-$1000 a year.
How Much Does Restaurant Insurance Cost?
There are many factors which go into pricing a policy, the best way to determine the cost for your scenario is to speak with insurers and determine quotes across competitors. We explore a few attributes that could be considered from the insurers perspective.
Location - what part of town are you in
Type of property - rooftop bar versus franchise fast food
Years in business - to gauge how risky the business is
Revenue - may give an idea of how much coverage is needed
Equipment - how risky is your equipment; pizza oven versus microwave
Number of policies needed - can you bundle and save
Employee information - are professionals running the kitchen
Prior claims history - how risky is the owner
As an example, let's say a brewery who has been operating in the midwest for six years is shopping for general liability, workers compensation, and commercial auto insurance. The brewery, which does $2M annual in revenue, has large equipment for brewing the beer, and has about 30 total employees; some professionally licensed and some not. The brewery shops rates around town and finds an insurer that will bundle all three insurance types into one policy. The brewery ends up paying roughly $800.00 a month for its policy.
Who Are the Best Restaurant Insurance Companies?
It is hard to determine who is the best versus worst at insuring restaurants as there are so many attributes which feed into the process; what their policies cover, to what degree they can bundle, or how much risk they're willing to take on for the price. While results, pricing, and level of service vary from competitor to competitor, a few common options can be found below.
Huckleberry
NEXT
Food Liability Insurance Program (FLIP)
biBERK
Thimble
Chubb
A rule of thumb when shopping for insurance has been said to be to shop for the best claims process. A claim is when you need to activate your insurance and protect yourself. The last thing you want to experience in the face of liability is an insurer who is no longer as friendly to work with.
After discussing your needs with a few competitors it may become clear which insurer has the balance of price, coverage, availability, and claims structure that may meet your needs.
How Do I Get Insurance for My Restaurant?
A typical approach that could be seen for a restaurant owner to insure their restaurant can be found below:
Understand your businesses risks and exposures
Understand what type of coverage you think is best based on these risks
If possible, ask other restaurant owners what type of coverage they have
Once you understand the policies you want to purchase approach several insurers
Understand their costs, claims process, and coverage details such as max coverage
Once you have found an insurer, purchase the policy, or policies
Annually review your insurance footprint and understand if you need more or less coverage
Tips for Buying Restaurant Insurance
On top of a few items mentioned, there are a few tips offered that can help the experience
Get multiple quotes: the more you understand how the pricing across competitors will look the more you will find comfort in paying a fair price
Use companies that specialize in your niche: some insurers focus on specific business types, such as small business, or bars, they know your business as well as you do
Consider the deductibles carefully: understand the scenario that could play out if you had to use your insurance, what is the upfront cost and what is being covered
Buy only the coverage you need: while you may want to mitigate every risk in the book for your business you do not want to cut into your businesses bottom line paying policies you may never use
Getting a restaurant insurance, as well as other licenses and permits required to operate, might be costly. If you need additional funding for your business, you might like to review the best restaurant business loan offers on our list.