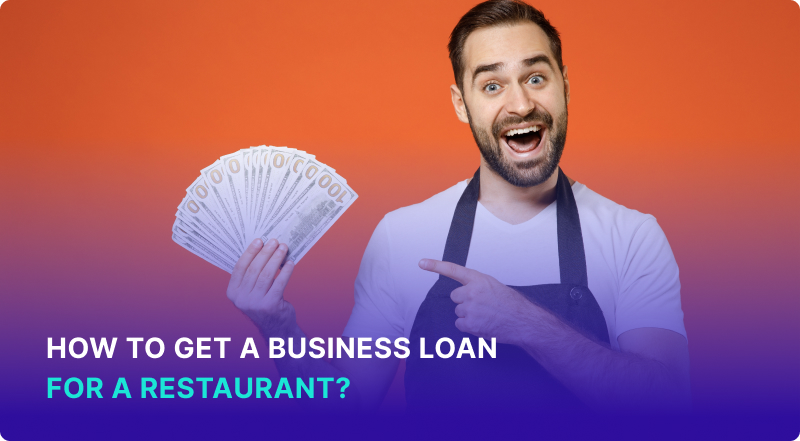 All content presented here and elsewhere is solely intended for informational purposes only. The reader is required to seek professional counsel before beginning any legal or financial endeavor.
While you can use your own money to fund a startup, given the minimum startup cost for a restaurant can exceed $175,000, you'll likely need help.
Business loans are also an option for restaurant owners who want to grow their businesses more quickly. We'll break down what you need to know about how to get a small business loan for your restaurant, as well as alternatives to consider.
How to Get a Loan for Your Restaurant Business
If you're just starting out in the restaurant business, a loan can help you pay for basic needs, like kitchen equipment. To give yourself the best chance of qualifying for a loan, follow these steps.
Prepare a business plan
Before you start any kind of business, you need to have a written business plan.
This should outline the details of your business, what industry you'll operate in, where you'll be located, what products you'll sell, how you'll market, and plans for growth. You should come up with reasonable estimates for how much it will cost to start your business, how much it will spend on operating costs and revenue expectations.
Having this business plan serves two purposes. One, it helps you think about your company and identify potential issues and how to deal with them. Two, it shows lenders that you've done your homework.
Determine the loan amount
Using your business plan, come up with the amount that your company will need to borrow.
The easiest way to do this is to figure out how much funding you have from other sources, such as savings and investors, then subtract that amount from the money you'll need for startup costs. However, you might consider applying for a slightly larger loan than is strictly necessary to ensure you have a cash buffer.
Keep in mind that borrowing more than necessary will increase your costs because more interest will accrue. Strike a balance between flexibility and cost.
Gather company financial documents
Put together whatever financial documents you have, including bank statements, tax returns, profit and loss figures, and any other financial information related to your company. The papers you have available will depend on whether you're just starting out or have been operating for a while.
Lenders will want to see these documents, so having them at the ready will save you time.
Determine the type of loan you will apply for
There are many different ways to finance a business. Which loan makes the most sense depends on your financial needs, goals, and the age of your restaurant.
Some options include:
Term loans. These are a good choice when you want a flexible, medium-to-long term that you can pay off in simple monthly increments.
Restaurant equipment financing. These are good for new restaurants or ones that want to upgrade equipment. The equipment serves as collateral, keeping rates low and qualification easy.
Inventory financing. These loans can help you purchase inventory, such as ingredients for meals, and pay for it after you've sold the food to customers.
Working capital loans. Working capital is a measure of financial liquidity and having enough cash on hand to pay the bills. You can use these loans to cover short-term shortfalls and issues paying the bills.
Business lines of credit. Lines of credit are flexible, letting you borrow money only when you need it, but giving you the option to borrow multiple times. Rates can be high, so they're not ideal for long-term borrowing.
SBA loans. These loans take a long time to process but offer high limits and easier approvals. They're good for people who need to borrow a lot and who can wait through a lengthy approval process.
Merchant cash advances. These are short-term loans that you repay with a percentage of your sales. They're good for small, short-term financing needs, like covering minor shortfalls.
Choose a lender
The next step is to compare lenders to find the best one for your needs.
First, consider the type of loan that you're looking for. Not every lender offers the same types of loans, so use that to narrow your search. Then, compare offers from a few different lenders.
Consider the following factors of each loan:
Repayment term. Make sure the term lines up with your monthly budget and keeps overall cost low.
Interest rate. Lower is better.
Fees. The fewer fees you can pay, the better.
For more information on the best restaurant lenders, check out our article covering the best business loans for restaurants.

Prepare and submit a loan application
Once you've chosen a lender, it's time to submit the loan application. The exact process will depend on the lender, but might include these steps:
Fill out an application. This is a paper or online form that asks for details about you, your business, and why you need a loan.
Meet with a lender. Depending on the size of the loan, the age of your business, and other factors, you may have to meet with a loan representative in person or over a video call. You'll discuss your business and financing needs.
Negotiate. Talk over the loan offer and see if you can get the lender to improve any of the terms. Be prepared to offer something in return, like accepting a higher interest rate for a longer repayment term or adding collateral to the loan.
Offer collateral. Restaurants are risky businesses, so many lenders will require collateral before extending a loan offer.
Wait for approval
Once you've talked over the application with the lender, wait for them to approve or deny the application.
Provide additional information as necessary
During the underwriting process, the lender may ask for additional information or documentation. Be ready to provide is as quickly as possible to keep the process moving.
Sign loan agreement
Once you receive the approval, sign the loan agreement and wait for the money to arrive in your bank account.
Use your loan
Once the funds hit your bank account, you can start using them to grow your business. Make sure to use them in accordance with the requirements of your loan agreement.
Repayment
Be ready to make payments according to the loan agreement. That usually means monthly payments. Make sure to make payments on time to avoid penalties and damage to your credit.
Understanding Restaurant Business Loans
Before you apply for a restaurant business loan, it's important to understand how they work and can help grow your business.
What Are Restaurant Business Loans?
Restaurant business loans are exactly what they sound like. They're loans designed specifically for the needs o the restaurant industry, helping business owners start or expand a restaurant.
How Can Restaurant Business Loans Be Used?
You can get restaurant business loans for almost any use, from buying inventory to upgrading old equipment.
Can You Get a Restaurant Business Loan with Bad Credit?
It is possible, though harder, to secure a restaurant business loan with bad credit. Expect to deal with higher rates and more stringent collateral requirements to qualify.
Tips for Securing a Restaurant Business Loan
If you want to give yourself the best chance of qualifying for a restaurant business loan use these tips.
Improve your credit. Don't miss payments and try to reduce your debt.
Have a plan. Show the lender you have a clear idea of how to use the money and how it will help your business. Also, show that you have a plan to repay the loan.
Wait until you've run the business for a while. Showing a successful history of running your business can improve your odds.
Only apply for what you need. The more you want to borrow, the harder it can be to get approved.
Keep detailed records. If you can give the lender clear, detailed records for your company, it can make qualifying much easier.
Keep multiple lenders in mind. Consider prequalifying for a loan with multiple lenders so you have a backup plan available.
Alternatives for Restaurant Business Loans
Getting a loan is just one way to fund your restaurant. There are alternatives that can be appealing for a few different reasons.
Business Grants for Restaurants
Some organizations and local governments offer business grants for starting a restaurant. These grants usually aren't huge, but they're free money you can use to start a business. Check local nonprofits and government groups to find opportunities.
Angel investors
Angel investors are a good source of funding for startups looking to hit the big time. If you have lofty goals, like franchising your brand, this is an option.
Venture capital funding
Venture capital, like angel investors, tends to target businesses with big growth potential. It won't be an option for most restaurants but could help you expand if you make it big.
Microloans
Microloans are small loans, usually less than $50,000, with short repayment periods. They're available from lenders, community, and government groups.
Incubators and accelerators
These organizations can help speed the launch of your business, giving you financial and managerial help for a portion of your equity.
Partnerships with other businesses or individuals
If you partner with another person or business, you can rely on them for advice and they may offer to help finance your company.
Personal savings
Investing your own money is essential for almost any business. Make sure you have some cash available to put into your restaurant.
Family and friends
You can ask family and friends for loans or investments. However, keep in mind that mixing family and money can be stressful. Make sure everyone has very clear expectations regarding the money and eventual repayment.
Business Mentoring Organizations That Could Help
When you're starting a business, having a good mentor who has experience in the industry is invaluable. Consider finding a mentor through one of these organizations.
SCORE. SCORE is a nonprofit organization with more than 300 groups across the country. It offers mentoring to small business owners.
Local networking events. Many areas have local networking events where business owners can meet each other. These can be a great way to find a mentor.
Women's Business Centers. These organizations connect women business owners and are a good place to find others who can help you through difficult decisions.
Small Business Development Centers. The government offers a database where you can find these centers. Most have some form of mentoring program.
Final Word
Starting a restaurant can be exciting, but you need to have a lot of capital to get the ball rolling. Even if you're already running a successful business, a loan can be a good way to expand. Use these tips to give yourself the best chance of qualifying for a loan that can help your business.