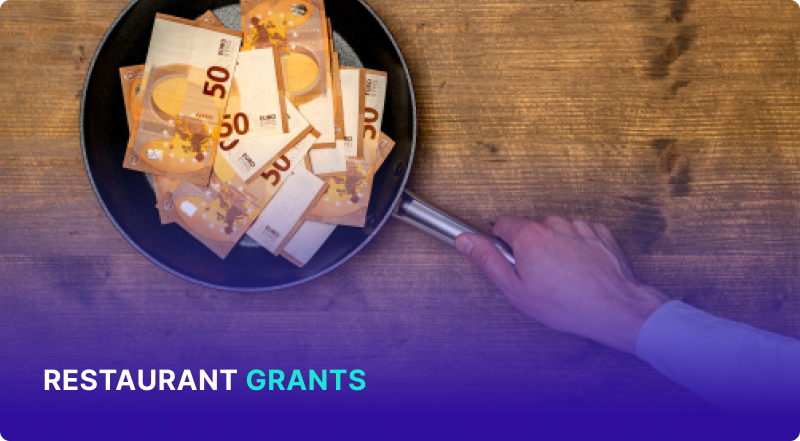 All content presented here and elsewhere is solely intended for informational purposes only. The reader is required to seek professional counsel before beginning any legal or financial endeavor.
A restaurant grant is a financial award given to select small businesses by public and private organizations. If you receive a grant to build your restaurant, that's essentially free money. In other words, you won't have to pay back these funds. The free nature of grants makes it easy to see why restaurant grants are a coveted win for restaurant owners.
Key Points:

Restaurant grants involve financial awards given by public and private organizations.

When you receive a grant, you won't have to pay it back.

Securing a restaurant grant can be a game changer for your business venture.
Restaurant Grants from the Federal Government
The federal government offers a wide range of restaurant grant opportunities. Below you'll find some of the most popular restaurant grant options from the federal government:
Small Business Administration (SBA) Grants: The SBA offers restaurant grants through select programs like Boots to Business, the Program for Investors in Microentrepreneurs, and Veterans Business Outreach Centers (VBOC).
Grants.gov: Grants.gov is a website that showcases all available grants from the federal government.
U.S. Department of Agriculture (USDA) Grants: The USDA Food & Nutrition service offers several restaurant grant opportunities. The award amount varies. But most are tied to healthy food or farm fresh projects.
Restaurant Revitalization Grant: The SBA's Restaurant Revitalization Fund is focused on helping restaurants get back on their feet after the pandemic hit the food industry hard. Grants of up to $10 million are available.
U.S Chamber of Commerce Dream Big Awards: The Dream Big Awards focus on small businesses, including restaurants. In 2022, $25,000 was the largest award amount.
State and Local Government Restaurant Grants
The federal government isn't the only player in the restaurant grant space. Many state and local governments also offer restaurant grants. Below is a short list of some options you might have in your area:
Don't see your city or state on the list? Check with your local chamber of commerce to uncover grant opportunities.
Restaurant Grants for Minorities and Other Specialized Groups
Beyond geographic limitations, some restaurant grants are designed for minorities and other specialized groups.
Minority Business Development Agency Centers (MBDA): MBDACs offer specialized training to help minority-owned businesses penetrate new markets. Additionally, you may find grant opportunities through these agency centers.
First Nations Development Institute: Native American restaurant owners can find grant opportunities through this organization. So far, over $55 million in grants has been awarded.
Merchant Maverick Opportunity Grants: Asian and Pacific Islander American restaurant owners can apply for the Merchant Maverick Opportunity grants.
Grubhub LGBTQ+ Restaurant Grants: GrubHub is awarding grants between $5,000 and $10,000 to restaurant owners in the LGBTQ+ community.
Eileen Fisher Woman-Owned Business Grant: The Eileen Fisher grant focuses on helping women business owners get started. Many past winners have businesses with an environmental focus.
Women's Business Centers (WBCs): WBCs operated by the SBA offer free training to women business owners.
Cartier Women's Initiative Award: Women restaurant owners approaching their business through the lens of sustainable social and environmental impact can apply for grants to grow their restaurants.
The Amber Grants: Amber grants of up to $25,000 are available through WomensNet in honor of Amber Wigdahl.
The Military Entrepreneur Challenge: Veterans building a restaurant can apply for grant awards ranging from $4,000 to $15,000.
Warrior Rising: Warrior Rising is another opportunity for veteran business owners to obtain the funding they need through a grant.
Nonprofit and Corporate Restaurant Grants
Many nonprofits and big corporations offer restaurant grant opportunities. Here's a look at some popular opportunities.
DoorDash Restaurant Disaster Relief Fund: Restaurants affected by neutral disasters can apply for grants of $10,000 to reopen their doors.
FedEx Small Business Grant Contest: In 2023, the competition opens on January 31 with award amounts of up to $30,000.
High Road Kitchens: Restaurant owners who secure a High Road Kitchens grant must provide livable wages and increased equity to their employees. The initial funding ranges from $18,000 to $25,000.
World Central Kitchen Food Producer Network: The World Central Kitchen Food Producer Network provides grants to food-related small businesses across the Caribbean. If you fit the geographic limitations, this might be the right grant for you.
National Restaurant Association: The National Restaurant Association offers a selection of scholarships to culinary workers. As a restaurant owner looking to expand their education, you might qualify.
National Association for the Self-Employed: Self-employed restaurant owners can apply for grants of up to $4,000 to grow their businesses.
Fast Break for Small Business: The NBA sponsors the Fast Break for Small Business program, which offers grants of up to $10,000.
Venmo Small Business Grant: Restaurant owners can receive a grant of up to $10,000 through Venmo.
Lenovo Evolve Small Grant: The Lenovo Evolve Small grant offers awards of up to $10,000. Business revenue must be at least $100,000 to $300,000 to qualify.
Incfile Fresh Start Business Grant: New restaurants can score $2,500 toward startup costs through this grant opportunity.
Hello Alice Grant: Hello Alice offers grants of up to $25,000 for small businesses of all kinds.
How to Get Grants for Your Restaurant
If you want to obtain a grant for your restaurant, here are the steps to take.
Understand the Process
Although every grant opportunity is different, the general process is the same. Once you find a grant, make a note of the deadline. In most cases, you'll need to submit a comprehensive application to be considered.
The road to success and the road to failure are almost exactly the same. – Colin R. Davis
Research Your Opportunities
You'll find plenty of grant opportunities out there. But instead of committing your limited resources to every possible grant, research all of your options to find the right fit. Choose to apply to grants that seem like a great fit for your business.
Check the Requirements
Many grant opportunities have a target audience. For example, the grant funder might want to help veterans or women get their businesses off the ground. If you don't meet the criteria for a grant, then don't waste your time applying.
Complete the Application
Many grants have lengthy applications. Be prepared to commit a significant amount of time to building out your grant applications. Take your time, follow all directions carefully, and include stand-out details about your business. Finally, don't forget to submit the application on time.
Alternative Ways to Access Capital for Your Restaurant
Not everyone has good luck with grant applications. And some restaurant owners can't wait for the lengthy grant process to unfold. If you need access to capital for your restaurant, you have other options.

Business Monitoring Organizations That Could Help
The right advice can make a big difference to restaurant owners. Here's where to ask for a helping hand:
Small Business Administration: With office locations across the nation, you can find ample resources here.
Local Chamber of Commerce: The Chamber of Commerce in your area usually has an eye on any opportunities for small businesses.
Women's Business Center: WBCs offer classes and support for women building a business.
One thing I always say is being a great chef today is not enough - you have to be a great businessman. - Wolfgang Puck
Final Word
A restaurant grant can make a big difference to your business. If you start looking, you'll find many grant opportunities. The key is to narrow your focus on grant opportunities that match the qualities of your business.