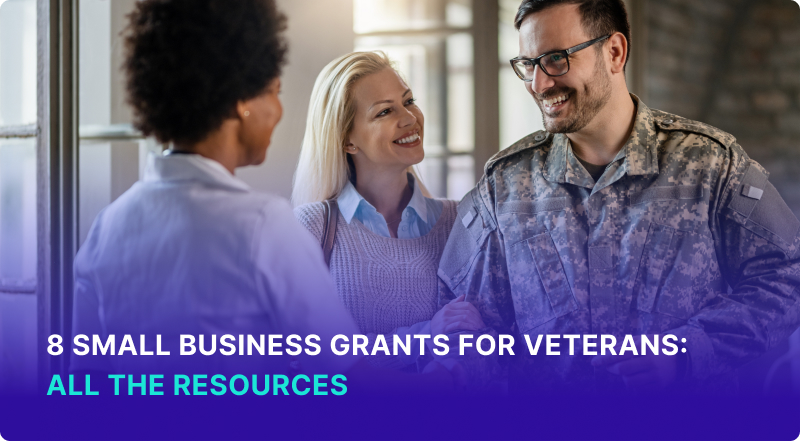 You've defended your country, dedicated yourself in service and now it's time to start building your civilian life. This is where the government steps in and provides multiple options for veteran business grants to help you get started on the right foot. In addition they also provide business training and business mentoring.
Key Points: A Business grant for veterans doesn't need to be paid back nor is any interest charged - Leverage your military service skills by incorporating the following knowledge into your mind set - Be resilient in the bureaucracy. You deserve the grants to get your civilian life started
8 Resources for Veteran Business Grants
StreetShares Foundation: The StreetShares Foundation awards a grant annually. As a grant winner, you could receive $15,000, $6,000, or $4,000.
Warrior Rising: Warrior Rising offers support to veteran business owners. The organization could help find you a grant.
Boots to Business: Although not SBA grants for veterans itself, the Boots to Business training program offered to veterans through the Small Business Administration can point you towards the right grant for your business.
VA Small Business Grants. The U.S. Department of Veterans Affairs doesn't offer grants. But will point you towards the Boots to Business course, which could help you find grant opportunities.
Institute for Veterans and Military Families (IVMF). IVMF offers coursework that includes information on how to successfully obtain a grant for your business.
Grants.gov. The federal government operates this site to help you find and obtain available grants.
Service-disabled veteran-owned small business program: It's not quite a grant. But the federal government requires a percentage of contract funds to be used for businesses owned by service-disabled veterans. It can take several months to receive your verification. From there, you can start applying for contracts regularly.
The Vocational Readiness and Employment (VR&E) Program for Disabled Vets: This specialized training may help you seek out grant opportunities.
Grant amount: The amount varies based on the grant program. But expect to see grant awards start around $1,000+.
Time frame: Each grant has a unique application timeline. In general, you should have several months to fill out the application.
Main application requirements: You'll need to be a veteran for all veteran business startup grants. Typically, you must be honorably discharged. Some grants will have additional requirements, such as a service-related disability or a business in a particular industry.
Who is this best for? If you are a veteran that wants to open the doors to your very own small business without taking out costly loans, then a small business grant represents an opportunity not to be missed.
Award amounts: Winning a contract with the federal government often comes with a big payday. Often over $100,000, but the exact amount will vary.
Time frame: It can take several months to go through this process.
Main application requirements: A formal verification through the Veterans First Contracting Program is required to confirm your status as a veteran with a service-related disability. From there, you can compete for contracts.
What business is this best for? This is a good option if you are willing to wade through the paperwork required for verification and see a way for your business to meet a government need.
Time frame: Typically, you'll have several months to apply for a small business training program.
What's included? The details of a training program vary widely. Some programs are focused on business basics, while others take a deep dive into pursuing specific funding options.
Main application requirements: Each training program has its own requirements. In some cases, family members are welcome to apply with or without their veteran. The training is exclusively reserved for veterans seeking to start a business in other cases.
Time frame: With plentiful counseling options available through the Small Business Administration, you can likely find one that suits your schedule. Although it may take some time to speak with an adviser, it may be worth the wait.
What's included: Different programs offer different services. But when working with a small business advisor, they should be able to help you walk through the questions you are struggling with.
Main application requirements: Although you can work with a veteran-specific service, the Small Business Administration offers advice to most small business owners.
Business credit cards. A business credit card comes with a line of credit to spend on your business needs.
Crowdfunding. If you have a great idea but want to sell customers on the product before you commit too much capital, crowdfunding is a great option.
Microloans. You can secure a microloan through the SBA for up to $14,000.
Online loans.

An online loan could give you the capital you need now. You might wish to take a deeper look into

business loans for veterans

.