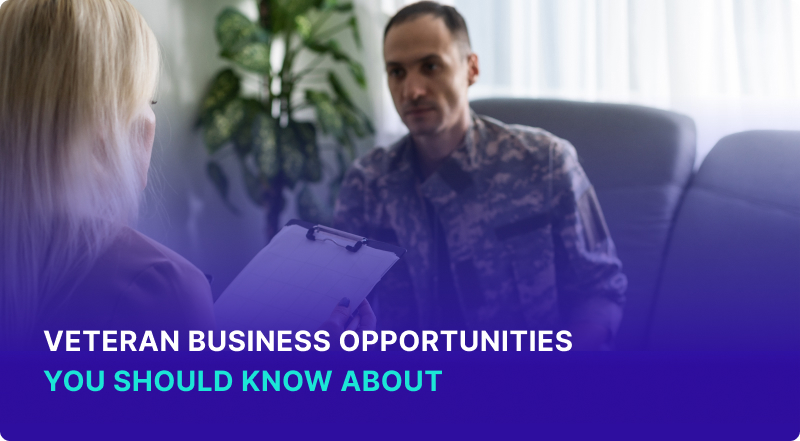 All content presented here and elsewhere is solely intended for informational purposes only. The reader is required to seek professional counsel before beginning any legal or financial endeavor.
As a veteran, you've got a unique skill set and starting your own business will utilize them all. In addition, your skill set will get your business moving faster than those without as usually, for civilians, these skills are learned on the job. Leverage your skills, start your own business and succeed at making money.
Key Points:

Brainstorm the best business ideas for your unique skill set.

Put together a business plan for success.

Consider your funding options, including grants and loans.

Reach the customers you'll need for your business to succeed.
Business Ideas For Veterans
Veterans are equipped with high-level skills that can translate into success in the world of business. The first step to starting a business is brainstorming to find the best option for your interests and goals. Often veterans also start out by looking into business loans for veterans.
Here are some of the top small business ideas for veterans to start the brainstorming process:
Franchise owner:

Many franchise companies highly encourage veteran operators. If you want to follow a proven business model, then consider working with a franchise. A few of the most veteran-friendly franchise options include Papa Murphy's, the UPS store, Two Men & A Truck, Lawn doctor, Fast Signs, Sports Clips, and 7-Eleven.

Government contractors: If you've worked with government contractors in the military, you know what a vital role they play. And they are well compensated for their contribution to the federal government. Consider what businesses fill the government contract niche. Is there an opportunity to put your unique skills to work?
Go with a veteran start-up: Do you have a unique business idea? Starting your very own business could take it to the next level.
Provide a service based on your experience: Do you know what military members are craving? Consider starting a service-based business to help them find what they need.
Wish that a particular service was designed better for veterans? Consider starting a business that fulfills that need.
Business Support Opportunities For Veterans
Starting a small business of any kind can feel a bit overwhelming. Often veterans don't know exactly how to start a veteran owned business, when they begin. That's completely normal! The good news is that there are plenty of business support opportunities for veterans available. Here are some options to consider.
Small business loans for veterans: You'll need funding of some kind to start your business. For some, a small amount of savings will do the trick. But for others, it might be necessary to take out a loan. Not sure where to turn?

We've covered the best options here

.

Small business grants for veterans:

If you don't want to take out a loan,

small business grants for veterans

are another option. You won't have to pay back your grant funding. But it can be a bit more competitive to score a grant. Here's more information about where to find grants for veteran-owned businesses.

Seek out business opportunities for disabled veterans: If you have a service-related disability, there are even more support options for you. Specifically, you can qualify for specific grants. Plus, the federal government is required to allocate a portion of its contracts each year to disabled veteran-owned small businesses. That narrows the field and gives you a big opportunity as a government contractor.
Small business training and advice: As a veteran starting a business, ample training opportunities exist to set you up for success. Consider working with the free option,

Boots to Business

, available through the Small Business Administration.

Get help with civilian job applications: If your finances aren't quite ready to start a business,

get a civilian job

for now. Remember, you can always start your business as a side hustle to get it off the ground. Here are some helpful tips to

brush up on your resume

.
Successful Veteran Entrepreneurs
When starting a business with any background, it's nice to see examples of those that have walked the path to success ahead of you. If you want to start a business as a veteran, there are many great examples of successful veteran entrepreneurs.
Let's take a look at a few of the veteran entrepreneurs who hit it out of the park:
Johnny Slicks. Johnny Slicks, a men's grooming company, is run by John Raushi and Nick Koumalatsos. Both Marine Corps veterans applied their skills to turn this business into a success.
Plated. Nick Taranto founded Plated after leaving the US Marine Corps. Since then, the business was bought by a large grocery retailer for $300 million.
Ranch Road Boots. Sarah Ford founded Ranch Road Boots after the Marine Corps. The popular footwear company is one of many veteran-owned business success stories.
Black Rifle Coffee Company. Evan Hafer founded Black Rifle Coffee Company. His love of coffee and great branding has turned this coffee business into a big business.