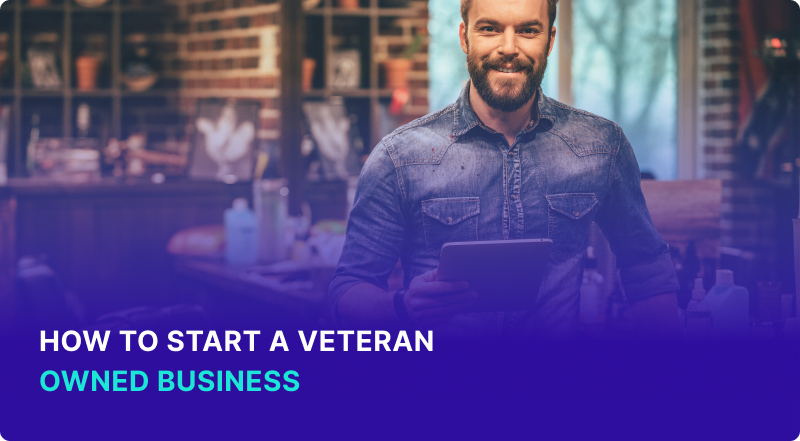 All content presented here and elsewhere is solely intended for informational purposes only. The reader is required to seek professional counsel before beginning any legal or financial endeavor.
Veterans are twice as likely to own a business as compared to their civilian counterparts. As of 2021, veteran-owned businesses composed 5.9% of all businesses in the U.S. With an estimated $947.7 billion in receipts and 3.9 million employees, it's clear that veteran-owned businesses are making a big impact.
A veteran-owned business certificate is one way to open doors as you grow your business. But qualifying as a veteran-owned business requires wading through a little bit of red tape. If you are someone that's served your country, here's how to start a veteran-owned business.
The most popular industries among veterans
Whether you want to learn how to start a veteran-owned small business or how to start a disabled veteran-owned business, there are a few industries that deserve special consideration. Although you can start a veteran-owned business in any industry, here are a few of the most popular options.
Healthcare: With a proven ability to work under pressure, veterans tend to thrive in the healthcare industry.
Defense contracting: You know the ins and outs of what a Department of Defense buyer is looking for. Consider using that specialized knowledge as the bedrock for your business.
Information technology: Did your military experience involve IT? You can transition that skill set into a successful veteran-owned business.
Fitness centers - When your background includes intensive training and getting in shape for the military, use all your experience and knowledge in this field to

own and run a successful gym

. While

financing gym equipment

can be a challenge, there a plenty of opportunities to get started. You can learn more about

gym startup costs

in our article.
How do I qualify for a veteran-owned business certification?
A veteran-owned business certification can open doors to new opportunities. First, the federal government is committed to doing a certain percentage of business with veteran-owned businesses. Additionally, almost 15% of Fortune 1000 companies aim to work with veteran-owned businesses.
Here's how to qualify as a certified veteran-owned business:
Meet veteran ownership requirements: Veterans must own at least 51% of the company.
Service requirements: Veterans involved in the business must have received an honorably discharge.
Veteran involvement: The veteran owner must be involved in the business operations, not just a silent partner.
Best business ideas for veterans
You may have no shortage of business ideas. But if you need some ideas to start brainstorming, here are some of the best business ideas for veterans to consider.
Become a franchise owner: Turn your flair for leadership into a profitable retail business.
Start a personal fitness business: Have the skills to build a workout routine? Build that into a business.
Provide private security: A private security firm could be a great fit for your skillset.
6 steps to starting your veteran-owned business
Veteran-owned business benefits are plentiful. Not only will starting your own business put you in control of your earning potential, but also your time.
Every small business owner has to take action to move their business from idea to reality. But when starting a veteran-owned business, there are a few extra steps you can take to set your business up for success. When starting your veteran-owned business you might also want to look into business loans for veterans, to help get you started.
Here's how to get your veteran-owned business off the ground.
Brainstorm the business idea: Every successful business starts out as just a seed of an idea. Before you commit to any particular idea, take the time to brainstorm extensively. Consider how your business idea is different and look for ways to solve a customer pain point.
Write a business plan: Once you've found the idea that lights you up, it's time to map out how the business would function and grow. At the very least, you should start by outlining the big goals that you have for your business. Beyond that, you should consider the logistical details necessary to make your business a success.
Register your business: Before you open the doors to your business, you need to legally register the business. The options include a sole proprietorship, partnership, Limited Liability Company, and a corporation. If you aren't sure which option is best, then it's smart to consult with a legal professional.
Get the right education: You don't need to obtain a four-year degree to start a business. But taking the time to learn about business operations is a good idea. Luckily, there are plenty of free resources available to veterans starting their own businesses. We'll take a closer look at the resources and tools that can help you learn without breaking the bank.
Find an advisor: The right business advisor can make all the difference. Typically, a business mentor has experience in the field. That extensive experience can help you avoid the common pitfalls of building a business.
Get funding for your startup: Last but not least, you'll likely need some money to get your business off the ground. Depending on how much you need, it's possible to cover the costs from your personal accounts. But if you need more than you have access to, then consider seeking out veteran small business grants or take out a loan through a reputable lender like

Fundbox

.
Resources for veterans starting and managing a business
When starting a business as a veteran, you'll have access to resources and programs that are designed to help you succeed. Why not take advantage of the many resources at your disposal while getting your business off the ground?
Here's a look at the top resources and programs for veterans starting a business:
The Veteran Business Outreach Center program: Are you a veteran looking to start or grow your small business? The

VBOC

offers an extensive collection of resources to give you a leg up. It offers transition assistance programs, pre-business plan workshops, concept assessments, business plan preparation, comprehensive feasibility analysis, entrepreneurial training and counseling, mentorship, and more.

Boot to Business: The

Boots to Business

training program is offered to veterans through the Small Business Administration. You'll find training programs designed to help you launch a business. Plus, follow-up support throughout your entrepreneurship journey.

Veteran small business grants:

Small business grants for veterans

are designed to help veterans get the funding they need to launch or grow their businesses. Grants don't come with any obligations to repay the funds, which is a big boost to growing small businesses. A few places to look for grants include Grants.gov,

StreetShares Foundation

, and

Warrior Rising

.

The Veterans Franchise Transition Initiative: A franchise represents a great

business opportunity for veterans

. The framework for a successful business is already in place. But you have to harness your leadership skills to make your location a success. If you are pursuing a franchise business model,

Vet Fran

is the right place for advice.
American Corporate Partners: A one-on-one mentorship program can offer the personalized advice and connections you need to move your business forward.

ACP

offers a one-on-one mentoring program. The application process is fairly quick. If you fill out an application, you should hear back within one business day.

Crowdfunding: Crowdfunding is a useful tool for all budding business owners. You can take your idea or prototype directly to the customers to find financial backing. With a good idea, you can sell your customers before committing too much capital upfront. It's a great way to prove there is a market before spending a ton of money.
Small Business Technology Transfer (STTR) Program: Is your business planning to commercialize the scientific advancements? That's the perfect match for the Small Business Technology Transfer program. The

STTR

program offers grants to small businesses that collaborate with non-profits to commercialize scientific research. As a qualifying small business, you can compete for up to $3 million in funding. Plus, you have access to expert advice throughout the program.

Online loans. Most businesses require an influx of cash to get the ball rolling. An online loan could give you the capital you need now. Take a minute to explore the

best small business loan options today.
Veterans are poised for small business success
Veterans have a unique combination of skills. If pivoted correctly, those skills could be a strong foundation for a successful business. Although it takes time and dedication, the long-term benefits of owning a successful business cannot be understated.
If you are looking for a way to kickstart your veteran-owned small business with an influx of capital, then a business loan could be the right move. For those seeking a business loan, Fundbox is the best option for veteran business owners. Want to learn more about this opportunity? Check out our full review of Fundbox.