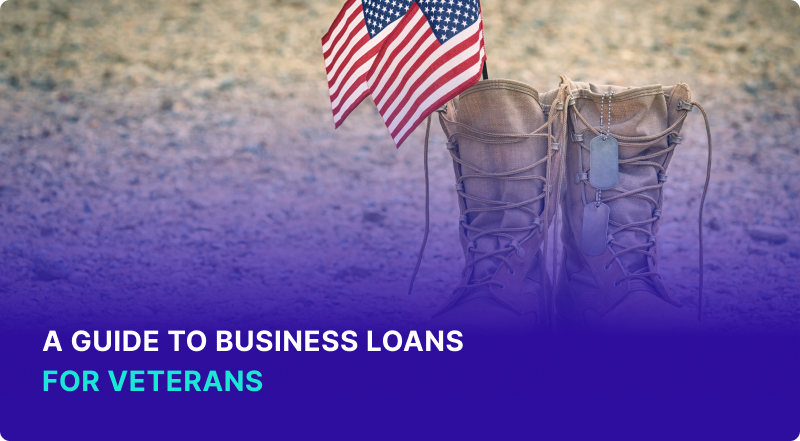 Key Points:

Importantly, a business loan is not a personal loan. A personal loan can be used for any purpose. But a business loan can only be used to cover business-related expenses.

You have access to small business loans that are only available to veterans.

Start the process by clarifying your business idea. Then make sure you are eligible for business loans for veterans before applying.
What is a Business Loan for Veterans? Plus, How To Get One?
Shorter application time: Typically, small business loans for veterans come with an expedited application timeframe.
Better rates: Many business loans for veterans come with better rates than a traditional business loan.
Longer repayment terms: Getting your business off the ground is no small feat. You will often find longer repayment terms which give you more time to turn a profit.
Who is Eligible for a Veterans Business Loan?
A veteran business loan sounds like a great option for small business owners. So, who qualifies for a military business loan and military retiree benefits.
Veteran status: The main requirement is that the business owner is a veteran in good standing. Typically, this includes honorably discharged veterans, widowed spouses of those who died in service, or service-disabled veterans.
Military status: Veteran business loans are also available to active-duty military members participating in the Transition Assistance Program. Additionally, reservists and members of the National Guard are also eligible.
Veteran-owned business: If the business has multiple owners, the veteran or military member must own at least 51% of the business.
How to Apply for a Veterans Grant to Start a Small Business
When applying for a veteran grant to start a small business, there are a few extra steps to keep in mind. Here's what you'll need to do to apply:
Collect the standard loan application documents: As with all business loans, you'll need to gather documents, including your business plan, financial statements, tax information, business ownership, and necessary licenses or certificates.
Meet the small business loan requirements: The exact requirements will vary based on the loan. But typically, you'll need to have a good credit score, a reasonable revenue level, and a record of how long the business has been open.
Veteran-status documentation: Lenders will need to see a document to prove their status. Veterans can submit a copy of Form DD 214 or NA Form 13038. Transitioning active-duty members or reservists can submit a copy of their DD Form 2, a U.S. Armed Forces Identification Card, Armed Forces of the United States Geneva Conventions Identification Card, DD Form 2648, or DD Form 2648-1. Finally, spouses of veterans can submit their marriage certificates and their spouse's appropriate documentation.
Where to Find Business Loans for Veterans
With the appropriate documentation in hand, it's time to find the perfect loan for your veteran-owned business. The good news is there are plenty of places to look. But we'll explore the top options below.
SBA 7(a) Loans: The

Small Business Administration

offers this type of loan to small businesses of all kinds. But veterans can receive a break on fees when applying for the program. The SBA itself doesn't offer these loans. Instead, it offers a guarantee to lenders. With that, you can apply for these loans through a partner financial institution. For example, Live Oak Banking Company and The Huntington National Bank are two of the most active SBA(7) lenders.

Military Reservist Economic Injury Disaster Loan Program (MREIDL):

If one of your employees is called into active duty, the Military Reservist Loan Program provides loans of up to $2 million to cover the working capital required until the essential employee returns to their position.

Hivers and Strivers Angel Fund & Veteran Capital for Veterans: If you prefer an investment to a loan, then Hivers and Strivers is worth looking into. The fund invests in veteran-owned businesses with investments that range from $200,000 to $500,000. The business must be past the initial concept phase and positioned for large gains to be considered by Hivers and Strivers.
Bank business loans: Many banks and credit unions offer business loans with special perks for veterans. But most require that your business have a proven revenue stream to qualify for a loan.
Online lenders: You can find attractive business loans for veterans through online lenders. If you are considering an online lender for your business funding needs, then

check out our list of the best options

.

StreetShares Foundation: The

StreetShares Foundation

awards a grant annually. As a grant winner, you could receive $15,000, $6,000, or $4,000.

SBA's Patriot Express Loan: You've likely heard of

veteran business loans through the SBA

. The Patriot Express Pilot Program provided business loans to veterans. But this opportunity ended in 2013.

Microloans: A microloan often offers a fast application and more lenient credit requirements. Although these loans are smaller, they could be just what you need to get your business off the ground.
I Want To Start My Own Business. Are There Any Startup Business Loans for Veterans?
If your business is just an idea or barely out of the gate, it can be tough to get financing. Many lenders are only willing to work with companies that have been in business for at least one year and have a solid revenue to show for it.
But if you don't already have your business up and running, don't worry! There are still funding options to start your veteran-owned small business. One of the best options is to pursue a veteran business startup grant. Consider these benefits of small business grants for veterans:
Grants provide a starting point: The many veteran business startup grants out there offer you the opportunity to start a business without the pressure of taking out a loan. Grant funds don't need to be repaid. And typically, you'll find grant awards starting around $1,000+.
Application requirements: The business doesn't need to have a proven track record. But you'll need to be an honorably discharged veteran for all veteran business startup grants.
Grants.gov. The federal government operates

this site

to help you find and obtain available grants. Although there are no VA small business grants available as of 2022 on this site, you can explore the other options available to you by checking other providers like the SBA loan program

www.sba.gov

.
Where To Find Startup Loans for Veterans?
Grants for veteran startups aren't the only option. When considering how to start a veteran owned business, startup loans for veterans also provide a great opportunity for veterans looking to start their business from scratch.
Here are two startup loans to consider
SBA microloan program: The SBA provides funds to lenders for its microloan program. You can secure a loan of up to $50,000. But the average microloan amount is $13,000 to be repaid within up to six years. You'll likely need a good credit score and be willing to provide a personal guarantee for the funds to obtain this type of loan.
Community Advantage Program: The SBA recently launched this loan opportunity. It offers guarantees for small business loans of up to $250,000. But you'll need to be in an 'underserved' market to successfully secure one of these loans. The higher loan amount could make this opportunity more attractive.
Other Funding Sources For Veteran-Owned Startups
Veteran-owned startups have many funding options. If one path doesn't work for you, then try another that suits your goals. Here are a few to consider:
Small business grants for veterans: Veterans have access to specialized grant opportunities that offer funding with no repayment requirements attached.
Military spouse business grants: As a military spouse, you can apply for specialized business grants. That could be the perfect way to obtain funding without signing up for a big loan.
Business credit cards: Depending on your credit, you can open a business credit card to finance your upfront costs. However, most credit cards come with relatively high fees, so try to find a more affordable financing option.
Personal loans: You can take out a personal loan to invest in your business. Although you can't use a business loan for personal expenses, you can use a personal loan to invest in your business.
Crowdfunding: Do you have an idea that will catch on? Crowdfunding offers the opportunity to source funds from future customers.
How Can I Use My Veteran Small Business Loan Funds?
Once you secure the funds, it's time to put them to good use. If you obtained a veteran small business loan, then you'll need to make sure you spend the money on a qualifying expense.
Essentially, that means you can spend the funds on anything related to the business. But here's a list of possible expenses to spend the funds on.
Business start and growth: Anything you need to get your business off the ground is fair game.
Operating expenses: Businesses have bills to pay. For example, you could pay for your website domain or the utilities for a physical space.
Hiring new employees: The funds can be used for an employee's wages.
Purchasing property and equipment: Use the funds for the space and tools you need as a growing business.
Procuring inventory and supplies: You'll need to have a product to sell.
Open a new location: Expanding your business? You can use a business loan to cover that expense.
Marketing campaigns: You need to get your business name out there. And it takes money to do that!
Additional Growth Opportunities For Veteran-Owned Businesses
As you start your veteran-owned business, there are a few other ways to get the capital you may need for growth.
Yourself: Personal savings or income could start the process.
Investors: An investor could bring the right mix of expertise and funds.
Other income streams: Consider starting a service-based business with a low barrier to entry to get the funds you need. For example, you could try dog walking or mowing lawns to supplement your startup's income.
Where To Get Additional Funding From?
Beyond loans and investments, businesses can tap into necessary funding through the following.
Small business grants for veterans: As a veteran, you have access to grant opportunities without any repayment terms attached.
Invoice factoring: If you have outstanding invoices, you can use these as collateral for a loan now.
Merchant cash advances: This option provides a loan based on cash flow. The funds are repaid automatically as you make sales.
Business lines of credit: A line of credit is a revolving credit option that can you tap into when you need it.
Venture capital investments: Venture capital funding often comes with expertise designed to help you take your business to the next level.
Angel investments: An angel investment could be the right funding solution for your startup. But it can be challenging to find the right investor.
Where To Get Business Training From?
Funding your business is only one part of the equation. Business training can be a critical part of successfully growing your business.
As a veteran, you have access to many training opportunities.
Where To Get Advice and Business Counseling For Veterans?
Sometimes you just need a little bit of good advice to open your business the right way. We have a full article on where to get the best advice. But here are a few of the best options:
SBA regional offices: The SBA offers many resources to help you start your business.
The Veteran Business Outreach Center program.

VBOC

has a collection of resources for veterans starting their own businesses.

Bunker Labs.

Bunker Labs

offers a business incubator to help veteran businesses grow.
Pros And Cons Of Applying For Business Loans For Veterans
Every choice in your business will have advantages and disadvantages. Here's are a few about applying for business loans for veterans:
Let's start with the pros:
Competitive costs: Many business loans for veterans offers better interest rates and terms than other loans.
Get the funding you need: Sometimes, an influx of cash is what your business needs.
Quick timeline: You'll usually know whether or not you qualify for the loan within a few days.
Now for the cons:
Repayment requirements: All loans come with repayment requirements. But adding this commitment could place a strain on your business.
High loan requirements: Many loans require a good credit score and a proven track record to move forward.
3 Tips On Applying For Veteran Small Business Loans
Veterans have access to a special set of business loans. Here's how to make the most of it.
Ask for help: Don't hesitate to ask for help from a business counselor when filling out your loan application.
Gather your documents ahead of time: You can create a smooth process by gathering all of the required documents ahead of your application.
Review your credit score: Credit your personal and business credit score before applying for a loan. If it needs some work, consider waiting to apply for the loan until after you've made some improvements.
Conclusion
A small business loan could be the right move for your veteran-owned business. If you need funding now, don't wait to apply.