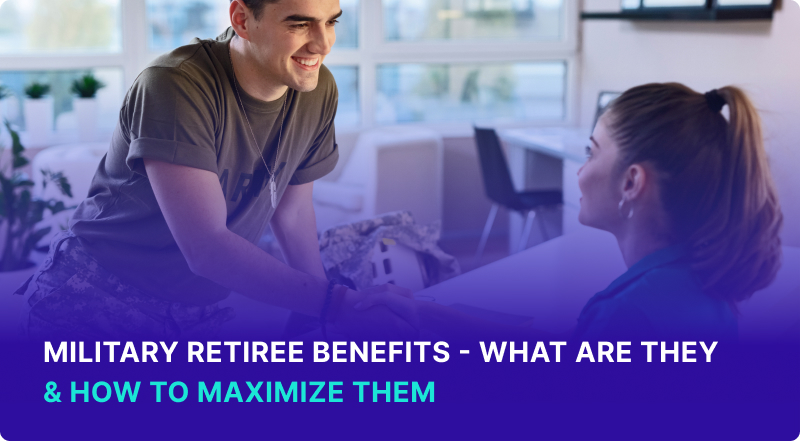 All content presented here and elsewhere is solely intended for informational purposes only. The reader is required to seek professional counsel before beginning any legal or financial endeavor.
Military retirees have access to extensive benefits and some of them enable you to earn dividends from them, in addition to the actual benefit, if you utilize them wisely.
Key Points:

Take the time to understand them fully - This investment will pay off literally if you do.

The Department of Veterans Affairs is an excellent place to receive in depth guidance about your benefits.

You may need the help of a lawyer to secure everything you are entitled to.
What Benefits Can You Get As A Military Retiree?
If you are a military retiree, you can enjoy many benefits after retiring from uniformed service. With so many benefits, it can be difficult to keep track of them all. Here's a comprehensive list of the benefits you can get as a military retiree.
VA medical benefits: If you get a VA pension or completed qualifying service, you can get VA medical benefits.
VA home loan:

The VA home loan offers a no down payment mortgage option with minimal credit requirements to most veterans and active-duty service members. You might also wish to look into other

business loans for veterans

.
VA educational benefits: Most veterans with an honorable discharge qualify for the GI Bill, which can cover the cost of college or technical school.
VA pension: On top of your retirement pay, you may be eligible for a VA pension if you served during specific wartimes.
Small business grants for veterans:

You can apply for

small business grants for veterans

that exclusively work with veteran business owners. Although still competitive, this could increase your chances of receiving a grant.

Readjustment counseling: Transitioning back into civilian life isn't always easy. You and your family may qualify for readjustment counseling at a nearby Vet Center.
Educational and career counseling: Veterans and their dependents can take advantage of free educational and career guidance.
Confidential counseling and support: Mental health services for former military members are available through the VA. You may not need to enroll in VA healthcare to use these services.
Federal hiring preference: The federal government gives eligible veterans a leg up in the hiring process for these competitive jobs.
Commissary privileges: As a military retiree, you can tap into savings at the local commissary.
Exchange privileges: In addition to commissary privileges, military retirees can enjoy exchange privileges at nearby commissaries.
Military ID card: A military retirement ID card is your ticket to discounts all kinds of discounts. Whether that's a free haircut on Veteran's Day or a regular discount at a local restaurant, your military ID card will come in handy.
Tricare: Tricare is a medical insurance option for military retirees and reserve retired. This access to relatively affordable healthcare is a key part of most retirement plans. Plus, it could mean access to retired military dental insurance.
Free legal assistance: Retired members of the Armed Forces can request legal assistance concerning personal matters such as wills, income taxes, and contracts. But the request will only be completed if there are enough resources available.
State-specific programs: Many states offer specific privileges to their local military retirees. If you aren't sure what the options are, then ask your local VA.
VA burial allowance: There are many retired military death benefits. Even with a non-service-connected death, your loved ones can apply for a burial allowance. As of 2021, the burial allowance is $300, with up to $828 for a plot.
VA headstone or marker: The loved ones of military retirees can apply for a headstone or marker.
Burial flag: After a military retiree passes away, their loved ones can request a burial flag.
Burial in VA Cemetery: Most veterans, spouses, and dependents can be buried in a National Cemetery without any cost.
Burial or inurnment in Arlington National Cemetery: If you received the Purple Heart or Silver Start, then you qualify to receive burial in Arlington National Cemetery. If buried in a National Cemetery, then your loved ones can request a Presidential Memorial Certificate.
Burial at sea. The U.S. Navy offers burial at sea to some military retirees.
Explore The Best Loan Opportunities for Veterans