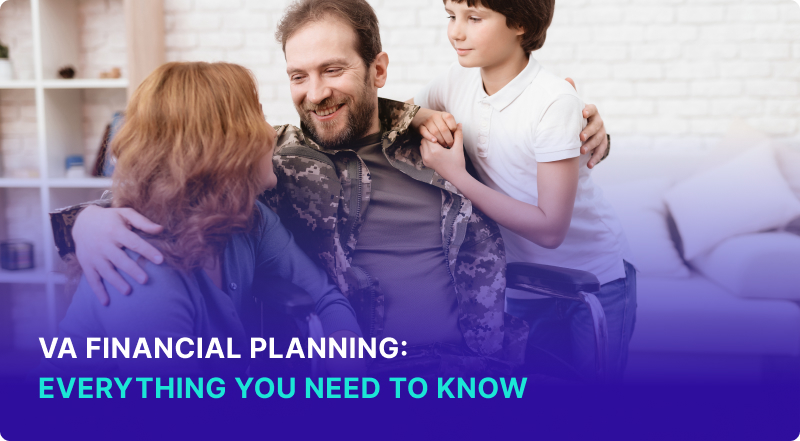 All content presented here and elsewhere is solely intended for informational purposes only. The reader is required to seek professional counsel before beginning any legal or financial endeavor.
Planning for your financial future might not be a fun task. But it's a necessary one. If you are serving in the military, you don't have to go plan out your finances alone. Instead, take advantage of the free VA financial planning services. Let's explore this helpful option.
Key Points:

Check your eligibility: Most military members and their families qualify for this free service.
Should you work with a free service? You can work with free VA financial planners. But unique financial goals might require the help of a paid service.
Do your research ahead of time: A financial advisor can help you make a plan. But you should consider what direction you want to take your finances ahead of the meeting.
What Is VA Financial Planning And Who Can Use It
The U.S. Department of Veterans Affairs offers financial counseling services to select service members and their beneficiaries. The Beneficiary Financial Counseling Service (BFCS) offers free professional financial advice. The advice is provided by FinancialPoint, which has a team of experts ready to help you tackle a wide range of issues.
Here's a look at who is eligible to benefit from VA financial counseling:
Servicemembers' Group Life Insurance: SGLI participants and beneficiaries qualify for help from a free financial advisor for veterans.
Traumatic Injury Protection: TIP participants and beneficiaries qualify for VA financial counseling.
Family Servicemembers' Group Life Insurance: FSGLI participants and beneficiaries qualify for VA financial counseling.
Veterans' Group Life Insurance: VGLI participants and beneficiaries qualify for VA financial counseling.
Here's how to access VA financial planning services:
Register online: Register with FinancialPoint Plus as a first-time user.
Enter Organization Web ID: BFCSVA is the ID code you'll need to get started.
Enter your claim number: You should have an eight-digit claim number ready to enter.
Choose your service: You can work with FinancialPoint to create a customized financial plan or with EstateGuidance to create a will.
What Other Financial Planning Services Can I Use As A Veteran?
Not all veterans will qualify for a free VA financial advisor. Even if you do qualify, you might want more services than the VA financial advisor can offer. Luckily, there are still financial advisors for veterans and business loans for veterans available.
A few services you might want help with include:
Personal insurance review: Do you have all of the appropriate coverage for your assets?
Cash flow analysis: How does your spending stack up against your income?
Investment analysis: Does your investment portfolio align with your goals?
College savings: Are you saving the right amount in the most efficient accounts?
Disability coverage: What would happen if you were no longer able to work?
Long-term care planning: Are your finances prepared for these potentially high costs?
Retirement planning: Are you on track to the retirement you've been dreaming of?
Estate planning: Do you have a will? Are all of your documents signed?
Here's where to look for custom financial planning for military veterans:
Are There Financial Planning Services For Military Family Members?
As a military family member, there are custom financial planning services available and military spouse business grants. Here's where to look for financial planning for military families:
Military OneSource: Military OneSource offers free financial counselors to family members of active duty service members.
VA financial advisor: If you qualify for the BFCS program, then you can get a free military financial advisor.
Private financial advisors: Many financial advisors can offer custom advice for military family members.