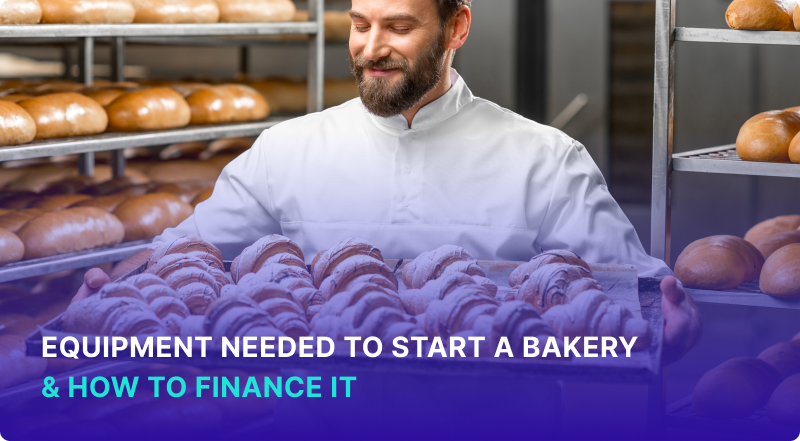 We have compiled the definitive list of equipment needed to start a bakery and in addition we have also provided a few ideas on financing the equipment needed to start a bakery business. Opening any business is a marathon, not a sprint. Make sure you have a resilient mindset to be able to get through the challenges of getting your bakery off the ground.
Complete List of Tools and Equipment Needed to Start a Bakery
The equipment you need to open your bakery will vary depending on the type you choose to open. Take into consideration its size, niche, and specialty.
Food Prep Equipment
Work tables: Quality, sturdy tables are the way to go, so your staff can roll out dough and can withstand heavy use.
Knives: The long blades make cutting large cakes, pies, and pastries easy.
Cutting boards: From home to professional use, these are a must in any kitchen.
Pots and pans in various sizes: Dough often has a mind of its own, so make sure you can accommodate large volumes in case of an increase in orders.
Mixers: Every baker should have at least one mixer for meringues, creams, batter and sauces.
Mixing bowls: An adequate supply of mixing bowls for prepping is key, especially for small bakeries.
Food processors: This piece of bakery equipment will save you time you can spend on more important tasks other than crushing nuts or shaving chocolate by hand.
Blenders: Used to mix a solid fat, like butter, into flour in order to make pastries.
Proof boxes: This humidity- and temperature-controlled sealed environment enable bakery items to rise effectively.
Slicers: Crucial to preparing bagels and loaves, among other goods.
Rolling pins: Evenly flatten everything from pie and pastry doughs to cookie and pasta doughs.
Dough rolling mats: In addition to cookie work, baking mats can line baking sheets for freezing stuff, roasting vegetables, and rolling out pie dough.
Muffin tins: Hold batters or mixes while they bake in the oven.
Spatulas: Frosting cakes and to spread toppings or mixtures smoothly over the food being prepared.
Piping set for cake decorating: Decorate or create special shapes by squeezing paste-like mixtures through the tip.
Measuring cups: A must-have for most bakers, used to measure ingredients such as oil, sugar, and flour.
Measuring spoons: Used for measuring small, exact amounts of ingredients.
Baking scales: Digital scales with different measuring capacities to measure ingredients in a convenient way, in grams and ounces.
Baking Equipment
Ovens: The most important piece of bakery equipment you require. Don't cut corners with this one. Invest in a quality, airtight oven that's true to temperature.
Ranges, Grills, and Ventilation: Proper ventilation of cooking equipment provides for employee comfort; protects equipment, finishes, and food from excess heat or moisture.
Microwaves: Regular cooking, de-frosting, re-heating, and even for some instant mug cakes.
Storage Equipment
Freezer: Store perishable food to make it last longer.
Refrigerator: Control ingredient and dough temperature.
Shelves: Help cool a baker's goods such as hot pies, breads, and pastries.
Storage containers: Keep your ingredients fresh, especially when you're dealing with large quantities of flour, sugar, and other staple ingredients.
Carts and/or mobile racks: A lot of baked goods need to cool. Use racks to leave space on the counters for your staff to roll out the next batch of goods.
Cleaning Equipment
Dishwashers: Save time by washing dozens of pots, pans, glasses, and so forth at once.
Sinks: Sinks are major components of every commercial kitchen, they're used for washing hands, washing and/or preparing food, and washing utensils, equipment and cookware.
Buckets for sanitizer: Hold sanitizer in a clean, contained, easy to access container.
Bar rags: Wipe off stemware, liquid spills, and food stains.
Food grade chemical cleaners: Safely and effectively disinfect surfaces where food is processed.
Safety Equipment
Gloves: Protect your staff from heat hazards in the kitchen.
Aprons: A guard that saves clothes from getting stained.
Hairnets: Keep hair from contacting exposed food as well as keep clean, sanitized equipment, utensils and linens.
First aid kit: It may come in handy if one of your staff members gets cut while at work.
Date labels: Use By Dates relate to the food's safety and are the most important date to remember.
Chemical safety data sheets: Describe the hazards of the chemical present, and give information on handling, storage, and emergency measures in case of an accident.
Display Equipment
Display case: Entice people into buying your baked goods.
Food packaging: Keep your products fresh inside while promoting your brand with a special design.
Serving trays: Displaying and serving pastries, cakes, cookies, and other baked goods.
Cake stands: Used for serving cake and other pastries.
Business Necessities
Restaurant point of sale system: Software designed to accept and process transactions via credit card, debit card, cash, contactless, and mobile payments.
Kitchen display system: A digital screen system that manages customer orders for restaurants.
Computer: Streamline your bakery's admin work with this must-have item.
Printer: From contracts to recipes, you'll often need to print documents.
Accounting software: Easily maintain account books on your computer, including recording transactions and account balances.
Filing cabinets: Store paper documents in file folders.
Furniture
If you've decided to offer dine-in service, make sure you purchase the following key items:
Tables
Chairs
Plates
Cutlery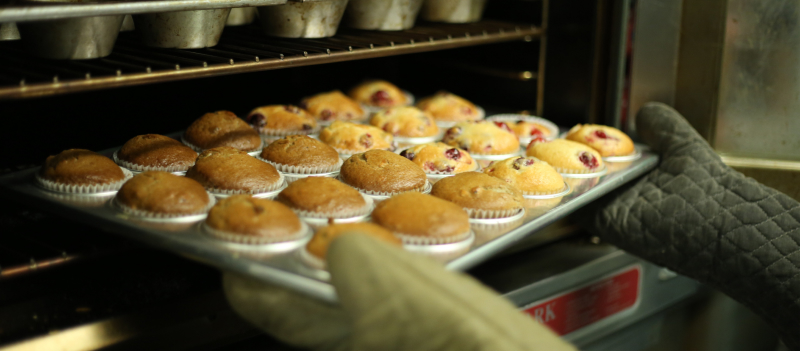 Tips for Identifying Quality Bakery Equipment
When you are opening a bakery, it is important to select quality equipment that will be reliable and durable. Quality bakery equipment should be made of high-grade materials such as stainless steel and should be designed for easy cleaning. You should also consider factors such as price, warranty, and customer service when selecting your bakery equipment. Here are some tips for identifying quality bakery equipment:
Look for the material: Quality bakery equipment is typically made from materials such as stainless steel, aluminum or other materials that are resistant to corrosion and rusting. • Consider the brand: Invest in well-known brands that have a good reputation in the market and provide good after-sales service.
Check reviews: Read online reviews of products to get an idea of how reliable they are and what customers think about them before investing in them. • Look at warranties: Many manufacturers offer warranties on their products so look for these when selecting your bakery equipment.
Ask around: If you know someone who has purchased bakery equipment recently, ask them about their experience so you can get an idea of things to look out for when selecting yours. Add two more points.
Consider energy efficiency: Look for products that are energy efficient and will help you save money on electricity bills.
Check certifications: If you are buying imported equipment, make sure it is certified by an international safety certification body.
Common Problems with Bakery Equipment and How to Solve Them
Bakery equipment is required for commercial bakeries to produce huge quantities of baked items on schedule. Regrettably, issues may emerge when using this equipment. Clogged pipes, damaged mixers, and worn out belts are all common issues. Fortunately, many issues are generally simple to resolve using some basic troubleshooting approaches.
Clogged Pipes: Clogged pipes can be caused by the accumulation of flour or other baking materials inside the pipe, obstructing the passage of water or other liquids. To resolve this issue, thoroughly clean the pipe with a brush or other cleaning tool before flushing it with clean water until it runs freely again.
Broken Mixers: A broken mixer might result in lumpy or unevenly mixed cakes and other baked items. To resolve this issue, inspect the motor and any other components that may be causing the mixer to malfunction, and replace them as needed.
Worn Out Belts: Worn out belts can cause bakery equipment to function more slowly than usual, resulting in slower total production times. Simply inspect all of the belts on your equipment and replace any that are worn down or damaged in any manner.
Overheating Motors: Due to severe wear and tear on bakery equipment, overheating motors can cause it to fail prematurely. To avoid this problem, keep all motors at a proper temperature by utilizing cooling fans or other cooling equipment as needed.
Electrical Problems: Electrical issues, such as defective wiring or improper connections, can cause bakery equipment to become unreliable over time, creating production delays as well as significant damage from fire threats if left unchecked for an extended period of time. If you find any electrical problems with your bakery equipment, have a professional electrician inspect it immediately before reusing it for safety reasons.
Jammed Motors: Motors can become jammed if they are not properly lubricated or if flour or other baking materials accumulate inside them. To resolve this issue, keep your motors lubricated and clean any accumulation from them on a regular basis.
Leaky Valves: Leaky valves can allow water, oil, or other substances to flow out and generate a sloppy situation. To resolve this issue, inspect all of your equipment's valves for leaks and replace them as needed.
Broken Blades: Damaged blades can cause cakes and other baked goods to be lumpy owing to incorrect mixing. To repair this issue, inspect your mixer's blades for damage and replace them as needed.
Overheating Ovens: When the temperature inside the oven is too high, overheating ovens can result in unevenly cooked cakes and other baked items. To avoid this issue, keep an eye on your oven's temperature settings at all times when baking and make adjustments as needed.
Clogged Nozzles: Cake decorating equipment with clogged nozzles may produce unevenly placed decorations. To resolve this problem, clean the nozzles on a regular basis with a brush or other cleaning equipment.
Worn-out blades: Pastry cutters and other equipment might result in inconsistent cuts or shapes in baked items. To remedy this issue, inspect the blades often for signs of wear and replace them as needed.
Malfunctioning Buttons: Malfunctioning buttons on baking equipment can make controlling settings like temperature and speed difficult. To resolve this issue, inspect all of the buttons for damage or dirt accumulation and clean them as needed before using them.
Innovative Bakery Equipment for Increased Productivity
As businesses attempt to boost production and efficiency, innovative bakery equipment has grown in popularity in recent years. This technology is designed to expedite manufacturing processes, allowing bakers to maximize output and easily generate more complicated recipes. These devices are frequently used to produce pastries, desserts, breads, pizzas, and other baked foods. Bakeries can minimize labor expenses while improving overall production quality by adopting cutting-edge technology and machinery.
Automation: Automation can help you optimize your production process and enhance accuracy. Automatic technology can be configured to maintain consistent product sizes and forms, allowing you to create more things in less time.
Quality Control: Investing in high-quality bakery equipment ensures that your finished product fulfills all safety norms as well as customer quality expectations. When selecting new bakery equipment, quality control procedures should also be considered.
Customization Options: Search for machines with customization choices so you may adapt the machine's settings to your individual business demands. This will give you more control over the finished product and a higher level of efficiency during the manufacturing process.
Maintenance: Frequent maintenance is required for all bakery equipment to keep it working smoothly and reliably over time. Regular maintenance checks on all machines will help you avoid downtime due to unexpected faults or breakdowns.
Energy Efficiency: Choose bakery equipment that is meant to be energy efficient. This will allow you to save money on power while simultaneously lowering your environmental effect.
Durability: Investing in sturdy baking equipment ensures that it will last longer and provide a higher return on investment.
Versatility: Choose bakery equipment that can handle a wide range of recipes and baking operations, since this will give you greater freedom when developing new goods or adjusting existing ones.
Green Technology: Consider purchasing baking equipment that is environmentally friendly. This will assist in lowering your carbon impact and making your firm more sustainable.
Connectivity: Look for bakery equipment with connectivity options such as Bluetooth or Wi-Fi, which can make remote monitoring and tracking of production data easier.
The Pros and Cons of Choosing an Electric or Gas Powered Oven
Electric Ovens:
| | |
| --- | --- |
| Pros of Electric Ovens | Cons of Electric Ovens |
| Reliable temperature control – Electric ovens are able to maintain a consistent temperature which is ideal for baking and creating complex dishes. | Expensive to purchase – Electric ovens tend to be more expensive than gas-powered ones due to the cost of electricity needed to run them. |
| Faster Preheating – Electric ovens typically preheat faster than gas ovens making them better suited for cooking tasks that require quick heating. | Not as energy-efficient – Compared to their predecessors they still consume more energy than gas-powered ones do, making them less cost effective over time. |
| More even heat distribution – The heat from an electric oven is more evenly distributed during cooking resulting in an improved quality of food. | Limited mobility - Limits the mobility of electric ovens compared to their gas-powered counterparts which makes them not ideal for outdoor cooking or catering businesses that need portability. |
| More versatile cooking options – Electric ovens offer a variety of features such as convection mode, additional racks, rotisserie options, etc., making them more suitable for a wide range of cooking tasks. | Higher repair costs - Repairing an electric oven tends to be more expensive than repairing a gas powered one due to the complexity involved in diagnosing faulty electrical components. |
| More accurate temperature control – Electric ovens are able to maintain a consistent temperature which is ideal for baking and creating complex dishes. | Longer preheating times – Electric ovens take longer to preheat compared to gas powered models due the need for indirect heating elements like heating coils; |
Gas Ovens:
| | |
| --- | --- |
| Pros of Gas Ovens | Cons of Gas Ovens |
| More affordable – Gas powered models are generally cheaper upfront than their electric counterparts which makes them ideal for those on a budget who don't want to sacrifice quality when it comes to their kitchen appliances. | Difficulty maintaining temperatures - As opposed to their electric counterparts keeping a consistent temperature while using a gas-powered model can be difficult as it requires constant monitoring and adjusting throughout the entire process |
| Faster heating time - Gas-powered models heat up quickly due the direct contact with the flame resulting in faster preheating times compared to electric models. | Emissions - Gas-powered models produce emissions while running which may not be safe if installed indoors without proper ventilation systems |
| Better control over heat - Due the direct contact with the flame you have better control over how much heat is applied during cooking allowing you to create dishes that require precise temperatures | Increased risk of fire hazards – As opposed to electrically powered appliances, gas powered models have increased risk associated with fire hazards due to open flames used during cooking process |
| Quicker preheating times – Gas-powered models heat up quickly due the direct contact with the flame resulting in faster preheating times compared to electric models | Uneven heat distribution – Due lack indirect heating elements like heating coils found on most modern electric ovens ,gas powered ones don't distribute heat as evenly |
| Better flavor development – The direct contact with flame allows food items cooked using a gas powered model develop richer flavors due caramelization | Limited mobility - The fact that they need to be plugged into an electricity outlet limits the mobility of electric ovens compared to their gas-powered counterparts |
What Equipment Do You Need To Start a Home Bakery?
If you want a smaller family-run business, then opening a home bakery might be ideal for you. Below you'll find a list of equipment you'll need to get started with your home bakery:
Oven: A standard 81 liter oven is often used at home and can be used for your home bakery.
Digital Kitchen Scale: The difference between a successful home bakery and one that flops is the consistency of your products. Make sure your customers are having the same delicious experience by having the same amount of ingredients every time.
Mixing Bowls: Get at least one large, one medium, and one small plastic, Pyrex glass, or stainless steel bowls.
Knives: Slice and chop fruits, nuts, and vegetables for cakes, slice brownies, chop chocolate, and even to make chocolate shaving decorations.
Silicone Spatula: An essential tool for mixing a well incorporated batter.
Baloon Whisk: Get a a much smoother result and prevent clumping or burning stuff.
Cupcake Tins: Buy at least 2 non-stick cupcake tins. This way you can use one tin to refill with batter while another one is busy baking.
Non-Stick Baking Sheet: A go-to item you can use for cookies, macarons, roasting nuts, baking pastries, and more.
How Much Does Commercial Bakery Equipment Cost?
The price of baking equipment and supplies is directly related to its quality and whether the equipment is used or new. Commercial bakery tools and equipment costs can range from $60,000-$200,000, making it the lion's share of the cost it takes to open this kind of business. Just a commercial oven, which is one of the basic pieces of bakery equipment, costs between $2,800-$6,000 or more.
Note that you should also sign up for equipment breakdown coverage to cover the costs-working equipment due to either a mechanical or electrical breakdown.
Ways to Finance Your Bakery Equipment
Establishing a bakery can be a costly venture, and financing your bakery equipment can be a critical step in getting your business up and running. There are various options for financing bakery equipment and selecting the best one for your company will help you manage costs and cash flow.
Here are several options for financing bakery equipment:

Financing for Bakery Equipment: This option allows you to borrow money to purchase the equipment you require. You'll make monthly interest-only payments until the debt is paid off.
Leasing for Bakery Equipment: You can rent the equipment for a fixed amount of time and make monthly payments. You have the option to buy the equipment, return it, or extend the lease at the end of the term.
Small Business Administration (SBA) Loans: These government-backed loans can help you buy equipment at a cheaper interest rate than standard loans.
Business Credit Cards: Business credit cards enable you to make purchases on credit and repay the balance over time. Keep an eye out for exorbitant interest rates and additional surcharges.
Crowdfunding: Crowdfunding is the practice of soliciting funds from a large number of individuals, typically through internet platforms. Crowdfunding can be an excellent choice for startups or enterprises with one-of-a-kind items or services.
Each of these funding solutions has its own set of benefits and drawbacks. While selecting the best option for your bakery equipment, keep your business demands, financial status, and long-term goals in mind.
Advantages and Disadvantages of Financing for Bakery Equipment
Advantages

Disadvantages

Adjustable Repayment Terms
Bakery equipment financing sometimes includes variable repayment options that allow firms to change payments to match their budget.

Higher Interest Rates - Depending on the lender and type of loan taken out, financing for bakery equipment may have higher interest rates than regular loans.
Access to Cutting-Edge Technology - By financing bakery equipment, businesses can gain access to cutting-edge technology without having to pay the full cost up front.
Potential Requirement for Collateral - Some lenders may want collateral such as accounts receivables or inventory to secure a loan.
Tax Benefits - Depending on the sort of loan obtained, businesses may be able to to deduct interest payments from taxes owed.
Restricted Loan Amounts - Unlike regular loans, loans carried out particularly for financing bakery equipment normally have limited loan amounts available.
Fast Approval Process - Financing applications are typically processed swiftly which means minimum down time on production.
Decreased Credit Score - Taking out any type of loan will have an influence on credit score, even if payments are paid on time, because lenders will review credit history before approving an application.
Preserves Cash Reserves - When businesses finance bakery equipment, they are able to retain their cash reserves rather than tapping into them all at once.
Excessive Fees - Some lenders demand additional fees such as origination fees or underwriting charges, which raises the overall costs of taking out a loan.
No Risk Of Equipment Obsolescence - By financing bakery equipment rather than purchasing it altogether, businesses avoid the risk of their investment becoming obsolete.
Longer Repayment Periods - Borrowers should be aware that payback periods with financing agreements are typically longer than with other methods.
Advantages and Disadvantages of Leasing for Bakery Equipment
| | |
| --- | --- |
| Advantages | Disadvantages |
| Low Upfront Cost: Leasing generally requires a smaller initial outlay than buying equipment outright, meaning businesses can access the equipment they need without breaking the bank. | Strict Contractual Agreement: A binding contractual agreement must be signed before taking out a lease, which limits flexibility in terms of duration and cost if circumstances change unexpectedly during the course of the agreement. |
| Tax Benefits: Leasing may offer tax advantages which would not be available through purchasing outright. | Unfavorable Terms in Some Cases: In some circumstances leasing may prove more costly than buying depending on duration and other factors such as maintenance costs or early termination fees included in contracts that may not be obvious at first glance. |
| Flexible Payment Options: The ability to tailor payment terms to suit individual business budgets is another benefit of leasing, allowing businesses to spread the cost and making payments more manageable. | Limitations on Ownership Rights: Although you have use rights over leased equipment you do not own it so cannot make alterations or upgrades without permission from the lessor or risk having repayment terms changed or terminated early due to breach of contract conditions. |
| Access To Up-To-Date Technology: With leasing, businesses can take advantage of the latest technology, helping them stay ahead in a competitive market place and remain profitable by keeping production costs down. | Limited Resale Value: It is worth noting that unlike with purchased items there may not be any resale value left once your lease ends so you have no option but to return it as per your contractual obligations. |
Bakery Equipment Financing vs Leasing - Which One Is Right For Me
To keep your finances afloat when you're just starting out, it's a good idea to consider both financing and leasing options to pay for bakery equipment. This way, any additional funds you may have can serve as a cushion for a rainy day and give you some financial elbow room.
The main difference between the two is ownership.
Bakery equipment leasing: You make monthly or yearly payments to a lender who owns the equipment, but you use it. When you don't need the equipment anymore, you can return it and stop making payments. This affordable option is ideal for smaller businesses or bakeries that are just starting out and will eventually need to get bigger or expensive equipment.
Bakery equipment financing: When you finance equipment, you take out a loan you'll have to pay back to the lender over months or years. Once you finish all your payments, you'll own the piece of equipment. However, equipment financing can be costly and has high

interest rates

, this is ideal for well established or large-scale businesses with a considerable cash flow.
What To Know About Purchasing Used Bakery Equipment:
One of the most crucial decisions to make when running a bakery is whether to buy secondhand or new equipment. Buying old bakery equipment can be a cost-effective method to outfit a bakery, but there are both advantages and disadvantages to this approach.
Used bakery equipment is often far less expensive than new products, thus it can be advantageous for individuals on tight budgets who cannot afford more expensive pieces of machinery.
Lower upfront costs: Because used things have already been installed by their previous owners, they often do not come with substantial installation fees, which can assist save money when starting a business in the near term.
Absence of guarantees/warranties: Because most secondhand items do not come with guarantees or warranties, it is critical to thoroughly inspect them before making any purchases, as this could lead to costly repairs in the future if something malfunctions or breaks down suddenly.
Safety standards: Because older models may not meet current safety rules, caution should be exercised when selecting these solutions, as they may pose issues during inspections by health officials and other regulatory organizations if safety standards tests fail.
Absence of functionality: Many older models lack features available on newer ones, so consider how much this will effect production timelines and the types of baked goods you can manufacture utilizing these machines versus cutting-edge technology.
Restricted availability: It is crucial to keep in mind while looking for used bakery equipment that the goods you are looking for may be difficult to obtain, and you may need to do some research into what is available online or from local shops.
Quality/Condition: Like with any used item, it is critical to evaluate the equipment's quality and condition before making a purchase. This can assist you in ensuring that you are selecting an item that will meet your demands without the need for repairs or replacements soon after purchase.
Maintenance: Utilizing second hand bakery equipment necessitates routine maintenance inspections and cleaning to ensure that it remains in working order. It is critical to consider this when comparing the costs of buying used versus new things.
How Do You Get Bakery Loans to Cover the Cost of Equipment?
Applying for your first bakery loan to cover the cost of equipment can be overwhelming if you don't know where to begin. However, by following these easy steps, you can get access to funds to kick off your business. Here's how:
Make a list of the equipment you'll need and a budget for it
Consider your borrower qualifications such as your personal credit score
Find a business lender that works best with your business's timeline, budget, and cash flow. You can review offers of the best equipment financing companies we recommend. Also, make sure you look into generic small business loans that aren't equipment-specific
Submit your loan application
Once you're approved, you can purchase your bakery equipment
Other Requirements to Open a Bakery
Licenses and Permits: Getting all the licenses and permits your bakery needs takes a considerable amount of time to both fill out the paperwork and get approval for it. Make sure to be patient and go through all the nitty-gritty details, so you avoid fines and delays. The requirements for your bakery license will depend on your business's location. Search your state's government website and keep in mind that you need to renew your license annually.
Labor: The amount of people you need to run a bakery depends on how big your business is. If you have a mom-and-pop shop, it's possible to run your business with two or three people at least. However, as your business grows, you'll need to hire more people to support and continue to offer the same quality of goods and services.
Marketing: The best marketing strategy a bakery can have is being in a visible place on a busy street. Between foot traffic and word-of-mouth, the word will spread quickly about your business. Other than that, having a strong digital marketing strategy with a presence on your target audience's favorite social media platforms is the best way to connect with new and recurring customers.
Business Mentoring Organizations That Could Help
Sometimes getting help from people who have already succeeded in your field is just what you need. Here are a few free business mentoring organizations that can be a helpful part of the process of getting your bakery up and running:
SCORE: The nation's largest network of volunteer, expert business mentors, is dedicated to helping small businesses plan, launch, manage and grow.
MicroMentor: The world's largest volunteer business mentorship program.
Meetup: This platform connects people in a variety of topics. Find groups in your area that are focused on entrepreneurial endeavors, or simply search "Business Mentoring Groups" to get started.
Now that you have a general idea of what it takes to operate a bakery, it's time to take action. By understanding the array of equipment that's required for your bakery, you'll be able to make better informed decisions and continue taking steps that lead to a successful business. Whether you decide to reach out to a mentor first or begin the process of finding funds, make sure you establish a timeline with steps that are unique to your needs and get started. Doing a little every day goes a long way.