Plan it out: "You'll need to learn what kind of equipment you'll need to support your vision and even the location you'll start your business at."

Keep your eyes on the prize: "This is a marathon, not a sprint. Make sure you have a resilient mindset to be able to get through the challenges of creating your dream bakery."
Complete List of Tools and Equipment Needed to Start a Bakery
The equipment you need to open your bakery will vary depending on the type you choose to open. Take into consideration its size, niche, and specialty.
Food Prep Equipment
Work tables: Quality, sturdy tables are the way to go, so your staff can roll out dough and can withstand heavy use.
Knives: The long blades make cutting large cakes, pies, and pastries easy.
Cutting boards: From home to professional use, these are a must in any kitchen.
Pots and pans in various sizes: Dough often has a mind of its own, so make sure you can accommodate large volumes in case of an increase in orders.
Mixers: Every baker should have at least one mixer for meringues, creams, batter and sauces.
Mixing bowls: An adequate supply of mixing bowls for prepping is key, especially for small bakeries.
Food processors: This piece of bakery equipment will save you time you can spend on more important tasks other than crushing nuts or shaving chocolate by hand.
Blenders: Used to mix a solid fat, like butter, into flour in order to make pastries.
Proof boxes: This humidity- and temperature-controlled sealed environment enable bakery items to rise effectively.
Slicers: Crucial to preparing bagels and loaves, among other goods.
Rolling pins: Evenly flatten everything from pie and pastry doughs to cookie and pasta doughs.
Dough rolling mats: In addition to cookie work, baking mats can line baking sheets for freezing stuff, roasting vegetables, and rolling out pie dough.
Muffin tins: Hold batters or mixes while they bake in the oven.
Spatulas: Frosting cakes and to spread toppings or mixtures smoothly over the food being prepared.
Piping set for cake decorating: Decorate or create special shapes by squeezing paste-like mixtures through the tip.
Measuring cups: A must-have for most bakers, used to measure ingredients such as oil, sugar, and flour.
Measuring spoons: Used for measuring small, exact amounts of ingredients.
Baking scales: Digital scales with different measuring capacities to measure ingredients in a convenient way, in grams and ounces.
Baking Equipment
Ovens: The most important piece of bakery equipment you require. Don't cut corners with this one. Invest in a quality, airtight oven that's true to temperature.
Ranges, Grills, and Ventilation: Proper ventilation of cooking equipment provides for employee comfort; protects equipment, finishes, and food from excess heat or moisture.
Microwaves: Regular cooking, de-frosting, re-heating, and even for some instant mug cakes.
Storage Equipment
Freezer: Store perishable food to make it last longer.
Refrigerator: Control ingredient and dough temperature.
Shelves: Help cool a baker's goods such as hot pies, breads, and pastries.
Storage containers: Keep your ingredients fresh, especially when you're dealing with large quantities of flour, sugar, and other staple ingredients.
Carts and/or mobile racks: A lot of baked goods need to cool. Use racks to leave space on the counters for your staff to roll out the next batch of goods.
Cleaning Equipment
Dishwashers: Save time by washing dozens of pots, pans, glasses, and so forth at once.
Sinks: Sinks are major components of every commercial kitchen, they're used for washing hands, washing and/or preparing food, and washing utensils, equipment and cookware.
Buckets for sanitizer: Hold sanitizer in a clean, contained, easy to access container.
Bar rags: Wipe off stemware, liquid spills, and food stains.
Food grade chemical cleaners: Safely and effectively disinfect surfaces where food is processed.
Safety Equipment
Gloves: Protect your staff from heat hazards in the kitchen.
Aprons: A guard that saves clothes from getting stained.
Hairnets: Keep hair from contacting exposed food as well as keep clean, sanitized equipment, utensils and linens.
First aid kit: It may come in handy if one of your staff members gets cut while at work.
Date labels: Use By Dates relate to the food's safety and are the most important date to remember.
Chemical safety data sheets: Describe the hazards of the chemical present, and give information on handling, storage, and emergency measures in case of an accident.
Display Equipment
Display case: Entice people into buying your baked goods.
Food packaging: Keep your products fresh inside while promoting your brand with a special design.
Serving trays: Displaying and serving pastries, cakes, cookies, and other baked goods.
Cake stands: Used for serving cake and other pastries.
Business Necessities
Restaurant point of sale system: Software designed to accept and process transactions via credit card, debit card, cash, contactless, and mobile payments.
Kitchen display system: A digital screen system that manages customer orders for restaurants.
Computer: Streamline your bakery's admin work with this must-have item.
Printer: From contracts to recipes, you'll often need to print documents.
Accounting software: Easily maintain account books on your computer, including recording transactions and account balances.
Filing cabinets: Store paper documents in file folders.
Furniture
If you've decided to offer dine-in service, make sure you purchase the following key items:
Tables
Chairs
Plates
Cutlery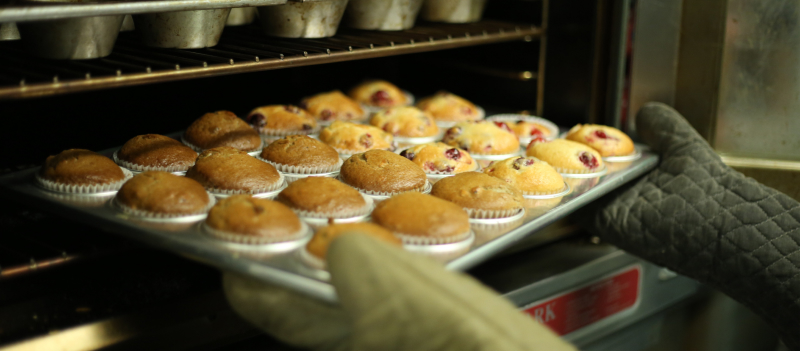 What Equipment Do You Need To Start a Home Bakery?
If you want a smaller family-run business, then opening a home bakery might be ideal for you. Below you'll find a list of equipment you'll need to get started with your home bakery:
Oven: A standard 81 liter oven is often used at home and can be used for your home bakery.
Digital Kitchen Scale: The difference between a successful home bakery and one that flops is the consistency of your products. Make sure your customers are having the same delicious experience by having the same amount of ingredients every time.
Mixing Bowls: Get at least one large, one medium, and one small plastic, pyrex glass, or stainless steel bowls.
Knives: Slice and chop fruits, nuts, and vegetables for cakes, slice brownies, chop chocolate, and even to make chocolate shaving decorations.
Silicone Spatula: An essential tool for mixing a well incorporated batter.
Baloon Whisk: Get a a much smoother result and prevent clumping or burning stuff.
Cupcake Tins: Buy at least 2 non-stick cupcake tins. This way you can use one tin to refill with batter while another one is busy baking.
Non-Stick Baking Sheet: A go-to item you can use for cookies, macarons, roasting nuts, baking pastries, and more.
How Much Does Commercial Bakery Equipment Cost?
The price of baking equipment and supplies is directly related to its quality and whether the equipment is used or new. Commercial bakery tools and equipment costs can range from $60,000-$200,000, making it the lion's share of the cost it takes to open this kind of business. Just a commercial oven, which is one of the basic pieces of bakery equipment, costs between $2,800-$6,000 or more.
Note that you should also sign up for equipment breakdown coverage to cover the costs-working equipment due to either a mechanical or electrical breakdown.

Bakery Equipment Financing vs Leasing - Which One Is Right For Me
To keep your finances afloat when you're just starting out, it's a good idea to consider both financing and leasing options to pay for bakery equipment. This way, any additional funds you may have can serve as a cushion for a rainy day and give you some financial elbow room.
The main difference between the two is ownership.
Bakery equipment leasing: You make monthly or yearly payments to a lender who owns the equipment, but you use it. When you don't need the equipment anymore, you can return it and stop making payments. This affordable option is ideal for smaller businesses or bakeries that are just starting out and will eventually need to get bigger or expensive equipment.

Bakery

equipment financing

: When you finance equipment, you take out a loan you'll have to pay back to the lender over months or years. Once you finish all your payments, you'll own the piece of equipment. However, equipment financing can be costly and has high

interest rates

, this is ideal for well established or large-scale businesses with a considerable cash flow.
How Do You Get Bakery Loans to Cover the Cost of Equipment?
Applying for your first bakery loan to cover the cost of equipment can be overwhelming if you don't know where to begin. However, by following these easy steps, you can get access to funds to kick off your business. Here's how:

Make a list of the equipment you'll need and a budget for it
Consider your borrower qualifications such as your personal credit score
Find a business lender that works best with your business's timeline, budget, and cash flow. You can review offers of the best equipment financing companies we recommend. Also, make sure you look into generic small business loans that aren't equipment-specific
Submit your loan application
Once you're approved, you can purchase your bakery equipment
Other Requirements to Open a Bakery
Licenses and Permits: Getting all the licenses and permits your bakery needs takes a considerable amount of time to both fill out the paperwork and get approval for it. Make sure to be patient and go through all the nitty-gritty details, so you avoid fines and delays. The requirements for your bakery license will depend on your business's location. Search your state's government website and keep in mind that you need to renew your license annually.
Labor: The amount of people you need to run a bakery depends on how big your business is. If you have a mom-and-pop shop, it's possible to run your business with two or three people at least. However, as your business grows, you'll need to hire more people to support and continue to offer the same quality of goods and services.
Marketing: The best marketing strategy a bakery can have is being in a visible place on a busy street. Between foot traffic and word-of-mouth, the word will spread quickly about your business. Other than that, having a strong digital marketing strategy with a presence on your target audience's favorite social media platforms is the best way to connect with new and recurring customers.
Business Mentoring Organizations That Could Help
Sometimes getting help from people who have already succeeded in your field is just what you need. Here are a few free business mentoring organizations that can be a helpful part of the process of getting your bakery up and running:

SCORE: The nation's largest network of volunteer, expert business mentors, is dedicated to helping small businesses plan, launch, manage and grow.
MicroMentor: The world's largest volunteer business mentorship program.
Meetup: This platform connects people in a variety of topics. Find groups in your area that are focused on entrepreneurial endeavors, or simply search "Business Mentoring Groups" to get started.

Now that you have a general idea of what it takes to operate a bakery, it's time to take action. By understanding the array of equipment that's required for your bakery, you'll be able to make better informed decisions and continue taking steps that lead to a successful business. Whether you decide to reach out to a mentor first or begin the process of finding funds, make sure you establish a timeline with steps that are unique to your needs and get started. Doing a little every day goes a long way.