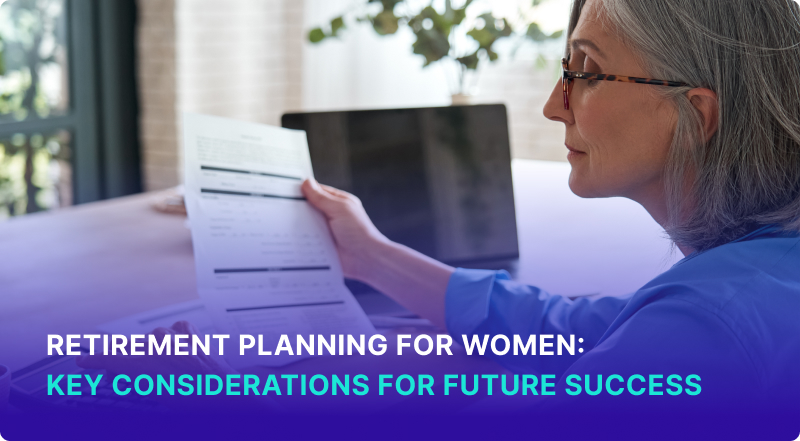 All content presented here and elsewhere is solely intended for informational purposes only. The reader is required to seek professional counsel before beginning any legal or financial endeavor.
Retirement planning for women has unique considerations versus those for men. There are factors at play including the gender pay gap, taking time out of the workforce for family obligations, perhaps starting their own business and a longer life span that all require a more thoughtful and customized approach to retirement planning.
While these circumstances may not apply to every single woman, women of all backgrounds can benefit from tips for making the most of retirement and developing a solid retirement plan.
Key Points:

It's never too early to plan for retirement.

It's also never too late

Remind yourself continuously: You are investing and creating your future
Retirement Planning Issues for Women
The retirement planning issues women face are as unique and varied as the women behind them. To form a comprehensive plan, it's important to understand the barriers and obstacles women may encounter in years leading up to retirement.
The Gender Pay Gap.

A study conducted by

PayScale

shows women currently earn $.81 for every $1 a man earns. Many people are looking into

how to close the gender pay gap

. However, in the meantime, this pay gap can severely impact savings for the future, especially for those who rely on a workplace-sponsored retirement plan. While this gap may not always be the case, it means women have to work longer to make up for the difference.

Family Obligations. More women are the stay-at-home parent or work-from-home versus men. When women are taken out of the workforce to either care for children, aging parents, or others, it will likely impact their own savings. Even if women are not choosing to leave the workforce or work from home, they may feel stretched to pay for debt, expenses, household bills, and numerous other financial obligations, which often overshadow retirement planning.
Longer Life Spans. Although life expectancy has decreased, women are still outliving men on average. The life expectancy of women is 81 years old, according to the Centers for Disease Control and Prevention, versus 76 years old for men. Practically speaking, there is a greater amount of retirement funding necessary for women.
Steps for Successful Female Retirement Planning
There may be obstacles to contend with, but here are a few tips for women to overcome them and start planning for a successful retirement.
Knowledge is Key
The more you know, the more in control you feel. This is true of all aspects of finances, but especially for retirement planning. When you have knowledge, you are more confident in your decisions and your ability to manage finances.
Fortunately, there are countless resources available to improve financial literacy and positively influence female financial planning. This includes blog posts, podcasts, books, television shows, advice from professionals, and other sources. Business loans for women is a core financial topic and it is important to become knowledgeable in this area.
Create Passive or Self-Employment Income
If you are concerned you will not have enough money to fund retirement, another option is to create self-employment or passive income. Side hustles come in all shapes and sizes, and range from online entrepreneurship - established and run by a women entrepreneur - to selling physical products or offering coaching services.
Whether you contribute a partial amount or all of the income to your retirement account is your choice, but the additional income can quickly increase your savings.
Take Advantage of Retirement Accounts
You have options for retirement accounts and they are available to you regardless of your marital status and can be opened at any time. Not only do retirement accounts help you with your savings goals, but they can also reduce your taxable income.
One of the most popular options is a workplace-sponsored 401(k) plan or retirement savings account. Each company has different rules on contributions, but overall they are an extremely easy and automated way of setting aside retirement funds.
For business owners or individuals who want to set up retirement accounts outside the workplace, other options include a Roth or Traditional Individual Retirement Accounts (IRA).
Automate
Automate your savings by signing up for automatic contributions through your workplace. If you work for yourself or have another retirement account outside of a workplace option, you can set up automatic withdrawals out of your checking account.
No matter how small or large the amount is, setting up regular, consistent payments for retirement will eventually become commonplace and you will not miss the money.
Make Retirement a Priority
Instead of looking at retirement as something you will get to "someday," the key is to make it a financial priority, in the same manner, you would your mortgage, rent, utilities, or savings.
There is no better day than today to start setting aside money for retirement. Whether it's signing up for the 401(k) option through work or using your tax refund to open an IRA, it takes intentional effort to get started and make it a priority. But the earlier you start, the greater benefit you will realize.
Final Thoughts on Retirement Planning for Women
Whether it's brushing up on financial knowledge or finally opening up an account through work, retirement planning for women requires a different, more thoughtful approach.
If your goal is to open your own small business to beef up your retirement savings, then accessing funding for your business could be a critical step in addition to taking the other actions mentioned above.
Biz2Credit is one funding option available to women-owned small businesses. It offers flexible loan terms and amounts, plus access to funds within 72 hours once approved. You can find more offers of recommended online lenders in our article about the best small business loans for women. Having the funding in place for your business could mean you finally have the income to fund the retirement of your dreams.
Many women may feel left behind because they haven't already started saving for retirement or they simply don't know where to even start. The good news is, that no matter where you are in your financial journey, there is no better moment than right now.