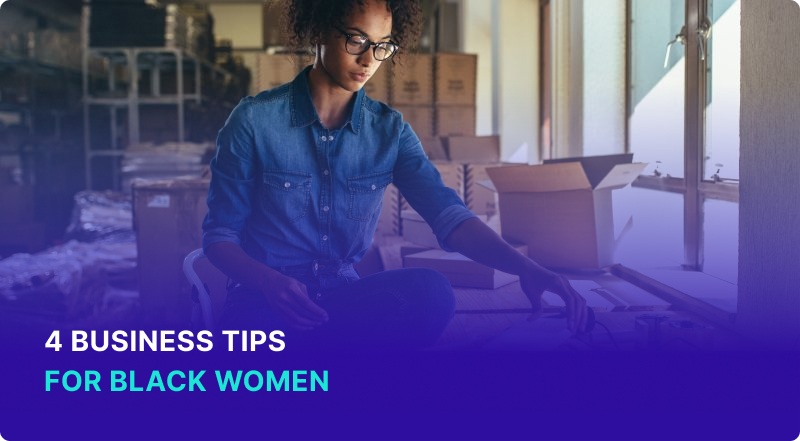 While black women-run businesses have experienced great success, there are some headwinds. These 4 top business tips will help black women entrepreneurs deal with obstacles that stand in the way of this minority group.
Key Points:

Be persistent - don't give up, keep going and prove you can succeed
Show initiative - look for unique ways to approach your service or product
Be creative - explore different avenues for opportunities
Have courage - don't dismay if you are having difficulty securing funding
4 Business Tips for African-American Women
Fortunately, there's a wealth of support and encouragement being shared with African-American women looking to become entrepreneurs. Resources such as the Small Business Administration provide resources specifically for women and minority business owners.
SCORE and the US Black Chambers of Commerce also provide tools and resources to make entrepreneurship more accessible and help entrepreneurs develop healthier, longer-lasting enterprises that serve their customers and communities.
Tip #1. Dorethia Kelly - it's difficult to see if no one knows your selling
Dorethia Kelly created and launched the online subscription box Work Space Spark in March of 2020, right before the pandemic began. Her work-focused subscription box was something that employers gifted their employees as they worked from home and tried to manage the stress of a changing workplace. Dorethia shares a key tip on marketing your products.
"Often as an entrepreneur we have a product, skill or talent that we are passionate about and know can change lives. We focus on making it great, but never learn how to successfully market it so people will: a) know it exists and b) buy it. It's important to learn marketing and not just social media, but online, offline and stay on top of industry changes. Be creative, don't just do what everyone else is doing, test ideas, ask your team for their suggestions.
I see so many people open their doors and/or launch a website and are confused when no sales come in."
Her point is that it's difficult to sell your products if no one knows what you're selling. Also, looking into how to become a certified woman owned business can help you establish yourself as a serious seller.
Tip #2. Takeia Washington - always have a backup plan
Takeia Washington is the founder of Mutha Lovin' a successful online candle company known for making unique candles that invoke moods, mantras, and mindsets. Unfortunately, COVID has impacted her ability to consistently source the materials needed to make her candles and other products that she sells in her business. Takeia has some tips for managing volatility when sourcing materials during these unusual times.
"Always have a backup plan
I've only been in a business for a little over a year, & have faced different obstacles, the biggest ones being supply shortages and shipping delays.
My biggest tip is to have multiple different supply vendors(always make sure these suppliers' quality is top notch before adding it to your shop), so when one is experiencing delays and back orders, you'll have a few other suppliers that's available with whatever it is you're needing for your business.
This helps limit frustration, thoughts of giving up, & it doesn't mess up your business flow. I truly believe finding another way when plan A doesn't work shows your customers that you're about your business and dedicated to serving them and their needs, despite obstacles."
Supply chain volatility shouldn't be why your business is unable to deliver the products it sells. Having a backup plan has helped Takeia stay in business, and her proactive planning has also helped her business flourish.
Tip #3. Crystal Hammond - your uniqueness will speak to future customers
Crystal Hammond, founder of the online sewing company "Sew So Fab," talks about how your uniqueness will speak to future customers and clients looking to buy from you.
"You need to start your own business because there is someone who looks just like you looking for similar advice! You know full well a substantial increase in income is (potentially) right around the corner if you take that first step!There's a huge market of people who can also benefit from your expertise. So find your tribe, get a mentor and start that business!"
Tip #4. Michelle Jackson - be aware of different funding sources
Michelle Jackson is a digital content creator who has grown an online brand in the personal finance space called "Michelle is Money Hungry" to have empathetic and substantive conversations about money and social policy.
Michelle's tip "Grants and Loans are the Angel Investors for the rest of us. Make sure to set aside time to apply for this type of funding that doesn't need to be repaid like a loan does. There were times when a grant or scholarship kept my business afloat."
These funding sources can keep your business afloat as you experience growth, need to buy more products, or hire staff. Michelle's point is to be aware of all of the different funding sources that are out there for small businesses. Today, there are many business loans for women available online.
Important Questions to Ask Before Going into Business
The trend of Black women going into entrepreneurship isn't slowing down anytime soon. But issues related to access to capital, challenges with the cost of expansion, and lower earnings per enterprise continue to be a persistent issue for entrepreneurs focused on their businesses' long-term health and growth.
As African-American women continue to open business ventures at a rapid pace, there are several questions that they will find themselves working through:
What are the resources that are needed to have a financially healthy business?
What details specific to running a business are these women unaware of, and where can they seek advice from a trusted source?
Does this new business venture have the potential to be lucrative?
Have I explored the various small business ideas for women
Where do you find your customers?
What technology is needed to run the business?
Should you open a bricks-and-mortar facility, run pop-ups in collaboration with other businesses or focus on online services?
And one final question that many entrepreneurs are still working through is the impact of the current pandemic and how the impact will influence future business decisions that a business owner finds herself working through.
These are just a few of the numerous questions that entrepreneurs may find themselves working through as they work on the initial setup of their business and then transition to regular business operations.
Conclusion
Planning for the possibility of future funding now is a great way to be prepared as your business grows. Nurture your business credit, keep your financial records organized and review lending terms for the different lenders you may want to work with.
Biz2Credit provides small businesses with loans that meet their current and forecasted funding needs. Borrowers can borrow between a minimum of $25,000 to a maximum of $250,000 for term loans. However, depending on your business needs, Biz2Credit provides other types of loan products that may help you navigate financial changes in your business. Take the time to review the financial products that Biz2Credit has to offer. If you'd like to review offers of other recommended lenders, visit our list of the best small business loans for women. Good luck on your financial journey.