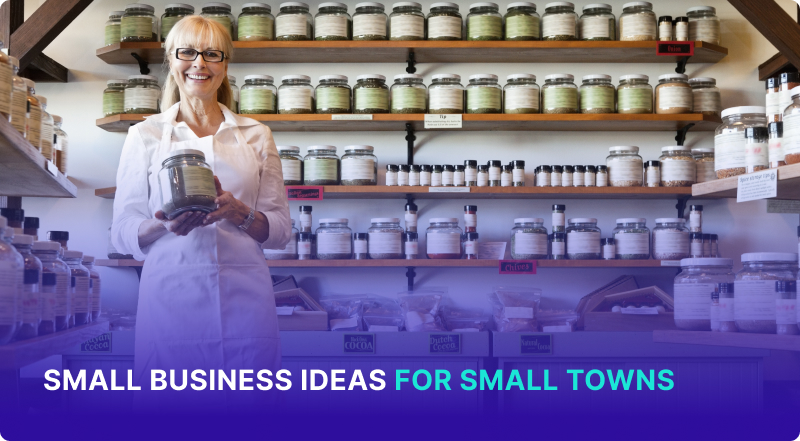 All content presented here and elsewhere is solely intended for informational purposes only. The reader is required to seek professional counsel before beginning any legal or financial endeavor.
Being an aspiring entrepreneur is very exciting. Your mind is bursting with small business ideas for small towns. However, narrowing down your list to a single idea with solid potential to succeed can be challenging. This is why mindset should be something you focus on from the start:
Key Points:

Take your time: Make sure you're picking something you'll be ready to show up to consistently and want to grow moving forward into the future.
Practice discipline: Get rid of distractions, make sure to organize your tasks in a way that allows you to continuously do the work.
Listen to yourself: Let your inner voice guide you and ignore the naysayers.
How to find the right business idea for your small town
For your small-town business idea to go from concept to thriving enterprise, you have to make sure to put in the time to do careful research and clearly understand the needs of your community. Here are three things to keep in mind:
Meet local demand: There is no point opening a shipyard in an area that is completely landlocked and has no bodies of water because it's going to be extremely difficult to sell any ships. When choosing your business, you want to make sure you cater to your community's needs.
Scout locations: "Location, location, location." Harold Samuel coined this phrase in 1944 when he founded Land Securities, one of the United Kingdom's largest property companies. It's no coincidence he was so big on location. Opening your business in the right place can be the difference between it being seen and staying in obscurity.
Calculate the costs of starting a business: Before you get started, knowing how much capital you'll need will help you prepare better. Depending on your business, you may need to find the right loan or investors.
19 Small business ideas for small towns
Entrepreneurs can thrive anywhere with the right know-how. Here are 19 small business ideas for small towns you can use to open a full-time business or a side hustle.
Restaurants: The way to peoples' hearts is through their stomach. Every town needs a place that people can count on to serve delicious meals. This full-time endeavor needs a lot of

market research

prior to opening to ensure your

restaurant business stays open

and doesn't become a statistic (yes, studies show that

one-quarter of restaurants fail

).

Hybrid bar/coffee shop: Even though big chains seem to be on every corner in big cities, people are increasingly inclined to buy local. By opening your own coffee shop, you could be addressing a gap in the market.
Liquor store: This is often one of the

most profitable small business ideas

for small towns. Liquor stores can be especially successful in areas where grocery stores don't have a license to sell alcohol. Make sure you check your county and state laws and

apply for all the right documentation

you'll need to open.

Handyman or contractor: No matter where you live, people will always need something to be fixed or reworked around the house. To get started, you can let people know about your work through word of mouth or reach out to an established general contractor to assign you small projects. For more business ideas suited to men see our in-depth article small business ideas for men.
Bakery: Whether offering fresh-baked bread or a variety of cakes, bakeries have always been a small-town go-to. Although it can be a very lucrative business, it's not for the faint-hearted. Bakeries often start work at 4 a.m. Make sure to get familiar with the list of all

necessary bakery equipment

before you consider starting one.

Grocery stores and specialty food shops: This practical recommendation often addresses the needs of a community. If you find that your average grocery store is already well-loved, you can open a specialty food shop to offer your town something different. Wine, cheese, chocolate, and spices are often successful in serving residents in more ways than one.
Lawn and gardening service: Small towns are often located in rural areas. This means people usually have lawns and gardens that require upkeep. Providing landscaping and gardening services in a small town often leads to finding repeat customers that will last for years.
Food truck: Small towns have multiple outdoor activities that range from weddings to sporting events and festivals. The flexibility that comes with investing in a food truck business allows the owners to be a great alternative to fancy catering services, as well as having a usual spot where repeat customers can find you. You might like to learn more about dedicated

food truck business loans

if you consider

starting a business

of this kind.

Thrift shop: Running a second-hand store helps the people in your town upcycle items that are well cared for and sell them at a reasonable price. Often this kind of business thrives on donations, so your initial investment will mainly be on renting a space or finding someone that will lend you an area to do a pop-up.
Tutoring service: Not all children have an easy time in academia, and most struggle with at least one subject. This profitable business can be done both in-person, or you can tap into the global market by going online. You can start this business as a sole tutor and scale it once you have enough clients by hiring teachers that specialize in specific subjects.
Farmer's Market: People are increasingly buying local and wanting to consume goods that are from their area. Although farmers markets often operate as non-profits and usually don't generate a large return,

entrepreneurs

can grow their business by adding additional locations.

Ice cream parlor: If you are willing to work nights and weekends and are up-to-date on the most popular ice cream flavors, this small business idea might be just your cup of tea. Even though this business usually operates seasonally in colder places, you can always set up shop in areas that are warmer year around.
Microbrewery: Fans of craft beer rejoice! This business idea is perfect for entrepreneurs who want a flexible schedule. Ideally, before opening a microbrewery, owners will get experience working at one or take online courses. Although the startup costs are high (around $500,000), it can yield around a 9% profit. Additional profits can be made by opening an on-site restaurant or having beer tasting events.
Orchard: If you enjoy working the earth and putting in long hours during growing and picking season, this may be suited to you. Earning potential depends directly on how much land you have, which is why this business idea is best as a side-hustle. The good news is startup costs for orchards are often moderate (a minimum of $50,000), however you should have a basic understanding of the business and preferably have a background in agriculture.
Beauty salon: If you have an interest in helping clients look their best and enjoy building long-lasting relationships, this is a great business for you. Depending on location and the size of the salon, profits for this kind of business are usually around 15%. However, before opening a beauty salon, make sure you get all the necessary licenses and certifications.
Dental office: Everyone needs dental healthcare. This essential service has the potential to earn over $1 million per year, although the startup cost is between $250,000 to $500,000. Dental practice requires professional

dental equipment

which can be pricey. Whether you went to dental school or are hiring dentists from your town, make sure the business is properly licensed.

Barber shop: Even though the primary clients that go to barbers shops are men and young boys, you may get occasional female clients. If you're a people person, this may be right for you. However, before getting started you must consider that initial investments are usually between $150,000 to $200,000 and earning potential is normally around $35,000. The good news is this is a scalable business, and you can increase your profits by opening other locations.
Freelance writer: If you have access to internet and a reliable laptop, freelance writers can work from anywhere in the world. All you need to get started is invest time in building a niche-specific portfolio and reach out to relevant clients. For more business ideas you can conduct online check out our review

online small business ideas

.

Independent blogger: People are curious creatures. Showing an in-depth look of small-town life and the special magic that you find in the place can be very profitable. Especially if you partner with local tourist attractions, you can scale your business.
Final Word
Finding the right small town business idea takes time. Make sure you not only find something you are passionate about, but will also turn a profit for you. This way, you'll ensure you will start with the right foot and will be able to grow your business in the long-term.
Frequently Asked Questions on Starting a Business in a Small Town