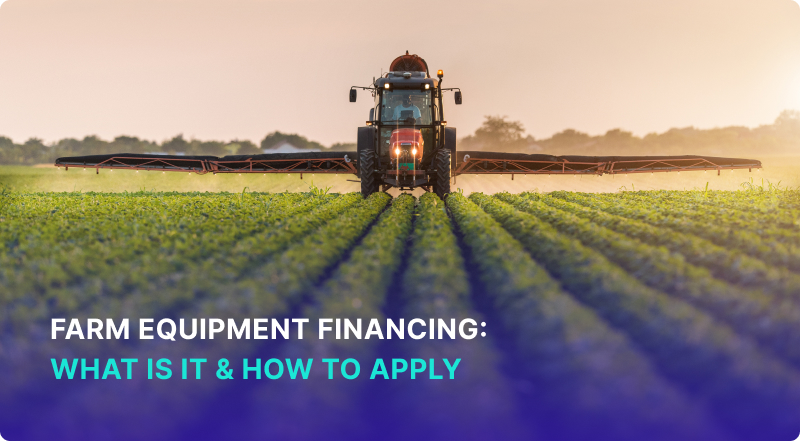 Farm equipment financing is a type of loan that farm owners can use to purchase various pieces of agricultural equipment, from smaller tools to large investments like farming vehicles.
With these loans, the equipment purchased serves as collateral for the loan. That means they can be easier to qualify for than business loans and have lower interest rates. They also don't require that you offer other assets as collateral up front.
We'll break down whether farm equipment financing is right for your farm.
Key Points:

Farm equipment financing is generally more expensive than leasing

Financing allows you to buy equipment without the cash upfront, allowing for faster expansion

Don't be afraid to borrow money if it makes sense. Borrowing to buy equipment can increase revenue by enough to cover the cost of the equipment

Make sure to invest in

equipment breakdown coverage

to ensure any damaged equipment costs are covered. This may save you from loss of income.
How Does Farm Equipment Financing Work?
Farm equipment financing works like other types of loans. You apply for the loan, get money up front, purchase the item, and then make monthly payments until you pay off the balance.
What makes farm equipment financing different is that it is designed specifically to be used to purchase farming equipment. The farming equipment you purchase serves as collateral for the loan, which reduces the lender's risk and makes these loans easier to qualify for and helps you avoid offering other assets as collateral.
These loans are often used to purchase highly expensive equipment like tractors and other farming vehicles. That means these loans often have high loan maximums.
Farm equipment financing is often easier to qualify for than other types of financing because the equipment purchased serves as collateral for the loan.
What Agricultural Equipment Can Be Purchased Through Financing?
You can use farm equipment financing to purchase all sorts of equipment, from smaller tools to large vehicles. Some things you can finance include:
● Tractors
● Combines
● Sprayers
● Pickers
● Balers
● Plows
● Drying and storage equipment
● Pickup trucks
● Trailers
● Forklifts
● Irrigation systems
This list is not close to exhaustive. If you use a piece of equipment to keep your farm operating, you can likely purchase it with financing.
Can I Fund Used Equipment with Equipment Financing?
Yes, it is possible to fund used equipment with farm equipment financing. Just like purchasing new equipment, you can use the loan to cover the upfront cost and pay it off over months or years. However, used equipment loans may come with different terms or rates than new equipment loans.
What Are the Qualifications for Farm Equipment Financing?
The qualification requirements for farm equipment financing will vary from lender to lender. However, most will look at similar factors, including:
● Your credit score: try to have at least a 600
● Your revenue
● Your time in business: lenders like businesses that are a year or two old, or older
Keep in mind that farm equipment financing is usually easier to qualify for than other types of loans because the equipment you buy serves as collateral. Also remember that the better you look to lenders, meaning the higher your credit and revenue, the lower the interest rate you can qualify for.
Do I Need Any Collateral?
No. One of the best reasons to use a farm equipment financing loan is that you don't need to provide other collateral or a guarantee to the lender. Instead, the equipment you buy serves as the loan's collateral.
That makes these loans much easier to qualify for than many other types of business loans and helps you secure lower rates.
How Fast Can You Receive the Funds?
The speed of funding depends on the lender that you work with. Some lenders specialize in quick funding and can get you money in days. If you wind up working with an SBA lender it can take weeks or months.
Expect it to take a few weeks to get a decision and funding for your loan.
What Are the Repayment Terms?
The repayment terms for a farm equipment loan will depend on the lender you work with, but common terms range from two to seven years.
Why Not Leasing
If you need equipment for your farm, you have two options to choose from: financing and leasing.
Financing allows you to purchase a piece of equipment and eventually own it outright. Leasing, on the other hand, means renting the equipment.
In general, leasing is less expensive upfront and on a monthly basis. However, you never build equity in the equipment and you'll never be able to stop making that monthly payment. Financing might cost more, but eventually, you'll pay off the loan and own the piece of equipment. Note that covering potential breakdowns for the equipment your own is important as well. Once you pay off the loan, you should invest in equipment breakdown coverage to prevent any profit loss in the future.
Which is better will depend on your needs and goals. If you plan to keep the equipment for the long-term, financing may be the better choice.
| | |
| --- | --- |
| Financing | Leasing |
| Higher monthly payment | Lower monthly payment |
| Upfront payment required | Down payment usually not required |
| You're responsible for maintenance and repairs | Leasing company may handle repairs |
| You'll own the equipment at the end of the loan | You never own the equipment and always have to continue making monthly payments |
Farm Equipment Financing: Pros and Cons
There are both pros and cons to using agricultural equipment financing to purchase equipment for your farm.
Pros
Own your equipment: With financing, you'll pay off your loan and eventually own the equipment. If you keep it for a long time, you can use it with no monthly payment. You also have the option to sell it in the future.
No additional collateral requirements: Farm equipment loans use the equipment as collateral, meaning you won't have to worry about offering additional assets to the lender.
Cons
Limited uses: Farm equipment financing is a specialized type of loan. You can't use it to finance other things.
You are responsible for the equipment: With a lease, the lessor might help maintain and repair the equipment, which can save you money. If you own the equipment, it's all up to you.
How to Apply for Farm Equipment Financing?
Applying for farm equipment financing is very similar to applying for other types of loans.
First, consider whether you're likely to qualify. Lenders will look at things like:
Your business credit score – a common minimum is 600
How long you've been in business – a common minimum is 2 years
Your company's revenue
If you think you have a chance to qualify, you can start applying. Follow these steps:
Decide how much to borrow: That means knowing what you'll buy and how much you'll pay as a down payment.
Select the type of loan: Decide whether you'll use a bank loan, SBA loan, USDA loan, or other type of financing.
Compare lenders: Look at multiple lenders and choose a few that offer good rates and fees. You might like to visit our article about the

best equipment financing companies

to get familiar with what they have to offer.

Submit applications: Fill out applications with a few of the best lenders. That means filling out a form and providing the details of your farm.
Compare your offers: Once you get loan offers, you can compare the rates, fees, and terms to choose the cheapest loan.
Accept the loan: Let the winning lender know that you want to move forward.
Make payments: Start making your monthly payments once you get your first bill.
Used Tractor Financing Opportunities
A common type of farm equipment loan is used tractor financing. This type of loan helps farm owners purchase a used tractor without needing to have the cash up front. Used tractors are typically cheaper than new ones, further reducing the cost.
Many lenders offer this service, including:
Where To Look for Farm Equipment Financing Options
If you need to finance farming equipment, there are many places that you can look.
Bank loans
Bank loans are one of the most common ways to finance equipment for your farm. You can check with your business bank and other local banks to see financing offers. Working with your business bank can be advantageous because they may offer discounts or easier qualifications to banking customers.
Online lenders
Online lenders are another popular choice for equipment financing. They avoid the overhead costs of operating physical locations, allowing them to keep costs low, typically lower than banks. However, they have the drawback of not giving customers the opportunity to speak to lenders in person. Check out some of the best farm loans on our list to find out what online lenders have to offer to farmers.
Equipment leasing
Leasing your equipment means you aren't buying it, so you're not really getting a loan. Instead, you're renting the equipment from someone else. This can be less expensive on a monthly basis, but you never get to build equity in the equipment.

Leasing also typically has less strict credit requirements than financing, meaning that you could qualify even with a bad credit score.
U.S. Department of Agriculture (USDA) Farm Service Agency (FSA) loan programs
The USDA and FSA are federal agencies that focus on agriculture and farming. Both offer loan programs to assist farmers with buying land and equipment.
These loans are usually inexpensive and have less strict credit requirements than loans from banks. In fact, the FSA does not consider your credit at all. Instead, it looks at things like your payment history, payment of federal taxes, and farm management experience.
SBA loans
The Small Business Administration works with lenders to offer SBA loans to business owners, including farmers. SBA loans can involve more bureaucracy and take longer to fund but come with benefits such as easier qualification and large loan amounts – up to $5 million.
Small business grants for farmers
A grant is a type of financial award that farmers typically don't have to pay back. Many local and national organizations offer grants to help farmers purchase equipment. For example, the USDA's Agricultural Marketing Service (AMS) offers grants to help develop farms in rural communities.
Can I Get Farm Equipment Financing with Bad Credit?
Yes, it is very possible to get farm equipment financing, even if you don't have great credit. These loans are secured loans, using the equipment purchased as collateral. That reduces the lender's risk and means you have a better chance of qualifying. Visit our article about equipment financing for bad credit to learn more.