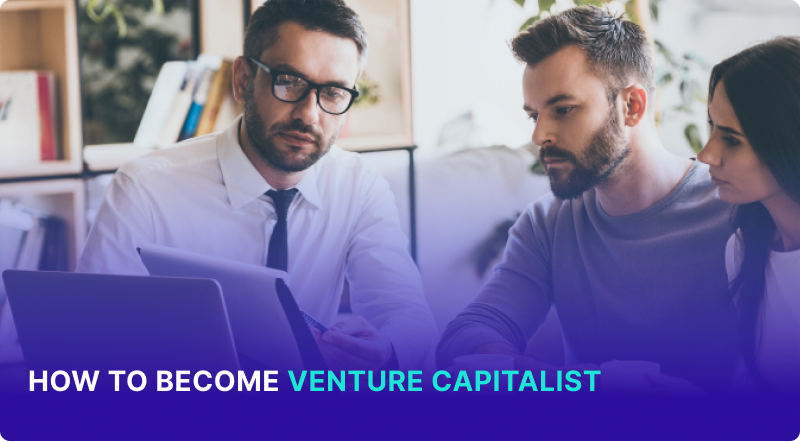 All content presented here and elsewhere is solely intended for informational purposes only. The reader is required to seek professional counsel before beginning any legal or financial endeavor.
Many consider venture capitalists to be wealthy and ambitious. If you are in hot pursuit of a venture capitalist job, you can take steps to make yourself stand apart from the crowd in this competitive space.
Key Points:

Asking how to become a venture capitalist? No one path will guarantee success in this career path.

Veteran entrepreneurs with extensive experience are prime candidates.

MBAs with years of experience in the financial industry are also top candidates for a VC job.

Be prepared to work closely with companies on their journey to success.
How To Become A Venture Capitalist
A venture capitalist grows investment funds by picking out successful startups. Although you will likely pick a few duds, the goal is to provide funding and advice that turns a smart idea into a wildly profitable company.
It's a big responsibility to invest others' money into risky startups. And with that, you'll need to build up an impressive resume. Here are a few paths you can take:
Get experience: You should start your career in a growing industry like technology, consulting, investment banking, or media.
Start investing: If possible, invest your own funds in successful startups. A proven track record will go a long way.
Start your own business: Entrepreneurs with a track record of success are great candidates for a VC position. Or find a successful entrepreneur to partner with.
Build your professional network: The competitive nature of the business makes some of this career path about who you know, not what you know.
What Do You Need To Become A Venture Capitalist?
The requirements of a venture capitalist aren't cut and dry. Instead, the main requirement is that you are able to successfully find and grow startups. But you can build skills that will serve you well, including:
The right education:

An MBA from a top business school will go a long way.

Years of experience:

It helps to have a background in investment banking, as a successful entrepreneur, or as a financial advisor.

An extensive network:

A network can help you find the right combination of money and talents. Build your network both in-person and on social media.

A mentor: The right mentor can guide you through the journey to becoming a VC.
Persistence: The unfortunate reality is venture capitalist jobs are few and far between. With that, it is important to stay persistent when following your ambitions.
Strong work ethic:

A VC works long hours. You'll need to work under pressure while paying attention to all of the details.

Negotiation skills: Negotiating will come into play when you are a VC. Hone this skill whenever you can.
Do You Need A Lot Of Capital To Become A Venture Capitalist?
Money isn't everything. You can absolutely become a venture capitalist without money. But it's easier if you have deep pockets.
Personal money isn't required:

You don't necessarily need a big bank account to become a venture capitalist.

A big bank account can help:

Although you don't need to have the funds, it can help you build a skillset in finance and investing.
Do You Need An Investor License?
Venture capitalists don't need a particular license. Here's what you do need:
The appropriate education:

You might need an MBA or proven experience as a successful entrepreneur.

A big professional network:

Although not required, being plugged into the investment community in your industry will make you more likely to land a VC job.
How Long Does It Take To Become A Venture Capitalist?
If you want to become a venture capitalist, it won't happen overnight. Many spend years building up experience in an industry before the right VC position opens up.
Expect at least seven years:

After your education, you'll need to spend at least 7 to 10 years building experience in your industry.

Be prepared to wait longer:

Even with all of the required experience, you might not find the right VC job for years. The competitive industry makes it challenging to land this job.
What Does The Work Of Venture Capitalists Look Like
If you are going to spend a lot of time working towards a venture capitalist job, it's important to think about whether or not you'll truly like the work. Here's what to expect when working for a venture capital firm.
Dive into data to find promising startups:

You'll need to do extensive industry research when searching for the right startup to invest in. A big part of your job is tracking down the right startup. Unfortunately, a big part of your job is saying no to ideas that lack potential or have too many red flags.

Meet with startups:

You'll have many meetings with potential startups to invest in. Plus, many meetings with startups you've already invested in.

Provide funding:

If a startup has merit, then you'll need to nail out a financial arrangement. At this point, sharp negotiation skills will really come in handy.

Financial coaching:

After investing in a startup, you'll often serve as a mentor to guide them through the process of building their business.

Regular networking:

A VC's network is essential to its success. Expect to spend plenty of time attending networking events like conferences to stay up to date on industry trends and build your virtual Rolodex.
How Much Do Venture Capitalists Make?
The compensation structure of a venture capitalist often includes their salary, bonuses, and carry. Specifically, the size of the firm seems to have the biggest impact on your compensation.
Salary:

The

average salary

of a venture capitalist in the U.S. was $194,498 in 2022. But there is a huge range from $97,529 to $274,926.

Bonuses:

Most VCs can expect to receive a bonus on top of their regular salary.

Carry:

Some VCs receive carry, which is a performance compensation bonus given to partners if the performance exceeds expectations.

Expect to earn a great living:

It is safe to say that venture capitalists are paid well for their work.
What Other Benefits Can You Count On As A VC?
The compensation is just one benefit that a VC receives. Here are a few other things to look forward to:
A large professional network:

You'll work with many people as a VC. And that can help you grow your network even more.

Exciting career:

It is undeniably stimulating to work in this fast-paced industry.

Work with companies you believe in:

Startups often have big goals. And you can foster that growth in a direction you believe in.
Successful Venture Capitalists You Should Know
When pursuing any career, it can be inspiring to see successful examples. Here's a quick look at some of the most profitable venture capitalists:
Lee Fixel:

Fixel is a founding partner of Tiger Glocal Management which has backed companies like Juul, Spotify, Peloton, and Stripe.

Neil Shen:

Shen is a founding partner of Sequoia Capital China, which is based in Hong Kong. A few of the companies he has backed include Bytedance and Vipshop.

Jeff Jordan:

Jordan is the general partner of Andreessen Horowitz and has backed notable companies, including

Airbnb

, Pinterest, and Instacart.

Brian Singerman:

Singerman is a partner at Founders Fund. A few investments that stand out include Affirm, Airbnb, and Wish.

Ann Miura-Ko.

Miura-Ko is a founding partner at Floodgate which has been an early investor in companies like Lyft, TaskRabbit, and Modcloth.
Tips On How To Increase Your Chances Of Becoming A VC
Want to become a VC? Here are the top tips to help you achieve this dream.
Get involved in the entrepreneurial community:

Find ways to connect with the entrepreneurial community, especially entrepreneurs in their early stages.

Build a network:

A network is a critical tool for your success as a VC. But a robust network can also help you land a venture capitalist job.

Pursue the right education:

An MBA from a top-tier school helps. But also build experience in the industry you want to invest in.

Get comfortable with research:

Picking a successful startup is the result of extensive research. Build comprehensive research skills.

Stay current on industry news:

Make sure that you are up to date on everything happening in your industry.
Not A Venture Capitalist? Check Other Investment Alternatives
The job of a venture capitalist isn't the right fit for everyone. Here are some alternative investment options to consider:
Seek out crowdfunding:

Crowdfunding sources money from many investors to propel a business forward. For further details see

what is crowdfunding

.

Peer-to-peer lending: Peer-to-peer lending p

latforms allow you to provide loans to companies. For more information check out

what is peer to peer lending

.

Angel investing:

If you have your own wealth, you can use it to pursue angel investing. Essentially, that means you'll provide funds and expertise to companies in your industry with the goal of high returns. See

what are angel investors

.
Conclusion
You don't need to have wealth to become a successful venture capitalist. However, being rich will help you obtain the appropriate education, experience, and network.
If you are pursuing a VC job, plan your career path to align with that goal. But have a backup plan to stick with if this competitive industry doesn't shake out for you.