All content presented here and elsewhere is solely intended for informational purposes only. The reader is required to seek professional counsel before beginning any legal or financial endeavor.
Can you open a gym with no money? Yes, it's possible. No, it's not a scam and it is all about understanding how equipment financing works. You need a loan to purchase the gym equipment but in order to receive a loan you need an amount of money to offer as a guarantee. Equipment financing allows you to use the equipment you are buying with the loan to act as the guarantee giving you the ability to purchase the equipment to start your gym.

Before you dive in,
Keep the following in mind when learning how to open a fitness business with no money:
Learn Some Tips on How to Open a Gym With No Money
Time: How much time can you devote to this? You will need to devote as much time and energy as possible to finding ways to open your gym as economically as possible
Strengths: What are you good at? What can you contribute to the business? What services can you barter in exchange for something that you need related to the gym
Money, money, money: Where will the money come from? How much will you need and when will you need it?
Plan: Write your own business plan to save money and stick to it as much as possible. You will need to be organized and efficient throughout the entire process.
1. Take Advantage of Free Resources
There are so many free resources for small business owners, but you may not know where to look for them. Start with the Small Business Administration (SBA). Check out their mentorship programs, their free resource guides, their SBA loans, and their learning platform. They also have a lot of local business events and networking meet-ups in your area.
Other free resources include:
Free online webinars and workshops
Touring other gyms and doing trial memberships to get an idea of their setup and what they offer
Asking other business owners for advice and feedback on your ideas
Free community groups and entrepreneur events
In addition to free resources, look into equipment financing. Gym equipment will make up a large chunk of your total business costs when opening a gym, so if you can get affordable equipment financing options lined up, you will be spending less money out-of-pocket. Sometimes companies will offer promotional deals with no money down and deferred payments to gym owners who are starting out, but good credit is usually required. Otherwise, you would need to put a downpayment on the equipment. Then expect to pay between $1,000 and $2,000 per month to lease $30,000 worth of equipment. Rates and terms vary by lender and by the gym owner's overall financial profile.
Check out both gym equipment financing and gym equipment leasing and see which is a better fit. Financing gym equipment is typically more expensive but you own the equipment so can sell it if times get tough. Conversely, leasing gym equipment can be less expensive, and you can swap out equipment periodically for the newest models. However, you don't own the equipment at the end of your lease unless you pay an additional amount to purchase it outright.
2. Research the Industry
It's important to take time and research the fitness industry before you start to plan your new gym business. Research can help you prevent costly mistakes down the road. The more you know, the better. By researching the fitness center industry, you may decide what type of gym you're passionate about opening, what services you don't want to offer, and what the current trends and insights are.
Some things to consider in your research include:
Competition
Gym owners should assess their competition prior to opening a gym so they know what they're up against. They should know what their competitors are offering in terms of goods and services, and how much they're charging. They should also look for niches that haven't been filled yet. What is something that you can offer that your competitors don't offer?
For example, you could offer digital classes that are included with your membership, loyalty cards, holiday specials, and free personal training sessions when you sign up for an annual membership. The competition should inspire you to get creative and make your gym the best that it can be.
Costs
Potential gym owners need to find out the cost of starting and running a gym early on in the planning process. You need to know if you can afford to open a gym, if you need to take out gym loans, or if you should find a more affordable building to use as a fitness center. Knowing the costs upfront can save you so much stress, heartache, and money over the long run.
You should know about the startup costs, as well as the operational costs of running a profitable gym before you invest in one.
Niche
Choosing a niche can help customers distinguish a new gym from its competitors. It's what is going to help you stand out, attract new business, and keep customers coming back. People love new concepts and often want to be part of the buzz surrounding a new business.
For example, you could learn how to open a boxing gym with no money and a boxing gym would be your niche. You may offer boxing classes, boxing tournaments, and even host boxing events with boxers from different areas competing at your gym.
Other niches include family fitness centers, women-only gyms, a body-building gym, a martial arts studio, a yoga studio, a dance studio, or a pilates studio.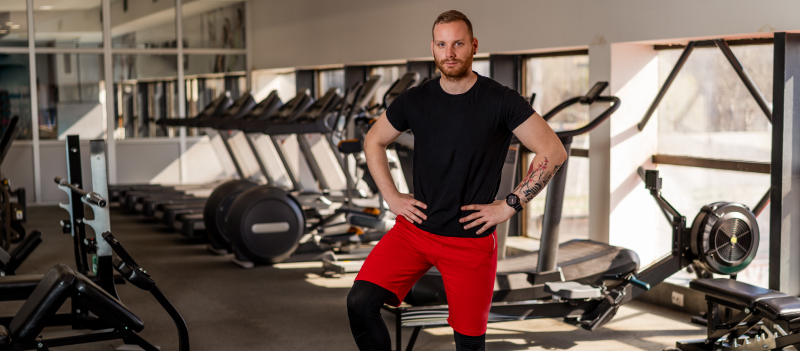 3. Assess Your Finances
Potential gym owners, remember to look at your own personal finances and determine how much you need to earn through the gym to support yourself and keep the gym running. Do you need to support a family, pay off student loans, or pay off high-interest debt? How much are your current living expenses? Will you be able to afford to keep your standard of living while the gym is getting off the ground? These are all things you should consider.
Your personal finances may also affect your ability to get gym loans. Because the business is new, most loans will require you to personally guarantee the loan. Lenders will look at your credit score, your payment history, employment history, your income, and your overall financial profile. The better your finances are, the more likely you will be able to secure funding for your new gym.
4. Set a Budget
Budgeting in advance is necessary to keep your expenses in check. There are so many costs to account for and if you don't set a budget, you may overspend on the location, and not have enough money to lease gym equipment, or hire staff.
Some costs associated with opening a gym include:
Securing a location
Leasing gym equipment or financing gym equipment
Hiring staff
Purchasing supplies, furniture, and equipment
Business insurance
Marketing and advertising expenses
Miscellaneous expenses for anything unaccounted for and there will always be some extra costs with any new business.
5. Develop a Business Plan
A business plan is an essential part of any business. If you want to save money, create a business plan yourself by browsing online templates and utilizing the help of free webinars and tutorials. A well-written business plan can help attract investors, may be required for a landlord, a loan, or a mortgage, and will keep you organized and on track. If you're trying to open a gym with as little money as possible, make the business plan really stand out, use graphs, and make it interesting, so a potential lender will remember it and possibly help fund your gym.
A business plan should include the following:
Executive summary
Company description
Organization and management
Market analysis
Financial plan
Marketing strategy
6. Start Small
Before you open your own gym, start small, gauge interest, and get feedback on your ideas. You don't have to make a massive investment first, instead, you can start offering fitness-related services, and then eventually open your own gym, once you proved your concept, and once you have the funds to do so.
You can offer the following health and wellness services before opening a gym:
Personal Training Business
Starting a personal training business can be the first step toward eventually opening your own gym. You can get your personal training certifications, if you don't already have them, and then offer private or group sessions. You can start by offering them to people you already know, advertise for free on social media, and even offer them at a public setting like a park or a beach.
Once this business picks up momentum, you may be able to rent a space at a gym, and then eventually open up your own gym. You can offer unique sessions such as bootcamp training, lunge like a pro, athlete camp, post pregnancy classes, sessions for seniors, and exercise with your dogs etc.
Digital Fitness
Digital fitness is fitness that is orchestrated online or digitally. It can come in many forms such as fitness classes that you can download on an app on your phone or tablet, a Youtube fitness video, or even a digital program for a piece of home workout equipment. Some digital classes are taught through the user's own websites and others can be easily accessed through a social media channel.
You can teach a digital class live or pre-record it for your viewers. You can offer the classes for free to start with to gauge interest and then start charging nominal fees, and then gradually increase your fees, and even consider a subscription model where members sign up to work out with you with a digital membership. You can get creative with these classes, use different types of music, and show people how to do effective at home workouts. You could even carve out a specific niche like airport stretches or hotel room exercises for frequent travelers.
Fitness Instructor
You can take on the role of a fitness instructor at a gym without having to invest in your own gym initially. You will learn how to teach the classes, what classes are popular, and what ones are not. You will also learn more about the ins and outs of the gym. You could also see if a managerial role is available and eventually a partnership role in the business.
Dedicate yourself to your position and provide value to the establishment until you can get your own business. You just never know, all your time and hard work could pay off and you get to purchase a current gym, are offered a franchise deal, or a current gym owner reuters and leaves the business in your hands.
7. Find Supporters
Supporters are important for every business but especially if you're opening a gym on a budget. Find supporters as early as possible, explain your business concept, show your passion, and you need to succeed, and get them on board to champion your new gym. They can help spread the word about how great your new fitness center will be.
Another important thing to do before the business opens, is to pre-enroll members. This gets some income coming in, but it also helps you gauge interest in membership, get feedback on costs, and predict future revenue.
8. Focus on Needs
New gym owners need to focus on getting what they need first. You may not have the prettiest reception area, or all of the fanciest equipment, but you can always upgrade those things as your business grows. Some essential equipment for a typical gym include:
Free weights, weight benches, and weight bars
Cardio equipment such as elliptical machines, treadmills, stairmasters, and stationary bikes
Mirrors, cleaning supplies, and bathroom supplies
Reception desk chairs and seating areas for new members
Office equipment for manager's offices
9. Utilize Low-Cost Marketing
Get creative! Ask your staff, your friends, and your family members for marketing ideas. What worked at their businesses or workplaces? Some low-cost marketing ideas include:
Printing flyers and distributing them around the neighborhood
Create social media accounts and post on them every day in different formats such as reels, videos, and photos
Create a community email newsletter that highlights positive things happening at the gym and in the surrounding area
Get involved in free organizations in your area and promote your business. Tell people at church, at basketball practice, at your kid's school etc.
Post flyers at grocery stores, libraries, and community bulletin boards, where allowed.
Ask a family member or friend to promote your gym on their social media accounts, especially if they have a large following.
10. Deliver Exceptional Service and Offer a Referral Program
Exceptional service can set your business apart from the competition. Customers appreciate and remember when staff members go above and beyond to meet their needs. Exceptional service usually leads to positive online reviews, repeat customers, and client referrals. Happy patrons will tell other patrons about your gym.
That's why it's imperative to create a rewarding client referral program to help increase your membership numbers and reward the current and new members. This is also a cost-effective way to get new members in the door without spending any extra money on advertising or marketing.
11. Be Patient
Creating a successful gym takes time and new gym owners should be patient as their business grows. You may only see a few patrons come in but keep going, don't give up, and eventually more patterns will walk in the doors. And before you know it, you will look around and see a gym full of happy customers working towards their fitness goals.