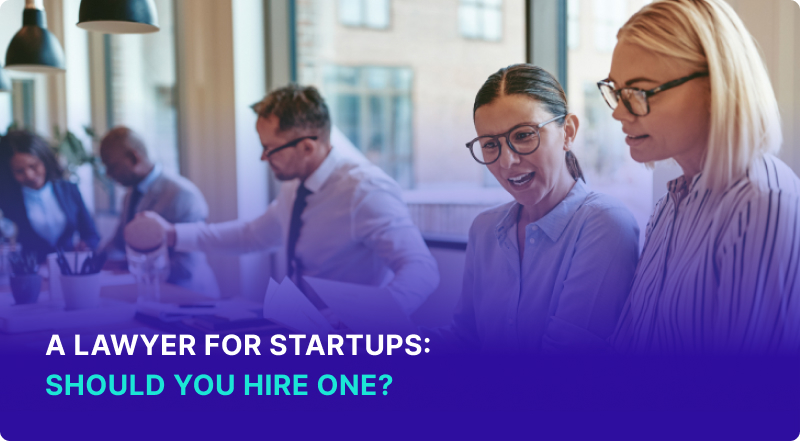 All content presented here and elsewhere is solely intended for informational purposes only. The reader is required to seek professional counsel before beginning any legal or financial endeavor.
Whether you're just getting started with your first business, have an idea for a startup, or are already serving customers, you may be wondering whether you need a lawyer. The short answer is you most definitely should hire a lawyer and you also need to know what a lawyer for your startup will provide, how to find one and why it will make your business easier in the long run.
Key Points:

Thinking about legal needs may seem daunting, don't worry we'll break it down

Once you find a lawyer that's a good fit, the process is quite simple

Finding a lawyer isn't as difficult as it used to be

Being armed with what to know will help you get the most out of your attorney
Where to Find a Startup Lawyer
There's a lot to know about start up legal services and the best person to speak to would be your startup's lawyer, but first you'll need to find one. Lawyers typically specialize in various areas, for your business you'll want to work with a business attorney, or LLC attorney; a lawyer who specializes in small business matters. Typically they will handle many areas within your business from legal entity structuring, to proofing contracts, and even supporting business owners through any disputes. Here are a few ways to find a startup lawyer.
Get a referral from a lawyer who helped you with a personal matter - do you have a friend, family member, or already have worked with a lawyer, these could be great resources to finding the right person
Attend business conferences and events - events geared towards your industry typically will have knowledgeable attorneys present, or other startup owners who know a lawyer
Online legal directories and services


a. Fast online legal advice like rocketlawyer.com or legalzoom.com




b. Lawyer match sites like upcounsel.com or legalshield.com

Get referrals from other business owners - again networking can be a key element to finding the right person for your business and your needs
Questions to Ask Before Hiring a Startup Lawyer
Before hiring a startup lawyer, there are specific questions that you should ask to ensure you are hiring the correct person for the job.
How much experience do you have with these areas of law? Each of the following topics requires an attorney to help you.
a. Taxes - paying your fair share to the federal IRS, your state, and maybe even your city is critical to maintain a healthy business. If you sell products out of state this area quickly becomes a matter of local laws a skilled lawyer can help you with
b. Intellectual property - Are you creating something that needs to be protected from copycats, or potentially might infringe on someone else's intellectual property? Lawyers can support these matters.
c. Real estate - Are you dealing with titling, contracts, and fine legal print. While people seem to act in good faith most of the time, it's always wise to run anything you're signed by a lawyer.
d. Litigation - Have a claim against someone? Did someone threaten you with a lawsuit? You'll want to contact your lawyer immediately and let them walk you through best practice on what to do so you can be as prepared as needed.
How much experience do you have with my industry?
What is your fee structure and rate? Do you offer a free consultation?
Who else is on your team?
What is the timeline for this work?
How will you communicate with me?
Do you have any conflicts of interest with representing my business?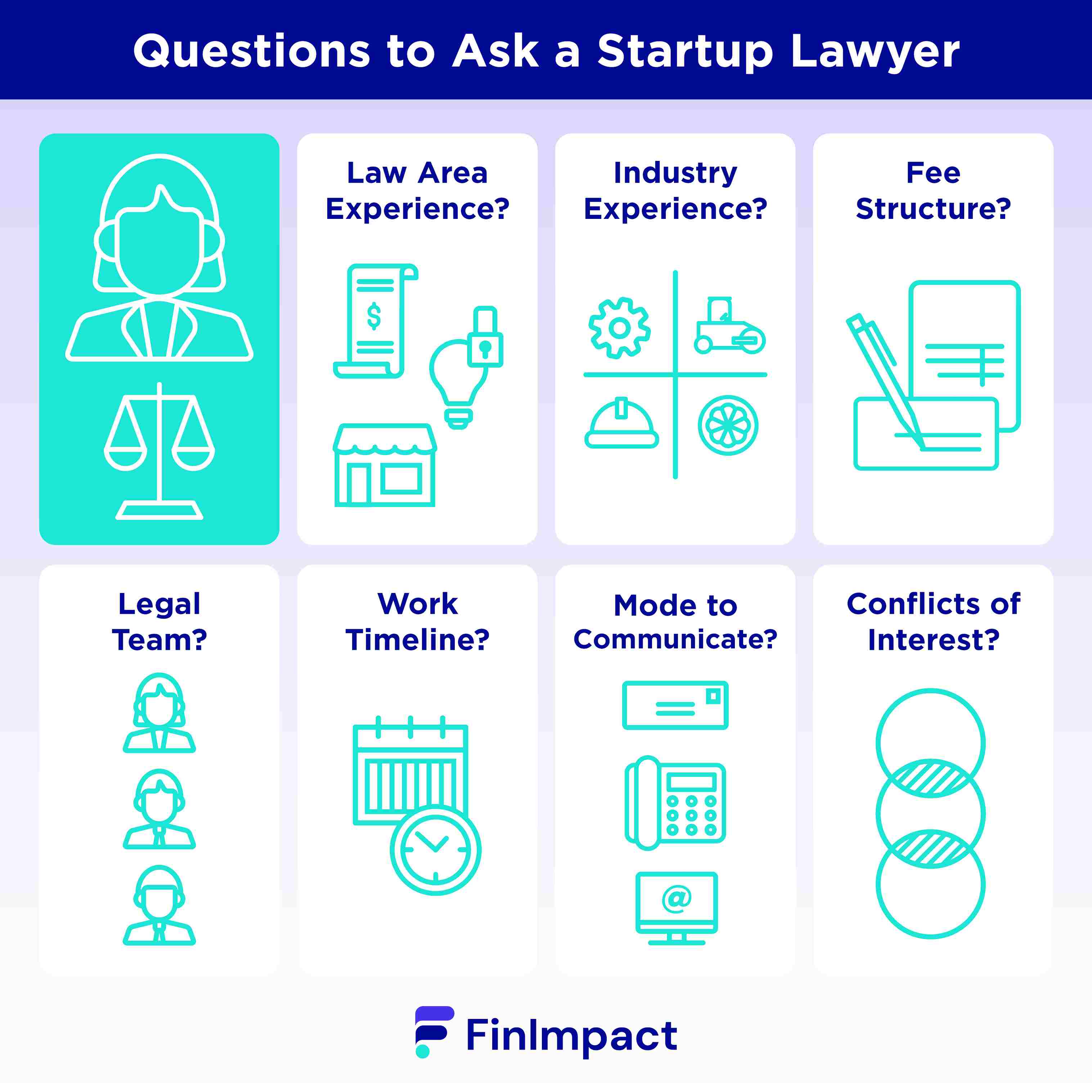 When You Need a Startup Lawyer
In general, the rule is; startup businesses don't know what they don't know. Similar to taking a car into the shop to have a pro review of any issues you may not have seen, it's always wise to have a lawyer's contact handy for your startup business.
To Start - You can begin with just providing the lawyer an overview of your startup, what you do, how you operate, and answer any questions. This familiarity may help the lawyer diagnose any legal needs the business may have.
While in Business - Further, if you ever are signing any documents, entering big negotiations, unclear about local or federal laws that you may be operating within, it's always wise to contact your attorney and ask them for their opinion.
And Never Wish You Started Early - Finally, if you do not know whether or not you need a lawyer, it's never a bad idea to give one a call, explain the scenario, and check whether there could be any legal pitfall you may want to avoid.
Ultimately, lawyers are typically friendly, knowledgeable, and their goal is to make sure you are successful and get the outcomes that you are hiring them to help you achieve, plus you as a startup business owner will learn valuable legalese that may prevent future issues for your business.
When You Don't Need a Startup Lawyer
There are some things you can easily handle when you begin a business. Below we list a few common activities that may seem like legal matters but don't necessarily mean you would need to hire an attorney. Many times there are resources available to help guide you as the owner through the process, such as the state who issues licenses or will incorporate your business.
Obtaining a business license

- the licensing authority typically will be available for any questions

Incorporating a business - the state is available to contact with any questions you may have

Getting a business loan

- a bank or an online lender can help support you throughout the process. If you're interested in getting a loan for your startup, explore our list of the

best startup business loans

.

Finding legal forms - a quick search on Google or even searching forums may lead you to what you're looking for

Obtaining an

employer identification number (EIN)

- the IRS is available to contact if there are issues obtaining or if you are unsure of how your businesses legal structure work

How to Choose a Lawyer for Your Startup
When choosing a startup lawyer, you should consider the following criteria.
Experience with startups - how long have they been in business working with companies similar to yours? What your day-to-day experience will be working with them - do you love to email back and forth? Do they? Are they available weekends for calls?
The law firm's culture - are you looking for someone that's friendly and will spend the time to educate you as a client, or are you looking for aggressive, strait to business type of personas who are all about brass tax
Cost - what is the fee structure for your attorney,

can you afford it

and is it worth the experience you're getting?
How Much Does a Startup Lawyer Cost?
Lawyers vary in pricing and fee structure with variables factoring into price such as years of experience, how complicated your business is, whether you have a legal team or other attorneys to work with, and what legal matter you're hiring the lawyer for. Typically, a lawyer is worth the cost. Fees for lawyers vary in structure. Discuss with your candidate lawyer the specifics and determine what may work best for the both of you.
Startup Lawyer Fee Structure
There are two main fee structures for startup lawyers: hourly rate and flat fee.
Hourly Rate - An hourly rate is simply that, a cost per hour for your time with the attorney. If you plan on speaking with a lawyer on an hourly rate be sure to come prepared with questions, stay on topic, and get the most for your dollar. You can typically expect a lawyers rate to start around $100.00 per hour on the low side and increase from there with experience.
A Fixed Rate - A fixed rate structure means that regardless of the amount of work your startup requires, the lawyer will be ready to complete the work for the upfront agreed upon work. If you think you will require a large scope of work across multiple topics this may be a fee structure you would want to explore.
Some scenarios help us understand what to expect.
Consultation call - typically free, you can discuss with your lawyer what you are looking to achieve and whether the fit would be mutually beneficial
An Ad-Hoc call to discuss an issue - If you have a lawyer you would like to work with, you can set up ad-hoc calls to discuss matters. If you have an agreement to pay $150 per hour with your lawyer, and discuss a matter for two hours via phone, you should expect to be invoiced $300 for their time
A retained lawyer - If you have an agreement with your lawyer to spend $2,000 a month for all legal matters you should expect to continue paying $2,000 per month until you no longer need the service.