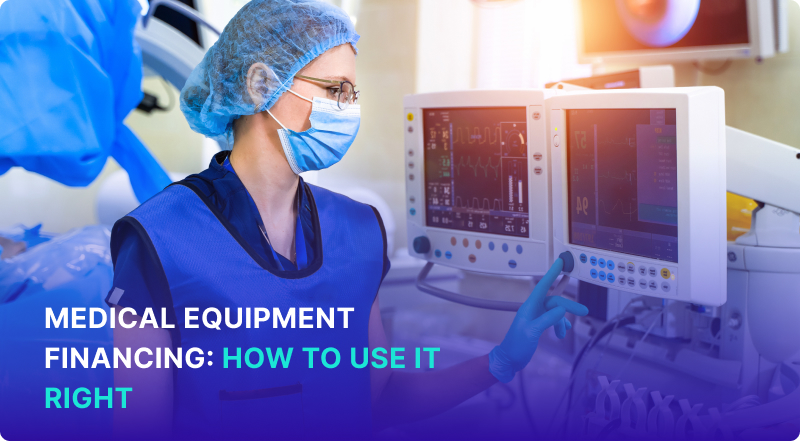 All content presented here and elsewhere is solely intended for informational purposes only. The reader is required to seek professional counsel before beginning any legal or financial endeavor.
Medical equipment financing allows healthcare organizations and medical practitioners to purchase expensive medical equipment without having to pay the full cost up front. Loans or leases can be tailored to meet the specific demands of the healthcare organization as financing choices. In provides a business the ability to control expenses and ensure access to cutting-edge technology.
Key Points:

Medical equipment financing is a loan to help you purchase a variety of medical equipment for your business.

As long as you're a medical entity, like a doctor's office, home health care business, or nursing home, it's available to you.

If you decide that a medical equipment loan doesn't make sense for your situation, medical equipment financing is worth exploring.
Types of Medical Equipment Financing: Which One Works for You
Banks, credit unions, and private lenders are common sources of medical equipment financing. It can be organized as a loan or lease arrangement, with terms ranging from one month to several years depending on the amount of equipment purchased and the criteria of the lender. It is critical to understand which choices are available and what works best for your specific circumstance.
Medical Equipment Funding Options:
Lease Financing - lease financing involves renting rather than acquiring medical equipment outright. The lessee (the party renting) pays a monthly cost agreed upon, but the lessor (the party who owns the equipment) retains ownership throughout the lease period until it is returned at the end or renewed for another term.
Loan - A loan is a one-time lump sum payment that can be utilized to purchase medical equipment. Loans normally have fixed interest rates and are repaid in regular installments over time.
Vendor Financing - Some vendors provide vendor financing as an alternate method of payment for their products in order to make them more inexpensive or accessible to clients who may not have access to traditional forms of finance such as loans or lines of credit.
Line of Credit - A line of credit enables you to withdraw funds as needed without having to apply for a new loan each time you need additional money. This sort of financing typically involves adjustable interest rates that change based on the amount borrowed and the payback term agreed upon by both parties.
Pros and Cons of Leasing Medical Equipment
| | |
| --- | --- |
| Pros | Cons |
| More affordable: Typically, you'll pay less to lease equipment than you would to own it | You don't own the equipment: At the end of your lease, the equipment won't be yours and you'll need to return it to the leasing company unless you take out another lease or purchase it. |
| Easy to upgrade to newer models: Leasing makes it easier to trade out old equipment for newer, more advanced models. | Interest fees: You'll be required to pay interest over the life of your lease, even though you won't own the equipment once it's up. |
| Flexible: If you're unsure you'll need or want a certain piece of equipment long-term, a lease can give you the chance to test it out and make a decision. | Can be difficult to qualify for: If you're a startup or newer business owner, you find it a challenge to obtain a medical equipment lease. |
| Predictable and manageable expenses: Leasing medical equipment often offers fixed and predictable payments, which can make budgeting and expense management easier for healthcare facilities | Responsibility to pay for equipment even when not in use: With a lease-to-own agreement, you are compelled to pay for the equipment even when not in use. This is a significant disadvantage of leasing medical equipment. |
| Maintenance: Often be included in the lease contract, making it a comprehensive and convenient solution for acquiring and maintaining medical equipment. | Possibility of paying more than if acquiring outright: You may end up paying more than if you had purchased the equipment altogether, depending on the term of the lease. This is because leasing includes paying interest, which can sometimes be more expensive than acquiring the equipment outright. |
Pros and Cons of a Loan for Medical Equipment
| | |
| --- | --- |
| Pros | Cons |
| Low Monthly Payments: Medical equipment loans offer the flexibility of making manageable monthly payments. This allows patients to pay for their equipment over time rather than everything at once. | High Interest Rates: Loans for medical equipment often have higher interest rates than secured loans because lenders consider them to be a higher risk. |
| Longer Repayment Terms: Medical equipment loans often have repayment terms that are substantially longer than other forms of loans, allowing for greater flexibility in how the loan is repaid. | Restricted Availability: Because not many lenders offer medical equipment loans, it might be difficult to discover the best prices and options. |
| Reduced Interest Rates: Medical equipment loans frequently have lower interest rates than other forms of loans, making them a more cost-effective option. | Short Loan Terms: Because the periods of these loans are typically extremely short, borrowers must pay them off promptly. |
| Easier to Qualify For: Loans for medical equipment are typically less stringent in terms of qualification, making them more accessible to persons who may not qualify for other sorts of loans. | Collateral Requirements: Many loans for medical equipment need some type of collateral, such as a home or other property, which can be at risk if the borrower defaults. |
| Tax Benefits: Many loans for medical equipment can be utilized as deductions on taxes, which can help offset the cost of the loan. | Tight Credit Requirements: In order to qualify for a loan for medical equipment, most lenders will require a specific degree of creditworthiness. |
| Quick Approval: Loans for medical equipment are often authorized fast, allowing patients to obtain the necessary equipment without having to wait. | Usage Restrictions: Depending on the lender, use limits may apply to the leased equipment. It may, for example, be prohibited from being used for non-medical purposes. |
Pros and Cons of Vendor Financing for Medical Equipment
| | |
| --- | --- |
| Pros | Cons |
| Reduced Equipment Cost: By spreading the cost of the equipment over time, vendor financing helps medical centers to obtain medical equipment at a lower cost. | Costly: Vendor financing for medical equipment can be expensive, since the vendor may charge a high interest rate or require a substantial down payment. |
| Easier to Qualify: Vendor financing is often more flexible than regular bank financing, making it easier for medical centers to qualify. | Time Consuming: Vendor financing can be a lengthy procedure, as it needs substantial paperwork and the negotiation of payment arrangements. |
| Quick Approvals: Unlike traditional bank financing, vendor financing can often be approved in a matter of days rather than weeks or months. | Restricted Options: Vendor financing often only offers limited financing alternatives and may not be suited for all medical equipment purchases. |
| Flexible Payment Plans: Vendor financing is generally more flexible than traditional bank financing, allowing medical centers to select a plan that fits their budget and needs. | Restrictive Terms: Vendor financing sometimes comes with restrictive terms and conditions, such as long repayment periods and substantial late payment charges. |
| Tax Benefits: Vendor financing often offers tax incentives that can help medical centers save money in the long run. | Bad Credit: Vendor financing may not be accessible for buyers with weak credit or who have not established a connection with the vendor. |
| Improved Cash Flow: Vendor financing allows medical centers to purchase necessary equipment without draining their cash reserves, which can help improve their overall cash flow. | Restricted Availability: Vendor financing is not always available, as some vendors may not offer it or may restrict access to particular clients. |
Pros and Cons of Line of Credit Financing for Medical Equipment
| | |
| --- | --- |
| Pros | Cons |
| Low Interest Rates: Line of credit financing may offer lower interest rates than other financing choices, making it an appealing option for purchasing medical equipment. | High Interest Rates: Lines of credit often have higher interest rates than regular loans, making borrowing more expensive for firms. |
| Flexible Repayment Terms: Line of credit finance repayment terms can be adapted to the needs of the medical facility, allowing for more flexible repayment schedules. | Potential Default: If the business is unable to make payments on the line of credit financing, they can be in danger of defaulting on the loan. |
| Quick Approval: Line of credit funding can be issued swiftly, allowing medical establishments to obtain the equipment they require on time. | Prepayment Penalties: Companies that are able to pay off their line of credit loan early may be penalized. |
| Reduced Risk: Line of credit financing might be a lesser risk alternative for medical institutions because it allows them to repay the loan over time rather than having to pay the complete amount once. | Variable Interest Rates: Lines of credit typically have fluctuating interest rates, making it difficult to budget for financial responsibilities. |
| Tax Advantages: Lines of credit funding may provide various tax advantages, such as the ability to deduct loan interest payments. | Decreased Cash Flow: Lines of credit funding can lower a company's cash flow because payments must be made even when the loan is not being used. |
| Easy to Access: Line of credit funding is extremely simple to obtain because it is often accessible from a wide range of lenders. This makes it a practical choice for medical establishments that need to fund the purchase of equipment. | Short Loan Term: Lines of credit often have a shorter loan period than standard loans, requiring more frequent payments. |
Tips for Choosing the Right Medical Equipment Financing
Selecting the best medical equipment financing might be difficult. With so many options available, it's critical to choose the one that best meets your requirements. Here are some pointers for choosing the best medical equipment financing:
Evaluate Your Needs: When you start looking for a financing solution, you should first examine your needs. What is the cost of the necessary equipment? How much money do you have set aside for a down payment? Are there any other expenses related with this purchase? Understanding this information can assist you in determining the best financing solution for your specific scenario.
Browse Around: Once you've decided on the type of loan or lease program that will best match your needs, it's critical to shop around and evaluate other lenders and their offerings. Before making a final decision, consider aspects such as interest rates, payback terms, and costs associated with each option.
Read All Contract Documents Thoroughly: Before signing any agreement relating to medical equipment financing, ensure that all documents have been thoroughly read and understood. Be mindful of any hidden costs or terms that aren't immediately obvious in the contract materials so they don't come as a surprise later on.
Evaluate Your Alternatives: When it comes to medical equipment financing, there are several options available, including bank or credit union loans, leasing arrangements from vendors or suppliers, government-backed programs such as SBA loans, or grants from foundations and charities specifically designed for healthcare providers purchasing new medical equipment. It is critical to carefully consider all of these possibilities before deciding which path is most suited to your needs.
Negotiate Terms: When it comes to medical equipment financing, most lenders are open to negotiating terms, so don't be afraid to ask questions and try to negotiate better terms if possible - this could potentially save you money in both monthly payments and overall cost of borrowing capital over time!
Understand Interest Rates: Be sure you understand the interest rate on your loan or lease. Various lenders may offer varying rates, so shop around to find the best deal.
Consider Upfront Costs: To begin the process, many medical equipment financing schemes need an upfront deposit or down payment. While exploring financing options, make sure to include this in your budget.
Look for Extra Services: Some lenders may provide additional services such as medical equipment delivery and installation, as well as continuous maintenance and repair. These are critical variables to consider while deciding on a financing plan.
Choose a Reliable Lender: It is critical that you choose a lender that is reliable and trustworthy, so study their reputation before entering into any loan or lease deal with them. Before making a final decision, get referrals from other healthcare practitioners who have utilized their services in the past to learn about their level of customer service, flexibility, and general experience with them.
Consider the Tax Implications: Depending on the sort of loan or lease you choose, there may be tax ramifications. Make an informed selection by researching the various sources of funding and their accompanying tax effects.
Examine Insurance Requirements: Ensure that any medical equipment financing program you choose meets all of your facility's insurance requirements. This will assist ensure that any equipment purchased is protected if it is lost or damaged.
Inquire About Payment Flexibility: Several lenders provide payment flexibility, such as payment holidays or deferments, if necessary. Make sure to inquire about this upfront so you may better understand your options if unforeseen financial circumstances emerge in the future.
Consider Resale Value: If you're looking at medical equipment financing options that include the option to buy the equipment entirely at the conclusion of the term, make sure you evaluate the equipment's resale value. Will it be easy to resell, or will its value deteriorate over time?
Investigate Vendor Relationship: If you're leasing from a vendor, make sure you're happy with their relationship and customer service. It is critical that they are willing to collaborate with you throughout the process and offer continuous help as needed.
Evaluate Equipment Life Span: While choosing a medical equipment financing plan, it is critical to examine the equipment's life duration. Will you need to upgrade or replace it anytime soon? What are the expenses for this procedure?
Consider Equipment Life Span: When considering different medical equipment financing alternatives, make sure to assess long-term costs. Interest rates, fees, repayment lengths, and any other services that may be required are all aspects to consider.
Get Expert Advice: If you're confused about whether the form of loan or lease is right for you, it's always a good idea to consult with an accountant or financial counselor. They can offer advice and insight into which sort of finance is best suited to your scenario.
How to Use Tax Benefits to Reduce Medical Equipment Financing Costs
Businesses that purchase new medical equipment can take advantage of these tax breaks to reduce costs and enhance earnings. Depending on the type of medical equipment acquired and the sort of business purchasing it, numerous different forms of tax benefits may be offered.
Tax credits: When certain types of medical equipment are purchased, businesses can obtain a dollar-for-dollar decrease in their taxes. This minimizes tax liability and can result in significant savings for corporations. Businesses can check with their local government to see if tax credits are available for purchases made during specific time periods.
Tax breaks: Companies that meet specific IRS conditions may be eligible for tax breaks on certain types of medical equipment purchases. These deductions reduce taxable income, resulting in lower overall taxation and more money to reinvest in business operations or other projects.
Sales tax exemptions: States may give sales tax exemptions for certain types of medical equipment purchases in particular instances. While sales tax is typically applied to the final price tag when purchasing new things like these, this could assist lower overall expenditures. Again, before making any significant purchases, check with your state government to see what types of exemptions are available.
Property tax credits: When businesses purchase new medical equipment, certain states may offer property tax credits; these credits reduce property taxes owed each year, which helps businesses save money over the life of the equipment by lowering annual expenses associated with owning property or land where it's located.
Stimulus packages: When governments want to encourage spending on specific items or services (for example, healthcare), they may offer stimulus packages that include discounts or other incentives related to those items or services; this could include discounts for purchasing new medical devices as well as other related products or services.
Grants and loans: Governments frequently offer grants and low-interest loans to small business owners who need assistance acquiring necessary resources such as medical supplies; this could be an excellent way to obtain funds without having to worry about the high interest rates associated with traditional borrowing methods such as bank loans or credit cards.
How to Get Out of Medical Equipment Financing Early
If you discover that you no longer want the equipment or that it is no longer functioning as expected, you may opt to exit the loan early. Fortunately, there are various steps you may take to exit medical equipment finance as soon as possible.
Examine Prepayment Penalties: Before attempting any further steps toward getting out of medical equipment financing early, determine whether any prepayment penalties apply and factor them into calculations when deciding what step is best next for yourself financially when getting out of this situation quickly moving forward.
Negotiate With Lender/Financier: Consider talking directly with lending institutions because they are often willing to work together on more favorable conditions so that everyone is satisfied with the ultimate result moving ahead.
Sell/Trade Equipment: Try selling or trading existing medical equipment for something more beneficial that now fits within financial constraints, which could assist offset costs connected with exiting current finance agreements sooner than expected.
Examine Refinancing Options: Determine whether refinancing choices exist within current market conditions by contacting brokers who specialize in these types of situations on a regular basis.
Know Your Budget and Needs: Learn what resources are now available between budget and needs so that an informed decision can be made regarding the best course of action when attempting to exit existing finance arrangements sooner without incurring hefty losses along the road.
When everything else fails, it's always a good idea to seek professional guidance from financial advisors who understand the complexities of navigating through these types of financial circumstances safely and solidly when trying to leave them as swiftly as possible without causing too much damage along the way.
What to Do if You Default on Medical Equipment Financing
Failing to pay back medical equipment financing can have serious implications, including damage to your credit score and perhaps legal action. There are things you may do to mitigate the damage if you find yourself in this circumstance.
Whenever you fall behind on medical equipment financing, the first thing you should do is call the financing firm as soon as possible. Explain your situation and ask if they are willing to work out a payment plan or change the loan terms. Ignoring the issue will only make it worse.
Another alternative is to consult with a debt counseling service. These organizations can assist you in developing a budget and negotiating a repayment plan with your creditors.
Whenever legal action is taken against you, it is critical that you seek the advice of a debt collection lawyer. They can assist you in navigating the legal system and even negotiating a settlement.
To avoid future defaults on medical equipment financing, thoroughly assess your financial condition and only take out loans that you can really afford to repay. Other finance methods, such as equipment leasing or crowdsourcing, may also be beneficial.
What Documents are Needed to Apply for Medical Equipment Financing?
The particular documentation necessary for medical equipment financing may vary based on the lender and type of financing, according to the search results. Yet, when applying for medical equipment financing, the following documents are frequently requested:
A government-issued ID
Income documentation, such as pay stubs
Employment certificate
Proof of Address
Revenue information
Form for requesting a loan
Financial statements
Tax returns
Business plans
It's important to note that some lenders may have additional document requirements, so applicants should check with their lender to make sure they have all they need for their individual loan application. Furthermore, some financing solutions, such as medical equipment leasing, may not necessitate comprehensive documentation, since it allows for flexibility in payment terms and installment discussions.
What Types of Medical Equipment Can Be Financed?
You can finance just about any type of medical equipment, including:
Hospital beds
EKG/EGG machines
Patient monitors
Traction machines
Medical imaging equipment
Mobility assistive devices like canes and walkers
Defibrillators
Centrifuges
Laboratory equipment
Spectrum analyzers
X-ray machines
MRIs
Biotech equipment
Dental equipment
Medical information systems
How To Qualify for a Medical Equipment Financing?
It can be difficult to qualify for medical equipment financing. You must have an excellent credit score and a stable financial history to qualify. This means you must have an outstanding credit score as well as at least two years of satisfactory financial performance.
Lenders will also consider your income, debt-to-income ratio, and the amount of equity in any existing property. Most lenders ask a minimum down payment of 10%-20% of the entire cost of the financed equipment. Furthermore, many lenders want collateral, such as real estate or other securities, to safeguard the loan against payment default.
Credit Score: To be eligible for medical equipment financing, you must have an excellent credit score with a FICO rating of 650 or higher.
Financial History: You must have at least two years of satisfactory financial performance, including timely payments on existing debt and other commitments, to qualify for medical equipment financing.
Income Level: When deciding whether or not you are eligible for medical equipment financing, lenders will consider your current income level.
Debt-to-Income Ratio: Your debt-to-income ratio will be considered when determining your eligibility for medical equipment financing because it demonstrates how much disposable income you have after paying off all monthly bills.
Equity in Property: In order to protect the loan against defaulting on payments, many lenders may request additional collateral such as real estate or other assets, which may include equity in any existing property that can be used to secure the loan amount if necessary.
Down Payment: Depending on various characteristics such as credit history and current financial status, most lenders often ask for a minimum down payment ranging from 10% to 20%, which is typically payable at closing before gaining approval for the loan amount sought.
Who Offers Medical Equipment Financing?
Several lenders offer medical financing such as:
Banks: You may turn to large banks like Bank of America and CITI as well as smaller, community banks for medical equipment loans. While you can land a low interest rate if you have good credit, you may have to wait weeks or even months for funding.
Credit Unions: Credit unions also offer attractive rates and favorable terms on medical equipment financing. But you'll have to join a credit union before you take advantage of them.
Online Lenders: Online lenders are ideal if you're looking for a fully digital process as well as fast approval and funding on your medical equipment loan. Many online lenders will distribute your funds the same day you apply, within 24 hours, or in a few business days. Explore our list of the best equipment financing companies to find out more.
Direct Lenders: Direct lenders can lend money to you for your medical equipment directly so there's no middleman involved. They're worth exploring if you're having trouble qualifying for financing elsewhere.
SBA Loans: The Next Best Alternative to Medical Equipment Financing
SBA 7(a) loans are the most popular type of SBA loans you can use to finance medical equipment. Issued by SBA-approved lenders and partially guaranteed by the U.S. Small Business Administration (SBA), these loans offer low interest rates and lengthy repayment terms. Depending on your situation, you may get approved for up to $5 million with terms of up to 10 years.
If you decide to pursue an SBA 7(a) loan, however, know that you'll have to undergo a rigorous application process and may wait weeks or longer for an approval and funding. In addition, your medical practice must be a for-profit entity, located and operating in the U.S for a minimum of two years., have a strong credit score of at least 690, and a minimum annual business revenue of $100,000.
Business Mentoring Organizations That Could Help
For assistance with medical equipment financing, don't hesitate to reach out to these reputable organizations.