Before You Dive In
Medical equipment financing is a loan to help you purchase a variety of medical equipment for your business.
As long as you're a medical entity, like a doctor's office, home health care business, or nursing home, it's available to you.
If you decide that a medical equipment loan doesn't make sense for your situation, medical equipment financing is worth exploring.
How Does Medical Equipment Financing Work?
Medical equipment financing lets you take out a loan so you can purchase a variety of medical equipment for your business. In most cases, you'll receive a lump sum of money upfront and repay it over time via fixed monthly payments plus interest and any applicable fees. Once you pay back what you borrow, you'll own the equipment outright.
Who Can Apply for Medical Equipment Financing?
There are a number of businesses who may benefit from medical equipment financing, such as:
Doctor's offices
Hospitals
Private medical practices
Surgery centers
Veterinary practices
Nursing homes
Dialysis facilities
Home healthcare suppliers
What Types of Medical Equipment Can Be Financed?
You can finance just about any type of medical equipment, including:
Hospital beds
EKG/EGG machines
Patient monitors
Traction machines
Medical imaging equipment
Mobility assistive devices like canes and walkers
Defibrillators
Centrifuges
Laboratory equipment
Spectrum analyzers
X-ray machines
MRIs
Biotech equipment
Dental equipment
Medical information systems
How Do You Qualify for Medical Equipment Loans?
Qualifications for medical equipment loans vary from lender to lender. As you look for lenders, you'll find that some have stricter eligibility criteria than others. In most cases, however, lenders will consider your credit score and how long you've been in business.
Most lenders will look for a minimum credit score of 600 and at least two years of business but you may still get approved if you're a newer business or have bad credit. Lenders will also assess the type and cost of equipment you hope to finance as well as your down payment amount.

What Interest Rates Are Available on Medical Equipment Financing?
Interest rates on medical equipment financing depend on the lender and equipment you choose. On average, however, rates range from 6% to 20%. If you have a strong credit history with sufficient annual revenue and have been around for a while, you may lock in the lowest rates. It's a good idea to shop around and explore your options so you can find the best rates for your particular business. You might like to read more about equipment financing rates.
How Long Do You Have to Pay Off Medical Equipment Loans?
Just like qualifications and interest rates, repayment terms for medical equipment loans vary by lender. But terms between one and eight years are common. Keep in mind that while a longer term means lower monthly payments, it will also cost you more in interest over time. A shorter term might save you thousands of dollars over the life of your loan.
Who Offers Medical Equipment Financing?
Several lenders offer medical financing such as:
Banks: You may turn to large banks like Bank of America and CITI as well as smaller, community banks for medical equipment loans. While you can land a low interest rate if you have good credit, you may have to wait weeks or even months for funding.
Credit Unions: Credit unions also offer attractive rates and favorable terms on medical equipment financing. But you'll have to join a credit union before you take advantage of them.
Online Lenders: Online lenders are ideal if you're looking for a fully digital process as well as fast approval and funding on your medical equipment loan. Many online lenders will distribute your funds the same day you apply, within 24 hours, or in a few business days.
Direct Lenders: Direct lenders can lend money to you for your medical equipment directly so there's no middleman involved. They're worth exploring if you're having trouble qualifying for financing elsewhere.
Why Is It Important for Practices to Purchase New Medical Equipment?
Thanks to advances in technology, medical equipment is always evolving and improving. By investing in new medical equipment, you can increase patient comfort and satisfaction, improve outcomes, and grow your medical business.
Whether you're a new dentist's office, a veterinary clinic that has been around for decades, or any other type of facility, new medical equipment can benefit you and your patients. It may be just what you need to stay ahead of your competitors and retain a loyal patient base. Consider also investing in medical equipment breakdown coverage to insure your equipment from costs incurred by breakdowns.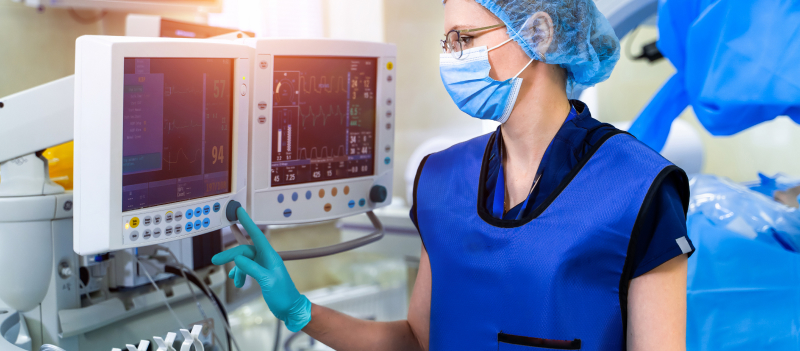 Medical Equipment Leasing vs. Financing
As a business in the healthcare industry, you can choose to lease or finance equipment. Here's an overview of both options.
Leasing vs Financing: What's the Difference?
When you lease medical equipment, you make monthly payments so you can use it for a set amount of time. At the end of the lease, you may return the equipment, sign up for another lease, or purchase the equipment. Financing medical equipment, on the other hand, is when you take out a loan or an equipment line of credit. You repay it through monthly payments and own the equipment outright once you've paid off the loan completely.

Pros and Cons of Leasing Medical Equipment
Before you opt for a medical equipment lease, consider these benefits and drawbacks.
PRO: More affordable: Typically, you'll pay less to lease equipment than you would to own it.
PRO: Easy to upgrade to newer models: Leasing makes it easier to trade out old equipment for newer, more advanced models.
PRO: Flexible: If you're unsure you'll need or want a certain piece of equipment long-term, a lease can give you the chance to test it out and make a decision.
CON: You don't own the equipment: At the end of your lease, the equipment won't be yours and you'll need to return it to the leasing company unless you take out another lease or purchase it.
CON: Interest fees: You'll be required to pay interest over the life of your lease, even though you won't own the equipment once it's up.
CON: Can be difficult to qualify for: If you're a startup or newer business owner, you find it a challenge to obtain a medical equipment lease.
Pros and Cons of Financing Medical Equipment
Here's a look at the advantages and disadvantages of financing medical equipment.
PRO: Can save you money in the long run: If you know you'll use a certain piece of equipment for many years, financing it so that you eventually own it makes more financial sense.
PRO: Many options available: There are a variety of lenders who offer medical equipment loans, making it easy to secure one, regardless of your finances or situation.
PRO: Good credit isn't required: Some lenders have lenient requirements for medical equipment financing, which are ideal if you don't have the best credit score.
CON: Interest rates can be high: Unless you have solid credit, you might have to settle for higher interest rates that can lead to hundreds or even thousands of extra dollars.
CON: Maintenance is your responsibility: When you finance medical equipment, it's up to you to take care of all of the required maintenance and repairs.
CON: Usage is restricted to equipment: Medical equipment financing is intended to help you pay for medical equipment so you may not be able to use the loan process to cover other expenses.
Leasing or Financing: Which Option Is Right for You?
If you're a newer medical practice and unsure of which types of equipment you'll use for the long-term, leasing is a good option, as long as you can find a leasing company that is willing to work with you. It can allow you to test out various pieces of equipment and determine which ones are right for your unique business. However, if your medical facility has been around for a while and you'd like to invest in some equipment you'll use for decades, financing is the way to go.
Potential Savings by Tax Reductions When Financing Medical Equipment (Section 179)
With the Section 179 tax deduction, your medical practice may deduct taxes on qualifying purchases, like new equipment and technology. The deduction limit is $1,080,000 and most tangible medical equipment qualifies.
If you finance medical equipment, you can take full advantage of this deduction and lower your tax burden while increasing cash flow. Just make sure you or your tax professional submits IRS Form 4562 to claim it.

How to Apply for Medical Equipment Financing
To apply for medical equipment financing, follow these steps.
Understand your situation: Figure out what type of equipment you need and how you'll use it to meet your business goals. This can make it easier for you to shop for a lender and loan.
Consider your eligibility: Most lenders will look for a credit score of 600 or higher, a business history of at least two years, and a minimum annual revenue of $100,000. You may need to delay your medical equipment loan application until you meet this criteria.
Determine your down payment amount: Typically, lenders will require a down payment between 5% to 10%. If you don't have enough cash for a down payment, you might have to improve your financial situation and apply at a later time.
Gather documents: It's a good idea to collect all of the documents you'll need to apply. These might include tax forms, bank statements, a business plan, a profit and loss statement, and an invoice for the medical equipment you plan to purchase.
Shop around: Next, do your research to hone in on lenders whose eligibility and down payment criteria you meet. Once you find a few options, compare interest rates, terms, and fees so you can figure out the ideal lender and loan.
Apply: Visit the lender's website to apply for a medical equipment loan online. You might also be able to apply in-person if the lender has a physical location near you. Be prepared to share details about your business as well as your finances.
Wait for funding: Upon approval, the lender will distribute your funds. While online lenders tend to do so quickly, banks and credit unions may take a bit longer.
SBA Loans: The Next Best Alternative to Medical Equipment Financing
SBA 7(a) loans are the most popular type of SBA loans you can use to finance medical equipment. Issued by SBA-approved lenders and partially guaranteed by the U.S. Small Business Administration (SBA), these loans offer low interest rates and lengthy repayment terms. Depending on your situation, you may get approved for up to $5 million with terms of up to 10 years.
If you decide to pursue an SBA 7(a) loan, however, know that you'll have to undergo a rigorous application process and may wait weeks or longer for an approval and funding. In addition, your medical practice must be a for-profit entity, located and operating in the U.S for a minimum of two years., have a strong credit score of at least 690, and a minimum annual business revenue of $100,000.
Business Mentoring Organizations That Could Help
For assistance with medical equipment financing, don't hesitate to reach out to these reputable organizations.