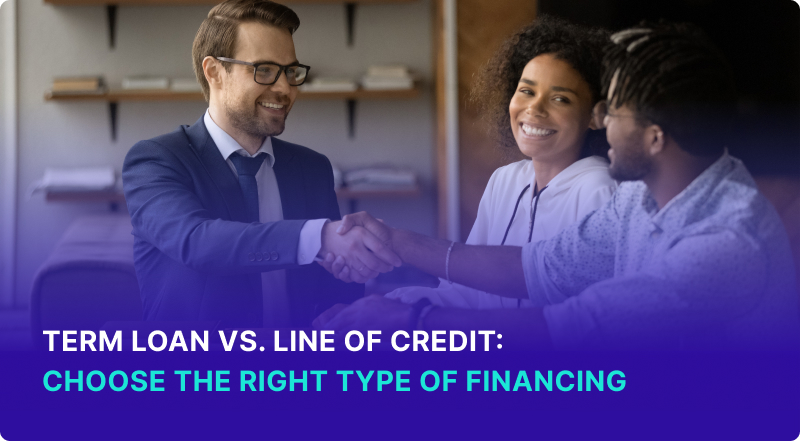 All content presented here and elsewhere is solely intended for informational purposes only. The reader is required to seek professional counsel before beginning any legal or financial endeavor.
There are two primary ways to borrow money: term loans and lines of credit. We'll break down what you need to know to choose the right type of financing for your company. Term loans are typical loans that have set payment schedules. Lines of credit are flexible, letting you draw cash when you need to and only make payments when you have the money to do so.
What is a line of credit?
A line of credit (or LOC) is an agreement between an individual or business and a lender, often a bank. If you have a line of credit, you can draw cash from that LOC, up to a predetermined limit. You can draw this cash freely whenever you need it.
When you draw cash from an LOC, it adds to your account balance. Each month, you'll receive a bill based on your account balance and you must pay that bill. You can pay the balance in full or make the minimum payment, carrying a balance to the next month.
You can draw from an LOC multiple times. You only pay interest on your outstanding balance.
Key features of a line of credit
The key features of a line of credit are:
Flexible borrowing. You can borrow from an LOC multiple times and only when you need to. You don't pay interest unless you have an outstanding balance.
No fixed terms. Unlike term loans which have fixed payment schedules, LOCs have more flexible schedules and those schedules change based on your draws from and payments toward the line.
Variable interest rates. LOCs usually have

interest rates

that adjust based on market rates.
Types of LOC
There are a few different types of lines of credit.
Security LOCs. A security line of credit involves some collateral provided by the borrower. Often, the collateral comes in the form of stocks, bonds, and other securities. The credit limit is based on the value of the collateral.
Facility LOCs. Facility lines of credit are popular with businesses. They're highly flexible lines of credit that can be used for many purposes across a business.
Which businesses should use a line of credit?
Lines of credit are useful for many different types of businesses.
For example, a company with irregular cash flows can use lines of credit for short-term borrowing to cover expenses.
In general, the better the credit of the business and the better its financial standing, the lower the cost of a line of credit. You can get access to very large credit limits at low costs if you have strong financials and excellent credit. If your company fits that bill, getting a line of credit, just in case, might be a good idea,
Here are the key points you need to know about a line of credit
Before signing up for an LOC, understand these key points.
Lines of credit typically come from banks or credit unions.

It's a good idea to check your business bank if you want a line of credit.

LOCs work much like credit cards, just make sure you always make the minimum payment to avoid damaging your credit.

An LOC lets you draw funds from the line multiple times so long as you don't exceed the credit limit.

Interest won't accrue unless you have an outstanding balance.

Your monthly payment will depend on the LOC's interest rate and outstanding balance.

What is a term loan?
A term loan is the type of loan most people think about when borrowing money. You get a lump sum of cash, and you pay it back over a set number of payments. Interest rates for these loans can be fixed or variable. For more details see small business loan terms.
Key features of a term loan
Some of the key features of term loans include:
Fixed terms. You know exactly how many payments you'll have to make to pay the loan off.
Secured or unsecured loans.

Secured term loans

involve some form of collateral and usually have lower rates.

Unsecured loans

don't require collateral but can cost more.

Fixed or variable rates. With a fixed-rate loan, the interest rate won't change during the loan's term. Some term loans have variable rates that can adjust on a set schedule.
Types of Term Loans
There are many types of term loans, mostly varying by length and whether they require collateral.
Short Term Loan.

Short term business loans

usually have terms of two years or less. They tend to have much higher monthly payments than other loans and are often intended for covering emergencies.
Intermediate Term Loan. Intermediate loans usually have terms between two and seven or ten years. These can be used for all sorts of purposes, such as expanding a business or consolidating other debts.
Long Term Loan.

Long term loans

can last for thirty years or longer and are usually intended for major investments in long-term projects. A good example of a long-term loan is a mortgage, which individuals usually use to purchase a home.
Which businesses use term loans?
Terms loans are very useful for businesses of all sorts.
For example, many companies turn to term loans for start-up funding or expansion. You can use a term loan to build your company, acquire another business, or put an expansion plan into motion.
For the most part, you'll need good credit to qualify for a term loan, especially if you're not providing a personal guarantee that the loan will get paid. Lenders will want to see an established history of sales.
When applying for a term loan, look for lenders that offer quick approval and flexible loan terms. You might like to check out the best short-term business loan offers on our list.

Some key points to know about term loans
Some key things to know about term loans include:
They come from many sources, such as banks, credit unions, and specialized lenders.

Some short-term loans may come from predatory lenders, charging immense fees and interest rates

Fixed-rate loans provide certainty, but variable-rate loans usually have lower starting interest rates
Small business term loan vs. line of credit
Small business loan
Line of credit

Loan amount

Typically higher

Comes as a lump sum

Lower

Can draw from the line multiple times

Interest rate

Fixed or variable

Depends on the loan, shorter terms often have higher rates

Variable

Only applies to outstanding balance

Repayment

Fixed payments over a set period

Must repay the full balance of the loan

Term ranges from weeks to decades

Payment vary based on balance and interest rate

No payments required if you have no balance

Fees

Origination fees and prepayment fees are common, especially on short-term loans

Late payment fees

Balance transfer fees if you transfer balance to a credit card

Loan term

Weeks to years

You can keep a line of credit active almost indefinitely
Frequently Asked Questions (FAQs)
Before you apply for a line of credit or term loan, it's important to understand how they work.