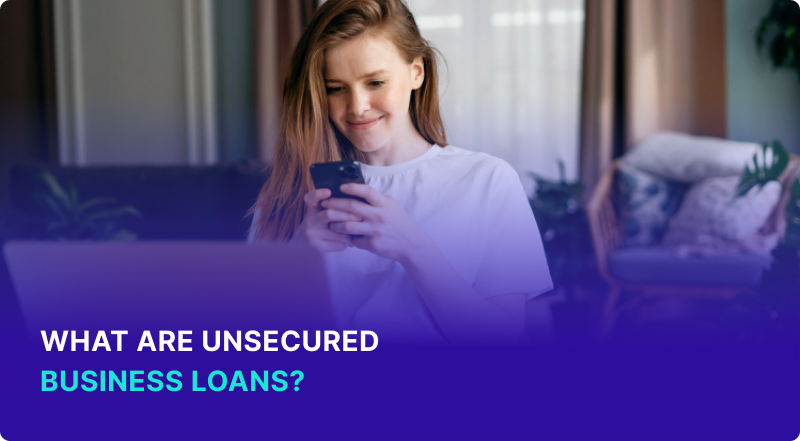 All content presented here and elsewhere is solely intended for informational purposes only. The reader is required to seek professional counsel before beginning any legal or financial endeavor.
An unsecured business loan is a loan that does not require collateral and that you can use to help start or expand your company. The loans provide necessary funding for your business, even if it doesn't have valuable assets that it can use to serve as collateral.
The lack of collateral makes these loans more expensive and harder to qualify for, but they're still an important source of business funding.
Key Points:

Borrowing money is one of the main ways to fund a business.
E

ven if you don't have assets to use as collateral, you should have options to help start or expand your company.

Unsecured business loans can get you needed funding but at a slightly higher price.
How Do Unsecured Business Loans Work?
There are many different types of unsecured business loans. Each works slightly differently and costs a different amount.
Term loans
Term loans are the type of loans that most people think of when they borrow money. You receive a lump sum of cash from a lender and make regularly scheduled payments. After a set period of time, you've repaid your debt in full.
These are typically the largest loans available, and they tend to have low rates. With strong credit, you may be able to borrow for 8% APR or less. (interest rates are going up so let's be proactive with number). See unsecured business loan rates for more details.
Business lines of credit
A business line of credit gives you access to a pool of cash that you can draw from as needed. You only make payments and pay interest on the amount you've currently borrowed, and you can take money from the line of credit multiple times.
These are more flexible than term loans, but also more expensive, costing up to 10% or more APR.
Merchant cash advances
With a merchant cash advance, lenders give you money in exchange for a percentage of your debit and credit card sales, plus a fee. These can be easier to qualify for than other unsecured business loans, but they can be quite expensive. With the fee, you could wind up paying the equivalent of more than 10% APR.
Invoice factoring
Invoice factoring lets you get paid for invoices more quickly rather than waiting for your clients to submit payment. For example, if you send an invoice for $1,000, the lender might give you $980 right away and take the $1,000 when your customer submits payment.
This can improve cash flow, especially if your clients are slow to pay. Depending on the lender, you may expect to pay about 1% - 3% per week.
Who Are Unsecured Business Loans Recommended For?
Unsecured business loans are a good choice for a few different situations.
Many people starting a new company don't have significant assets and startups certainly won't have large assets to provide as collateral. Unsecured business loans may be the only option for these new companies.
Businesses without established credit ratings may also look for unsecured loans. However, be ready to provide a personal guarantee if that's the case. See business loan without personal guarantee if you prefer this option.
If your company needs quick cash, unsecured business loans are also typically a better choice than secured loans. When you offer collateral, the lender will want to examine it and make sure it's sufficient to secure the loan, slowing down the process. Unsecured loans can often be funded in as little as one day.
Can I Get An Unsecured Business Loan For A Startup?
Yes, it's possible to get an unsecured business loan for a startup company. However, that doesn't mean that it will be easy. Unsecured loans are risky for lenders, so they'll be careful about offering them to new businesses.
To give yourself the best chance of qualifying, you'll need to have good personal credit. A strong business plan that shows the lender that you know what you're doing can also help.
In most cases, the lender will ask you to sign a personal guarantee. That means you'll have to repay the loan yourself if your company isn't able to make payments. Also, expect high interest rates and fees on the loan. For more information check out how to get an unsecured business loan.
I Have A Bad Credit. Can I Get An Unsecured Loan For My Business?
If you have bad credit, getting an unsecured loan for your company will be very difficult. Few lenders will be willing to take a risk on you, even if you offer a personal guarantee. Your poor credit ultimately means that the personal guarantee isn't worth much.
If you do find a willing lender, expect to be limited in how much you're able to borrow and to pay incredibly high interest rates.
Where To Get An Unsecured Loan For My Business?
If you're looking for unsecured small business loans, you have a few options.
Banks
Banks are among the most common sources of loans. They can be convenient thanks to their local branches and ease of getting help when you need it.
They're also convenient if you already have a business checking account at the bank you get a loan from. That can make repayment and managing your funds easier. Many banks, like Chase or Bank of America, offer a lot of different business services.
Banks tend to be slightly more expensive than online lenders. They can also be slower to approve loans because they have more overhead.
Online lenders
Some online businesses specialize in offering loans to individuals or businesses. The lack of physical locations can make it harder to get support when you need it, they make up for it in other ways.
In general, online lenders are able to offer less expensive loans because they don't have to pay for the costs of physical branches and can minimize their staffing costs. Many also rely on technology to make lending decisions which can increase the speed of getting a loan approved and funded. Find out which online lenders offer the best unsecured business loans this year.
Credit unions
Credit unions are typically smaller, local financial institutions. They're technically owned by the people who have accounts at the credit union, so they have a vested interest in helping out their members.
That means that credit unions may be more willing to work with you if you have less than ideal credit or an unusual situation, especially if you're a long-time member.
Credit unions can vary widely in terms of the loans they offer but expect their loan prices and timelines to be a bit higher and longer than online lenders.
Peer-to-Peer lenders
Peer-to-peer loans are loans that come from other regular people or groups of individuals. You typically apply for them through a website that helps organize peer-to-peer loans.
Rates and timelines depend heavily on the lender. However, your credit score is incredibly important. You may be able to qualify with less than great credit, but expect to pay a huge interest rate.
How To Qualify For An Unsecured Business Loan?
If you're applying for an unsecured business loan, the most important factors that can help you qualify are:
Your credit score. Lenders usually look at the business owner's credit, especially if the business is new and they're requiring a personal guarantee. Having good credit can help you qualify.
Your business' credit score. Your business has its own credit score that influences its ability to borrow money. If your business has a proven track record of paying its debts, that helps.
How long your business has been established. Startups are riskier to lend to than established companies. If your company has a long track record of successful operation, lenders will be more willing to offer an unsecured loan.
Business financials. If you can show a history of consistent, growing revenue, lenders will be more likely to offer a loan.
To improve your chances of qualifying for unsecured business financing:
Improve your credit score. You can boost your credit score by building a solid payment history, paying down your existing loans, and removing errors from your credit report.
Get a cosigner. Cosigners agree to repay your loan for you if you stop making payments. A cosigner with good credit is taking a risk by trusting you but can make it easier to get a loan.
Pay off your existing debt. Paying off your existing loans will both boost your credit and lower your debt-to-income ratio, which will make it easier to afford the payment on a new loan.
Are Unsecured Business Loans Safe?
Yes, unsecured business loans are a safe option for funding your business. As with any financial transaction, it's essential to do your due diligence and to make sure the lender you're working with is legit and won't steal your personal information or identity.
Also make sure to carefully examine the loan documents to make sure that you fully understand the loan you're accepting, its fees, interest rate, and expected payments.
Pros And Cons of Unsecured Business Loans
Before getting an unsecured business loan, consider its advantages and drawbacks.
Pros
Quick approval time

Easier application process

No major restrictions on usage

Could be discharged in bankruptcy

It is harder to lose your collateral if you default on the loan
Cons
Personal guarantee requirement

Higher interest rates

Shorter repayment periods

Harder to qualify for
Tips On How To Avoid Mistakes While Taking An Unsecured Business Loan
When you're applying for an unsecured business loan, make sure you give yourself the best chance of qualifying.
Prepare a detailed business plan
Lenders are primarily concerned with whether they'll get their money back after making a loan. One way you can make a lender feel confident is by having a detailed business plan that shows how you expect to grow your company and how you plan to repay your debt.
Check your credit score
Before you apply, take a moment to check your personal and business credit scores. You may identify errors you can remove, which will boost your score. It also gives you a chance to identify things you can do to boost your score. Learn how to check your business credit score from our article.
Have a plan for how you'll use the money
If you can tell your lender exactly how your business will use the money it borrows, and how that will translate into growth and more revenue, that's a good thing. It's also important to make sure that you're making the most of the loan to maximize your return on the funds.
Prepare for repayment
When you get a loan, it's easy to feel flush with cash and not be worried about the fact you'll have to repay the loan. Be sure to build space in your budget to fit your loan payments.
Consider alternative sources of funding
Before committing to an unsecured business loan, you should also think about other ways to fund your business. Investing your own cash or getting investments from friends and family is an option. You could also consider crowdfunding, getting a business partner, or even starting a cooperative business.
Compare offers from multiple lenders
When you're ready to apply, compare loan offers from multiple companies. Look to see which offers the lowest interest rates and fees as well as the best terms. Shopping around could save your business lots of cash.
Complete the application as fully as possible
When you fill out your application, make sure that you're detailed and provide all of the information it asks for. Incomplete applications can slow down the loan process or cause the lender to deny the application entirely.
Final Word
Unsecured business loans can help your company expand or cover unexpected expenses. However, they're costlier than secured loans and can be more difficult to qualify for. Before you apply, make sure you have a plan for how you'll use the funds and how you'll pay the loan back.