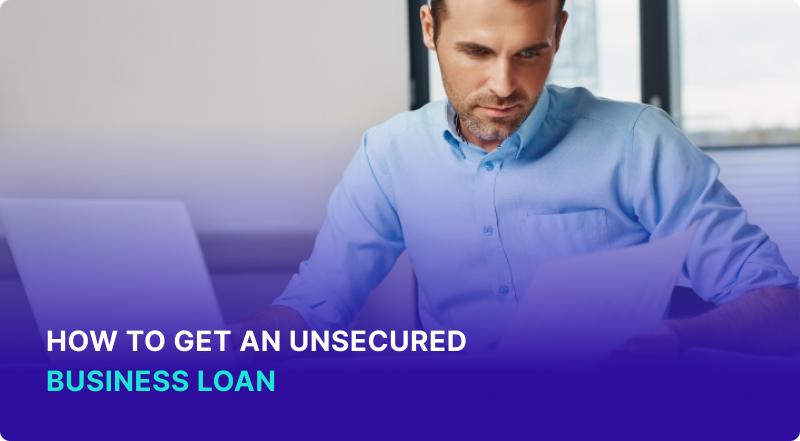 All content presented here and elsewhere is solely intended for informational purposes only. The reader is required to seek professional counsel before beginning any legal or financial endeavor.
An unsecured business loan is a loan that doesn't require collateral from your business. Contrast this with other business loans that require that you put up some assets as collateral to secure the loan.
Unsecured loans tend to have higher interest rates than secured loans and can be harder to qualify for. However, business owners might prefer them because they don't require that you have assets to serve as collateral.
Key Points:

Secured loans require no collateral, so businesses with no assets can apply

The lack of security for the lender means they charge higher rates

These loans may be used for a wider variety of purposes
How to Get an Unsecured Business Loan
If you're looking to get unsecured business loans, follow these four steps.
Step One: Understand Your Options for Unsecured Business Loans
The first thing to do is figure out which type of loan is right for you. Each type of loan has a different purpose as well as pros and cons.
Term loans. These are basic loans. You get a flat amount of cash and pay it back over a set period.
Business lines of credit. Lines of credit let you draw cash when you need it and only pay interest on the money you borrow. These can be useful if you have irregular, but frequent borrowing needs.
Invoice financing. This type of financing lets you get paid for invoices immediately instead of waiting for customers to pay.
Inventory financing.

These loans are designed to help you buy inventory for your company.

Purchase order financing. This financing helps you get money to fulfill customer orders to keep your business expanding.
Merchant cash advances. These are loans you repay automatically by giving a lender a percentage of your debit and credit card sales, plus a small fee.
Step Two: Review the Minimum Qualifications for Unsecured Business Loans to See if You're Eligible
Unsecured loans are more difficult to qualify for than secured loans. Lenders will look at many factors to determine your eligibility, including:
Personal credit score. Many lenders will require a personal guarantee to repay your company's debts, so good personal credit is important.
Business credit history. Your business will be primarily responsible for paying back the loan, so it needs to have a good history of paying its bills.
Years in business. The more established your company is, the happier lenders tend to be.
Financial records. Lenders will want to make sure that your company has the money to handle repaying its debt.
Step Three: Prepare and Submit Your Application Materials and Documentation
When you apply for a loan, you need to give the lender enough information about you and your business to make a lending decision. As part of the application process, you'll have to provide most or all of the following information.
● Business license
● Federal tax ID number
● Personal and business bank statements
● Tax Returns
● Documentation of other outstanding business loans
● Business plan
● Balance sheet
● Profit and loss statement
● Cash flow statement
● Asset list
The more details you provide, the better. If a lender has questions about your application it will slow down the lending process.
Step Four: Review and Accept Your Loan Offer
If a lender approves you for a business loan, you'll receive a written offer outlining the terms of your loan. Before you sign on the dotted line, make sure the loan is a good deal.
Annual percentage rate (APR). This is the interest rate of the loan, accounting for compounding and fees. The lower the rate, the cheaper the loan. Check out unsecured business loan rates

for further information.
Each lender will have a different timeline for funding your loan, but most can get money to you within a few days.
Where Can I Get Unsecured Business Loans?
There are many places that you can go to get unsecured business loans.
Banks. Banks can be convenient lenders, especially if you already have an account. However, they often have higher costs than other lenders.
Credit unions. Credit unions are smaller, local institutions. Often, they're better at working with businesses that are in unusual situations.
Online lenders. Lenders often have the lowest-cost loans but don't have physical locations, which can make customer service more difficult.
Pros and Cons of Unsecured Business Loans
If you're thinking about applying for an unsecured business loan, be sure to consider the advantages and drawbacks.
Pros of Unsecured Business Loans
No collateral is required.

If your company doesn't have any significant assets, you still have a chance to qualify. See

startup business loans no collateral

for

more

details.

No risk of losing collateral.

Not putting up collateral means less risk for you because the lender cannot foreclose or repossess the asset securing the loan.

Faster application and approval. Unsecured loans tend to have faster applications and approvals because lenders don't need to vet and verify the collateral you're offering for the loan.
Cons of Unsecured Business Loans
Smaller loan amounts. The lack of collateral means that lenders take on more risk with unsecured loans. That can lead to lenders offering smaller loan maximums.
Higher interest rates. Another drawback caused by the increased risk is that lenders will compensate for that risk by raising rates. That makes the loans more expensive.
Might be more difficult to qualify for. Lenders will only offer unsecured loans to people with strong credit. You'll need an established business with good financials to qualify.
FAQs about Unsecured Business Loans
Before applying for an unsecured business loan, it's important to understand how they work.