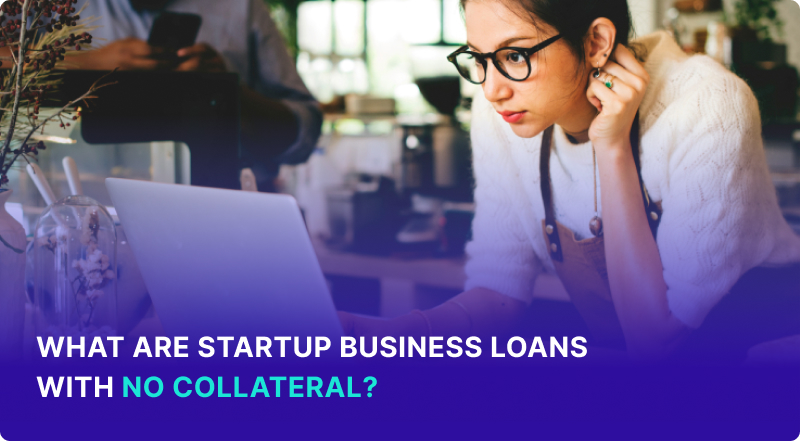 All content presented here and elsewhere is solely intended for informational purposes only. The reader is required to seek professional counsel before beginning any legal or financial endeavor.
The good news for entrepreneurs is that there are some lenders that offer startup business loans with no collateral required. They may be harder to qualify for and more expensive, but they can give your business the funding it needs.
Key Points:

Even if you don't have assets to serve as collateral, you should still be able to start a business.

No collateral business loans are available from some lenders.

Startup loans without collateral can be more expensive and harder to qualify for than loans that do require collateral.
What is a startup business loan with no collateral?
Many startup companies rely on loans to fund their initial operations. You need money to rent a location, purchase inventory, buy necessary equipment, pay for advertising, and hire staff. If you're fortunate enough to have money to afford all of that, you can fund your business out of your own pocket.
Most people have to rely on loans to afford to start a business. Business loans without collateral (or unsecured business loans) let you get funding without having to put up something of value to secure the loan. That makes it easier to get a loan even if you don't have valuable assets.
5 options for startup business loans with no collateral
If you're looking to get a startup business loan and don't have collateral, consider these options.
SBA 7(a) loans under $25,000. SBA loans are special governmental loans designed to help entrepreneurs start or expand their companies. For small amounts, SBA loans don't require collateral.
Online business term loans.

Online business lenders may be willing to offer

unsecured loans

to fund startups. However, be ready for high rates or to sign a personal guarantee.
Merchant cash advances.

A merchant cash advance gives you money in exchange for a percentage of your credit and debit card sales, plus a fee until you pay the cash advance back.

Unsecured line of credit. Unsecured lines of credit let you draw funds as you need them and only pay interest on what you owe. They can be useful if you expect to need to draw money from the line of credit multiple times.
Business credit cards.

Most businesses should have a credit card to cover expenses and earn rewards. They're an expensive way to borrow money, but often one of the easiest unsecured loans to qualify for. See

what is an unsecured credit card

for more det

ails.
Some other Resources for Startup Business Loan without Collateral
If you're considering a startup business loan but don't have or don't want to provide collateral, here are some other things to know.
Line of Credit. A line of credit is like a pool of cash that you can access when you need it. You only pay interest on the outstanding balance. These can be very valuable for companies with irregular needs for cash and can help you cover unexpected costs.
Small Business Credit Cards. Many card issuers offer specific credit cards aimed at small businesses. You can use these to make everyday purchases and finance them for a short period of time. Just watch out for their high interest rates.
Machinery Financing.

Many businesses require special equipment or machinery to operate. For example, a pizza shop needs to buy pizza ovens before it can begin operating. Many lenders offer

equipment financing loans

specifically for these types of purchases.
External Fundings. There are many other ways to get money to start your business. You could turn to friends and family to invest in your company or to give you a loan.
Pros and cons of unsecured business loans
| | |
| --- | --- |
| Pros | Cons |
| You don't need assets to serve as collateral | Harder to qualify for |
| Approval can be faster | Higher interest rates and fees |
| Less risk for your business because the lender can't foreclose/repossess an asset | Often requires a personal guarantee, putting your own money at risk |
| Simpler application | Lower loan maximums |
What Is Collateral? A Short Primer

Collateral is something of value that you use to show a lender that you're serious about repaying your debt. In effect, you're promising that you'll pay back the loan. If you don't, the lender gets to take the collateral away from you.
Common examples of loans involving collateral are auto loans and mortgages. If you stop making payments, the bank can repossess your car or foreclose on your home. However, any asset of value can serve as collateral as long as the lender is willing to accept it as collateral.
Secured VS Unsecured Loans: Know The Difference

When you apply for a loan, you can choose to apply for a secured or an unsecured loan. With a secured loan, you offer some form of collateral while unsecured loans rely solely on your word that you'll repay your debts.

That makes unsecured loans riskier for the lender. That can lead to higher interest rates, lower loan maximums, and stricter eligibility requirements. Check out how to get an unsecured business loan for further information.
Do Personal Guarantees Count As Collateral?

Some lenders will ask you to sign a personal guarantee, promising to repay your business's debts out of your own money if necessary.

A personal guarantee isn't technically collateral because it isn't an asset of value. However, it can serve a similar purpose by reducing a lender's risk. It can make loans easier to qualify for and less expensive.