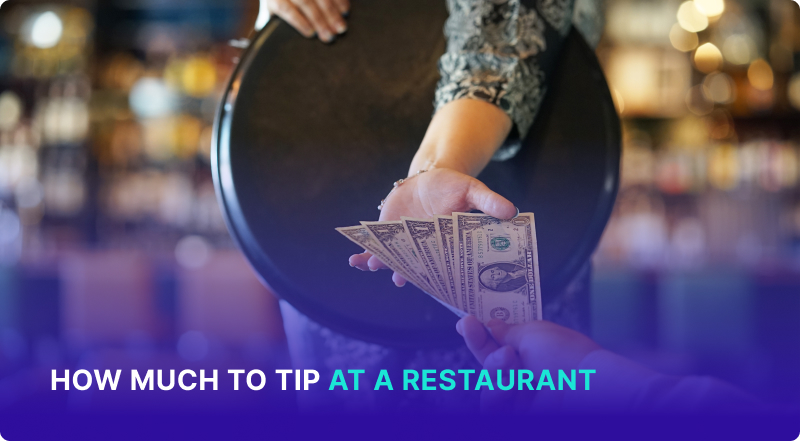 All content presented here and elsewhere is solely intended for informational purposes only. The reader is required to seek professional counsel before beginning any legal or financial endeavor.
Tipping can be daunting. Especially when you go from one city to the next, the rules change and the percentage for tipping is different from place to place. In this guide, you'll learn tips and tricks to calculate how much to tip at a restaurant.
How Much Should You Tip at a Restaurant?
There are several factors that go into how much a tip should be at a restaurant. Below are a few key factors to consider:
How Much Should You Tip in a Sit-Down Restaurant? The standard tip for basic service can range from 15% to 20%, depending on whether you are in a large city or a more suburban region, but if you have any extra money or feel inspired, go ahead and tip more.
How Much Should You Tip for Takeout? Takeout orders require far less time to prepare than an average restaurant meal, and there is no need for someone to wait for you at your table. This means you can leave a smaller tip, typically between 10%-12% of the total amount of your order.
How Much Should You Tip at Food Trucks? Most food trucks are to-go only establishments. For the most part, tips are not required for food trucks, but leaving $1-$2 is always a great way to show gratitude, especially if you placed a big order.
How Much Should You Tip at Bars? The effort that goes into some drinks is sometimes overlooked. Often there are support staff members juicing fresh juices, and preparing the elements that are needed to make cocktails. It's important to bear in mind there are other things to consider outside your point of contact with the personnel you see. As a general rule, you should tip 20% if you're seated and being waited on by a server. However, if you're ordering drinks at the bar then $1 per drink is ideal for wine and beer or $2 if it's a cocktail.
How Much Should You Tip at Coffee Shops and Bakeries? At bakeries and coffee shops, tips are less necessary, but still greatly appreciated. Tips go a long way to express gratitude to the baristas and bakers who help make your morning more bearable. You can show your appreciation by adding a dollar or two to your order.
How Much Should You Tip for Food Delivery? Even though delivery costs might be fairly high, the driver typically does not get that money. If the delivery goes successfully, leaving a 20% tip on the total cost of your meal is ideal. Increasing your tip amount shows the delivery person your gratitude, especially when they have to deal with a challenging location, bad weather, or you placed a complicated order.
Tipping Rules: How to Tip at Restaurants
A significant portion of restaurant staff's income comes from tips. In fact, in several states it's permissible for restaurants to pay servers less than the minimum wage, which is compensated in gratuities. Tips often make up more than 60% of restaurant staffs' income and are based on how well they perform their job. Keeping in mind that servers often distribute their tips with the rest of restaurant staff, it's important to take into consideration when deciding upon your gratuity.
At sit-down restaurants, 15%-20% is the norm before tax. Whether there are mistakes or service is not ideal, you should still consider tipping on the lower end, with 10% being the least even if the service is poor. Fortunately, more and more restaurants are including tip amount options on their payment device or at the bottom of your check, so all you need to do is select what you think is fair and can pay using either cash or credit.
Common Tipping Issues and How to Solve Them
The tipping customs in the U.S. sometimes will perplex foreign visitors. It's real; you have to learn how to navigate this cultural norm because otherwise you can be open to an awkward situation with colleagues and the restaurant staff. Here are a few tipping issues and how to address them:
The service was bad: Are your french fries soggy? Not loving your pasta? Let your server know. You are encouraged to express your views in the U.S.! Inform your server as soon as possible if your dish is not to your liking. When you claim your burger was the worst thing you've ever eaten with an empty plate, you lose some of your credibility as a customer.
The restaurant has a no-tipping policy: Often in this case, restaurant owners apply a service charge to all guest bills. The money collected from that fee is subsequently applied to raising the hourly salaries of every employee. Ultimately, this concept seeks to ensure payment is distributed equally among all employees. Basically, you're already tipping, but it's called different.
The server is hovering over the check: The best way is to communicate in a collected, cool manner when dealing with rudeness. Ask the waiter to give you a moment once you're looking at the check. Calmly let them know once you're ready to pay by raising your hand and making eye contact.
The person you're dining with doesn't tip well: When a bad tipper is in your party, you can still save face without hurting the offender's feelings. Once your party is out the door, you can claim you "left something at the table" or "need to use the bathroom". When you are satisfied the wrongdoer is out of sight, you find your server and give them the additional money. If you don't have cash, you may transfer the money digitally by obtaining the server's Venmo, CashApp, or Zelle handle.
You're part of a large party of diners: Big parties with a much more complex tab often tip very little. Even though many restaurants automatically add an 18% gratuity to groups of six or more to prevent this problem, you should try to tip 20% because of the extra effort staff have to make.
Additional Tips on Restaurant Tipping
Restaurant staff rely on tips to support themselves. In fact, the U.S. Congress opted to implement a "tipping credit" in the 1960s, which allowed employers to pay employees less than the minimum wage provided they get tips. This means that employees still have to rely on gratuities and walk home with meager paychecks in many areas. So even though tipping is not legally enforced, tipping should not be optional even if your service was not the best. It's not just your server who is relying on tips, the money is actually divided among all the restaurant staff—from the cooks to dishwashers, to servers. This means that when your service is good, reward the restaurant's staff with a generous tip.
Final Word
Customers should be generous and leave a minimum tip of 15% for good service, as restaurant employees depend more on gratuities than those in other types of employment. If you're ever unsure how to tip, consider 15% the baseline or do a quick online search to make sure you're tipping well.