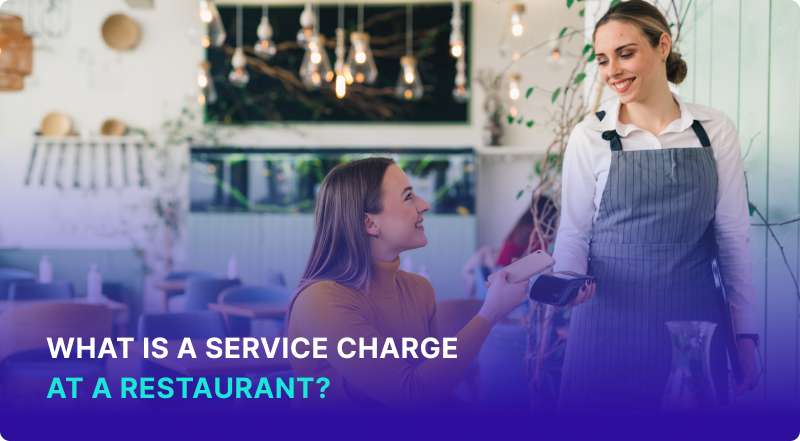 All content presented here and elsewhere is solely intended for informational purposes only. The reader is required to seek professional counsel before beginning any legal or financial endeavor.
What are restaurant service charges? Essentially, service charges are fees that restaurants add to certain customer purchases that help make it possible for the restaurant to provide that specific service. Usually, most of the service charge is allocated to pay the restaurant's wait staff, bartenders, bussers, etc. Every restaurant is different, but many include service charges on things like large parties, events, catering orders, and open bar packages.
Key Points:

Although they're often used to pay

restaurant employees

, service charges are not the same thing as

tips

.

Some people balk at the idea of paying a service fee at a restaurant, when in reality, they can be beneficial for both the business and the customer alike.

Service charges are taxed differently than tips, so if a business implements them, they need to take that into account and plan accordingly.

A service charge on a restaurant bill should be disclosed and explained to customers before it's time to sign the check.
Understanding Restaurant Service Charges
There's more to a restaurant service charge than just an added fee at the bottom of the bill. Restaurants use service charges strategically, so understanding how they work, when they're appropriate, and how to use them correctly is extremely beneficial for restaurant owners, restaurant staff, and even restaurant guests.
Types of Service Charges
Many types of businesses use service charges to help cover costs, as well as to help compensate their hardworking employees. A good way to think about it is that service charges can be used in any situation in which customers are receiving a service directly.
Restaurants: From the bartender making your drink, to the busser clearing your plate, there's a lot of service that requires compensation in a restaurant. Restaurant service charges are a way for businesses to guarantee their employees are paid fairly without adding to their overhead costs.
Hotels: From room service to room cleaning, hotels are another example of a business that relies on guests utilizing services — and charging for them.
Banks: Although banking service fees are different from those in the hospitality business, banks still often charge for things like opening an account or making a withdrawal from a non-affiliated ATM.
Examples of Restaurant Service Charges
The best way to wrap your mind around the question of "what is a restaurant service charge" is to look at a few examples. Let's take a look at two different scenarios in which it's probably in the restaurant's best interest to charge a service fee:
Example #1: A large party of 15 people books a table at a restaurant. The restaurant has a policy stating that any party of more than six people is subject to an 18% service charge. At the end of the meal, 18% percent of the total bill will be added to the final check.
Example #2: An event manager books a party at a restaurant and purchases an open bar package that costs $50 per person plus a $10 dollar service fee. When it's all said and done, the event manager will pay $60 total for each guest who attends the event.
Why Do Restaurants Include Service Charges?
The term 'service charge' in restaurants often sparks inquiries regarding why the business would choose to use this type of fee in its pricing structure. So, if you're wondering, why do restaurants charge a service fee, we're here to tell you that it's because at the end of the day, doing so can be beneficial for everyone.
Employee protection: The restaurant's staff doesn't have to worry about someone stiffing them on a tip— especially in instances when a large party required a lot of time and effort (and took up a lot of tables).
Customer peace of mind: When it's time to sign the check, guests don't have to wonder if they've tipped appropriately.
Business protection: Service charges allow businesses to charge for expenses they incur while providing a service (for example, delivering a large catering order).
How Is the Service Change Calculated?
If you're curious about how to calculate a service charge, on a restaurant bill it's usually based on a percentage of the total. Oftentimes a service fee, much like a tip, will be used as payment for restaurant workers. That said, service fee amounts are usually about the same as standard tipping percentages — typically between 18-20%.
Where Do Restaurant Services Charges Go?
Most of the time, restaurant service charges are distributed to restaurant employees. However, unlike tips, which can only go to employees in the tip pool, sometimes service charges are used to cover a restaurant's business expenses.
Do You Have to Pay Restaurant Service Charges?
If a restaurant is going to charge you a service fee, they need to let you know ahead of time — and you need to pay it. Service fees aren't optional, and you should factor in how they'll impact the total cost of your meal, event, or catering order.
Should You Tip on Top of a Restaurant Service Charge?
There's no one-size-fits-all approach to how you should handle tipping if there's a service charge included. Whether or not you should tip on top of a service charge depends on a few factors.
Percentage: If the service fee on your meal was 15%, and you generally tip 20%, then by all means, leave a little extra for the people who served you.
Distribution: If the entire service fee is going to be distributed to the restaurant's employees (and it's a fair percentage), then you might not need to leave an additional tip. You can always ask if you're unsure.
Service: Leaving an additional tip is a great way to thank the staff if they went above and beyond.
Pros and Cons of Restaurant Service Charges
Whether or not implementing a service fee makes sense for a restaurant is extremely situational. While there's no right or wrong answer to whether or not a restaurant should use them, there are a few general pros and cons to keep in mind.
Pros of Restaurant Service Charges
If the service fee is built in, customers don't have to worry about how to tip, so there's no math required.
Splitting the bill is easier when the service charge is already factored into the total bill.
Employees feel confident that they're being compensated fairly for the time and effort they spend providing service when a service fee is included.
Businesses are able to account for and plan how they'll cover expenses related to certain services like events of large parties.
They eliminate situations in which employees are negatively impacted by a customer's mood or their stance on tipping.
Service charges can help restaurants cover costs related to overhead, inflation, and paying off restaurant business loans.

Cons of Restaurant Service Charges
Service charge in restaurants sometimes amounts to less than standard, expected gratuity.
Unlike tips, according to the IRS, businesses must pay taxes on service charges.
Some customers prefer the optional nature of tipping.
Service Charges vs Tips
It's important to keep in mind that despite the fact that both service charges and tips are an additional sum that's added to the cost of food and beverages at a restaurant, in reality, they're very different from both a financial and logistical perspective.
What's the Difference Between Service Charges and Tips?
The main difference between service charges and tips is that tips are determined by the customer, and service charges are determined by the restaurant. Tipping is optional and viewed as a way to express gratitude towards the people who helped you enjoy your meal. Service charges, on the other hand, are mandatory and required.
In some ways, service charges serve the same function as tips in that they are used to pay employees. However, from an accounting perspective, they're different in how they're allocated, paid out, and reported to the IRS.
Service Charges vs Gratuity
Gratuity is just another word for a tip, so the difference between service charges and gratuity is exactly the same as the difference between service charges and tips. The difference lies in terminology alone.
Final Word
At the end of the day, service charges can be valuable tools for restaurants if and when they're used correctly. Generally speaking, most customers won't have an issue paying a service charge as long as it's reasonable and clearly communicated ahead of time. Restaurant financing is complex, and using this pricing structure can help make things easier.