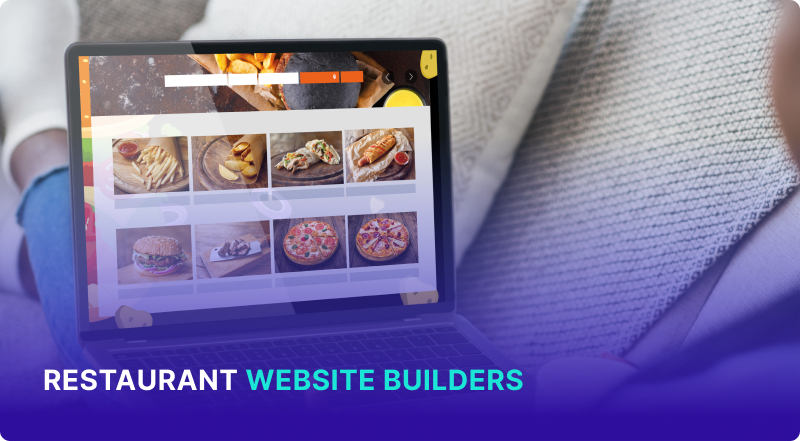 All content presented here and elsewhere is solely intended for informational purposes only. The reader is required to seek professional counsel before beginning any legal or financial endeavor.
The focal point of your digital marketing plan should be your restaurant's website, which should be the destination of all pathways from digital advertising or social media postings.
With all the options available online, creating a website for your restaurant is simpler and more accessible than ever before. Having a web builder that suits your needs and a foundational skill set in web development are the keys to success.
To assist you in weighing your alternatives, here are the top restaurant website hosting sites and builders:
Key Points:

Find what works for you: What worked for a fellow restaurateur might not work for you. Every platform has specific features to meet specific needs, so think about what suits your restaurant best.
Keep your goal in mind: Be specific about what your goal is with your website. Whether it's driving traffic to purchase menu items or to redirect them to an online food delivery app, make sure you have a clear grasp on what it is to be able to select the right web builder.
Understand backend: Whether it's you or someone from your team, make sure you go with a web builder that is manageable and easy to update.
What to Look for in a Restaurant Website Builder
Having a website is crucial for a restaurant in this day and age for it to flourish and outperform the competition. A website not only has the advantage of enabling customers to see menus before dining out, but it also makes a variety of delivery choices available, which may assist increase sales and income. Here are some key features you should look for in a restaurant website builder:
Online ordering and reservation capabilities: Customers should be able to make reservations or schedule appointments online using your restaurant's website or app rather than by phone or in person.
Customizable menus: Website visitors may customize the menu by using customization tools. They can add, remove, rename, and modify ingredients in their order.
Mobile optimization and responsive design: Customers won't necessarily be viewing your website from a laptop or computer. This means your website should adjust to the screen size of the device your customer is viewing it in.
Integration with popular online ordering platforms: Online ordering platforms often bring in a significant amount of hungry customers to your restaurant. Make sure the website builder you choose can integrate the online food ordering platform of your choosing to make it easier for your customers to order from you.
Social media integration: The ultimate goal of social media is to lead potential customers to buy menu items from you. Make sure that whichever platforms you are on lead back to your website, where customers can order from your menu.
Payment processing integration: When a sale is made, a company' accounting or ERP system can automatically import payment transaction data received from credit/debit card or other electronic payments (such as those made over the Internet or on mobile devices).
Marketing and promotional tools: These should increase customer engagement, audience growth, and help business promotion. Your web builder's collection of marketing tools should help promote your website and expand your restaurant.
Point of sale (POS) integration: A mix of hardware and software (like Square Register) that enables companies to process transactions, handle payments, and keep track of their inventory, staff, and clients.
Customizable forms and contact information: These are crucial to build your customer list and market to them via email.
Customer reviews and feedback capability: Reviews are an important part of building customer loyalty. Make sure the website builder you choose has a feature with this capability.
Customer Relationship Management (CRM): CRM software is a tool that's made to assist your company in providing your customers with a distinct and seamless experience. It helps build stronger relationships by giving you a complete picture of all customer interactions, tracking your sales, organizing, and prioritizing your tasks.
Loyalty programs and gift cards: Loyalty programs and gift cards help encourage your customers to return to your restaurant.
Food delivery and pickup options: Whether it's through your own website or with an online food delivery platform integration, making it easy for your customers to order from you online is key to increasing your sales.
Customer support options: Sometimes user interfaces aren't very user-friendly. Having someone available to provide customer support will ensure your guests have a positive experience and continue ordering from your restaurant.
15 Best Restaurant Website Builders
The ideal restaurant website builders have one thing in common: they reflect your brand identity and make it easy for customers to order from your business.
How to Choose the Best Restaurant Website Builder
Even though having a lot of options when it comes to restaurant website builders, it can also be overwhelming. Here are a few tips to keep in mind to select one that meets your needs:
Establish a budget: You must first determine what you can afford to spend. Start by taking into account the additional expenses related to creating your business website. The cost of hosting and domain registration must be included in every website budget. Additionally, you'll probably need to spend money on content writing and photos.
Determine what the goal of your website is: Whether you want to simply showcase your menu or offer online ordering, making sure your objective is clear, so you can adequately pick a template that suits your needs.
Intuitive backend: How easy to use is the website builder you want? Make sure that if it requires code, there's someone on your team that can do that to keep it updated or troubleshoot it.
SEO is key: You want people to actually find your website once you've finished constructing it, right? In order to do that, you must use SEO best practices while creating your website. A decent website builder should have SEO tools that make it easy to perform on-site optimization.
Great customer service: Isn't it annoying when you're trying to solve a problem, but you can't get a hold of a human you can talk to at a company? You don't want your restaurant website to be down for hours or even days because you can't get a hold of someone at the website builder company to give you customer support. Make sure your restaurant website builder offers help in the form of both tutorials and is easy to contact should you need to.
How Much Does it Cost to Build a Website for a Restaurant?
If you or someone in-house is designing the website for your restaurant, it can cost anywhere between $12-$400 per month. However, if you are seeking out the help of a professional web designer you can be looking at costs ranging between $10000-$50000 depending on what features you want. And that's just for the design, add to that the monthly cost of hosting and the platform you build your website on.
If you need money to cover expenses of your restaurant business, you might like to learn more about restaurant business loans.

What Makes a High-Performing Restaurant Website?
The goal of a website is to ensure a smooth and pleasant user experience for customers that will ultimately increase your profits. Here are a few key factors to keep in mind to create a high-performing restaurant website:
Aesthetic design: The theme of a restaurant website should correspond with its brand guidelines and be easy on the eyes.
User-friendly interface: Customers can efficiently grasp your restaurant's interface and use it to order.
Easily navigable menu: It should be simple for customers to view your menu items, change certain ingredients, and add them to the checkout basket.
Restaurant mission statement: Whether it's a multicultural experience or eco-friendly value that you're bringing to the table, make sure your customers can read up on what your restaurant's mission is.
Clear and concise description of the dishes: Customers simply want to know what's in your food. No need to embellish your dish ingredients with fancy words.
Visual elements: People often decide what they want to eat based on photos, videos, and other visual elements. Make sure to have most of your menu items photographed to attract more customers and provide a better customer experience.
Information about location and contact details: Although online ordering is very popular, sometimes people want to visit your brick and mortar restaurant.
Information about special offers or discounts: Keeping loyal customers happy is as easy as offering discounts and special offers once they eat a certain amount of times at your restaurant or reach a price threshold.
A place for customer feedback: A lot of customers pick where to eat based on previous customers' experience with your restaurant. Including a section for reviews can boost your sales.
Final Word
The right website builder for your restaurant doesn't need to be fancy, but should offer proper tools that will help increase your profits. All the website builders on our list have the tremendous advantage of making it simple to develop a high-quality site with features that are necessary for restaurants of any size. In most cases, the free or lowest-tier subscriptions include access to almost all the fundamental web design features, even specialized applications or plugins.