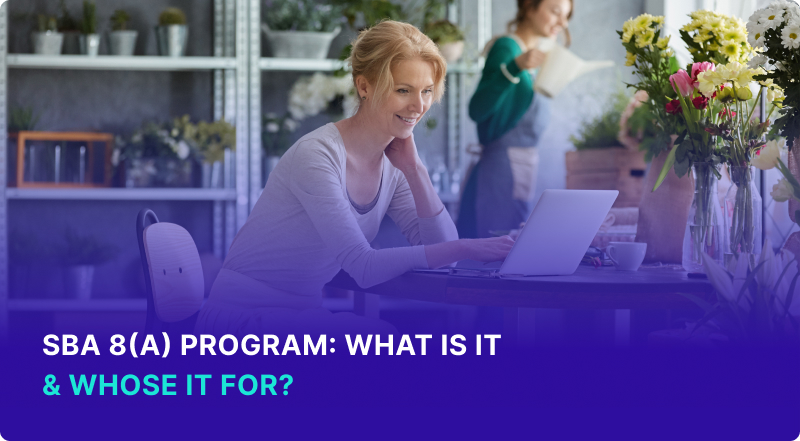 All content presented here and elsewhere is solely intended for informational purposes only. The reader is required to seek professional counsel before beginning any legal or financial endeavor.
It's not easy operating a profitable small business in a socially or economically disadvantaged environment. The U.S. government recognizes that reality – and that's why it offers socially and economically challenged business owners a lifeline in the form of the SBA 8(a) Program.
Rather than a loan, the SBA helps businesses that are eligible by providing access to federal government business contracts and training and technical assistance.
Key Points:

What's the impetus behind the SBA 8(a) Program

Who qualifies and benefits from the program?

What's the potential for the program to help your business?
What Is the SBA 8(a) Program?
Created and managed by the U.S. Small Business Administration, the SBA 8(a) program gives struggling small business owners an inside track of potentially lucrative government contracts. That's unusual for the SBA, which is normally in the business of providing U.S. small businesses with SBA loans and other forms of financial aid to get those businesses off the ground and into growth mode.
The SBA 8(a) Program is different. It's focus is to:
financial assistance in the form of easier access to bottom line-building government contracts,
it also provides training and mentorship help to marginalized businesses,
help becoming more competitive in their marketplaces.
What Are the Benefits of SBA 8(a) Program?
With the 8(a) Program, the SBA is stepping away from its traditional role as a financial funding provider to a strategic business facilitator that provides economically disadvantaged small companies a way to better compete with larger, more financially and environmentally stable businesses via a government contract-based business assistance program.
The rationale for the program is fairly straightforward:
By providing training, technical and financial assistance to qualified companies.
By delivering equitable access to federal government business contracts.
By receiving direct business development assistance for the entire nine-year term that comes with being an SBA 8(a) participating business (the SBA assigns dedicated business opportunity specialists either at the SBA or who partner with the SBA to help qualified small businesses meet their business goals.)
By gaining mentorship access from experienced business owners and entrepreneurial experts in the SBA Mentor-Protégé program.
By becoming eligible to receive federal surplus property as a participating program member.
Once a small business qualifies for the SBA 8(a) program, it becomes eligible for training and technical assistance from the SBA, as well as landing on a short list of qualified companies eligible for government contracts. That combination ultimately allows marginalized businesses to better compete for revenues and profits in an ultra-competitive small business landscape.
SBA 8(a) Requirements
How can a U.S. small business qualify for the SBA 8(a) Program?
In general, interested companies must meet the eligibility criteria laid out by the federal government. The onus is on the company to qualify under two program mandates – being either a "socially disadvantaged" or an "economically disadvantaged" small business.
Socially disadvantaged. To meet this criteria, a small business must be owned by Americans who have experienced racial, ethnical, or cultural prejudice. According to the SBA, the list of qualified racial, cultural or ethnic groups includes (but is not limited to):
Black Americans, Native Americans, Hispanic Americans, and Subcontinent Asian Americans. Businesses owned by Native American tribes, an Alaska Native Corporation (ANC), a Native-Hawaiian Organization (NHO), or a Community Development Corporation (CDC).
Individuals who are physically handicapped or who can demonstrate "long-term residence in an environment isolated from the mainstream of American society, or other similar causes not common to individuals who are not socially disadvantaged" also qualify for the SBA 8(a) Program, according to the SBA.
Economically disadvantaged. Qualified SBA 8(a) program participants also must demonstrate specific financial need, under the following SBA criteria.
The business must be a for-profit operation.
The company has to meet the standards as a U.S.-based small business, based on SBA criteria.
The company must be at least 51% owned by an economically or socially disadvantaged U.S. business owner.
The business cannot be owned by an individual with a net worth exceeding $250,000.
The business cannot be owned by an individual with personal assets of $4 million or more.
The business owner and company executives must demonstrate "good character".
The business must demonstrate it's well run and has a track record of long-term success.
Any U.S. small business that believes it clears those hurdles can review its program eligibility by answering several questions on the SBA's website.
How to Apply for the SBA 8(a) Program?
Once a small business determines it qualifies for the SBA 8(a) Program, the next step is to thoroughly and accurately completing the program application.
At this point, take the following steps to complete the application:
Complete the program registration form on SAM.gov. SAM is the official site for registering a business to do official business with the U.S. government.
When your business is approved for SAM registration, you can begin the process of completing your SBA 8(a) application.
All SBA 8(a) Program applications are handled digitally. Find the application at the SBA program website. To gain some helpful tips on completing the application form, visit the SBA's Certified Knowledge Base web page.
How Long Does It Take to Get 8(a) Certified?
So, how long does it take to get an SBA loan? If the SBA requires more information, it will let you know (through a physical letter or email). If you are contacted by the SBA, remedy the missing or erroneous information right away.
If the application is deemed as "complete", the SBA has a 90-day timetable to approve or reject a program application. If accepted, the SBA will provide your company's approval date and exit date on the SAM site.
SBA 8(a) Application Tips
What does the SBA loan application process involve? Use these tips to successfully complete your SBA 8(a) Program application and qualify for government benefits.
Get the checklist. The SBA provides a highly useful checklist to review before applying for SBA 8(a) program eligibility. Find it here.
Know the program timeline. The SBA 8(a) Program has a fixed time period of nine years for each accepted company. A business will spend its initial four years developing its business acumen and will spend the last five years engaging directly with the U.S. government as a contract partner.
The SBA 8(a) Program does have specific requirements for maintaining eligibility during these timelines, so get to know them all through your SBA program specialist.
Find out if your company is eligible. A quick and effective way of seeing if your business is SBA Program eligible is by using the SBA's AM I eligible tool on the agency's website.
Master the U.S. government contract realm. The more you know about the U.S. government contract system, the better your chances of mastering the SBA 8(a) experience. One helpful tip – assign a smart and seasoned employee who's familiar with public/private business contracts to be the point person of your SBA 8(a) team.
Conclusion
There's no question that being accepted in the SBA 8(a) Program can give a marginalized small a big leg up against more stabilized competitors.
After all, having Uncle Sam as a business partner is a good deal.
From winning lucrative government contracts to getting training and technology tools from Uncle Sam, companies can leverage their SBA 8(a) program experience to build a better, bigger and stronger company – and step out of the shadows and succeed on its own terms – for the long haul.
For the best SBA loan options, visit Credibly. With Credibly, business owners can get loans faster, cheaper, and with more variety than its competitors. Build your business by partnering with a direct lender that's supported borrowers to the tune of $1 billion across more than 19,000 businesses.