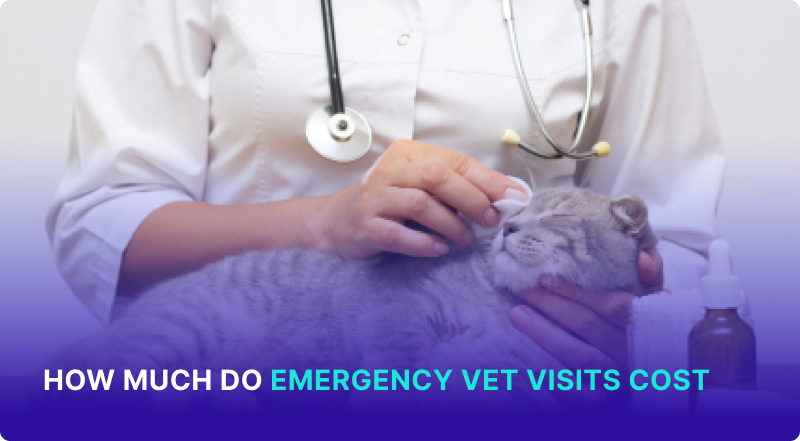 All content presented here and elsewhere is solely intended for informational purposes only. The reader is required to seek professional counsel before beginning any legal or financial endeavor.
Hopefully your pet will never need an emergency trip to the vet, but it's important to be financially prepared, just in case. Vets will often require at least a down payment, if not payment in full, before treating your pet. So how much do emergency vet visits cost? According to Finimpact research, emergency vet appointments can cost $150 to $250, but diagnostics and treatments can cost even more.
Key Points:

Depending on your pet's issue and the treatments needed, emergency vet visits can be expensive.

If your pet needs diagnostic tests, medication, surgery, or hospitalization, the costs can quickly add up.

Pet insurance or

pet loans

can help you to pay for an emergency vet visit.

Building up a savings account specifically for pet health emergencies can also help you to prepare.
Reasons to Go to an Emergency Veterinarian
Your pet's regular vet is a good resource, but if your pet has an emergency outside of your regular vet's office hours, you will need to get help right away. Emergency vets are often open outside of regular business hours, and they can give your pet immediate care. Certain health issues can't wait and require emergency treatment:
Poisoning: The sooner you get your pet help, the better the chance of being able to treat poisoning.
Ingestion of a Foreign Object: If your pet ingests an object like string or a sock, that object can cause a life-threatening intestinal blockage that needs urgent treatment.
Traumatic Injury: A traumatic injury like a broken limb or a pet who is hit by a car needs to be evaluated and treated right away.
Bloat: In dogs, bloat can occur when a dog's stomach fills with food, gas, or fluid and twists. This is a life-threatening condition that requires urgent treatment.
Urinary Problems: Difficulty urinating or the inability to urinate can signal a urinary blockage, a painful and serious condition that needs to be treated right away.
Allergic Reactions: Allergic reactions can lead to difficulty breathing, so pets experiencing reactions need to be treated right away.
Neurological Issues: Neurological issues can signal many different serious health problems, like seizures and poisoning, and need to be evaluated right away.
Initial Vet Visits Costs
Emergency vet visits are almost always more expensive than visits to your regular vet. CareCredit reports that the initial cost of an ER vet visit can be $150 to $250, but the total cost of your visit can be much higher:
Initial Costs: The $150 to $250 cost only includes a physical exam and initial triage of your pet.
Additional Costs: Additional expenses, including diagnostic tests, medications, treatment, and hospitalization, can quickly add up.
Total Estimate: Once the vet has evaluated your pet, most emergency facilities will give you an estimate of your pet's total bill cost. These costs can change and increase as the vet performs additional testing and treatment.
Pet Diagnostics Cost
Your cat or dog may need diagnostic tests to determine the best course of treatment. Costs can vary depending on the diagnostics that your pet needs:
Bloodwork: According to Pawp, general blood work can cost $80 to $200
X-rays: Pawp reports that x-rays cost an average of $150 to $250
Ultrasound: An ultrasound costs $300 to $600, according to Pawp
Pet Medication Cost
Once your vet diagnoses your pet, they may administer or prescribe medication for you to give your pet once you're home. Medication costs will depend on the type of medication needed, as well as the amount of medication your pet needs, which generally depends on your pet's weight:
Common Options: Commonly prescribed prescriptions include antibiotics and pain medication.
Potential Cost: She Knows reports that outpatient treatment, including medications, often starts at around $200.
Pet Surgery Cost
The cost of an emergency survey can vary significantly and will depend on your pet's needs and your location. According to Money, emergency surgery can cost from $500 to $7,000 for a dog, and from $500 to $5,000 for a cat. There are several more common types of emergency surgeries:
Foreign Body Removal: If your pet has ingested a foreign body like string, a toy, or an item of clothing, your vet may perform surgery to remove the foreign body from your pet's digestive system.
Wound Repair: Wound repair surgery is performed to clean and close severe wounds, like deep lacerations and punctures.
Diagnostic Surgery: If the vet hasn't yet confirmed exactly what's wrong with your pet, they may perform an exploratory or diagnostic surgery to search for the cause of your pet's issues.
Surgery to Correct Bloat: Bloat is a life-threatening condition requiring a surgery to reposition your dog's stomach, remove dead tissue, and permanently attach the stomach to the abdominal wall to prevent future recurrence of bloat.
Read more: 4 Proven Ways Get Financial Assistance for Pet Surgery
Pet Hospitalization Cost
Your pet may need to stay overnight at the emergency vet for additional diagnostics, monitoring, or to recover from surgery. Overnight hospitalization can significantly add onto your pet's ER vet bill cost:
Short-Term Hospitalization: According to Pawp, just one to two days of hospitalization can cost $600 to $1,700.
Longer Hospitalization: Pawp reports that three to five days of hospitalization can cost $1,500 to $3,500.
Paying for Emergency Vet Visits
An emergency vet will likely require an initial deposit before treating your pet, so it's important to have a plan to pay for at least some of your pet's bills upfront. There are several potential ways you can cover your pet's emergency vet visit costs:
Out-of-Pocket: If you have cash saved up, you can pay for vet bills, or a portion of them, out-of-pocket. Consider creating a savings account that you can use to set aside money specifically for pet emergencies.
Payment Plans: Some vet hospitals may offer payment plans, but that option is generally only available to established clients who have been with the hospital long-term. Be honest about your finances and ask if a payment plan is an option.
Credit Card: A credit card can be an excellent way to cover emergency expenses, giving you time to pay those vet bills off while ensuring your pet gets the immediate treatment they need.
Financing: You may be able to finance your pet's expenses with a specialized credit card like CareCredit. If you're considering using CareCredit, check with the vet's office to confirm that they accept this payment type. .
Personal Loan: Pet loans can give you the funding that you need, allowing you to pay off your vet bills and then gradually pay off the loan with a fixed monthly payment and interest rate. You may need a minimum credit score and income to qualify for a pet loan.
Grants: There are many organizations that provide grants to reduce veterinary costs for pet owners in need. Getting approved can take time and isn't a sure thing, so it's best to pair this funding option with another plan, like a credit card.
Final Word
Certain pet health issues, like broken bones, bloat, and poisoning, are emergencies that require immediate care. How much do emergency vet visits cost, exactly? With diagnostics, treatment, and surgeries, your bill could be multiple thousands of dollars. While there are many potential ways to pay for your bill, including payment plans, credit cards, personal loans, and grants, it's important to play ahead to ensure that you're prepared so your pet can get the care they need right away.