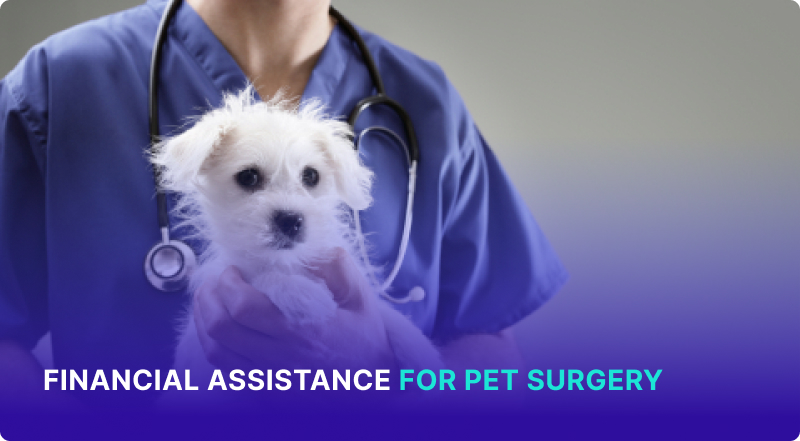 All content presented here and elsewhere is solely intended for informational purposes only. The reader is required to seek professional counsel before beginning any legal or financial endeavor.
Common pet surgeries include spaying and neutering, removal of skin abscesses, and tooth extractions. Unfortunately, pet surgery costs quickly add up, and they can be unmanageable for many pet owners. The good news is there are many options for financial assistance for pet surgery.
Key Points:

Pet surgery is often not only an unexpected expense but also a major one

The average cost of pet surgery for dogs can be anywhere from

$500 to $7,000

For cats, surgery usually costs between

$500 and $5,000

Numerous financing options are available to help you afford pet surgery costs, such as payment plans, personal loans, financing, pet insurance, and grants
The Most Common Insurance for Pet Surgery
Pet Insurance
If you own a pet, you should have pet insurance. Pet insurance helps offset the high costs of surgery, and it is generally a good investment.
Some types of pet insurance include:
Comprehensive pet insurance
Accident-only insurance
Add-ons like dental, behavioral, or wellness care
So what exactly is pet insurance? Like human health insurance, pet insurance helps cover healthcare costs for your pets, including surgeries. The caveat with pet insurance is that it usually doesn't cover pre-existing conditions, and it almost never covers previous procedures.
This caveat means that if you know your pet needs surgery, it might be too late to get coverage. That's why you should budget for pet insurance as an expected cost that comes with owning a pet.
With pet insurance, you pay a monthly premium for coverage. Then, when your pet needs a service that is covered under the insurance policy, you can be reimbursed. This reimbursement is generally between 70% and 100% of the cost of care.
Accident-Only Pet Insurance
Accident-only coverage doesn't cover the majority of illnesses, but it does come in handy during unexpected accidents, such as:
Poisoning
Swallowed objects
Injuries
Bites from insects or other animals
You can couple accident-only pet insurance with other coverage options like dental or wellness checkups. In a recent year, the average yearly cost for accident-only coverage was $130 for cats and $239 for dogs.
While accident-only pet insurance is a useful investment, it won't cover your pet in the event of illness and surgeries associated with treating illnesses. That's where comprehensive pet insurance comes into play.
Comprehensive Pet Insurance
Comprehensive pet insurance coverage offers a wider range of benefits for your pet. This coverage generally includes:
Accidents and injuries
Chronic illnesses
Infections
Diagnostic procedures
Emergency care
Hereditary issues
Just like with accident-only pet insurance, you can add insurance riders to your comprehensive policy, such as dental coverage.
Comprehensive pet insurance is also known as accident and illness insurance. It averages $342 for cats and $583 for dogs every year.
How to Choose Pet Insurance
When shopping for coverage options, keep the following in mind:
Coverage levels, benefits, and exclusions
The difficulty of the reimbursement process
Potential discounts
The reputation of the insurance company in question.
Just like with human healthcare, pet insurance comes with a variety of plans that each have coverage acceptances and limitations, as well as reimbursement schedules. Performing thorough research before purchasing a plan can help you select the best plan for your needs.
Some well-reputed options for pet insurance include Embrace, Figo, and Lemonade.
Most Common Payment Plans for Pet Surgery
Another way to seek financial assistance when your pet needs surgery is to talk to your vet. Your vet may be able to:
Offer a cash discount
Set you up with a payment plan
Accept payment via financing or credit card
Some vets offer cash discounts to their clients because receiving payments with cash minimizes the costs associated with credit card processing.
However, as the world progresses to a more digital structure, fewer vets are offering this option. In that case, you may have to request a payment plan.
Some vets allow their clients to pay for procedures in installments, but others require payment in full prior to procedures like surgery.
If that's the case, you can see about paying for your pet's surgery with a credit card or another financing option.
Financing
Many financing options are available to help you afford surgery for your furry or feathered friend. Some of these options include:
Standard credit cards (some have an intro period with 0% interest)
If your vet won't or can't work out a payment plan with you, paying by credit card allows your vet to receive payment for your pet's surgery up front. However, you will be paying it back in affordable installments.
CareCredit for Pet Financing
CareCredit is a healthcare credit card that offers options for veterinary financing, including:
Grooming services
Routine care
Emergency care
Surgeries and treatments
You can apply for a CareCredit for all sorts of pets, from cats and dogs to birds and lizards to guinea pigs and horses.
A CareCredit card offers more versatility compared with personal loans or payment plans through your vet.
Scratch
Scratch is a simple financing service that pays your vet for pet care up front. You select a payment plan that works for you and then follow that plan!
A payment plan with Scratch is a practical option because it isn't a credit card, there's no deferred interest, and the plans come with affordable rates.
The downside of Scratch is that not all vets accept it as a payment option for services.
Personal Loans
Personal loans are another avenue to consider when seeking financial assistance for pet surgery. The personal loan process is a multistep system that involves:
An initial application process
Varying interest rates
Potential fees, depending on the lender
Repayment plans
We have put together a comprehensive list of some of the best pet loans for surgery, but these are some notable lenders.
Marcus by Goldman Sachs
Marcus by Goldman Sachs is considered one of the best loan options overall because you can check your interest rate without a hard inquiry on your credit report.
Additionally, this option also comes with no hidden fees or origination fees, as well as competitive interest rates.
The downside of this lender is that you must have good credit to qualify for a loan. Good credit is typically a score of 670 or higher.
Credible
Credible is another source for pet surgery financing. It is the best lender for smaller pet loans since it allows you to get a loan for as little as $600 (and as much as $100,000).
Unlike Marcus by Goldman Sachs, Credible isn't a direct lender; instead, it is a lending platform that connects direct lenders with interested parties like you. Because of this setup, it's hard to estimate what the fees and terms will be for a loan through Credible.
Upstart
If you have fair credit, which is a score that ranges between 580 and 669, Upstart is a viable lender.
Upstart offers competitive interest rates and loan terms, and it even offers personal loans as low as $1,000. However, its loans also come with potentially high interest rates and origination fees.
Prosper
If you need financing for pet surgery fast, Prosper may be right for you. This lending service offers next-day funding, and you can get approved with a fair credit score.
Prosper loans do come with higher interest rates and origination fees, however.
Discover
Another lender for those with good credit and higher incomes is Discover.
A loan for pet surgery from Discover comes with no origination fees and flexible repayment options.
Fundraising To Pay For Pet Surgery
Fundraising is another financing option you can try when figuring out how to pay for your pet's surgery. This particular method may be a more helpful approach when surgery is not immediately necessary.
Popular fundraising platforms include:
Here's more information on how you can use these platforms to pay for pet surgery.
GoFundMe
GoFundMe is simple and easy to use. You start by creating a fundraiser and then sharing that fundraiser with friends and family, both in person and on social media.
Fundraisers on the GoFundMe platform can take advantage of a variety of resources to make the process easier. For example, GoFundMe offers tips on writing a good fundraiser story to pique interest from donors and encourage them to donate.
You can also host in-person fundraising events through the platform. GoFundMe offers a variety of fundraising event ideas to help you.
Waggle
GoFundMe is a general fundraising platform for nearly any cause, while Waggle is designed specifically to help pet owners who cannot afford care.
Waggle is also free and easy to use. To create a Waggle campaign, all you need is the contact info for your vet, the estimated cost of medical services, and some cute and compelling photos of your pet.
Once you've created your fundraiser, the team at Waggle reviews your request. Approved campaigns are then publicized on Waggle's Meet Pets in Crisis page, which gets campaigns in front of more people.
You'll also have a link to your campaign, which you can share on your social media platforms.
One of the best advantages of Waggle is its partnerships with celebrities, nonprofits, and influencers. These groups partner with Waggle to offer sponsorships, matching grants, or exposure for pets in need.
Another difference between GoFundMe and Waggle is that GoFundMe pays out the raised funds directly to you, the fundraiser. Waggle, on the other hand, sends funds to veterinarians or animal hospitals directly.
Grants For Pet Surgery
Finally, many nonprofit organizations offer grants for pet owners seeking financing for their pets' needed procedures. Some well-known nonprofits in the pet financing space include:
Grants can help cover either some of the costs of surgery or all of them. The caveat with grants is you're not guaranteed to be awarded the funds.
Applying for grants is a competitive process due to how many people seek funding. Furthermore, most of these grants are small and only able to cover part of the cost of surgery.
The best way to navigate the grant funding process is to apply for as many grants as possible. It's a numbers game. The more grants you apply for, the more likely you are to get funding.
Final Word
If you are struggling to pay for your pet's surgery, you're not alone. It's common for pet owners to seek financial assistance for pet surgery. Luckily, many options are available to pet parents like you, from financing to pet insurance to special grants.