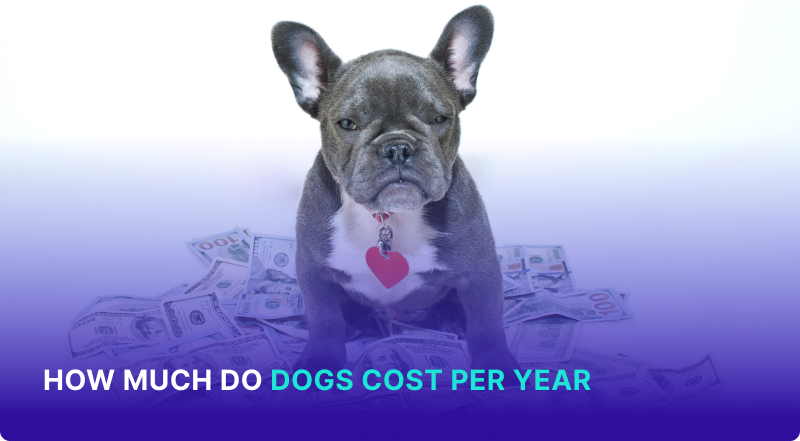 All content presented here and elsewhere is solely intended for informational purposes only. The reader is required to seek professional counsel before beginning any legal or financial endeavor.
The cost of a dog per year and per month varies, but you should have a general idea of the costs of budgeting for pet parenthood.
The average yearly dog cost runs from $480 to $3,470, depending on the type of dog you own. That means you need to budget between $43 and $287 monthly for expenses associated with your dog.
Figuring out the cost of dog ownership can help you budget appropriately and determine whether you have the means to responsibly own a pet in the first place.
Key Points:

There are many monthly routine costs associated with owning dogs, including food, grooming, routine vet care, and toys
You'll need to anticipate unexpected expenses, such as an emergency visit to the vet
You also need a safety net for sudden injuries or illnesses
With the right budget and financing systems, you can properly care for your dog
The Monthly Cost of Dog Ownership
The average cost of owning a dog per month largely depends on the size of your dog. According to the ASPCA:
Small dogs cost an average of $42.66 per month
Medium-sized dogs cost an average of $55.75 per month
Large dogs cost an average of $86.69 per month
These numbers encapsulate the everyday must-haves of pet ownership, such as food and routine medical care.
The Yearly Cost of Dog Ownership
The average cost of owning a dog per year varies as well. Consider this data from Rover on average yearly dog costs:
Based on national average, you're looking at $480 to $3,470 annually, depending on the size of your dog
Total cost includes upfront fees for buying or adopting a new dog
That total also includes routine costs like food
Let's dig a little deeper into the specifics of each cost category.
Upfront Costs of Dog Ownership
Some of the upfront costs associated with first getting a new dog include:
Adoption or purchase fees
Necessary supplies
Registration or licensing, if required in your area
Your first year owning a dog comes with various one-time fees and upfront investments.
Dog Adoption or Purchase Fees
How much does it cost to buy a dog? That depends on whether you adopt or buy from a breeder.
According to Chewy, adoption fees can range from $50 to $350. The costs vary so widely because all animal organizations operate differently and have their own criteria to support their rescue work.
You can figure out the cost of adoption by calling your local shelters or visiting their websites if they have the information publicly available. You can also estimate based on the cost of living in your area.
Buying a dog from a breeder is much more expensive, with prices running from $500 to upwards of $3,000 per One Green Planet. Prices for dogs vary widely depending on the breed.
Necessary Dog Supplies
You'll need many resources to ease your transition into dog ownership. Here's a list of helpful supplies you should get before picking up your new pet:
Crate — $10 to $330, depending on the size of your dog
A dog bed — $10 to $630, again depending on size
Food and water dishes — $10 to $120
Collar — $10 to $150
Leash — $10 to $60
These are the bare necessities you should have before bringing your dog home. You'll also likely need a crate to put your dog in on the drive home.
A Microchip for Your Dog
If possible, you should microchip your dog. Microchips cost around $80, but they're a worthwhile investment.
If your dog ever runs away or gets stolen, a microchip will help you recover your pet and bring it back home to comfort and safety. Microchips offer a sense of security and peace of mind so you can better care for and protect your pup.
Registration or Licensing
Some areas require pet owners to have licenses or to register their pets. The accompanying fees vary depending on the organization and area you live in, but Rover estimates the costs to be between $20 and $100.
Dog Training Costs
While you can certainly try training your dog yourself, you may want to consider investing in professional training. Depending on the type of training you enroll your dog in, Daily Paws estimates the cost as:
$150–$200 for group training
$1,500–$2,000 for individual training
Approximately $4,000 for stay-and-train services
Group training classes teach your dog basic commands like sit, stay, and lie down. Group classes are a more cost-effective resource, but you won't have access to much direct face time with the professional trainer.
Individual training classes are helpful if there are additional commands you'd like your dog to learn. You may also be able to arrange consultations where trainers come to your home and provide you with tools to train your dog yourself.
Finally, stay-and-train services help teach a dog house rules in addition to commands. With these classes, your pup remains on-site with a trainer for several days at a time.
Training is an important part of owning a dog. It makes your life easier because your dog is better behaved, but it also makes your dog's life easier because you're able to communicate better through trained phrases and gestures.
As such, you should consider training costs a non-negotiable part of your total spending.
Pet Insurance
Pet insurance is another expense that can actually help you save money in the long run. Pet insurance can cover:
Routine wellness checks and services like vaccinations
Emergency care for sickness or accidents
Chronic illness care
There are many different types of pet insurance, but on average, plans tend to cost around $49 per month. That means the annual cost of dog insurance totals around $588.
The amount you pay in insurance will depend on a variety of factors, including:
Your dog's breed
Genetics or preexisting health conditions
The amount of coverage you want to purchase
With pet insurance, you pay a monthly premium for coverage. When you take your pet in for a routine or emergency visit, you pay the costs associated with that visit and submit a claim to the insurance company. The pet insurance company then reimburses you.
Reimbursements typically cover 70%–100% of the cost of care and are normally processed within a week.
Vet Bills for Dogs
Vet bills are a regular part of owning animals, especially dogs. They include services like:
Vaccinations
Routine exams
Dental care
On average, most dog owners spend around $700–$1,500 on vet bills every year.
Preventive Medications for Dogs
Preventive medications include flea and tick medicines and heartworm treatments. Both are crucial preventive measures that must be employed throughout the year to protect your pets.
Flea and tick meds average $40–$200 per year, while heartworm treatments cost between $36 and $132 per year.
Illness or Injury Costs
No matter how hard you try to care for your pet, you can't avoid illness and injury.
It's difficult to estimate the exact costs associated with accidents and sickness since treatment costs vary depending on the situation. Some common examples of illnesses include ear infections and intestinal problems. Treating an ear infection can cost around $324, while treating intestinal problems costs $861, on average.
Dog Surgery Cost
As with accidents and illnesses, the average cost of surgery for your dog varies widely depending on the procedure. Common examples and costs include:
Dogs are expensive, so if your pet needs surgery, you may need to pursue pet financing options.
Dog Food Cost
The price of dog food, like most things on this list, will depend on:
Your dog's size
Its dietary needs
The brand you buy
Naturally, the bigger your dog is, the more they need to eat. Some dogs also have special dietary needs requiring them to have specific types of food so they can stay healthy.
Some dog parents also prefer to buy premium food brands for their dogs. Depending on what you buy, the average cost of dog food per month can cost between $18 and $195.
Dog Toys
Toys may not be necessary for your dog's survival, but they help keep it active and happy. Some benefits of dog toys include:
Minimizing boredom when you're away from home
Comforting your dog when they're feeling anxious
Preventing problematic behaviors like chewing on furniture
Rover estimates that dog parents spend between $10 and $330 yearly on toys.
Dog Grooming Cost
Like people, dogs require regular grooming to keep them clean and healthy. Some of the grooming services your dog needs include:
Baths
Haircuts
Teeth and ear cleanings
Nail trims
Anal gland expression
You can learn how to perform these functions yourself if you're able to obtain the necessary tools. However, some breeds, specifically those with long hair, usually require professional grooming services.
These services cost anywhere from $30 to $500 per year, depending on what you do at home and what professional services you shell out for.
Boarding Costs
If you work outside your home or frequently take trips where you can't bring your dog, you may need to invest in boarding services. Common boarding services and their costs include:
Just as parents usually have to account for daycares and babysitters once they start having kids, you may need to budget for boarding services for your dog if you don't have a friend or family member to help you out.
Budgeting for Pet Ownership
All these costs and purchases can be overwhelming, but incorporating them into your regular household budget may make them less daunting.
When budgeting for pet ownership, you should include:
Basic monthly expenses, like food or daycare
Less frequent routine expenses, such as vet visits or grooming
Unexpected expenses, such as accidents or injuries
If you already have a budget, factoring in monthly and less frequent expenses should be fairly simple. If possible, incorporate funds for unexpected expenses into your emergency savings. That way, if the unthinkable happens to your pet, you already have the means to get them the treatment they need.
Pet financing options are specifically designed to help you care for your four-legged friend if you don't have the means to set up an emergency savings account.
Final Word
How much do dogs cost per year and per month? There's no straightforward answer, but with the right understanding of what to expect and budgeting strategy, you can easily manage both expected and unexpected expenses.