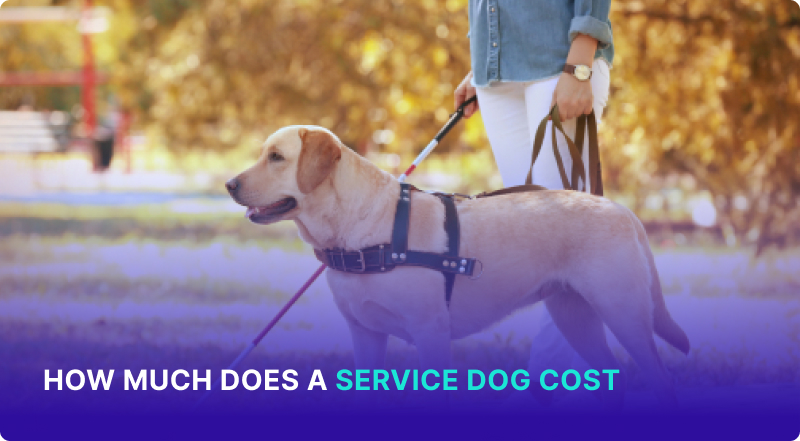 All content presented here and elsewhere is solely intended for informational purposes only. The reader is required to seek professional counsel before beginning any legal or financial endeavor.
Service dogs capable of performing specific tasks require intense, specialized training, and the dogs need a particular temperament to be successful. So how much does a service dog cost? Plan to spend $15,000 to $30,000 to buy a service dog, but keep in mind that you may be eligible for financial assistance to help cover that purchase cost.
Key Points:

Service dogs are carefully bred and trained, making them an expensive but important investment.

In addition to the cost of a service dog, you will also need to budget for training, veterinary care, and food costs.

Financial support options are available to help you afford a service dog.
How Much Does a Service Dog Cost?
According to the National Service Animal Registry, a trained service dog costs between $15,000 and $30,000. You may be able to train a dog that you already own, but that can also be an expensive undertaking:
Training Costs: Training a service dog can cost $150 to $250 per hour.
Length of Training: The duration of the training needed will depend on how quickly your dog learns and the specific tasks your dog needs to be able to perform.
Doing Your Own Training: If you have experience training dogs, you may be able to save money by doing some of the training yourself.
Additional Expenses
Remember that your dog's initial purchase price is just the first expense that you will need to be prepared to pay:
Certification Fee: While not legally required, you may want to pay a certification fee (about $39) to add your dog to a national service dog database.
Vet Bills: Veterinary bills to cover vaccinations, wellness checks, medications, illness, flea and tick medication, heartworm prevention, and injuries can cost $580 per year or more.
Food: Food for a single dog can cost $400 per month or more, depending on the dog's size and nutritional needs.
Extra Expenses: Miscellaneous expenses for grooming, toys, and treats will vary depending on your dog's needs, but plan to spend $75 per year on toys and treats alone.
Total costs to care for a service dog can be hundreds or thousands of dollars each year.
Who Qualifies for a Service Dog?
Individuals with certain mental or physical disabilities can qualify for a service dog. The Americans with Disabilities Act (ADA) defines an individual with a disability as being someone who has a "physical or mental impairment that substantially limits one or more major life activities, has a record of the impairment, or is regarded as having such an impairment." This basically means that a person is considered to have a disability if their life is much more difficult than the average person:
Physical Disabilities: Physical disabilities include conditions like blindness, deafness, epilepsy, paralysis, and more.
Mental Disabilities: Mental disabilities include anxiety, depression, PTSD, and others.
Medical Recommendations: Medical professionals may recommend that you get a service dog to assist with your disability, but you don't always need a medical recommendation to get a dog.
Veteran Support: Veterans may even be paired with ex-military dogs, which can provide support with PTSD, hypervigilance, mobility, and more.
Benefits of Having a Service Dog
Service dogs are trained to perform specific tasks to help their owners, which can give their owners independence and increase their safety. A service dog might provide mobility supports, medical alerts, and/or emotional support. The ADA requires that service dogs have full rights to access public areas where other animals are prohibited, like grocery stores, libraries, and airplanes. There are some key differences between service dogs and emotional support animals:
Type of Performance: Service dogs are trained to perform specific tasks, while emotional support animals are not trained for specific duties.
Type of Need: Service dogs are prescribed for a person with a physical or mental disability, while emotional support animals are prescribed for a person with a psychological or emotional disorder.
ADA Rights: Service dogs have special rights under the ADA, giving them access to public spaces. Emotional support animals don't have unlimited rights to public spaces, but the Fair Housing Act requires that they receive "reasonable accommodations."
How Do You Purchase a Service Dog?
Multiple programs train service dogs and match them with people in need. Each program has specific eligibility requirements and an application process. Many of these programs exist for specific needs, like veterans, children, people with visual impairment, and people with mobility issues:
Can You Get Financial Assistance for Buying a Service Dog?
Given the fact that service dogs can cost as much as $30,000, paying out of pocket for a dog isn't always an option. Some nonprofit and grant programs will cover some or all of the cost of acquiring a service dog.
Can Do Canines: Located in Minnesota, Can Do Canines provides fully trained service dogs, who are sometimes adopted from shelters, to people, free of charge.
Guide Dogs of America: Guide Dogs of America, located in California, provides trained service dogs, personalized training, transportation, and postgraduate support at no cost.
Freedom Service Dogs of America: The Colorado-based Freedom Service Dogs of America provides trained service dogs to people with disabilities at no cost.
Personal loans can also help you to finance the purchase of your service dog. When you apply for a pet financing personal loan, you will need to meet the lender's eligibility requirements, which might include a minimum credit score, proof of income, and a low debt-to-income ratio. Interest rates can vary. Loan repayment terms are often 36 to 60 months, though longer terms are available. You'll need to be prepared to make monthly payments on your personal loan.
Support for Veterans
The VA Prosthetic & Sensory Aids Service (PSAS) delivers support to help veterans maximize their health and independence. Veterans with a visual, hearing, or mobility impairment may be prescribed a service dog, and the VA insurance benefit will recognize that dog. The insurance can help to cover veterinarian treatments, hardware the dog needs to perform tasks, travel expenses related to obtaining a dog, and more.
Final Word
How much does a service dog cost? The purchase price may be $15,000 to $30,000, but it's also important to budget for expenses like veterinary care and food. Financial support through nonprofits or loans can make it easier to afford a service dog.