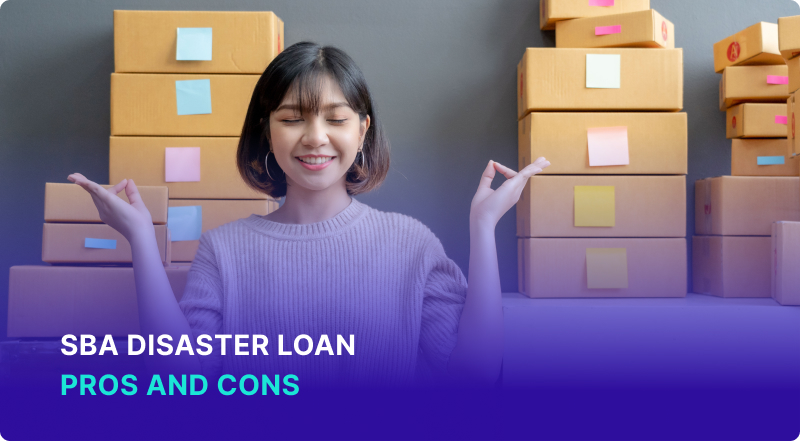 All content presented here and elsewhere is solely intended for informational purposes only. The reader is required to seek professional counsel before beginning any legal or financial endeavor.
Provided by the U.S. Small Business Administration (SBA), SBA loans may cover the cost of damage to real estate, inventory, and equipment or general economic injury. SBA disaster loans may be your lifeline if you're a business owner, homeowner, or renter who needs financial assistance to recover from a declared disaster like a fire, flood, or tornado.
Key Points:

Learn the details - don't miss the opportunity

Be courageous - The paperwork can get you down

Make sure your document filing is meticulous
How Do SBA Disaster Loans Work
Most SBA loans are funded through SBA-approved lenders. SBA disaster loans are different as they're funded directly through the SBA after a declared disaster. SBA disaster loans are low-interest, long-term loans designed to help borrowers get back on their feet after a disaster.
Here are four key types of SBA disaster loans:
1. Business Physical Disaster Loans
These loans offer up to $2 million in funding so that business owners can repair or replace assets. Assets may include property, machinery or equipment, fixtures, inventory, and leasehold improvements.
2. Economic Injury Disaster Loans (EIDLs)
EIDLs help business owners cover financial obligations they would've met if the disaster hadn't occurred. While the SBA will determine actual economic injury before approving a loan amount, up to $2 million is available.
3. Home and Personal Property Loans
The SBA offers up to $200,000 to homeowners whose primary residence requires a repair or replacement due to a declared disaster. Homeowners and renters may also borrow up to $40,000 to pay for personal property damage. Typically, these funds cannot be used for home upgrades or additions.
4. Military Reservists Economic Injury Disaster Loans (MREIDLs)
If an employee is a military reservist and called up to active duty, the MREIDL offers up to $2 million in funding to cover operating costs. The actual loan amount granted will depend on business interruption insurance or whether the business has enough funding to operate without the employee.
What to Expect From the Application Process
After you face a disaster, you can apply for an SBA disaster loan online, by mail, or in person at a nearby disaster center. In most cases, you'll have 60 days after the disaster has been declared to apply for physical damages.
You'll have nine months to apply for financing for economic injury. The type of SBA disaster loan you apply for will determine the information and documents you'll need to provide.
Here are common SBA disaster loan requirements:
Business name and address

Employer identification number (EIN)

Type of business

Business insurance details

Names and contact information of the business owners

Schedule of liabilities and debts

Most recent tax returns
Here are the key steps involved in the SBA loan application process:
Once the SBA receives your application, they'll review your credit history and send an inspector to your property.
The inspector will estimate the total loss your home or business has sustained from the disaster.
A loan officer will review other aspects of your application to determine whether you're eligible.
The SBA states they take several weeks to process applications, there's a chance they may take longer, so don't expect the money right away.
Upon approval, you'll need to sign your closing documents and wait for your funds. You'll be able to make payments for your SBA disaster loan online, by phone, or via mail.
Here are key points to keep in mind when applying for an SBA disaster loan:
Compensation from your insurance company is not a must - even if you haven't received compensation from your insurance company, you can still apply for an SBA disaster loan.
The SBA can adjust your loan amount - it's important to note that if you receive insurance money or unexpected costs pop up after you close on your loan, the SBA may adjust your amount.
Maintain spending records - be sure to keep your spending records and receipts for at least a few years so that you're prepared if the SBA asks you how you used your funds. If they determine you've misused them, you might be on the hook for serious penalties.
SBA Disaster Loan Pros and Cons
Pros of SBA Disaster Loans
Affordable - your interest rate will be no more than 8%. There are no origination fees, application fees, or other upfront fees widely seen with other loans.
Long Repayment Periods - depending on the loan you lock-in, you may be able to take as long as 30 years to repay it.
High Loan Amounts - you can secure an SBA disaster loan of up to $2 million.
Flexible - once you receive an SBA disaster loan, you can use it to pay for various expenses after a disaster. For example, the cost of real estate, property, machinery, fixtures, working capital, and everyday operating expenses.
Various Resources - you can take advantage of the Small Business Development Centers (SBDCs), SCORE Business Mentors, etc.
Cons of SBA Disaster Loans
Stringent Qualification Requirements - SBA disaster loans may be difficult to qualify for. You may not be eligible if you're not located in a disaster area or have alternative financing options.
Lengthy Application - you can expect to complete an extensive application. You must provide various documents like financial statements, a schedule of liabilities and debts, and your most recent tax returns.
Slow Approval Process - you may have to wait weeks or months to determine whether you've been approved for an SBA disaster loan.
SBA Disaster Loan Forgiveness - SBA disaster loans are not a grant and do not come with a forgiveness component, meaning you will be required to pay them back at a set interest rate over an agreed-upon term.
Collateral May Be Required - depending on the loan, you might need to secure it to collateral such as your commercial property or vehicle. If you default on your loan, the SBA may seize it.
Consider All Your Financing Options for Disasters
While SBA disaster loans can be beneficial, they're not available to everyone. The good news is there are alternative options like Fora Financial disaster loans. These loans offer an easy application process, fast approvals, and funding in as little as 24 hours so you can recover from the disaster as soon as possible.
They're also flexible, meaning you may use them to pay for virtually any expense, don't require collateral, and come with more lenient eligibility requirements than SBA disaster loans. If you find out that you're ineligible for SBA disaster loans, Fora Financial disaster loans are certainly worth considering.