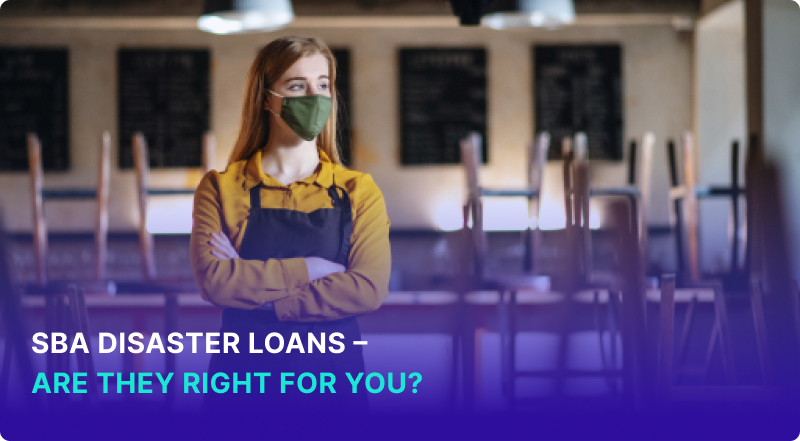 All content presented here and elsewhere is solely intended for informational purposes only. The reader is required to seek professional counsel before beginning any legal or financial endeavor.
SBA Disaster Loans are for small businesses that have suffered physical or economic damage after a disaster (such as a natural disaster like a hurricane or major flood or a major business threat like the ongoing COVID-19 pandemic.)
SBA Disaster Loans enable small businesses to take a loan from the U.S. government to tide them over financially until the economy stabilizes and
Key Points:

Know the types of SBA disaster loans available - Are they right for you?
Be organized and prepared for the application process
Understand the Rates and Terms, as well as how to Repay
What can you use SBA disaster loans for?
By and large, SBA Disaster Loans loan funds can be used for any normal operating expenses and working capital, including payroll, purchasing equipment, and paying debt.
There are SBA Disaster Loans pros and cons. Loan benefits can be substantial. For instance, SBA Disaster Loans typically come with low interest rates and long-term repayment timetables.
Take the SBA's Emergency Industry Disaster Loans, which have become prevalent during the pandemic. These loans allow small business owners to borrow up to $2 million in disaster loans, with a low 3.5% interest rate and a two-year delay before borrowers have to repay the loans.
Who Qualifies for a US SBA Small Business Disaster Loan?
Most U.S. small businesses qualify for an SBA Disaster Loan, but the government agency categorizes qualified borrowing entities as follows:
Small companies and businesses
Small agricultural cooperatives
Most domestic nonprofit organizations
Eligibility Requirements
The SBA states that small businesses suffer a "substantial economic injury" that makes the company unable to meet its financial obligations and needed operating expenses.
A disaster loan is only available as long as a small business proves it needs the financing. When the disaster abates and normal business conditions resume, the loans aren't available.
SBA disaster loans can be made available to small businesses that can't get qualified for loans or credit elsewhere.
Types of SBA Disaster Loans
There are several types of disaster loans and small business owners should review each one before you look into the SBA loan application process.
Home and Personal Property Loans. Some SBA Disaster Loans are available for Americans who don't own a small business. A home or personal property loan is a good example – if your home is located in a declared disaster zone, you may qualify for a SBA Disaster Loan.
Business Physical Disaster Loans. These SBA loans cover any business or organization located in a declared disaster zone. If that's the case, the business likely qualifies for a federal disaster loan.
Economic Injury Disaster Loans. As described above, EIDL loans cover the economic downside of a declared disaster area. With the global pandemic raging, the federal government allowed SBA Disaster Loans to aid struggling small businesses during the pandemic – many of whom were either shut down or severely limited during the pandemic.
Military Reservists Economic Injury Loans. If a U.S. small business has an essential employee who is called for active duty with the U.S. armed forces, that business is eligible for an economic injury loan to help with operating expenses while the employee is away.
Express Bridge Loan Pilot Program (EBL). This type of disaster loan expedites funding for businesses hard hit immediately after a disaster strikes. EBL allows for the immediate distribution of up to $25,000 for special emergencies through non-SBA loan providers partnering with the federal government, which may buy business owners some time while still allowing them to apply for a traditional SBA Disaster Loan.
This SBA loan program expired in March, 2021, but may be resurrected again, as needed, by Congress.
Disaster Loan Interest Rates and Terms
The SBA notes that each SBA loan is reviewed to meet agency criteria based on a business's actual physical or economic injury. In some cases, a U.S. business may qualify for both a physical SBA disaster loan and an EIDL loan, based on its financial needs during an ongoing crisis.
Must cover general operational business needs like rent, health care or utilities
SBA disaster loans allow for loans up to $2 million
Loan interest rates clock in at 4% or lower
30-year repayment terms, with no early repayment penalty.
Collateral may need to be provided for loans of $25,000 or more
After receiving an SBA Disaster Loan, business owners should keep thorough records on how the funds were used. If the SBA rules a company misused the loan funds, the penalty can be severe, with immediate repayment of 150% of the entire SBA Disaster Loan on the table.
How to Apply for an SBA Disaster Loan
U.S. business owners suffering from an economic or physical disaster-related event can apply for an SBA Disaster Loan online at the SBA disaster loan assistance web site. Before you fill out the form, check to see if your physical business address is located in a declared disaster zone (do so here).
Expect the SBA to conduct a credit check (although that process may be bypassed with an EIDL loan) in its loan vetting process. Also expect the SBA to ask for personal and business financial records before granting any disaster loan to your company.
Here's a list of items the SBA will likely ask you to include when filling out a disaster loan application:
Personal Information.
Personal and contact information
Employment and salary information
Address and insurance information for damaged property
Current assets, including cash, retirement savings and vehicles
Current debts, including mortgages, credit card debt or installment loans
Other income, including child support, alimony and tuition
Information about delinquencies, judgments, lawsuits or criminal
Business Information.
Business address
Employer Identification number
Organization type (corporation, partnership, etc.)
Business insurance information (if your policy covers the disaster)
Personal and contact information of business owners
Personal financial statements
Schedule of liabilities and debts
Most recent business tax returns
Fill out the form thoroughly, sign and date it, and make sure you check the box giving the U.S. Internal Revenue Service permission to share your tax returns with the SBA.
If you have any questions or need more direction, the SBA offers some direct help to business owners.
Contact the SBA Disaster Assistance Customer Service Center at:
Phone: 800-659-2955
TTY: 800-877-8339
Email: disastercustomerservice@sba.gov
SBA Disaster Loans usually require adherence to formal application deadlines.
In most cases, borrowers have 60 days after the disaster declaration date to apply for a loan based on physical damages and have nine months to file for economic injury-based SBA loans. Once the loan application is filed, expect to hear from the SBA within 15-to-30 days.
Repaying Your SBA Disaster Loan
Business owners can repay their SBA Disaster Loans in the following ways:
Online: Visit Pay.gov to make a payment.
Phone: Call the SBA Customer Service Center for free at 1-800-659-2955.
Mail: Send a check or money order made out to the U.S. Small Business Administration. Include the SBA loan number and any applicable payment coupons. Mail your payment to: SBA P.O. Box 3918 Portland, OR 97208-3918
One word of caution – don't expect the SBA to forgive a disaster loan in the event of the business closing down or other calamity. The loans must be repaid within the 30-year loan repayment period, with interest. There is no SBA Disaster Loan Forgiveness Program.
The Takeaway on SBA Disaster Loans.
Whether a business is hard hit by a hurricane or is experiencing severe ongoing financial problems due to the ongoing COVID pandemic, an SBA Disaster Loan can buy a company time to cover operating expenses until the crisis abates and the business stabilizes.
These loans are easier to get than a business owner may think, and are well worth researching before a disaster strikes.
Ignore the availability of SBA Disaster Loans at your company's peril. After all, when disaster strikes, your small business – and your livelihood – may be depending on it.