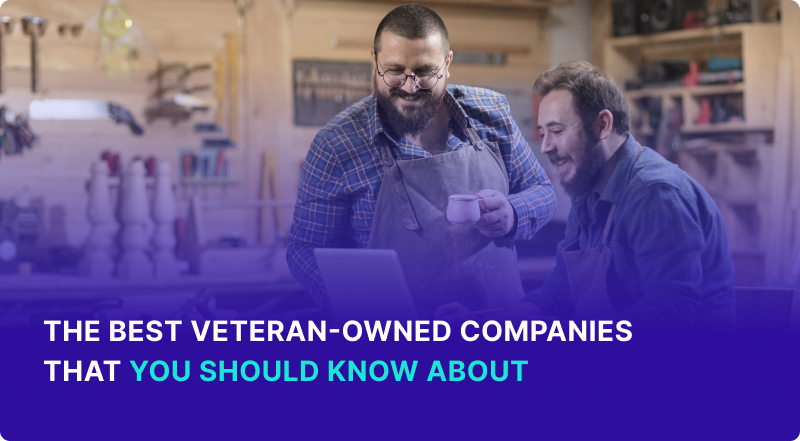 All content presented here and elsewhere is solely intended for informational purposes only. The reader is required to seek professional counsel before beginning any legal or financial endeavor.
Veterans possess a unique mix of perseverance and resilience that serves them well in the world of business. It's not surprising that veterans are more likely to be self-employed than non-veterans and are more than likely to succeed than other segments of society.
Key Points:

The Small Business Administration

found that veterans are 45% more likely to be self-employed than non-veterans.

Veterans have many training programs and grant opportunities to set themselves up for success.

Leverage your skills as a Veteran to prepare methodically for the application.
Why Work With Veteran-Owned Businesses ?
When you support a veteran-owned business, you are making a statement. The purchases you make with a veteran-owned business start by supporting that veteran. Beyond that, many veteran-owned businesses give back to their community in a big way. Ultimately, working with a veteran-owned business is a win for everyone.
Make a difference: When you work with veteran-owned businesses, you are making a difference. Your support can go a long way.
Veteran-owned businesses serve as transition points:

Many veterans hire other veterans. And that connection can help as a veteran transition into civilian life. If you are a veteran transitioning into military retirement, don't forget to make the most of your benefits and look out for

business opportunities for veterans

.

Local businesses matter: When you support a small business of any kind, you are helping the local economy thrive.
Where To Find Veteran-Owned Companies
Want to support veteran companies? Not every veteran-owned company is owned by famous military veterans. Here's where you can find them.
Check the Veteran-owned Business list: Many veteran-owned businesses register with VeteranOwnedBusiness.com. If you want to find a veteran-owned company, there are over 30,000 on this list.
Talk to the local Chamber of Commerce: If you want to learn about local veteran-owned businesses, looking at your Chamber of Commerce is a good place to start.
Contact the company: Feel free to reach out to a company to ask if it is veteran-owned or if it is a military spouse-owned business.
Successful Companies Owned By Veterans
You don't have to look far to find a successful company owned by a veteran. As an ex-military entrepreneur, the widespread success of veteran-owned businesses is exciting. Some of these companies started out with small business grants for veterans. It's possible that your new venture will join the ranks of successful veteran-run businesses.
Here's a closer look at some major success stories:
Best Veteran Startup Businesses
A startup is a for-profit company that is just a few years old. Some startup companies begin their journey with business loans for veterans. A few of the top veteran startup businesses include:
Plated: Plated was a food delivery company founded in 2012 by Nick Taranto in New York. Eventually, the company had 700 employees and was sold to Safeway for over $300 million.
HirePurpose: As veterans return to civilian life, Zachary Iscol's Hire Purpose is there to help. The goal of the software is to help companies find top military talent. The New York-based company has grown to 20+ employees since 2014.
Manifold Technologies: Chris Finan founded this startup in 2014 with the goal of harnessing blockchain technology for financial institutions. With just 11 employees, this venture-backed startup is making waves.
Best Veteran-Owned Clothing Brands
The clothing industry is competitive. But that hasn't stopped veterans from making a splash.
Sword & Plough: Emily and Betsey founded Sword & Plough to create durable bags from military surplus materials. Since 2012, the company has expanded to provide fashionable accessories.
Nine Line: Nine Line was founded by Tyler Merritt in 2012. The company offers an extensive clothing lineup that stands out from the crowd.
Best Veteran-Owned Shoe Companies
Footwear is a big market. Several veteran entrepreneurs have jumped feet-first into this industry.
Combat Flip Flops: Matthew Griffin and Donald Lee founded Combat Flip Flops in 2012. The Washington-based company has five employees to serve this unique company.
Woobies: Anthony Aguiniga founded Woobies to offer durable footwear. Since its founding, the company has become one of the fastest-growing footwear brands in the U.S.
Best Veteran-Owned Coffee Companies
Coffee is a popular product. And a few veterans have been successful in turning their passion for coffee into a thriving business.
Black Rifle Coffee Company: Since 2014, Evan Hafer has grown his love of great coffee into the popular Black Rifle Coffee Company.
Altruist Joe Coffee: Libby and Jamie Jenks founded Altruistic Joe back in 2011 with the goal of providing high-quality coffee sourced responsibly. Their passion has turned into a successful business.
Alpha Coffee: Caril and Lori Churchhill founded Alpha Coffee with an array of roasts in 2010. The company stands out by donating over 20,000 bags of coffee to troops.
Best Veteran-Owned Programs That Help Military Members
There's something special about veteran-owned businesses helping military members and fellow veterans. Here are a few companies that make helping service members a priority:
RallyPoint: RallyPoint is a social network for service members and veterans making their way in the world. Founders Yinon Weiss, Aaron Kletzing, and Dave Gowel have created a place for soldiers to open up to others who understand military life challenges. With 22 employees, this Massachusetts-based company has been growing since 2012.
JDog Franchises: JDog offers a franchise model and support that is specifically set up for veterans. Jerry Flanagan founded the company in 2014 with a focus on building a franchise model that provides a helpful way for veterans to transition back into civilian life.
Other Veteran-Owned Businesses You Should Know
Not every business fits into a neat category. Here are some other veteran-owned businesses that are thinking outside of the box.
UniteUS: Dan Brillman, Taylor Justice, and Andrew Price founded UniteUS in 2013 to connect health care with social service outcomes. The New York-based company has 30 employees helping it expand its reach.
Pigeon.ly: Pigeon.ly was founded by Frederick Huston in 2013 to make finding and communicating with incarcerated loved ones easier. The Nevada-based company has helped many stay in touch with their loved ones in an affordable way.
Rhumbix: Zach Schell and Drew DeWalt put their military skills to work in through Rhumbix. The company works with construction sites to digitize the vast quantities of necessary information.
Bottle Breacher: Eli Crane founded Bottle Breacher in 2013, which sells specialty bottle openers and gear. The Arizona-based company has taken off and even made a notable appearance on Shark Tank.