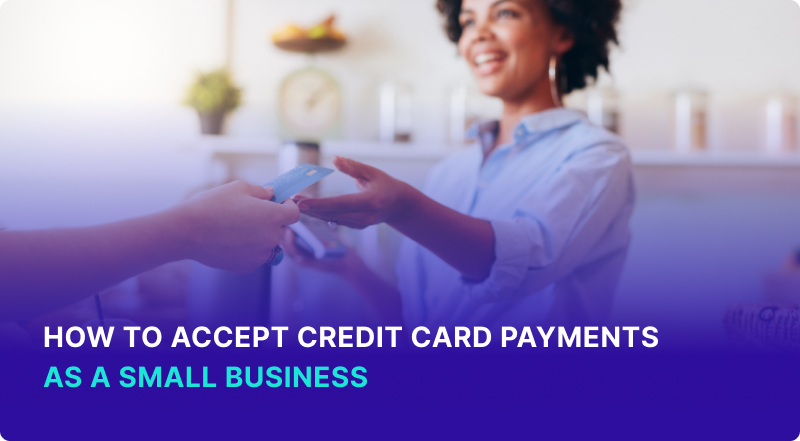 All content presented here and elsewhere is solely intended for informational purposes only. The reader is required to seek professional counsel before beginning any legal or financial endeavor.
One of the essential questions that you need to ask when you start a company is how you can accept card payments as a small business. People love to use credit cards to make purchases, whether they're buying online or in person. That means you'll need to accept card payments to make the most sales possible.
There are many different card payment service providers out there, each with pros and cons. We'll cover what you need to know and how to choose the right one for your needs.
How to Accept Credit Card Payments for Your Small Business
When you start a new business, use these steps to set up your ability to accept credit card payments.
Evaluate Your Payment Processing Needs
The first thing to do is think about what services your company needs. Do you have multiple sales channels and need a way to accept payments at a physical store, online, and at popup locations, or do you only need help with online payments? This will guide your search for the right card processor.
Research Your Options
Once you know the tools you need, you can start researching payment processors. Look into a few options that provide the services your company requires.
Select a Payment Processor
Once you've researched a few options you can make your selection. Make sure to consider factors like upfront costs, monthly costs, and per-transaction fees. Also, think about their reputation for customer service and any other perks or benefits they provide.
Open a Credit Processing Account
Once you've selected a provider, it's time to open an account. With most card processors, this is called a merchant account. You'll have to provide some info about your company and how you want the card processor to send payments to you.
Set Up Your Payment Software


Work with your card processor to set up any software, such as phone or tablet applications and website integrations so your company is ready to start taking card payments.

Set Up Your Hardware
If you're planning to accept card payments in a physical store, you'll also need hardware that lets people swipe or tap their credit card. Many card processing companies will rent or provide this hardware, or let you use accessories for existing tablets.
Test Your System
Once everything is set up, it's time to test it and make sure it's working. You can run a small transaction through your website or physical store to make sure the money shows up as expected.
Credit cards are one of the most popular ways for people to make purchases, so your business needs a way to accept card payments.
Understanding How Credit Card Payments Work
Card payments seem simple. The customer swipes their card and the cash appears in your account. However, there's a lot more that goes on in the background that you can't see. Here's how it works.
Your customer swipes their card and your website or card reader captures their card information and sends it to their card network.

The payment processor receives this information and sends a request to the card issuer.

The card issuer approves or denies the payment.

If the card issuer approves the transaction, it sends instructions to its bank to send money to your merchant account.

A few days later, the money arrives in your account, minus fees.
Accepting Credit Cards Online, In Person, and Over the Phone
The method you use to accept credit card payments can vary based on whether you're accepting them online, in a store, or over the phone.
How to Accept Credit Card Payments Online
Accepting online card payments is easy, but often comes with the highest fees. All you need is a website with a digital storefront and a payment gateway. Most card processing services make it easy to add a payment gateway to your site.
How to Accept Credit Card Payments in Person
To accept card payments in a physical store, you'll need a point-of-sale system that lets your customers swipe or tap their credit cards. Because the risk of fraud is lower in-person, fees are typically lower here.
Many card processing companies offer accessories that work with tablets or can sell or rent proprietary POS systems to your company to make accepting payments easy.
How to Accept Credit Card Payments Over the Phone
Taking card payments via phone is popular for businesses like takeout restaurants. These can have a high risk of fraud, so their fees tend to be high. However, these transactions are also typically easy to process as most POS systems have an option to key in card details to complete a transaction.
Small Business Credit Card Processing Fees
Accepting credit card payments comes at a cost. Card processing services will charge a fee, often a flat amount plus a percentage of the transaction, in exchange for their service. On top of that, card networks charge fees that you need to pay attention to.
Average Credit Card Network Processing Fees
There are four major credit card networks: American Express, Discover, Mastercard, and Visa. Each charges different fees and the fees can vary based on the specific card used.
Typical fees are:
American Express: 2.5% - 3.5%
Discover: 1.56% - 2.3%
Mastercard: 1.55% - 2.6%
Visa: 1.4% - 2.4%
Ways to Cut Down on Credit Card Processing Expenses
There are some things you can do to cut down on the cost of card processing, including:
Negotiate. Many card processing companies have different fee structures for different customers. You can always negotiate to try to get a more favorable deal.
Only accept certain cards. American Express charges far higher fees than other card networks. If you choose not to accept Amex, you might save on fees.
Avoid card-not-present transactions. The type of transaction, and its risk for fraud, impact the cost to process it. Online and over-the-phone purchases usually incur higher fees. If you can increase the percentage of transactions made in your store, you can reduce your fees.
Use address verification. Verifying your customers' billing info with the card issuer can reduce fraud, which may help you secure lower card processing rates.
Card payment processors charge a fee when processing a payment, so you'll need to account for those costs.
Business Credit Card Payment Options: Pros, Cons, and Features
There are many card payment providers out there. We'll cover the pros and cons of some of the most popular.
PayPal
Fees: 2.99% - 3.49%
Pros:
Widely used by consumers

Easy to accept online payments
Cons:
High fees

Poor foreign currency conversion rates
PayPal is a top online payment company. They're ideal for businesses that operate mostly over the internet.
Shopify
Fees: $29 - $299 / month, plus 2.4% - 2.9% (lower fees for higher monthly subscription rates)
Pros:
Includes online store builder

Integrates with third-party apps
Cons:
Flat monthly fee may be difficult for new companies
Shopify is a great all-in-one solution that lets you build an ecommerce store and accept payments. If you're starting from scratch and need help building your website's store, Shopify is a good fit.
Square Payments
Fees: 2.6% -3.5%
Pros:
No contracts or setup fees

Free plan available

Other tools, like payroll, available
Cons:
One-size fits all service. There's a POS for restaurants and a POS for retail, no other specialization.
Square makes it easy to get started, with a completely free setup option that works with an iPhone or iPad. That makes it great for brand-new businesses or people that want to sell products at places like craft fairs.
Stripe
Fees: 2.9%+
Pros:
Online-focused, with the ability to accept in-person payments.

Highly customizable with embedded tools and integrations.
Cons:
High customizability means complications

Limited in-person functionality
If you're tech-savvy, Stripe is one of the most customizable tools out there for accepting online payments. However, it might not be the best choice for businesses that do a lot of in-person sales.
Venmo
Fees: 1.9% for the merchant, 3% for the customer
Pros:
Large user base

Accept payments with a QR code

Customers can use card, bank account, or Venmo balance
Cons:
Customer fees to use a credit card
Venmo is a massively popular peer-to-peer transfer app, so businesses looking to make payments easy should consider it. You can even accept payments without people needing a physical card. Instead, they can use their Venmo balance or linked card.
Payment Depot
Fees: $59 - $99 per month, plus card network interchange fees. No additional per-transaction fee
Pros:
Pay the lowest per-transaction fee

Works with multiple card terminals

Free virtual card terminal
Cons:
Limit on how much you can process per year
Payment Depot is a good choice for companies that will process a large volume of purchases due to its lack of a markup over card network interchange fees. However, you'll have to stay below its annual limits of $125,000 to $500,000 in transactions.

Stax
Fees: $99 - $199, plus card network interchange fees, plus 8 – 15 cents per transaction
Pros:
Low cost per transaction

Add-ons, such as online gift cards, and brand customizations available
Cons:
High per-month fee makes it a poor choice for companies with low sales
Stax, like Payment Depot, keeps its per-transaction costs low. It offers some unique add-ons, which means companies looking for more customizability may prefer Stax.

Choose the payment processor that provides the best services for your company's needs.
How to Choose the Best Credit Card Payment Service Provider
To choose the best business credit card payment service, consider the following:
Contracts. Will the process tie you up in a contract? The shorter your contract, the more flexibility you have.
Set Up Costs. It can be hard for new companies to afford expensive upfront costs, so make sure the service is worth any set up fees you pay. If you need extra funding for your company, check out our offers of the

best small business loans

and the

best business loans for bad credit

.

Pricing Transparency. Make sure the company is clear about what it charges and how it will charge you.
Customer Service. Try to choose a company with a reputation for good customer service. That can help you avoid lots of headaches down the road.

Final Word
Accepting card payments is essential for any new business, but it can be hard to choose the right card processing company. Consider the fees they charge and how well they integrate with your company's sales plan to make sure you make the right decision.