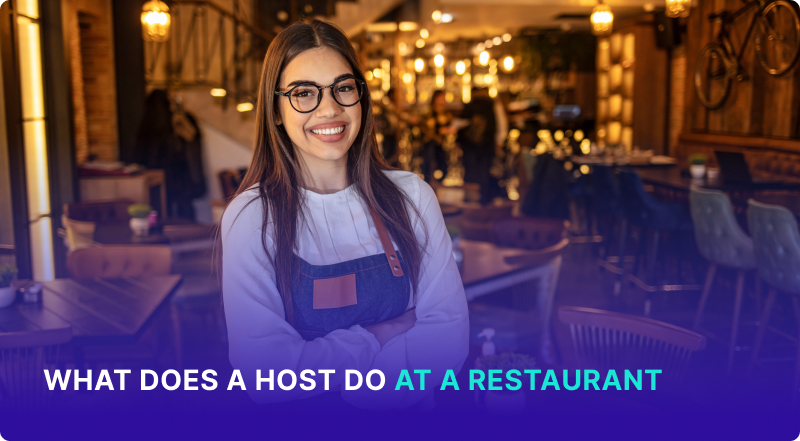 All content presented here and elsewhere is solely intended for informational purposes only. The reader is required to seek professional counsel before beginning any legal or financial endeavor.
If you're wondering, "what does a restaurant host do," the answer is that they handle the essential functions of seating guests, managing reservations, and controlling the flow of customers that flow in and out of the restaurant. Hosts are the first employees guests interact with, which means that restaurants rely on them to make a great first impression.
Key Points:

Hosts can be considered the "faces" of a restaurant, so it's important for them to be able to perform their roles competently in order for a business to attract and retain customers.

Although the primary responsibility of hosts is to seat guests, most host positions require handling additional duties such as managing to-go orders, answering the phone, and addressing guest concerns.

Becoming a host is a great way to gain restaurant experience, and doing so can eventually lead to career advancement within the hospitality industry.
What Does a Restaurant Host Do?
As you ask yourself, "what is a restaurant host," just know that they're essential team members. Hosts are positioned by the entrance of a restaurant and their duties involve welcoming people into the dining room, keeping track of reservations, showing people to their tables, and more. Hosts aim to make customers feel at home, but they also ensure that the rest of the staff can do their jobs properly by seating in a logical, equitable manner.
Restaurant Host Duties and Responsibilities
Some people (wrongly) believe that hosts are solely responsible for handling the seating in a restaurant, when in fact, their duties are much more extensive. Hosting at a restaurant involves wearing multiple hats since many hosts must:
Greet Guests: The way in which guests are greeted upon arrival can set the tone for the entire dining experience, so hosts must welcome guests in a manner that aligns with a restaurant's specific brand, goals, and atmosphere.
Take Reservations: Whether reservations are made via the phone or through online platforms, hosts are responsible for ensuring that they're handled appropriately. This means dealing with everything from taking reservations, to confirming parties, to managing cancellations.
Handle Wait Lists: When a restaurant is busy, there are often more customers who wish to sit down than there is space in the dining room. This means hosts must create a waitlist in order to seat guests according to arrival time, party size, etc.
Communicate with Guests: Hosts serve as the essential bridge between what's happening in the restaurant and what guests are informed about. Hosts need to communicate important information such as when guests can expect to be seated, where the bar is located, and the best way to make a reservation or place a to-go order.
Manage the Seating Chart: In order for a restaurant to operate efficiently, seating must be done according to a seating chart, which helps distribute the labor amongst the front-of-house staff. Hosts must understand seating protocols and adhere to the restaurant's best practices.
Seat Guests and Distribute Menus: When a table is ready, it's up to the host to lead guests to their table and provide them with menus, wine lists, special cards, and anything else they may need to enjoy their meal.
Clean the Host Station and Menus: Not only does keeping a clean host stand allow the staff to work more efficiently, but it's also the first thing many guests see when they walk through the doors. No one wants to hold a dirty, sticky menu, so hosts are usually tasked with keeping them clean and sanitary.
Distribute To-Go Orders: Hosts are often responsible for ensuring that customers receive the correct to-go orders when they come to pick them up. Mix-ups can be costly, so it's crucial to have someone monitoring orders as they go out.
Answer the Phone: Whether a guest is calling to get directions to the location, inquire about operating hours, or make a reservation, hosts are usually the people who pick up the telephone in a restaurant setting.
How Much Does a Restaurant Host Make?
If your first question was what do hosts do at restaurants, your next question is probably about how much money they make. A restaurant host salary depends on factors like location, experience, qualifications, and the caliber of the restaurant. The average salary in the US is $14.15/hour, but some hosts are also tipped out by restaurant servers.
What Is the Workplace of a Restaurant Host Like?
The workplace of a host is similar to that of other front-of-house employees. Hosts are usually stationed near the entrance of a restaurant, but they're also required to move around the dining room to bring guests to tables as needed. Hosts spend long hours on their feet and often work weekends, evenings, and holidays. Some hosts only work a few shifts a week, while others work full-time.
What Do Restaurants Look for in a Restaurant Host?
Becoming a restaurant host is a great way to break into the hospitality industry because many restaurants don't require previous restaurant experience in order to be eligible for the position. However, there are several things employers look for when hiring a host.
Requirements to Become a Restaurant Host
Generally speaking, there are no formal requirements for becoming a restaurant host. Some employers may require a high school degree, while others will hire high school students who work while also attending school. Fine dining establishments often require more education or experience, as do restaurants in large cities.
Skills Needed to Become a Restaurant Host
Since a host's duties primarily involve interacting with guests, having customer service skills is paramount. Hosts also need solid problem-solving abilities, interpersonal skills, and the ability to handle stressful situations. Being able to deal with a range of situations as they arise is also important since the unpredictable nature of restaurants can necessitate being able to think "on the fly."
Additional Traits of Good Restaurant Hosts
When owners are opening a restaurant or trying to fill a vacant position, they look for employees who are team players and hard workers. They also tend to look for hosts who have welcoming and friendly personalities, and who make guests feel comfortable and at home. How much money restaurant owners can make can be influenced by their hosts, so it's an important position to fill correctly.
Restaurant Host Job Description
As easy as it is to get wrapped up in other restaurant operations like managing food costs or finding a restaurant business loan, finding the right host is also important. To make things easier, take a look at an example of a host job description.
"Busy restaurant seeks a friendly, welcoming host to greet guests, manage reservations, guide parties to their tables, handle inquires, manage the phone, and take responsibility for keeping the host stand clean and presentable. Ideal candidates work well under pressure, exude warmth and positivity, and are comfortable standing for long periods of time. Evening and weekend availability is required."
How Do I Become a Restaurant Host?
If you're interested in becoming a restaurant host, there are several options for how to get your foot in the door. You can go inquire in-person at local restaurants, use online job boards, or look at hospitality-focused recruitment resources. Most restaurants will require at least one interview, and you'll most likely need a physical copy of your resume. When you think about how many jobs are available in restaurants, the job hunt will seem less daunting.