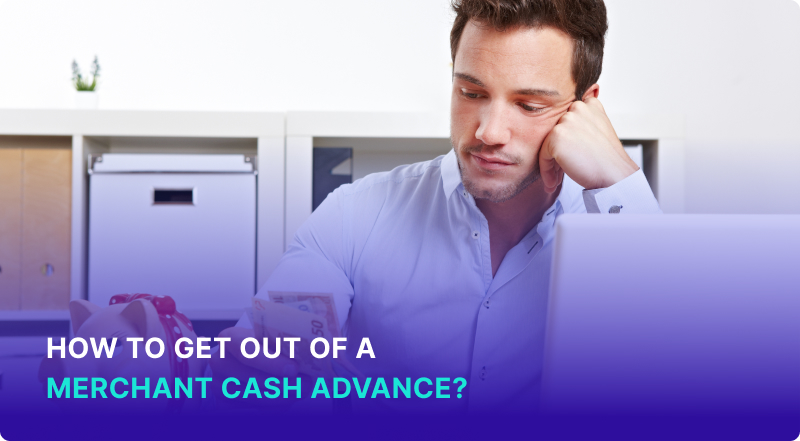 All content presented here and elsewhere is solely intended for informational purposes only. The reader is required to seek professional counsel before beginning any legal or financial endeavor.
A merchant cash advance promises a swift influx of cash for businesses with sufficient credit card sales. But the daily or weekly payments based on a percentage of your credit card sales can throw a big wrench in your cash flow.
If the repayment schedule is too much for the business, it's time to learn how to get out of a merchant cash advance.
Key Points:

A merchant cash advance originally seemed like a promising way to fund your business needs. But the high cost of repayment may threaten your business.

If you are struggling to make your MCA payments, other options exist.

You can get out of a merchant cash advance in several different ways. But the right path will vary based on your situation.

Finding a way out of a merchant cash advance could save your business!
11 Ways to Get Out of a Merchant Cash Advance
The MCA repayments can be a big problem for your business's cash flow. Although it's possible, getting out of a merchant cash advance is challenging. Explore all of the options below to see which is the best fit for your situation.
1. Pay Off the Remaining Balance
Paying off the remaining balance is easier said than done. But it's a way to get a merchant cash advance out of your life for good.
Think outside the box: Get creative about ways to pay off the remaining balance. Consider borrowing funds from family members, selling business assets, crowdfunding, offering a service, or picking up a new side hustle.
Negotiate: If you can't afford to pay off the whole balance, consider negotiating with the company to settle the obligation for a fraction of the cost. Sometimes, an MCA company will be willing to work with you.
2. Increase Your Business Profits
Increasing the profits of your business will have multiple impacts on your finances. But one way to use those newfound profits is to pay off your MCA.
Increase prices: Will customers pay more for your product or service?
Add products and services: What can you add to your product or service offerings?
Reduce staffing: Can you cut back on hours for a short period of time to reduce your costs?
Lower overhead: Negotiate with bill providers for lower rates across the board.
3. Renegotiate the Merchant Cash Advance Repayment Terms
The details of an MCA contract will be very clear. But there might be some wiggle room if you ask.
Forbearance: Explain your financial situation to the merchant cash advance company. Sometimes, they will offer a reprieve on the payments until your situation stabilizes.
Extend the repayment terms: An extended repayment term could help you meet the terms of the deal.
Lower holdback percentage: Ask to pay the MCA company a lower percentage of your credit card sales.
4. Take Out a Debt Consolidation Term Loan
If you have relatively good credit, then a term loan is an option for debt consolidation.
Monthly payments: You can use a term loan to pay off the MCA. The result is a restructured debt schedule with regular monthly payments.
Lower interest rates: MCAs are notoriously expensive. Typically, you can tap into a much lower interest rate through a term loan.
5. Repay the Advance Using a Secured Small Business Loan
A secured business loan involves putting up collateral to obtain the loan. If you default on the loan, the lender has the right to seize the collateral.
But the lump sum loan can help you get out of a merchant cash advance.
Lower interest rates: Since the lender knows they can seize your collateral if you default, many offer better interest rates for secured loans.
Risk of losing collateral: When you put down collateral for the loan, there's a risk of losing it. Although no one intends to default on a loan, it's possible.
6. Use Factoring to Recoup Lost Profits
If you have outstanding accounts receivable, you can sell those for a lump sum.
Invoice factoring for immediate cash: You can sell your accounts receivable for an immediate influx of cash, which can be used to eliminate your MCA.
Miss out on some profits: Although you will get a lump sum immediately, the invoice factoring company will keep some of the invoice proceeds as a fee.
7. Consult a Financial Advisor to Find Alternative Options
A financial advisor can help you sort through your entire financial picture to root out any alternative funding sources.
Map out a financial plan: A financial advisor can help you create a financial plan to get out of debt.
A fresh look: Sometimes, an outside party can see problems that business owners overlook. Although it can be difficult to hear some tough love, it might be what's necessary.
8. Contact a Credit Counseling Service
A credit counseling service can help you explore options for your unique situation.
9. Utilize your Personal Equity
As a business owner, you might have personal assets to tap into. Although putting your own money on the line is risky, it could be worth it.
Home equity: Use a home equity loan or home equity line of credit to tap into a large lump sum. But be aware of the risk of losing the home if you default on these payments.
Personal savings: Consider using personal savings or selling personal assets to fund your business MCA.
10. Hire a Lawyer with Experience in Merchant Cash Advance Cases
A lawyer with MCA expertise can help you get out of a merchant cash advance.
Specialized experience: Lawyers with the right skill set can help you find any potential loopholes in the contract. If possible, they will get you out of the MCA or even sue the MCA company for damages.
Expensive: Working with an attorney can add up quickly.
11. File for Chapter 11 Bankruptcy
Filing for bankruptcy can have a big impact on your business credit. But it gives you time to reorganize the business to protect your assets and continue operations.
Discharge debt: Bankruptcy can discharge the debt.
Costs involved: You'll likely need to hire an attorney to finalize your bankruptcy filings.
Which Method Should I Choose to Get Out of a Merchant Cash Advance?
As a business owner facing an expensive merchant cash advance, you have options to get out of it. But there's no one-size-fits-all approach.
Here's when the following options might make sense:
Pay off the MCA: The creativity of an entrepreneur is boundless. If you can think of a creative way to raise the necessary funds, then paying off the MCA for good is a smart move.
Take out a term loan: If you want to tap into a more affordable interest rate and lock in manageable monthly payments, then a term loan is a solution. But only if you can afford the monthly payment.
Negotiate the contract: If you can't repay the advance based on your finances, then consider working with an attorney to renegotiate the contract or ask for a settlement. If the MCA company doesn't work with you, it might be time to file for bankruptcy.
Ultimately, you'll have to consider all of the options to find the best fit. But the good news is that a solution that fits your needs is likely out there.
FAQs about Merchant Cash Advances & How to Get Out of One
Here's what you need to know about getting out of a merchant cash advance.