Before you dive in:
A working capital line of credit provides flexible financing for expenses related to running your day-to-day operations.
A small business working capital line of credit comes with more lenient requirements much of the time, allowing for those with lower credit scores to access financing.
You'll find both secured and unsecured options, so you may find yourself needing to put up collateral in order to take out a line of credit.
How Does Working Capital Line Of Credit Work?
When you hear the term "line of credit", you likely think of credit cards where you can make multiple purchases up to your credit limit. You then pay down that line of credit and it becomes available again. That's also how a business line of credit works. You get a certain credit limit and can put business expenses on the credit line.
Working capital lines of credit are just a specific version of a business line of credit. You can only use it for working capital purposes. Simply put, working capital is a business's running costs. So, you can use a working capital line of credit for any purchases that help you run your business.
Typically you'll find two kinds of working capital lines of credit:
Unsecured lines of credit. These lines of credit don't require collateral but do require a higher credit profile. The lender will need some guarantee that you'll repay your loan, and a good credit score is one surefire way to give them that guarantee. These lines are also often smaller since there is no collateral backing up the loan.
What Is a Working Capital Line of Credit Used For?
To give you a few examples, businesses might use a working capital line of credit for:
Unexpected payroll expenses. This can be in the form of sudden overtime needed by employees or having to hire extra employees during busier seasons like holidays or warmer weather.
Covering their rent payments in an emergency. During lean months, if you're having a difficult time coming up with the money for rent or utilities, a working capital line of credit can help.
Ordering extra supplies for inventory. If you need extra inventory only during certain times of the year, a line of credit can help provide a cushion until you can pay back your suppliers.
Replacing equipment that unexpectedly breaks. Most businesses rely heavily on their equipment, so when something breaks it needs to be replaced quickly. Having a line of credit on hand can help ensure you have the money when you need it.
Having reserves on hand. Sometimes it's nice just to have peace of mind knowing you have a line of credit available as needed. It's like having a business credit card for your running expenses.
Working Capital Line of Credit vs. Loan
A working line of credit and a loan can both be short-term solutions to cash flow issues, but they each provide a different type of funding. Loans offer a lump sum of cash for one specific purpose, whether it be a piece of equipment or some other business need. Lines of credit, on the other hand, offer a revolving source of money, up to a certain limit.
Plus, with a line of credit, you can continue to use the line of credit again as you pay down previous purchases. With a loan, you'll have a schedule of monthly payments that you'll start to pay down after making your initial purchase.
Who Is Working Capital Line of Credit Recommended For?
A working line of credit will work better for some business owners. Generally, It'll depend on how your business operates. A working line of credit may work best for businesses that:
Needs to make multiple small purchases in a short time frame. A line of credit offers you the luxury of making multiple purchases so long as they don't exceed your credit limit. So, for example, if your business needs to buy a new piece of equipment and also purchase extra supplies for the holiday season, a line of credit can potentially help you do both.
Want more lenient requirements. While a good credit score is still a necessity to get a lower interest rate, lines of credit may be easier to get than a loan. So businesses with less than perfect financials may want to consider a line of credit over a loan.
Need a short-term solution to cash flow problems. If you need money quickly but can also pay it back within a year or so, a line of credit can give you easy access to cash when you need it.
Pros and Cons of Working Capital Line of Credit
There's good and bad to every type of financing, and working capital lines of credit are no exception. Let's look at the pros and cons associated with WCLOCs:
Pros
Flexibility on what you purchase. Although you need to stick to expenses that help your business run, with a line of credit, you can make purchases as needed, rather than making a single defined purchase as you would with a loan.
Fast funding. You can get a line of credit relatively quickly, so if you suddenly find yourself in need of extra cash, it's a good option.
Continued access to revolving funds. With a line of credit, as you start to pay off your balance, you get access to the original line of credit again. This means you can make multiple purchases in a short span of time.
Cons
Potentially high interest rates. Just like credit cards come with high interest rates, as do working capital lines of credit. So before getting a line of credit just to have one, make sure you're willing to pay the interest rate should you ever need access to the money.
Lower funding amounts. When you apply for a loan, the process is a little more rigorous. While this can be frustrating, it does allow you access to larger loan amounts. Lines of credit are often smaller than if you took out a lump sum loan.
Quick payback terms. Although you have revolving credit, you'll have a relatively short time before you need to start paying down the line. Since working capital lines of credit are specifically used for sudden expenses involved with running your business, lenders expect that this is short-term funding.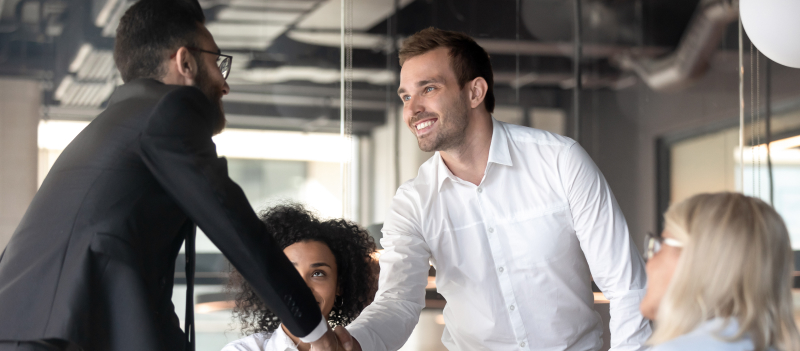 How To Get A Working Capital Line of Credit?
You can get a working capital line of credit in a variety of ways. Let's look at the companies that offer them and the info you'll need for your application.
Where To Get WCLOC From?
When looking for a working capital line of credit, you'll find three primary lenders who offer them:
Traditional banks and credit unions. Any bank or credit union that offers business financing likely offers a working capital line of credit, or at least a more general business line of credit.
Online lenders. Online lenders make the borrowing process incredibly simple. They often offer faster turnaround times and fewer fees. Companies like First National Bank and BlueVine offer credit lines for businesses. For more information about offers of online lenders check out our list of the best working capital loans.
SBA CAPLine program. The Small Business Association offers a CAPLine program which is meant for short-term financing. Seasonal CAPLines can help you finance expenses due to increased demand during holidays and seasons changes. Builders CAPLines can finance labor and other construction costs. You'll find a number of other CAPLine programs that can help cover short-term costs for a variety of industries.
How To Apply For A WCLOC
The application process you face will depend on the type of lender you work with (online vs. brick-and-mortar). Generally, though, to apply through any lender, you'll need the following:
A short history of being in business. In order to be sure you have the ability to pay, your lender will want to be able to verify that you've been in business for at least a few months.
A good credit score. You don't need a good credit score technically for every lender, but having one will secure you the best interest rates on your credit lines.
Lots of documents. Again, because lenders want to know that you'll pay them back, they'll likely require that you provide proof of your income.
Tax documents. You'll want to have your business's tax information handy. This includes your tax ID and returns from the last few years of business.
Bank statements. Some lenders may require that you give your bank statements from the last few months so they can verify the income you're reporting is true.
Your business plan. Only a small number of lenders will require this, but you should still have your business plan on hand. This demonstrates to lenders that you have a concrete plan in place and can pay back your loan.
Average Rates and Fees
The average interest rate on working lines of credit is difficult to pinpoint since it'll depend on the lender you choose and your financial profile. Generally, you'll pay double digits in interest, which is why you should concentrate on keeping your credit line as low as possible.
Average Repayment Terms
Lines of credit are almost always going to be a short-term financing option, so you won't find long terms. Terms of up to a year are common, with some lenders offering up to two years to pay down your credit line.
Tips On Using A Working Capital Line of Credit
Before deciding that a working capital line of credit is for you, you'll want to make sure you completely understand the type of financing you're getting. Follow these tips to make sure you're getting the most out of your credit line.
Only draw on your credit line when really needed. Just like average consumers need to use credit cards responsibly to avoid getting into debt, those with working capital lines of credit also need to watch their spending. Just because you have the credit line available doesn't mean you need to use it. That's the perk of using a line of credit over a loan. You control how much you're spending.
Have a plan to pay back your credit line early, if possible. Paying back your debt early isn't usually a bad thing. With a working capital line of credit, paying down your purchases early frees up your line of credit for other purchases.
Improve your credit score if it's low in order to get the best interest rate. The better your credit score, the better your interest rate, and the less you'll pay over the life of your credit line.
Alternatives To Working Capital Line of Credit
While working capital lines of credit can be a good solution for many business owners, there are many other options you can consider. Here are just three alternatives:
Working capital loans. If you're looking to make a single purchase, a loan may be a better idea. You'll have more options to choose from and have a manageable monthly payment.
Invoice financing. Invoice financing is a very short-term loan that's meant to help you when you have unpaid invoices. It gives you cash to pay for your expenses and when your invoices do get paid, you pay back your lender automatically.
Business credit cards. For very small purchases, credit cards can be a very easy solution you have right in your own wallet. Just be prepared to pay back your purchase quickly to avoid the high interest charges.