Firstly:
Understanding Equipment Management Software
To better understand equipment management software, consider the following:
What kind of equipment do you need help managing? Do you need things like equipment rental software or equipment tracking software, or do you need help with equipment inventory management? Do you have a few pieces of heavy-duty equipment or hundreds of pieces of smaller equipment?
Consider your equipment management software budget: How much can you afford to spend each month or annually to help you manage your equipment more effectively.
Think about what you need the software to do to lessen your workload: What specific features do you need? You may need help with equipment inventory management or an equipment inventory app may help you stay on track while you're on-the-go.
What other systems do you plan on integrating with the equipment tracking system? Think about the software you already use and if your new equipment tracking system will easily integrate with it.
Understanding Equipment Management Software
What Is Equipment Management Software?
Equipment management software is a software system that is set up in one of two ways: as a services based software or as a mobile application. It's designed to more efficiently, effectively, and safely manage whatever kind of new or used equipment and tools your company works with. It can be used to plan, schedule, and prioritize tasks.
It can also help increase the lifespan of your equipment and keep it on an orderly repair and maintenance schedule. It's used by a multitude of different businesses around the world. Another function of the software is to help manage inventory. In fact, nearly $1.1 trillion of working capital is tied up in inventory. Imagine all the good those funds could do, if they were properly allocated. That's one of the things inventory management software can help you with.
What Types of Companies Use Equipment Management Software?
Equipment management software can be useful to almost any business. Some businesses that use this type of software include:
Maintenance companies
Facilities management businesses
Retail businesses with large numbers of inventory
Warehouses
Equipment rental companies
Manufacturing companies
Fleet maintenance
Food, beverage, and hospitality companies
Industrial cleaning companies
Automotive industries
Oil and gas companies
Examples of How Companies Can Use Equipment Management Software
Companies use equipment management software in a number of different ways. The size of the company, the type of equipment, and the number of users, will determine the way the business utilizes the software. For example, manufacturers may use the software to track the rate at which repair-parts are being turned over.
Oil and gas companies may use the software to ensure equipment in the fields is operating at peak performance and making changes if it's not. Food and beverage companies have strict rules to adhere to when it comes to food safety so they may use the software to ensure these regulations are being met and reduce the downtime of food processing equipment to save costs.
Why Is Equipment Management Important?
It's vital for companies to properly manage their equipment for a number of reasons including:
Knowing the location of the equipment at all times so it can be brought in when needed and properly stored when it's not being used
Track asset usage and reallocate resources when necessary
Keep track of upcoming and completed repairs and maintenance to keep equipment in good working-order
Reduce the risk of equipment breakdowns, failures, and accidents
Increase the life and efficiency of equipment
Track and organize inventory
Improve working conditions for employees
Popular Equipment Management Software Brands
Prices and features vary from vendor to vendor. Some of the most popular equipment software management brands and their pricing structures are as follows:
1. FMX: Pricing is based on the number of users, students enrolled (if it's used for a school), features selected, and add-ons. The company will provide a custom quote for you.
2. Asset Panda: Various annual plans to fit your unique needs. Plans to help you manage 250 assets to over 5,000 assets.
4. Fleetio: Prices range from $3 to $7 per vehicle per month, if billed annually. If you have a fleet over 500 vehicles, you can request custom pricing.
5. Emaint: Prices range from $69 to $129 per user per month and each tier offers different features and capabilities
6. GoCodes: Pricing ranges from $500 to over $2,500 per year depending on the number of assets you need to track and manage.
7. Share My Toolbox: Pricing starts at $65 per month for one administrator and you can add on users for $50 each per month.
8. EZ OfficeInventory: Prices start at $35 per month to track 250 items with unlimited users. Higher-tiered plans and custom plans are available if you need to track more items.
9. MaintainX: The company offers a basic free subscription and if you need more features, pricing ranges from $8.33 per month to more than $32.50 per month per user.
10. Coast: Free options are offered as well as paid options with more features that range from $12 per user per month to $24 per user per month.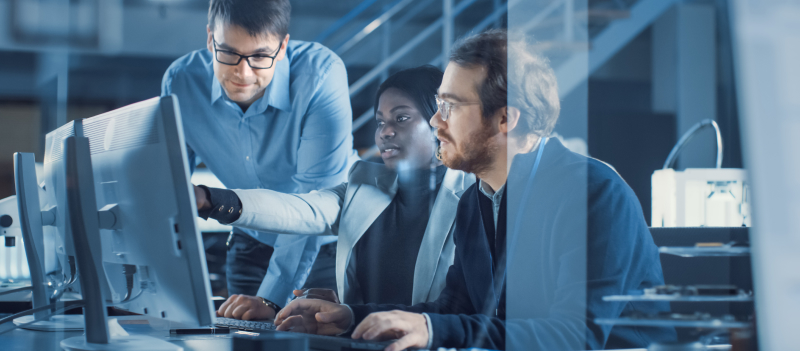 Common Features of Equipment Management Software
There are certain features that you will find in most equipment management software, but keep in mind that some features differ from vendor to vendor and will depend on the level of service you choose, how many users you use, and how many assets you need to manage.
Some popular software features include:
Asset Tracking
Asset tracking is the method by which you keep track of your assets, inventory, or equipment. You may track it with bar codes, use GPS tags to monitor movement, or radio frequency identification to broadcast its location. Bluetooth systems, serial numbers, batches, and electronic recording are also used to track assets. You want to know where your asset is at all times and you can do that with asset tracking and management features.
For example, you own a fleet of trucks that are dispersed throughout the country. Each truck will have its own GPS and the software will allow you to check where the truck is, how many miles it has driven, and when it reaches its final destination. You can keep track of mileage, unauthorized stops, and keep your timeline on track.
Work Orders Management
This feature allows you to create, complete, and analyze work orders quickly and efficiently. Some software can be used on any device so you can manage work orders from your smartphone, laptop, or your tablet. By managing your work orders in a timely fashion, you're increasing productivity, minimizing asset downtime, and boosting asset performance.
If you're in charge of a maintenance company, you may need to keep track of hundreds of work orders each day. It's much easier to use software to help you do that, than remembering to write everything down by hand.
Preventative Maintenance
Performing preventative maintenance on any piece of equipment or vehicle, extends its useful life, and decreases the chances that it will break down or cause an accident. This feature streamlines and simplifies the process with checklists and reminders. You can see what types of preventative maintenance has already been done on each asset, when its next service is due, and if anything is overdue.
Predictive Maintenance
This feature is similar to preventative maintenance but it actually 'predicts' if and when the equipment will have an issue before it happens. It's able to do this by monitoring equipment usage, condition, and performance overtime. Its goal is to predict the problem, alert the operator, and fix it before it causes any issues.
Inventory Management
Inventory management is challenging for most businesses large and small. These features help businesses track inventory levels, sort them, keep track of orders, deliveries, and sales, and store them in one organized, up-to-date, easily-accessible place. You can automate processes which aids in reducing costs. You can scan barcodes, analyze trends, predict shortages, increase ordering, and keep optimal levels of inventory on hand.
This is especially helpful for businesses who have fluctuating levels of inventory and may have peak seasons. Using an inventory management feature can help ensure you don't run out of product during your busy season and you don't order too many products during slower periods.
Labor Resource Management
Labor is what keeps your company running. They're quite literally the most important part of your company and you want to make sure that they are performing as optimally as possible. Use this labor resource management feature to manage the number of hours worked, overtime, payroll budgets, schedules, time off, and team productivity.
You can also plan for how long work orders should take based on previous similar jobs. Plan the number of technicians needed on a particular project so you don't have too few or too many technicians on staff.
Equipment Planning
The type of equipment planning you need to do will depend on the type of equipment your business requires. For example, a medical facility will have more inspections and quality control on their equipment than a warehouse may have.
Equipment planning features help you budget for new equipment, schedule inspections, check on delivery times, and delivery schedules, and analyze the layout and storage of the equipment before it arrives. It may also help configure new networks and security requirements.
Reporting
You want to be able to keep track of your numbers and have them reported in real time, regardless of what industry you're in. Knowing your numbers can be the difference between running a successful business and one that is on the brink of failure.
This feature will turn raw data into powerful insights that you can analyze to make the best decisions for your company. You can access the dashboard and check out daily reports, compare year-over-year data, and check out trends and compare it to overall industry data. You can print out diagrams, import data, export reports, and share them with other employees and clients.
Vendor Management
Rather than using different software or systems for each vendor, you can manage all of your vendors in one place. This cuts down on time and increases accuracy. You can store vendor information in a place that is safe, secure, and easily accessible for authorized users. You can also review vendor's past performances and decide if you want to use them again or would be better off with a different company. Vendor management can also be used alongside work orders and inventory tracking features. Additionally, you can keep track of billable hours for someone that may work for you a few times a year.
Benefits of Equipment Management Software
Companies can enjoy numerous benefits when implementing equipment management software.
Improve Asset Reliability
By monitoring your asset, using it as intended, and using preventative and predictive maintenance features, you can improve the reliability of your asset. Basically, if you know where your asset is, what it's doing, and when it should be serviced, you can increase its reliability.
Minimize Unplanned Downtime
Track your assets so you don't have unplanned downtime. By using equipment management software, you're using the equipment as much as it can be used, so you're not wasting time or money. You're able to track its movements and reduce underutilization. There's no point in spending thousands of dollars on a piece of machinery if you forget to use it or are only using it sporadically.
Cut Back on Waste and Spoilage
This is especially applicable in the food, beverage, and retail industries. If you're tracking inventory, you won't order more than you need and will reduce or eliminate waste or expired goods. This also reduces having to sell extra inventory off at low prices because you have no room for it or because it's about to hit its expiration date.
Decrease Work Order Resolution Times
Software can help you optimize work order timeliness and respond more efficiently to work orders. You can create work order benchmarks for all team members to see, so they know approximately how long a work order should take. By automating much of the work order process, you're able to get the work order input, assigned, finished, and followed up on much quicker than without using an equipment management system.
Reduce Maintenance Costs
By using the maintenance related features in your equipment management software, you can keep track of maintenance schedules, follow the guidelines of how and when to use the equipment, check out service records, and use the software to track the costs instead of allocating additional resources to labor for that purpose.
Extend Asset Lifespan
An asset's lifespan can be extended when it is used properly, stored properly, and when preventive maintenance is performed. It's also extended when necessary repairs are completed in a timely manner. All of this can be tracked and allocated in the equipment management app. By extending an asset's lifespan, you save money because you don't need to purchase a new piece of equipment as soon.
Maintain Safety and Compliance Regulations
All industries have some sort of safety and compliance regulations. Whether you're in the medical field, food and beverage, construction, or manufacturing, you need to follow the rules and regulations to ensure the safety of your employees, your products, and your consumers.
Equipment management software can alert you to upcoming inspections, store safety regulations in a secure but easily accessible space, and keep track of any violations or safety incidents.
Reduce Risk and Liability
To reduce risk and liability, make sure that equipment operators are properly trained on the equipment they're going to use. You can store training manuals, information booklets, and other pertinent information in your equipment management software. You can also customize the software so you can see who is up to date on necessary certifications and licenses, thus reducing your risk and overall liability.
Improve Capital Planning
New equipment can be expensive and you want to see where the capital is coming from to purchase it. Check out one of the spreadsheets or data graphs in your software or app to see how much you have to allocate towards a new piece of equipment and when the best time to purchase it is. You can also see previous trends on capital planning and usage and learn from any past mistakes.
How to Choose Equipment Management Software
When choosing equipment management software, consider how you're going to use the software, what functions you need, what integrations you require, what your budget is, and how many people will be using the software. Also, consider the following when choosing the best software for your business:
What Kind of Buyer Are You?
There are three main types of buyers; decide which one most accurately describes yourself:
Full Suite Buyer: This type of buyer typically has a large or unlimited budget, may be part of a large company, or manage an extensive amount of assets. They want the 'full suite' of products and features. The top tier plan or a custom plan with all the bells and whistles is what you want. You want software to be automated, seamless, have dozens of functions, and integrations, and have a team of dedicated support to teach you or your staff how to use it.
Speciality Buyer: You want software that fulfills a specific need. You may be looking for a very specific function such as inventory management or real-time asset tracking from a mobile device. You don't necessarily need something with all the features; you just want to make sure it has exactly what you need.
Small Business Buyer: You are a small business who doesn't necessarily have a lot of capital to invest in software but you realize it's advantages and want to give it a try. You may only need a platform for one or two users and you will take advantage of a demo or a free trial version of the software to see if it's a good fit. You don't want software that has a minimum number of required assets or that's specifically designed for a larger company.
Types of Equipment Management Software
Typically, there are two different delivery methods for equipment management software:
Mobile Applications: This software can be used from any smartphone, tablet, or computer. It can be used on the go and is convenient if you want to be able to manage your equipment from wherever you are.
Software as a Service (Saas): This is a licensing and delivery model of software that is centrally hosted. It can be web based or you may need to physically download it. It may not be mobile-compatible and may have more features than mobile applications but doesn't have the flexibility.
What to Look for in Equipment Management Software
It's important to look for the following factors in equipment management software:
Customer service: Is it included, when are they available, and how can you reach them?
Company reviews: What's the overarching trend? What do users like and dislike
Company reputation: How long has it been around? Is it reputable? You don't want a fly by the night software company that takes your money and then disappears
Integrations: What other software or apps is it compatible with? What is not compatible with it?
Features: Check out each of the features and make sure you're going to use what you pay for.
Demo or free trial: Can you test the software before you buy it?
Industries: Is your industry mentioned as one of the ones they work with? If not, ask if they have software tailored to your industry. You don't want to end up purchasing software for a fleet business if you are a manufacturer.