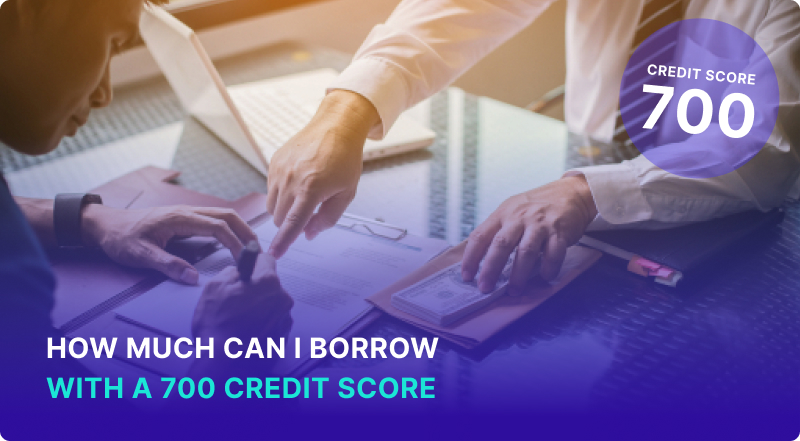 All content presented here and elsewhere is solely intended for informational purposes only. The reader is required to seek professional counsel before beginning any legal or financial endeavor.
Potential lenders use your credit score when deciding whether to grant you a loan. However, the amount you can borrow will ultimately depend on the lender's discretion. Since 700 is considered a good credit score, you will likely qualify for most loans and be able to borrow $100,000 or more.
Key Points:

With good credit, you will likely qualify for most loans.

Your credit score is only one of many factors lenders use to consider your application.

If you focus on improving your credit score before applying for a loan, you may be able to increase the amount you can borrow.
What Loans Can You Get With a 700 Credit Score
The reason for your loan will affect how much you can borrow. These are some of the most common loans you can get with a 700 credit score:
Personal loans: such as to consolidate medical or credit card debt or to afford a sudden emergency expense
Auto loans: you may only need to borrow $20,000
Mortgages: your mortgage may require you to borrow hundreds of thousands of dollars
Qualifying for one of these loans is the first step to getting money. The amount you can borrow with a 700 credit score depends on many factors besides your credit score, including:
Your employment status
Your debt-to-income ratio
What type of loan you're applying for
The terms and conditions of the lender
Luckily, with a credit score of at least 700, you will more than likely qualify for any of the most common loans.
How Your Credit Score Affects Your Loan Payments
Your credit score plays a significant role in the interest rate offered by the lender. As of date and subject to change:
If your credit score is between 760 and 850, FINRA states that you may be offered an interest rate as low as 3.307% on a loan of $200,000
On the same loan, someone with a credit score in the mid-600s might be offered a 4.869% interest rate
Because interest adds up over time, the person with the lower credit score likely ends up paying significantly more over the course of the loan
When applying for a loan with a 700 credit score, you want to take advantage of your good credit. FICO defines good credit as any score between 670 and 739. While the average American has good credit, many people with fair and poor credit don't have access to the same borrowing terms as those with higher credit scores.
There are many benefits of a good credit score; a higher score gives you a variety of advantages that those without good credit do not have. For example, when applying for a personal loan with a good credit score, you can access lower interest rates and better features and terms.
How Credit Scores Are Calculated
There's a lot that goes into calculating your credit score, but according to FICO, these are the main factors, along with how much impact they have on your score:
35% Payment History: On-time payments vs. late payments
30% Amounts Owed: Also known as credit utilization ratio
15% Length of Credit History: The length of time your credit accounts have been open
10% Credit Mix: The diversity of your credit accounts
10% New Credit: Whether you have new accounts or recent credit inquiries
If you have an app that helps you track your credit score, you may see different numbers, which leads to confusion. Why do you have different credit scores?
Each of the three major credit bureaus has different statistical methods for calculating credit scores. These methods are based on the credit bureaus' proprietary systems. The three major credit bureaus are Equifax, Experian, and TransUnion.
Payment History
Your payment history is the most critical aspect in calculating your credit score range. Your payment history is so important, in fact, that even a single missed payment can negatively impact your score.
Lenders want to see proof that you pay back your debts on time. Verifiable proof via a documented payment history increases the health of your credit score.
Amounts Owed
The amount you owe is also known as your credit utilization ratio. This ratio is calculated via a simple formula: Divide the total credit you've used by all of your combined credit limits.
Suppose that you have five different credit cards, each of which has a credit limit of $5,000. Thus, your total credit limit is $25,000. If you owe $10,000 across all of these cards, your credit utilization ratio is 40%.
Creditors view a credit utilization ratio of higher than 30% as negative.
Credit History
Your credit history describes the length of time your credit accounts have been open.
This history includes the age of your oldest account, the age of your most recent account, and the average age of all accounts.
In general, the longer your credit history, the better your credit scores. A lengthy credit history shows that you have managed credit over a long period, increasing the likelihood that you are a responsible borrower.
Credit Mix
The more diverse your accounts, the higher your credit score.
Those with top scores usually have a variety of credit accounts, including:
Auto loans
Credit cards
Student loans
Mortgages
Other credit accounts
The significance of your credit mix is based on your ability to manage multiple types of credit accounts.
New Credit
New credit includes any accounts you've opened recently, and it further considers the number of hard inquiries on your account.
When you apply for a loan, the creditor will likely perform a hard inquiry, which is a thorough check on your credit history. If you have several recent hard inquiries attached to your credit history, lenders may view you as high-risk.
How to Check Your Credit Score
There are several ways for you to learn your credit score:
Free annual reports: Every credit-holding individual is entitled to a free annual credit report through AnnualCreditReport.com. This free report includes your scores across the three major bureaus: Experian, TransUnion, and Equifax.
Purchase your credit report: if you want an accurate report more frequently, you can purchase your credit report directly from any of the three major credit bureaus.
Monthly updates via a credit-tracking app: There are also apps that track your credit, such as Credit Karma. This app makes it easy to stay updated on your credit score because it will send you alerts and notifications whenever a new credit report is ready.
Free services from your credit card holder: Depending on your credit card lender, you may be able to access your credit score through your credit card app. Some lenders offer credit score updates as a free service directly in their apps.
Using a credit counselor: Another option is to work with a credit counselor who, in addition to helping you improve the health of your credit, can also provide you with a credit report.
Improving Your Credit Score Before Borrowing
All of the actions you take to build good credit scores are the same actions that will allow you to maintain a good credit score and improve that score over time.
Decrease Credit Utilization Ratio
A great way to improve your credit score is to decrease your credit utilization ratio since the amount of credit you use is the most important factor in determining your credit score.
If you are considering consolidating credit card debt with a personal loan, a 700 credit score may help you qualify for a lower monthly payment or interest rate, allowing you to pay down your credit cards more easily.
A loan to pay down your debt will help you decrease the amount of credit you're using, offer easier monthly payments, and diversify your credit accounts, which can also improve your score.
Pay Your Bills on Time
Above all else, you must prioritize paying your bills on time. If you've started getting behind on payments, it's time to sit down and audit your finances so you can find a solution.
Perhaps the solution is as simple as reworking your budget to allocate more money toward your bills. Maybe the solution lies in asking for a raise or looking for a new job with a higher salary to increase your income.
Do Not Apply for New Accounts Often
Although new credit accounts for about 10% of your credit score, you should still avoid applying for new accounts and the hard inquiries that come with new applications as much as possible.
It's important to be strategic about the types of loans and credit cards you apply for. Don't apply for every new card you see advertised; instead, carefully weigh the pros, cons, and consequences.
Applying for a new credit card comes with several possible benefits, such as increasing your overall credit limit and taking advantage of hefty cash-back rewards programs.
If applying for new accounts or loans seems beneficial and the consequences seem worthwhile, you may consider moving forward with new credit. However, you should take caution and do this sparingly.
Final Word on Credit
Every lender has its own set of criteria for determining how much to lend. But a credit score of 700 helps you qualify for most loans, along with better terms and lower interest rates. Increase your chances of higher borrowing amounts and better terms by taking good care of your credit health.