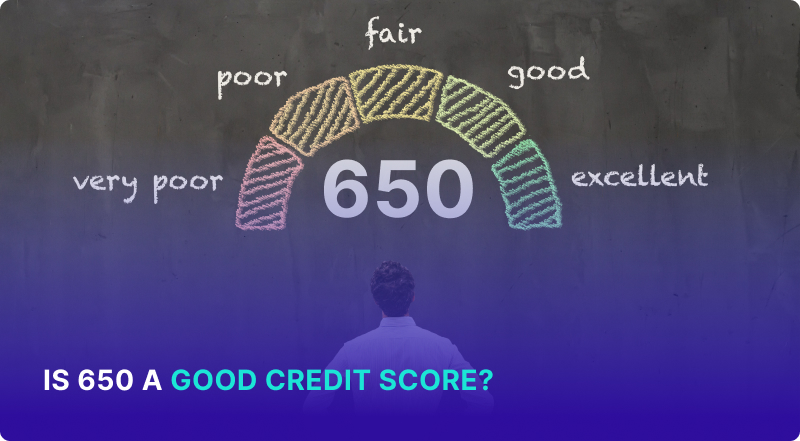 All content presented here and elsewhere is solely intended for informational purposes only. The reader is required to seek professional counsel before beginning any legal or financial endeavor.
A 650 credit score falls in the "fair" range, which is right below the "good" FICO credit score range. While 650 is not a good credit score yet, it can act as a great starting point for building excellent credit history and securing better financial products in the future. In the meantime, you can turn to alternative lenders who specialize in working with subprime borrowers.
Key Points:

A FICO score of 650 falls within the 580 to 669 credit score range, which qualifies as "fair."
Borrowers with poor to fair credit scores are considered "high-risk" and often have difficulties qualifying for new credit or personal loan products.
Low credit score can also damage your chances when applying for rent or a new job, and even setting up a utilities account.
It's never too late to turn things around! By using your credit responsibly and making payments on time, you will be able to start improving your credit score over time.
Financial Opportunities for a 650 Credit Score
In the critical eyes of lenders, consumers with FICO scores in the "fair" range are considered "high-risk." This can have a serious impact on your eligibility for a variety of financial products.
Personal loans. While you can still receive a personal loan with a 650 FICO score, you might have to turn to alternative lenders for funding. Keep in mind that alternative lenders often mean higher interest rates.
Car loans. In the U.S., around 20% of car loan borrowers have credit scores ranging from 601 to 660. While you definitely can get a car loan with a 650 credit score, expect to pay higher borrowing costs.
Credit cards. With most financial institutions, 650 is the minimum credit score cutoff to receive a credit card approval. Again, expect to pay quite high interest rates.
Student loans. Most student loans are given out to applicants with a credit score below 700. As such, you should not have any trouble qualifying for a student loan with a 650 FICO score.
Mortgage. A minimum credit score required to qualify for a mortgage in the U.S. is around 620, which means that a 650 credit score is high enough to get an approval. Nevertheless, having a credit score in the "fair" range will likely prevent you from qualifying for the best available rates.
"In the critical eyes of lenders, consumers with FICO scores in the "fair" range are considered "high-risk."
Boosting Your Credit: Proven Techniques to Scoring Above 650
If you managed to reach a 650 credit score, know that there is still plenty of room for improvement. Follow these proven techniques to move your credit score into the "good" or even a "very good" range:
Employ good credit habits by paying your bills on time and using no more than 30% of available credit.
Get a credit-builder loan, which will allow you to build your score and save up money at the same time.
Ask a friend or a family member to add you as an authorized user on their credit card.
Limit new credit applications to an absolute minimum.
Do not close old credit accounts, even if you no longer use them.
Regularly review your credit report for errors or fraud.
Diversify your credit mix with different types of credit like a credit card, a line of credit, and a car loan.
A 650 Credit Score vs. Other Credit Score Ranges
The average FICO score across the United States hovers just above 710, which means that a fair credit score of 650 falls below average. If you have already achieved a 650 credit score, your next step should be to try to elevate it further into the "good" (670 to 739) and, eventually, "very good" (740 to 799) range.
Notably, FICO is not the only credit rating system used in the United States. For example, another popular system, VantageScore, uses the same credit scale of 300 to 850 but assigns different weights to information found in one's credit report. The credit ranges also differ between the two systems, - yet the answer to "Is 650 a good credit score?" remains a definite "no." With both FICO and VantageScore, a credit score of 650 is considered only "fair," leaving lots of room for improvement.
Understanding the Demographics of a 650 Credit Score
Nearly 22% of the American population has fair credit scores ranging between 600 and 699. This falls well below average: only 15.5% of the population has a credit score below 600, while an average American flaunts a good credit score of 714.
How to Check and Monitor Your Credit Score
Regularly checking your credit score and reviewing your credit report can help to visualize your general financial situation and make a sound plan for the future. Your credit history is considered confidential, but you can typically access your credit report through special platforms.
Decide which credit score to check. There are three credit bureaus that compile credit reports separately: Experian, Equifax, and TransUnion. There are also different scoring systems, such as FICO and VantageScore.
Get your credit report. Visit AnnualCreditReport.com and request a free copy of your credit report from the credit bureau of your choice.
Check your credit score. Credit reports do not usually show the final credit score. However, most credit card companies and banks provide your FICO score for free either through your online account or in a monthly bank statement.
Continue monitoring your credit health. Regularly examine your credit report for errors or fraudulent activity and keep an eye on your credit score. Frequently reviewing and improving your financial practices will help to maintain your credit score in the long run.
How Credit Scores Are Calculated
If you consider applying for a personal loan, getting your credit score as high as possible is incredibly important. While you can absolutely get a loan with a fair credit score, better credit often means better rates. Luckily, a person's credit score can change over time, depending on a number of factors:
Payment history (35%): whether you've been making payments on time.
Debt (30%): the total amount of money you owe across all your accounts.
Credit age (15%): how long you have had your credit accounts open.
New credit applications (10%): how many times you have applied for new credit recently.
Loans or "credit mix" (10%): how many loans of different types you have.
"While you can absolutely get a loan with a fair credit score, better credit often means better rates."
Final Word
While 650 is not a good credit score, it stands confidently in the "fair" territory. This means that boosting your score into the "good" range should not be too difficult, - and doing so will give access to more financial products, lower interest rates, and higher credit limits. Start by getting a free credit report to get an overview of your financial situation and focus on making more responsible credit decisions going forward.