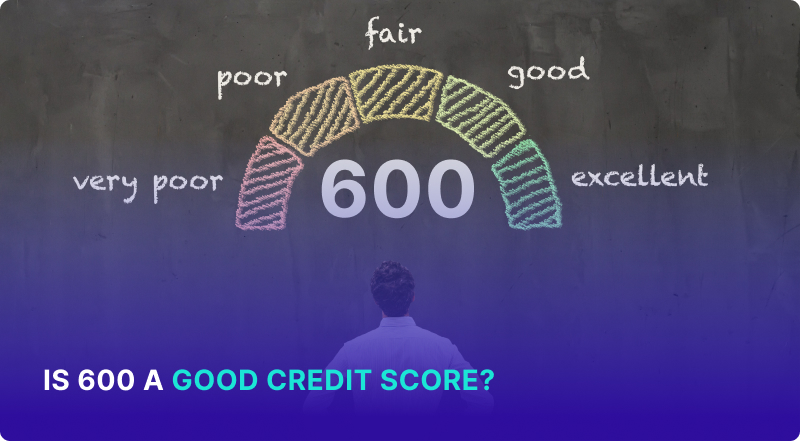 All content presented here and elsewhere is solely intended for informational purposes only. The reader is required to seek professional counsel before beginning any legal or financial endeavor.
Low credit score can prevent you from qualifying for additional credit, renting an apartment, or even setting up a utility account. A 600 credit score is considered "fair" - not bad enough to disqualify you from most lending options altogether, but not good enough to earn great rates and terms.
Key Points:

A FICO score of 600 is considered "fair," as it falls within the 580 to 669 credit score range.
Lenders view consumers within the "poor" or "fair" credit score ranges as "high-risk" and are often reluctant to approve them for loans or additional credit.
While a 600 credit score might not get you a loan from a traditional bank, you can still qualify with some alternative lenders, albeit the interest rate will be higher.
By focusing on paying your bills on time and managing your credit responsibly, you will achieve a

good credit score

over time and qualify for better financial products.
The Impact of a 600 Credit Score on Your Financial Opportunities
Suppose your FICO score hovers in the lower part of the "fair" range. In that case, your creditworthiness will suffer in the eyes of lenders, potential landlords, future employers, and even cell phone providers. This can hurt your eligibility for several financial products and services:
If you have a fair credit score, you can qualify for only a limited selection of financial products and might need to turn to alternative lenders.
Credit cards and personal loans for fair credit score come with higher interest rates and fees than personal loans for good credit score.
Lower credit scores often result in high premiums for cars, homes, and other types of insurance.
According to the Federal Trade Commission, poor credit history may cause trouble when signing up for utility services such as water, gas, and electricity.
Cell phone providers might ask you for an additional security deposit when purchasing a new phone.
Your rental application might get denied if you have poor credit history.
"If your FICO score hovers in the lower part of the "fair" range, your creditworthiness will suffer in the eyes of lenders, potential landlords, future employers, and even cell phone providers."
Improving Your Credit: Strategies for Getting Above 600
If you want financial products with great rates and terms, your credit score of 600 will need some work. The goal is to bring your credit into the "good" and, eventually, "very good" or even "excellent" range. Follow these simple strategies to give your credit score a much needed boost:
Employ good credit management practices. Pay your bills and credit balances on time and keep your credit utilization ratio below 30%. In addition, avoid closing old credit accounts and applying for multiple new ones.
Apply for a credit-builder loan or a secured credit card. These financial products can be an excellent way to learn how to manage your credit responsibly and build your credit score over time.
Get a co-signer on an installment loan. Paying off an installment loan is a great way to improve your credit score and history. If you can't qualify for a personal loan with a 600 credit score, getting a co-signer may help.
Become an authorized user on a credit card. Ask a family member with a good credit score whether you can become an authorized user on one of their accounts.
Use a rent-reporting service. Rent-reporting services can submit your history of on-time rent payments to credit bureaus, therefore increasing your credit score.
How to Check and Monitor Your Credit Score
In addition to the above strategies, keeping your credit report error-free is a must to ensure that your credit score continues moving in the right direction. Regularly review your credit report for mistakes and check your credit score to evaluate your progress and better understand your financial situation.
Special platforms like AnnualCreditReport.com allow users to request free copies of their credit reports from the three credit bureaus: Experian, Equifax, and TransUnion. While these reports won't contain the numerical credit score, you can easily obtain it from your bank or credit union.
How Credit Scores Are Calculated
Credit scores are calculated based on the information found in one's credit report, with specific weights assigned to different factors. Good credit and repayment history means a higher credit score and a higher credit score means more attractive interest rates on loan products.
While the exact formula may differ between different credit score models, FICO scores are generally determined by the following weight distribution:
Payment history (35%): how you have repaid your existing credit.
Used credit vs. available credit (30%): how much of the total available credit you use.
Credit history (15%): how long your credit accounts have existed.
New credit applications (10%): how many "hard-pull" inquiries have been made to your credit file recently.
Loans or "credit mix" (10%): what type of loans you have associated with your account.
Who Has a 600 Credit Score?
If your FICO score falls below 600, you are in the minority: 15.5% of the American population has a credit score below 600, with an average credit score of around 716. A 600 FICO score places you in the "fair" credit range, well below the national average.
Individuals with fair credit likely fall within a younger demographic group or come from low-income households. This isn't surprising: young adults don't have enough time to establish a long credit history.
A 600 Credit Score vs. Other Credit Score Ranges
A 600 credit score falls in the lower end of the "fair" credit score range (580 to 669) according to the FICO model. This means that you still have a long way to go to elevate your score into the "good" (670 to 739), "very good" (740 to 799), and, eventually, "excellent"(800 to 850) range.
When evaluating your credit score, it is essential to remember the credit score model used. The two most common models used in the United States are FICO and VantageScore. While both scales range from 300 to 850, they are subdivided into different ranges. As such, a 600 credit score would be considered "fair" according to FICO and only "poor" according to VantageScore.
Final Word
A credit score of 600 is only considered "fair" according to FICO credit score ranges. Oftentimes, borrowers with such credit can't qualify for great financial products and are faced with high interest rates and fees. This means that establishing a good credit history and boosting the credit score should be a priority for anyone looking to establish their creditworthiness and become a more reliable borrower in the eyes of lenders.