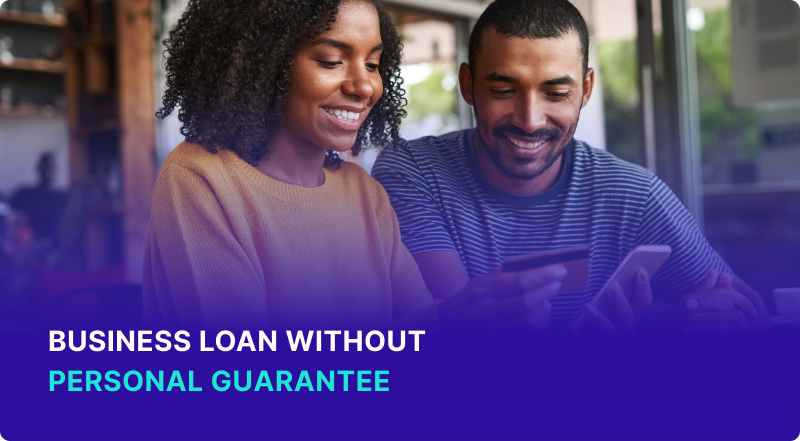 If you're a business owner, you're likely familiar with providing a personal guarantee when your company wants to borrow money. That means putting yourself at risk. If it's possible, you'd likely prefer to get a business loan without a personal guarantee.
This type of loan does exist, but they're harder to qualify for and often charge higher interest rates. You have to weigh the advantages of not putting your own money at risk with the drawbacks of increasing your business' borrowing costs.
Key Points:

A personal guarantee means you're putting your own money on the line when getting a business loan.

Unsecured business loans with no personal guarantee can be more expensive than those with a guarantee.

You'll need good business credit and financials to qualify for these loans.
What Is a Personal Guarantee for a Business Loan?
A personal guarantee, or joint-and-several liability, makes you a co-signer on a loan made to your company. That means that if your business fails to repay the loan, you become personally responsible for paying it out of your own money.
In other words, if your company defaults on a loan, the lender can come after your personal assets to get its money back. This is a risk for you but reduces the lender's risk, which often means a personal guarantee is required to get good rates on a loan.
Personal guarantees can be limited, meaning that each shareholder who owns more than a minimum stake in the business shares the burden. They can also be unlimited, meaning you personally accept 100% of the risk.
Can I Get a Business Loan with No Personal Guarantee?
Yes, it's possible to get a business loan with no personal guarantee. However, it is far more difficult. You'll need:
Good credit. Your company's credit score will need to be high for lenders to accept the higher risk involved.
A long business history. Newer businesses are risky propositions for lenders. The older your company is, the better your chances of getting a loan without a personal guarantee.
Strong financials. Lenders will want to see that your business has strong revenues and profits to afford the new loan payment.
Even if you have great credit and financials, be prepared to pay higher rates for a loan with no personal guarantee. See unsecured business loan rates for more details.
Why do business lenders require a personal guarantee
Business lenders typically require personal guarantees for their loans for one reason: risk.
Lending money is always a risk. The lender has to balance the potential profit from a loan with the chance that you'll default and it won't get its money back. The riskier a loan, the higher the fees and rates lenders will charge to compensate for that risk. Sometimes, the risk won't be worth taking and the lender will deny the loan application.
Personal guarantees reduce the lender's risk by giving them a second chance at getting paid if the business defaults on its loan. Because lenders want to minimize risk, they'll do what they can to increase the odds they'll get paid back.
What are unsecured small business loans?
When you get a loan, you can either get secured loans or unsecured business loans.
Secured loans require an asset to serve as collateral. If you stop paying the loan, the lender can repossess or foreclose on that asset to cover its losses. For example, when you get a mortgage, the home serves as collateral that the lender can take if you stop making payments.
Unsecured loans have no collateral requirements, making them a higher risk for the lender.
Unsecured loans are popular because the borrower doesn't need to have assets to secure their loans. This is especially true for newer businesses that don't have significant or that need large loans due to quick growth.
Business loans without security
Many business loans are secured loans, meaning your company needs to provide collateral to secure the loan. This can be an issue for smaller or younger companies without major assets. Though there are benefits to secured loans, such as lower rates, they aren't always an option for borrowers.
If your company lacks assets, your only option is an unsecured business loan. These can be harder to qualify for and more expensive than secured loans but can still be a good way to finance your company's growth. You can check out how to get an unsecured business loan for more information.
What is a personal guarantee on an unsecured business loan?
Because unsecured business loans don't require collateral, the lender is taking on much more risk than they would with a secured loan. That leads many lenders to require personal guarantees for unsecured business loans.
When you sign the personal guarantee, you agree to pay your company's debt in the event that your business defaults on the loan. This provides the lender with additional protection because they can come after you for the money if your business stops making loan payments.
How to Get a Business Loan with No Personal Guarantee
If you want a business loan with no personal guarantee, there are four main types of loans that you can apply for.
Term loan.

Term loans are basic loans. You receive a lump sum of cash and pay it back over a set period of time.

Line of credit. Lines of credit give you access to cash when you need it. You only pay interest on the money you borrow and can draw from the line of credit multiple times as the need arises.
Merchant cash advances. Merchant cash advances give you cash that your business can use. In return, you give the lender a percentage of your credit and debit card sales, plus a fee.
Invoice financing. Invoice financing lets you get paid faster when you send invoices to clients. In exchange, the lender takes a percentage of the payment you receive when the customer pays your invoice.
If you're still not sure which loan option is best for your business, visit our article about the best unsecured business loans to find out.
Frequently Asked Questions (FAQs)
Before getting a business loan without a personal guarantee, make sure you know how they work.