We'll break down whether an EFA is right for you and how they can impact your bottom line.
Before You Dive In
EFAs share features of both leases and loans
No collateral is required. The equipment you're financing serves as collateral
At the end of an EFA, you'll own the equipment you financed
What Is an Equipment Finance Agreement (EFA)?
An EFA is an agreement between your business and another organization. Under an EFA, you agree to make regular monthly payments to the other company in exchange for a piece of equipment. Once you finish the payment schedule, you'll own the equipment financed.
EFA Meaning
EFAs combine features of leases and loans.

Like a lease, an EFA involves fixed, monthly payments from your company to the EFA provider. In exchange, the EFA provider allows you to use the equipment through the agreement.

You can use an EFA to buy new or used equipment like:
Manufacturing equipment

Restaurant kitchen equipment

Vehicles



Like traditional financing or loans, you own the equipment under an EFA. With a lease, the lessor would own the equipment. This can provide tax benefits for the company buying the equipment and reduce liability for the business selling the equipment.
Unlike traditional loans, EFAs offer streamlined approvals, making them appealing to companies that want to purchase equipment quickly.
EFA Requirements
Because an EFA is similar to a loan or even an equipment line of credit, there are some requirements to qualify for an EFA. For example, most lenders will look at your business' credit and will want to see a positive financial history before approving the EFA.

One thing you won't need is collateral. The equipment you purchase using an EFA serves as collateral for the agreement, which makes these loans easier to qualify for.
EFA Providers
There are many companies that provide EFAs to businesses that want to purchase equipment.
In some cases, manufacturers will provide EFAs. You can also contact businesses that lease equipment that is essential to your industry to see if they are willing to offer an EFA.
What Are the Benefits of an EFA?
Equipment financing agreements bring many benefits to the businesses that use them.
Preserves Cash Flow
One major benefit of an EFA is that it can help small businesses with their cash flow.
Business equipment can be expensive, costing tens or hundreds of thousands of dollars. With an EFA, you can spread that cost out over years instead of having to pay for the full purchase in one go. In many cases, EFAs can improve cash flow because the equipment you finance will increase your business income.
Sound Long-Term Investment
Compared to a lease, an EFA can be a better long-term investment for your business.
With a lease, you never own the equipment you're paying for. You'll also be stuck making a monthly payment to rent equipment to keep your business running. With an EFA, you can pay off your equipment over the course of a few years.
Depending on the equipment, it might have a useful life that is much longer than the EFA's payment terms. You'll get to keep using the equipment without making payments and may be able to sell the equipment down the road to recoup some of your costs.
Keep Up-To-Date Equipment
EFAs make it easier to purchase new equipment by letting you spread the cost of the equipment over months or years. That means you can upgrade and update your business's machinery more frequently, ensuring you're using the latest and greatest technology. Being on top of the tech trends is of utmost value in creative (if you're looking to finance a camera, for example) or tech fields.
Offers 100% Financing
With an EFA, the equipment you purchase serves as collateral for the financing agreement. That significantly reduces the risk that a lender takes, which means many are willing to finance 100% of the cost of the equipment purchased.
Tax Advantages
Under an EFA, you become the owner of the equipment you're purchasing. That can have significant tax benefits. You might be able to deduct a portion of the payments you make for the EFA. You could also qualify for other write offs, such as bonus depreciation or Section 179 write offs.
Consult with a tax professional to see what kind of tax benefits an EFA can bring to your business.
Convenience and Speed
It typically takes less time to get an EFA than a traditional loan. EFAs are somewhat less regulated and more flexible, so lenders can deal with underwriting and approval more quickly.
Flexible Terms
Many lenders customize the terms of their EFAs to specific industries, matching up things like payment schedules to typical business cycles. That can be essential for some businesses, especially seasonal ones that might have extra funds during busy times but struggle with traditional loan payments during slow months.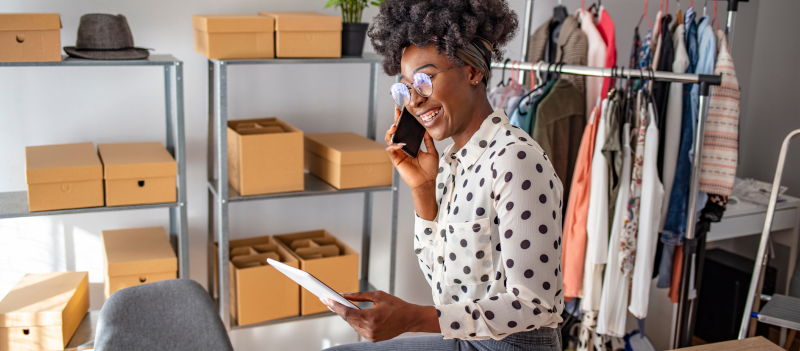 EFA vs. Other Types of Financing
EFAs are just one way to acquire equipment for your company. It's important to consider all your options to choose the one that works best for you.
How Is an EFA Different from a Bank Loan?
EFAs and loans can seem similar at first glance, but there are key differences.
One is that EFAs can be more flexible than loans, offering 100% financing and potentially customized terms and payment schedules. Another is that EFAs usually don't have a stated interest rate or a breakdown between principal and interest payments each month. Instead, there's a simple monthly payment noted in the contract.
How Is an EFA Different from a Lease?
The primary difference between an EFA and a lease is that leases are like renting equipment while an EFA gives you ownership over the equipment you're buying.
That gives the company buying the equipment the chance to take tax write offs for the purchase and reduces the liability for the company selling the equipment.
EFA, Loan, or Lease: Which Is Right for Me?
To choose between an EFA, loan, or lease, ask yourself these questions.
What Type of Equipment Am I Financing?
The equipment you need plays a role in choosing between an EFA, loan, or lease.
In general, if you know you'll want to keep the equipment for the long run, a loan or EFA is likely a better choice. You'll own the equipment eventually and can stop making payments. Consider the loan or EFA payments an investment in the long-term success of your company.
For equipment you'll want to upgrade frequently, a lease might be better.
How Quickly Do I Need the Equipment?
One of the major benefits of EFAs is that they offer much faster approvals than loans. If you need to get the equipment up and running fast, an EFA or lease will be best.
Do I Need 100% Financing?
Traditional loans usually require some form of down payment to buy a piece of equipment. With EFAs and leases, you don't have to offer a down payment, so choose an EFA or lease based on whether you want to eventually own the equipment.
What Is the Lifecycle of the Required Equipment?
Loans and leases are usually best for equipment that lasts a long time. You'll get to use it after you finish paying it off and sell it to recoup some costs down the road. Leases are good for things with a shorter lifecycle.
Are There Any Special Considerations?
There are lots of other things to consider when choosing an EFA, lease, or loan. For example, EFAs might offer flexible payment schedules for seasonal businesses.
Read the fine print of any agreement to make sure it works for you.
Choosing The Best Option
To choose the best option, consider these factors.
EFAs and loans let you eventually own the equipment, but usually have higher monthly payments
Leases are cheaper on a monthly basis, but you'll never pay them off
EFAs can be more flexible than loans and offer faster approval
If you have strong credit, you might be able to get a lower interest rate on a loan
How Do I Get an Equipment Finance Agreement?
Getting an EFA is very similar to getting a loan or a lease.
1. Determine what equipment you need. Once you know the equipment you need, figure out who sells it to companies in your industry, and compare the options.
2. Contact the financing companies. Request a quote from multiple companies offering EFAs. These companies are usually lenders or equipment suppliers for your industry.
3. Review the quotes. Look at the details, such as the required payments and terms to find the best offer.
4. Submit an application. Fill out the application to officially request an EFA.
5. Accept the EFA and start making payments. If you're approved, you'll receive the equipment and start having to make monthly payments.
SBA Loans: The Next Best Alternative to Equipment Loans
One popular alternative to EFAs is the SBA loan. The US Small Business Administration helps secure these loans, reducing lenders' risk and helping grow small businesses within the country.
SBA loans offer large loan amounts at relatively low interest rates and with easier qualification requirements than typical loans. You can use these loans to buy expensive equipment even if your business is relatively new. You'll just need fair credit and some positive financial history.
The drawback is that these loans can take a long time to process, so you won't be able to use them if you want to buy equipment fast.
Business Mentoring Organizations That Could Help
Starting a new business can be very difficult. A mentor can be a huge help when it comes to making major decisions such as financing new equipment. Look to these organizations for help.
SCORE. SCORE is a nonprofit organization with more than 300 groups across the country. It offers mentoring to small business owners
Local networking events. Many areas have local networking events where business owners can meet each other. These can be a great way to find a mentor.
Women's Business Centers. These organizations connect women business owners and are a good place to find others who can help you through difficult decisions.
Small Business Development Centers. The government offers a database where you can find these centers. Most have some form of mentoring program.