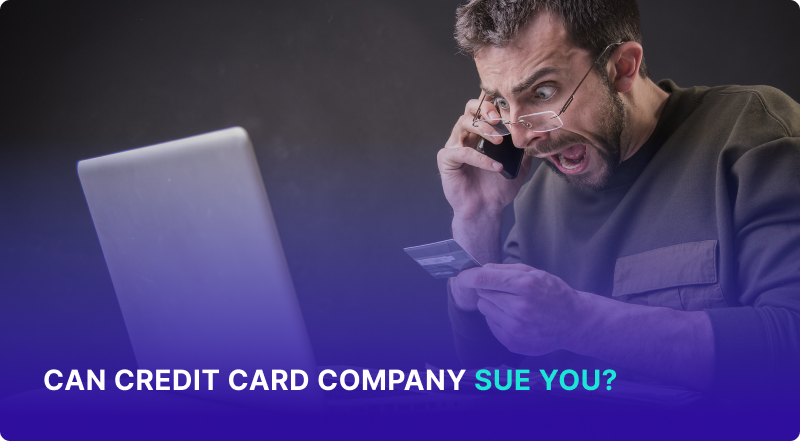 All content presented here and elsewhere is solely intended for informational purposes only. The reader is required to seek professional counsel before beginning any legal or financial endeavor.
If you're behind on payments or thinking about opening a new line of credit you are probably concerned if a credit card company can sue you or not. The short answer is yes. It is important as a small business owner to understand how credit card debt works and what happens if you default.
Can You Be Sued for Overdue Business Credit Card Balances?
Legal Structure
Depending on how your business is structured and how your line of credit was established you may be or not be personally responsible for the debts of your business. For example, if you as a person cosigned for your businesses credit card you could be held liable for any debts.
Secured vs Unsecured Debt
Secured debt is a

line of credit established to a business owner

where there is an agreement of collateral in an instance of non payment. Think of a mortgage, which is secured by the physical property purchased.

Unsecured debt is a line of credit which is not secured by any asset which could be collected in a default scenario. These types of debts may carry higher interest rates for owners.
Terms and Conditions
Your terms and conditions will determine at what cadence and what minimum needs to be paid by the owner towards the line of credit. In an instance where the owner does not follow these conditions, the terms of your line of credit which you as the owner agreed to would drive the resolution for the nonpayment.
Liability Exceptions
Most credit cards carry an exception for unauthorized use, meaning if you did not authorize a charge on your credit card then you as the owner would not be liable for repayment. However this, for the most part, is the extent of any such exception.
Other Considerations
Depending on the amount of credit you receive, your credit history, whether you cosign, and whether the debt is secured or not will give you the specific terms and conditions of your line of credit. Be sure to review these terms carefully and ensure that you understand what you are signing up for.
When Might a Credit Card Company Choose to Sue?
Simply, failure to pay your debts that were agreed to by the terms and conditions may lead a credit card company to take you as a business owner to a civil court to settle your debts.
What Debt Collection Methods Might a Credit Card Company Use Before Suing?
Suing can be time consuming and exhausting. A credit card company may elect to first attempt collection if they recognize a customer who is not paying their balance. The collections efforts may be led by the credit card company, or outsourced to a trusted third party whose job it is to contact the customer and recover the debt owed.
How Does a Business Debt Collection Lawsuit Work?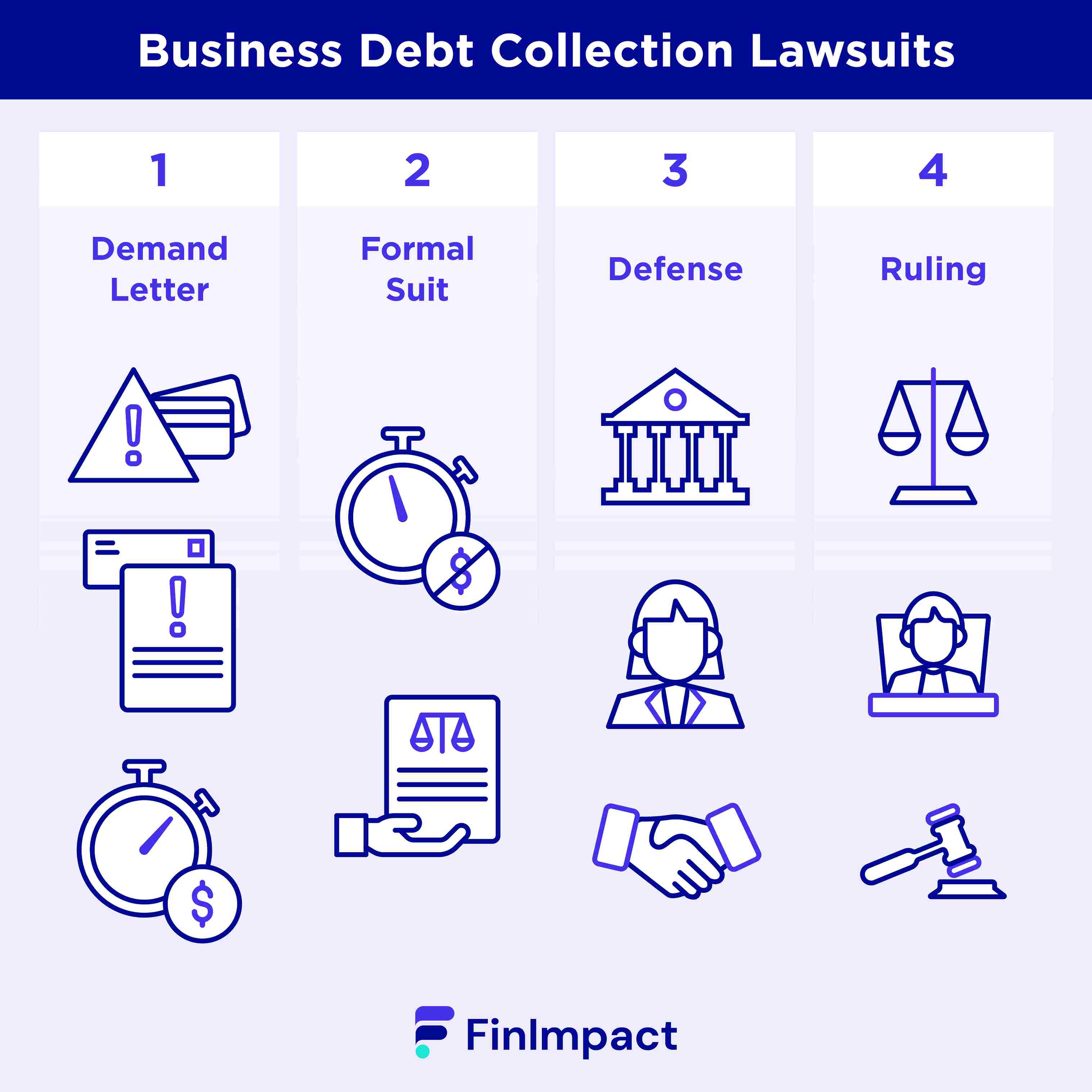 A typical debt collection lawsuit may follow a few standard steps but are each unique in what actually may unfold, the below should serve as what to expect rather than truth.
Demand letter - The credit card company may first contact you notifying they will sue within a set number of days if some amount is not paid
Formal Suit - If the amount is not paid, the credit card company may formally sue you in a local civil court. Depending on the amount this may be small, a claims court.
Defense - At this point if you are summoned to court you will need to defend your position. Consult with a lawyer if possible as they will read the facts and circumstances and advise on best actions to take
Ruling - The court will rule the outcome of the case. If you are forced to repay the debt and require liquidation or bankruptcy your lawyer can advise on how to manage these steps.
What To Do When a Credit Card Company Sues You
1. Verify the Amount of the Debt
You'll first want to ensure that you are the correct person the credit card company is intending to speak to, and the amounts are valid, authorized charges which are unpaid. If you see any discrepancies you may want to contact the credit card company to discuss.
2. Discuss the Matter with a Lawyer
Each person's scenario and circumstance is unique. A lawyer will listen to you and understand the facts to work through the process with you. A business attorney may be able to help with a lawsuit in a few ways:
Answering the complaint - if you are sent a demand letter a lawyer may be able to respond on your behalf either buying you more time or to show whether your defense has merit enough to avoid court.
Crafting a defense - If summoned to court a lawyer will help organize your facts into a defense which may give you some grounds in a courtroom to either dismiss or reduce the penalty you may be facing.
Representing your business in court - If your business is sent to court, similar to defending yourself personally, a lawyer may represent your business against any claims made including failure to repay any credit card debt.
Negotiating a settlement - If you are in a position where avoiding court is in your best interest your lawyer may help you settle disputes outside of court and reach an agreement with the credit card company, for example paying 50% of the total debt and both parties agree to put the dispute to rest.
3. Decide How to Respond to the Lawsuit
If you are sent a demand letter threatening to bring you to court to settle your debts there may be a few options a skilled lawyer can support you through to get the best outcome possible for yourself.
Settle the Debt - as discussed above, is there a middle ground agreement both parties can agree to in order to avoid court and come to a mutual agreement.
Work with a Credit Counselor - A possible outcome could involve you working with a credit counselor, whose role would be to coach you through the process of repaying debt and renegotiate your payoff terms with the credit card company.
Take it to Court - In some cases court is unavoidable. If you are taken to court this is where you'll deploy your defense that was crafted with your lawyer.
File Bankruptcy - If you simply cannot repay your debts with liquidation and have hit the end of your financial limits, you may look to take the dispute to bankruptcy court, where a court will determine whether the debt can be discharged.
How Often Do Credit Card Companies Sue for Nonpayment?
Approximately 14.5% of the time. This will depend on your credit repayment history with your credit card company, your communication with the credit card company, and many other factors which may or may not be controllable as a business owner.
How Can I Prevent a Credit Card Company from Suing My Business?
A business can prevent being sued by a credit card company by simply paying the minimum balance due at the agreed upon cadence. Even if it's not the full balance, paying your minimum balance will keep your creditor happy. If you run into issues with your credit card balance it may be best to work with the credit card company to negotiate terms and create a path where repayment is possible.

There is also a need for business owners to understand their consumer rights. Consumer rights protect consumers from various fraudulent activities or limit losses on the consumer given certain circumstances. An example would be limiting your losses as the credit card owner to $50.00 if your card is lost or stolen and it was reported in a timely manner to the credit card company.
How to Handle Overdue Business Credit Card Debt
If you have business credit cards with balances that are currently overdue it may be best to work with the credit card company or a credit counselor to negotiate terms and create a path where repayment is possible.
You might like to take a look at our list of the best business loans for bad credit borrowers to consider additional funding options.

Conclusion
Credit cards (including

startup business credit cards

and

EIN-only options

) can be a useful tool for a business if utilized correctly

Understanding how credit cards work is critical for small businesses owners

A credit card company can sue you but there are ways to avoid this

If you are sued do not ignore the facts, utilize the correct resources to support you